Whether or not you actually live in the country, there's something so emotive about the image of a country kitchen isn't there? For me, the key to creating a beautiful country kitchen is to create an atmosphere of warm welcome combining simple, authentic design with forgiving natural materials and creative individual touches. Maybe a vintage find or two. A modern take on rustic for my tastes, but rustic all the same.
I do love the look and feel of Place Farmhouse in Sussex where we did a shoot some time ago now. Love the white aga and collections of vintage white pottery, wirework and old wood…
My kitchen
I live in rural Hampshire and my country kitchen is still essentially the one that came with the house 18 years ago. I don't like waste and get a huge kick out of putting new life into tired old objects and furniture. So my approach with our kitchen was to see if I could make it work without gutting everything and starting again. I took all the wall units down and repurposed them as shed storage.
The base units, although a horrid orangey pine, were all handmade and solid wood. The doors are a bit dated, but I decided to paint them and see…
I went through various greys and greens over the years and recently settled on a milky white eggshell. I added simple black ceramic knobs to add some contrast and for a country kitchen look. The worktops were a burgundy formica (!) so they had to go. Simple pale wood worktops from Ikea with a milky white layer of Osmo top oil added a fresh, contemporary feel. As did bringing in a couple of pieces of freestanding storage from Ikea. I sanded and added Osmo to the worktops as they were a bit too yellowy out of the box. White metro tiles gave a fresh and clean contemporary look.
Some open shelves, a few of my ever-growing collection of vintage and new Mason jars and job done. The paint's starting to look in need of a refresh and so I'm gathering lots of new ideas together about what to try next. What do you think?
Dark grey
I like the way this dark grey works with wood and pops of colour with lemons etc. It's  the Design Vintage store and café near Chichester. Not a kitchen exactly but the cupboard and worktop colours got me thinking.
I also like this bluey grey colour contrasted with simple stripes and linens from Cabbages & Roses. The fabric is Jolly Stripe linen.  I love the contemporary slightly graphic edge this black and grey stripe adds. Great as a kitchen blind too.

I am not a fan of overly blowsy florals, so this Natural Hatley Black wallpaper by Cabbages & Roses is right up my street. I like how it mixes with dark bluey grey and rustic woods and natural linen.
If you like a softer, more colourful and vintage look, this new Teatime fabric from Vanessa Arbuthnott is worth considering.
From Pinterest
I love to browse Pinterest for ideas. Here are a few I've recently pinned to my kitchen ideas board. I've added the links to the images so you can find them on Pinterest and get more info.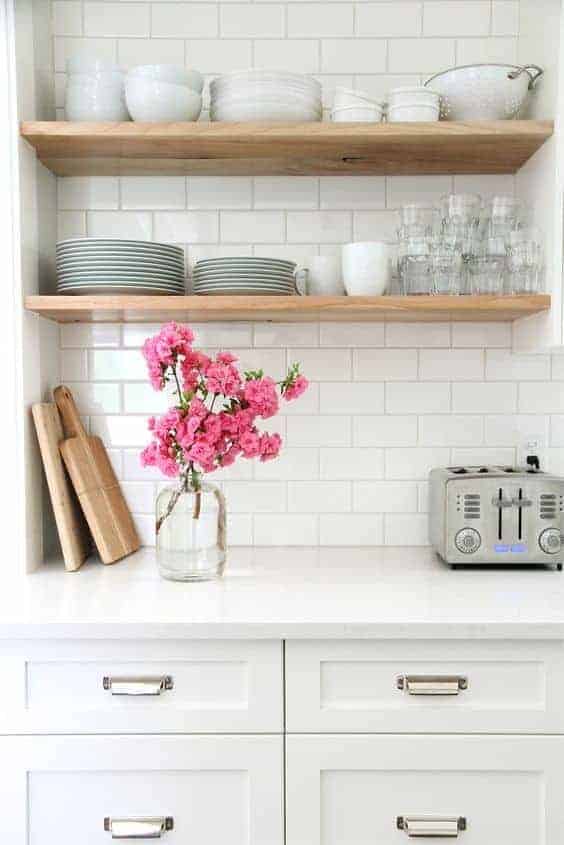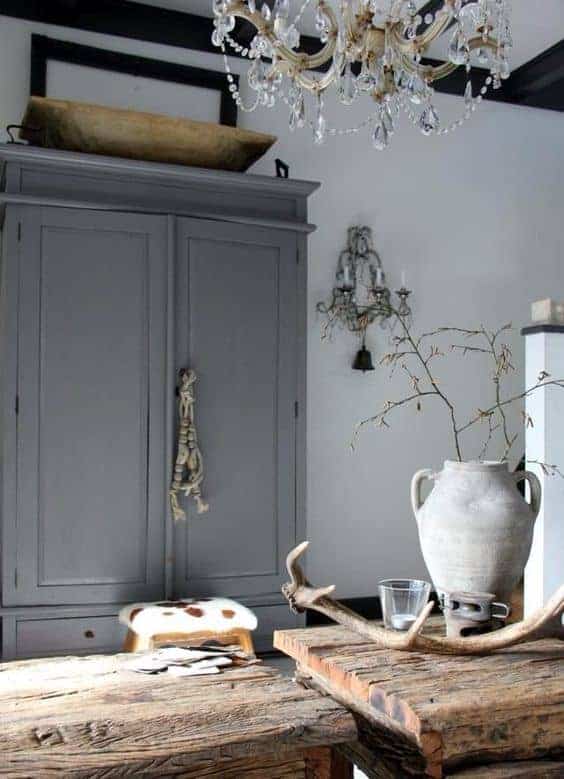 INFORMATION
---
Are you a maker or creative course provider? Like to list with us and benefit from joining our supportive community? We'd love to hear from you. Check out the packages we offer on our Join Us page and get more details from our Information pack here