Handmade soy candles I love – ethically made with natural essential oils and pure, natural plant based ingredients including soy, coconut and rapeseed plant waxes.
During the long, winter evenings in January and February I love to light natural, aromatherapy candles. Handmade soy aromatherapy candles probably – or possibly coconut or rapeseed wax. Plant-based at any event and certainly petrochemical free.
They bring soft light and warmth into the darker hours and I just can't get enough of them. Probably why I always receive at least one or two for Christmas – and this year was no exception.
I dropped heavy hints about this beauty from The Future Kept (listed in our directory here). I wasn't disappointed. It has burned beautifully throughout the festive period – and is still going strong. The fragrance is warm, earthy and just the right side of spicy for me.
As I write this, it's flickering on a little table near me and the rest of the room has slipped into darkness as I tap away. I feel like I've created a slightly magical and fragrant world all of my own. I will re-use the pretty little ceramic lidded jar when it's finished, so it's a zero waste buy too!
What's not to love about this hand-poured organic aromatherapy candle by Wildheart Organics? Combining essential oils of rose, rose geranium and frankincense, this is a beautifully fragrant candle with benefits. Something magical happens when these three oils come together. As well as being an utterly blissful fragrance, the aromatherapy benefits are perfect for anyone feeling out of kilter or a bit down. These essential oils have a range of powerful properties – together they are calming, uplifting, bring contentment and promote sensuality.
BUY WILDHEART ORGANICS HAPPY CANDLE HERE
Fragranced with essential oils of orange, rosemary and sage, this hand poured natural candle is like breathing in the heady fragrance of an Italian garden. It's made by Octo London I also like the sound of the French Lavender and Bergamot candles.
BUY ITALIAN GARDEN CANDLE HERE
Hand-crafted in London by Den Perfect, this is a fine looking candle. Made with 100% natural soy wax in small batches, this is an earthy and woody fragrance. Lavender and jasmine are two of my favourites and they combine here
BUY BERGAMOT & WILD FLOWERS SOY CANDLE HERE
I first came across this hand-poured candle made in London by Holstic in a local gift shop and I can vouch for how blissful it is. Crafted using all-natural botanical ingredients, this combines uplifting bergamot, heady jasmine and relaxing lavender essential oils. It's like wandering with abandon through the most perfectly fragranced wild flower meadow on a warm summer's day
I also love the sound of this Neroli Chamomile version designed to help you relax and sleep well.
BUY NEROLI & CHAMOMILE CANDLE HERE
I love this cute little hand poured soy candle with geranium essential oil by Vegan Bunny Co. It's vegan, made with green and vegan energy with no wood-based oils that require tree cutting and is plastic and acid free. A particularly nice touch is that you can add a type-written note on handmade paper for free. Go a step further and select the gift wrapping option to include dry flowers and an envelope for your note.
BUY VEGAN BUNNY ROSE GERANIUM CANDLE HERE
Hiems Wood Wick soy candle
It was Jeska's description that sold it to me (Jeska Hearne and her husband Dean are the talented pair behind The Future Kept. You can discover Jeska's local loves in her blog post about Hastings for us here): The quintessential spirit of winter. The traditional aromas of clove-studded oranges and the warming scents of nutmeg and cardamon. Just a hint of ancient myrrh and the crackle of the wooden wick, the perfect scent for the festive season.
My husband has a new studio, so I'm planning to buy him this Black Spice candle handmade in Lancashire (where I grew up) and also from The Future Kept.
Black Spice soy candle
Handmade soy aromatherapy candles to love…
This got me thinking about the whole subject of handmade soy aromatherapy candles and zero waste so I thought I'd share some of my favourites with you.
The Future Kept
Other lovelies from The Future Kept include the wonderful Restore candle by Essence + Alchemy.
Restore soy candle
It's hand poured, made from natural soy and harnesses calming lavender and chamomile essential oils with a dash of uplifting lemongrass and rosewood to restore your senses and brighten your mood. All housed in a zero waste refillable British made hand blown glass chemistry beaker. Handmade soy aromatherapy candles don't get much prettier or more heavenly than this…
Ember soy candle
Evermore London creates a range of sustainable soy handmade aromatherapy candles as well as some using coconut wax – all hand-poured candles, also available from The Future Kept, including Tides which is an exotic combination of wild fig and cedar along with thyme essential oil, reminiscent of a walk through the forest down to a summer beach. Hand made using essential oils and toxin-free fragrances.
Buy here
Grove soy candle
Also love the sound of Grove, which is inspired by the English countryside and the sacred groves of Celtic culture. This candle encapsulates the great outdoors – think morning walks and rain-drenched forest floors. Pine essential oil is the base note for this woodsy fragrance, with middle notes of cedarwood and just a touch of sweet orange to bring it all together. Both of these candles are in the sale right now, too. So don't hang about if you fancy trying them out…
Buy here
Denys & Fielding
Denys & Fielding (listed in our directory here) have just brought out a brand new range of refillable outdoor candles with a lovely back story. Founder, Liz Ridgway and I share a passion for our gardens – and sitting out there to enjoy them in all seasons. Fire pit lit, candles flickering, blankets if needed in Winter… It was her love of candles that led Liz to learn how to make them at a workshop last Summer.
She enjoyed the process – and the results – so much that she set out to create her own range of hand poured 100% natural outdoor candles. The new collection has just launched and I wanted to share them with you. The enamel pots are such a great idea – perfect for adding to an outside garden table or ledge.
I also love that you can cut down on waste by sending your empty pots back for a refill. Liz puts her heart and soul into what she does and it's clear that her new range of candles is no exception. Read more about the story behind them here.
Citronella and Clementine soy candle
Liz describes the thinking behind this lovely freshly scented candle: The perfect accompaniment to evenings spent in the garden – the citronella and clementine candle is made solely with essential oils and natural, soy wax. The combination of citronella and clementine provides a beautifully fresh, uplifting scent. Vegan friendly, hand poured by us in Kent, our candles are made with the great outdoors in mind, however, you can enjoy your candle indoors or outside. Each one is made slowly and thoughtfully, here in our studio.'
The candles come in a reusable, enamel container, which is available in two colours – grey or green.
Rosemary and Lavender soy candle
And of this herbier option, Liz says: Inspired by French potager gardens, our Rosemary and Lavender candle is evocative of the traditional kitchen garden. Rosemary stimulates and relaxes, while Lavender is well known for it's soothing qualities. Together our blended candle, made only with essential oils and natural soy wax, produce a beautiful, distinctive scent, made to enjoy either indoors or outside.
Our candles are produced with wholly natural ingredients. Essential oils, soy wax and no nasties. Presented in beautiful enamel containers which can be refilled, using our candle refill service, or used as a container for a host of other things in and around the home, this lovely, natural candle is wrapped in tissue paper and packaged in a sustainable brown box, to make a beautiful gift.
Essence + Alchemy
I have loved this range of beautifully made refillable glass beaker candles for years (Essence + Alchemy is listed in our directory here). Handmade in small batches with plants and essential oils, this range of scented candles and diffusers is 100% natural, ethical, sustainable, cruelty free and earth friendly. The difficult bit is narrowing down your choice.
Winter Bergamot soy candle
The aim of the Winter Bergamot Candle is to 'transport you to Southern Italy where the bergamot blossoms in winter and the light citrusy scent is carried through fresh montane forest. Spiced with a hint of clove this candle will evoke feelings of comfort and help ease you into the day ahead. Perfect for slow winter mornings.'
What more could you ask for really?
The candle is hand poured into a British made hand-blown glass with a wood wick, which when lit will crackle and glow giving out a warm, uplifting and relaxing atmosphere.
Smoke soy candle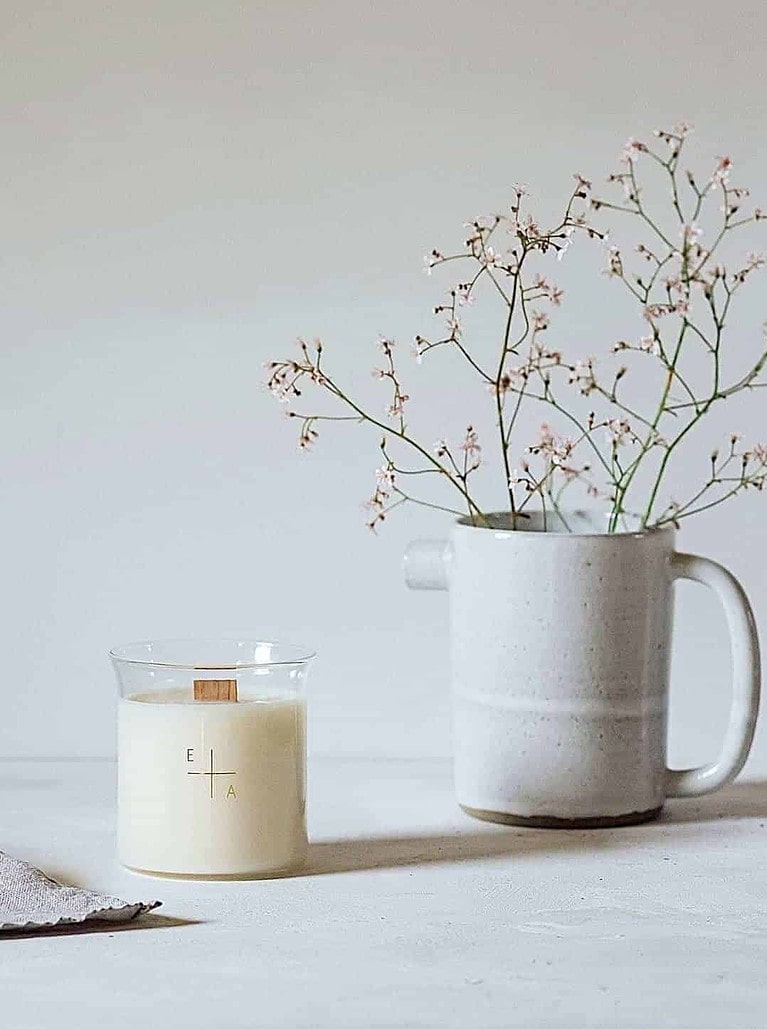 Another good choice for the winter months is Smoke: 'with it's aroma of fresh, fragrant woodland entwined with a hint of sweet smoke from warming fires, Smoke will help ground the senses and restore calm.'
Restore soy candle
Probably my favourite though, is Restore – great all year round when you feel like you need to rebalance: 'When you feel like getting away from it all, the Restore Candle with lavender and chamomile essential oils will help slow things down, while cheery lemongrass and rosewood will uplift your mood. The candle is hand poured into a British made hand-blown glass with a wood wick, which when lit will crackle and glow to give a warm, happy and relaxing atmosphere.'
Corinne Taylor
Based in Brighton, Corinne Taylor is a qualified aromatherapist and passionate about all things natural and organic. She also has a nifty eye for packaging in my opinion and I love her range of natural skincare as well as her 100% natural, vegan and cruelty free aromatherapy candles. All are chemical free and scented only with essential oils, which as well as smelling beautiful, also offer therapeutic benefits for mood and wellbeing.
Purify soy candle
A refreshing, grounding scent, rich with citrus notes and a hint of the forest. Our all natural Purify Soy Aromatherapy Candle is made with essential oils of Lemongrass, Cedarwood & Juniper Berry to help uplift your mind and purify the air in your home.
Corinne uses only 100% pure essential oils in her candles with many therapeutic properties which will be released into the air when burnt. Soy wax is cleaner than other waxes, burns longer, and is free from harmful toxins and chemicals. It contains no carcinogens or pollutants which means it is less likely to trigger allergies.
This Candle is contained in a screw top glass jar which can easily be washed out after it's finished and kept for your own use or recycled.
Buy here
Inner Peace soy candle
A calming, relaxing aroma, rich with floral and citrus notes. This all natural Inner Peace Soy Aromatherapy Candle is made with essential oils of Bergamot & Ylang Ylang to bring in relaxation, tranquility and calm.
Buy here
Aerende
Always, always worth a browse when looking to source ethically produced loveliness is Aerende (listed in our directory here).
I love what founder, Emily, has set out to do. She has created a lovingly sourced collection of handmade items for your home. Aerende is also a social enterprise. All products are created in the UK by people facing social challenges, produced in low-volume batches and designed to improve with age.
Love how she describes her range: 'What we sell will enhance your home, yes, but it also treads lightly on the world beyond your door. Hence our strapline of life-improving homewares. We unite heritage skills with environmentally sustainable materials and ethical business practices. Each limited-edition item shows our commitment to beauty, utility and integrity. Welcome to our world.'
Scented Rapeseed wax candle pot
Love this scented Rapeseed wax candle pot with specially designed limited edition fragrance for Winter 2018/19. Handmade at a residential community in Gloucestershire supporting adults with learning disabilities, the beautiful pots are filled with wax that has been scented and poured by a social firm employing adults with learning disabilities in Brecon, Wales.
Scented with ylang ylang, neroli and balsam copaiba to destres with petitgrai to uplift. The pot is an object of beauty that will live on well after the candle is finished.
Emily put hours of research into creating the most ethically made candle possible. Packaging is made in the UK, fully recycled and recyclable.
Buy here
Grace Gordon
As well as selling her own beautiful collection of bags, Grace Gordon also sells a selection of well-chosen gifts including these beautiful handmade soy aromatherapy candles by Hobo. Hand poured in Lincolnshire, they are made with sustainable soy wax, essential oils, natural fragrance and a cotton wick.
This Fig & Cassis candle combines fruity blackcurrant with warm ripened fig, to evoke a warm Mediterranean evening.
Fig & Cassis
Buy here
Moksa
Devon-based Moksa (listed in our directory here) makes ethical and natural hand-crafted skincare and natural candles. All products are 100% natural , ethically sourced and hand made in small batches in Devon.
Kama/Love
Surely the perfect handmade aromatherapy soy candle for Valentine's Day – this is brimming with the headily fragrant essential oils of love – rose, sandalwood and jasmine. Just beautiful as well as ethical. Made with sustainable soy wax, pure essential oils, natural unwaxed hemp wick and no synthetic fragrances. They are also cruelty free and vegan friendly.
Buy here
Green & Spring
And I couldn't blog about scented handmade soy aromatherapy candles without mentioning Green & Spring (listed in our directory here) who have been hand making natural, organic beauty and candles for years. Using only 100% natural and ethically sourced botanical materials and herbal extracts sourced from the UK all Green & Spring products are free from parabens, SLS, SLES, PEGS, glycols, petrochemicals, synthetic colours and fragrances.
I also love the pretty little bird on the side of each of the candle options. My favourite, particularly at this time of year is this Revitalise:
Revitalise
INFORMATION
Makers of handmade soy aromatherapy candles:
The Future Kept is listed in the From Britain with Love directory here >>
Denys & Fielding is listed in the From Britain with Love directory here >>
Essence + Alchemy is listed in the From Britain with Love directory here >>
Corinne Taylor is listed in the From Britain with Love directory here >>
Aerende is listed in the From Britain with Love directory here >>
La Juniper is listed in the From Britain with Love directory here >>
Grace Gordon is listed in the From Britain with Love directory here >>
Moksa is listed in the From Britain with Love directory here >>
Are you a maker or creative course provider? Like to list with us and benefit from joining our supportive community? We'd love to hear from you. Check out the packages we offer on our Join Us page and get more details from our Information pack here
---
Want to find more makers of handmade soy aromatherapy candles? Check out the Candle Makers category of our hand-picked directory.
---
A pin to share to Pinterest
This article contains affiliate links, which means we may earn a small commission if a reader clicks through and makes a purchase. All our blog posts are independent and in no way influenced by any advertiser or commercial initiative. By clicking on an affiliate link, you accept that third-party cookies will be set.