Award-winning knitwear designer Isobel Davies is founder of ethical fashion label Izzy Lane (listed in our directory here)
Based in the beautiful North Yorkshire Dales, Isobel's designs are ethically made using wool from her own flock of rescued rare breed Wensleydale and Shetland sheep.
Photo: Siddharth Khajuria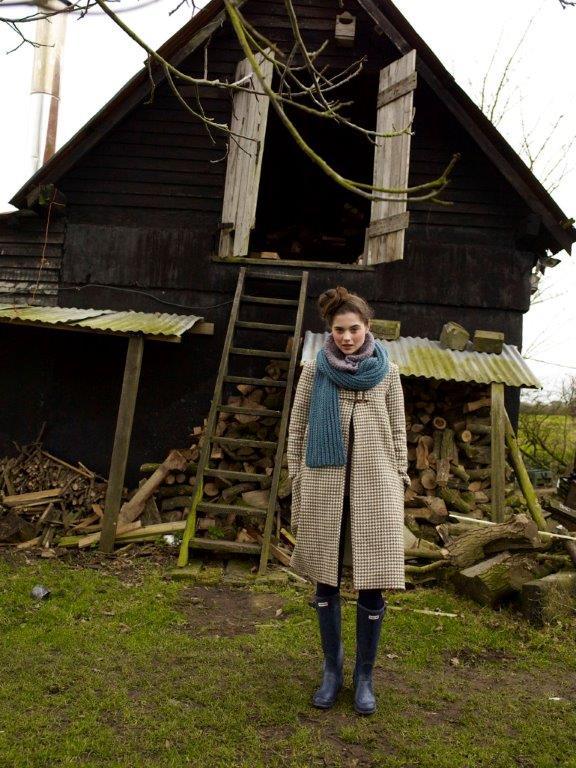 Q. Tell us a bit about yourself and what inspired you to start the business…
A. Izzy Lane almost evolved from my other business, Farmaround, a vegetarian organic home delivery company. Whilst visiting farmers I discovered that they were burning and burying their wool because they weren't receiving enough for them to bother moving it off the farm. At the same time Britain was importing 80% of its wool from Australia and New Zealand. I decided I wanted to start a label using British wool, but quickly realised that I couldn't use the wool from animals which were being sent to slaughter, so I decided to rescue my own flock.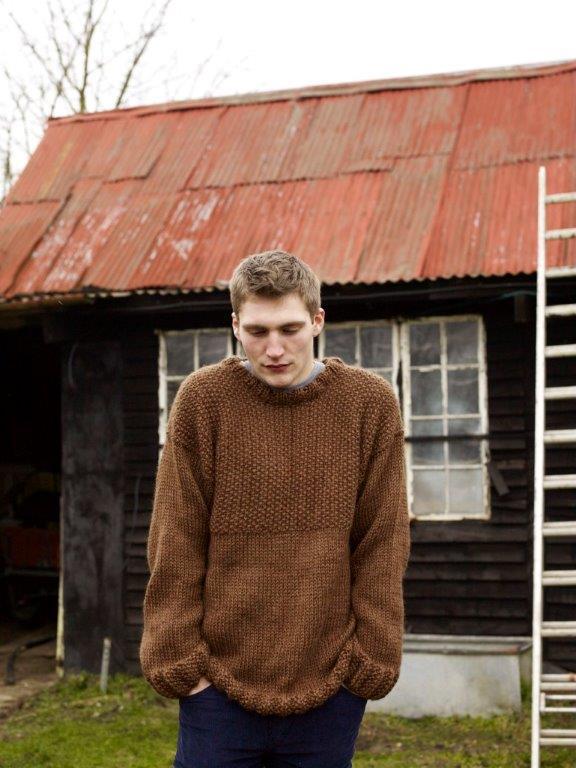 Q. Where is your business located?
A. The business is based in Richmond in the North Yorkshire Dales. We use the wool from our 600 rare breed Wensleydale and Shetland sheep which we rescued as lambs. Wensleydales are a huge sheep with tresses that fall in curls to their ankles. They have a soft, lustrous wool which is ideal for use in hand knitting. The Shetland sheep are a small primitive breed brought to the Shetland Isles by the Vikings in the 11th century. They have fleeces which come in beautiful natural colours like the grey katmoget and the rust coloured moorit. Their wool is also soft and fine like cashmere.

Q. Do you use any specialist techniques or equipment to produce your goods?
A. We are involved in the whole process from the nurture of the sheep through to the finished garment. Once sheared, the raw wool is sent to a scourer in Bradford, then to the spinner, then the dyer and the weaver who has an old Victorian mill in the Scottish Borders and uses ancient looms. The textile industry in the UK is on its knees since most manufacturing has been outsourced to Asia. It is important to me that we support our textile industry and help to keep the skills and jobs alive, especially since many are in some of the most deprived areas of the country with high unemployment.
Q. What are the most popular products in your range?
A. Our products are utterly unique as we sell wool products from animals who will be cared for and will live out their whole natural lives at our sanctuary. Popular items are our Shetland wool coats, woven in natural colours and our Wensleydale sweaters. There is no kemp (the coarse, itchy hairs) in Wensleydale wool, so it can be worn against the skin.

Q. What's the best thing about what you do?
A. It's the saving of the sheep, seeing them arrive at the sanctuary knowing that they are safe and always will be.
Q. Why do you choose to make your products in Britain?
A. I choose to make our products here because we have a wealth of skills, a network of hand knitters from across the Dales, and a wonderful textile industry which I hope we can continue to support.
Q. What's been your proudest moment?
A. Thanks to the power of the internet I get emails from across the world from animal lovers thanking me for what I do. That makes me extremely proud. Last year we won the prestigious Good Business Award from the RSPCA and the New Designer of the Year Award at the RE Awards, which are the world's first ethical fashion awards. These were proud moments.
Q. Where do you sell your products?
A. At the moment we sell all our clothes online through our website www.izzylane.com
Q. Which other British producers inspire you and why?
A .I'm inspired by the story of Harris Tweed – the beautiful fabrics produced on that remote island. I love that it is the emblem of the island and its people.
Q. Do you make an effort to buy British when food shopping?
A. My favourite British food brand is inevitably my own, Farmaround, an organic home delivery company. We work with local organic farmers and do assorted boxes of fresh local produce to the door. The company helps to sustain the sheep sanctuary and we are entirely vegetarian.
Q.Where is your favourite place to holiday in Britain?
A. After 20 odd years in London, my favourite place in Britain is the Yorkshire Dales – so remote you rarely even pass another car. The landscape is beautiful – deep green river valleys divided into small fields by ancient stone walls and studded with stone barns. It's in stark contrast to the built up south.
Q. And finally, what do you do to relax and unwind when you're not busy working?
A. To unwind, I walk my black Labrador. It's wonderful to be back in nature having spent so much of my life in the city.
Get all the info you need to connect – and shop – with Izzy Lane from the listing here >>