New year quotes to help you find fresh purpose
January can be a funny old month can't it? The days are short, daylight limited and the weather often drab. We all know we're supposed to be embracing this chance to snuggle up and get cosy. (Perfectly good word, cosy. I won't use the H word). Lighting restorative candles, nibbling super foods, cleaning everything cleanable… And, of course, making exciting plans for a successful year ahead. Which is all great if you're bursting with creative ideas, energy and purpose.
But what if January finds you feeling somewhat flat, maybe a touch defeated and (like me) still struggling to finally shrug off Christmas colds, flu or the ubiquitous COVID? What if you're a maker or creative putting your heart and soul into what you do. Working long hours by yourself. Hoping customers will come. Worrying that everyone else is doing better, selling more. What if you spent many icy cold hours at Christmas events and markets hoping to sell all the lovely things you'd made. But sales weren't as you'd hoped. Maybe you didn't venture beyond the virtual world and still sales weren't as you'd hoped.
It's easy at that point for the voice of self doubt to start bending your ear. Convincing you that what you do is not as good as you thought it was.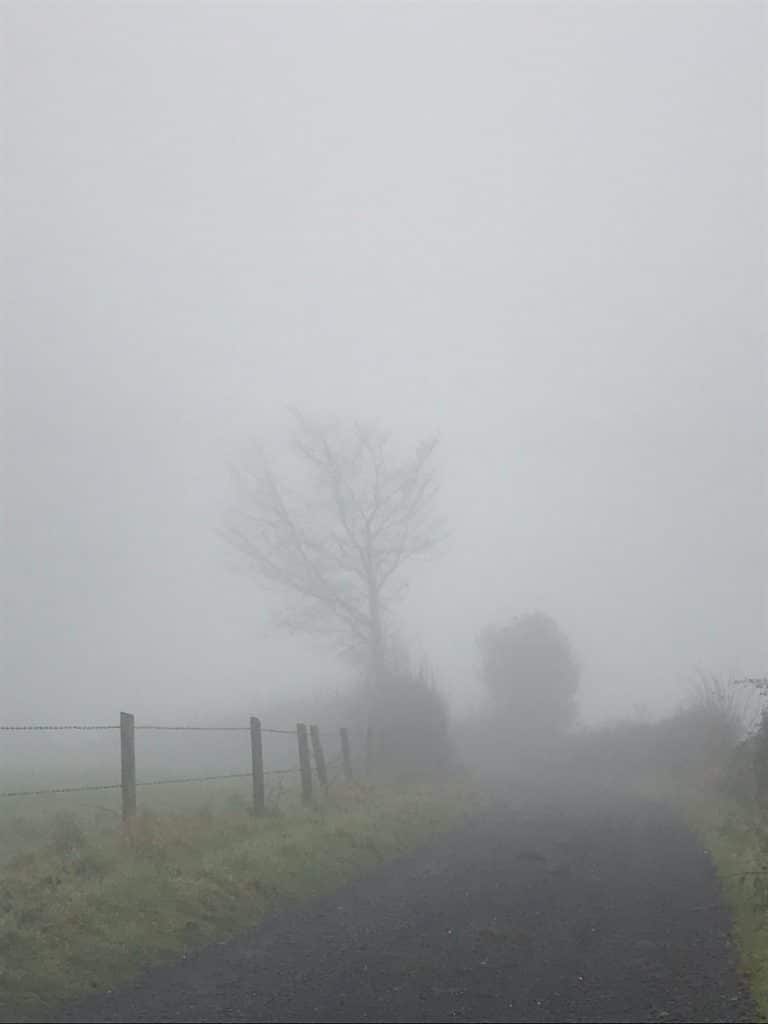 Time to make a plan
I was walking Woody my spaniel in heavy mist a few mornings ago. It was one of the days between Christmas and New Year when there's not that much to do. A quiet, relaxing day. In theory. Instead, I was ruminating on all the things I hadn't quite achieved in the year just gone, and beating myself up for it. It took a little while to snap out of it.
Actually it took the astonished look on Woody's face after he'd jumped head first into an icy sheep trough to do the trick. Laughter is a great shot in the arm, don't you think? The thought began to dawn on me that I was wilfully forgetting everything that had gone really well and the things I had achieved. It's as though these things don't count as much.
I decided it was time to get a grip and I came home with a plan to find, and share with you, some helpful creative ideas. I know some really inspirational people. So I decided to ask for their take on January and how they find fresh purpose and creative energy. They didn't disappoint, so I'm happy to share their New Year quotes with you in the hope that they help you find fresh purpose and renewed energy.
New Year quotes – Philippa Stanton, 5ftinf
Philippa is an artist and key influencer on Instagram (@5ftinf) with a mammoth 450K followers. She is also a valued friend – and I always come away from time with her feeling inspired in ways I could never have expected. She was definitely on my list!
'I find the second week of January one of the hardest of the year; I dread it like no other time. The house and studio look tired, it's grey outside, it's grey inside, and so many small businesses, particularly on social media, appear completely untouched by the gloom and even seem enthusiastic about the prospect of the year ahead…
I usually like to get up at 05:30 in the mornings, ( it buys me an afternoon nap), but in January I have to lever myself out of the safety of slumber, and that's usually to turn the heating on.
However, what I have learned over the years is that I'm always taken by surprise by how unintentionally creative I start to be during this time.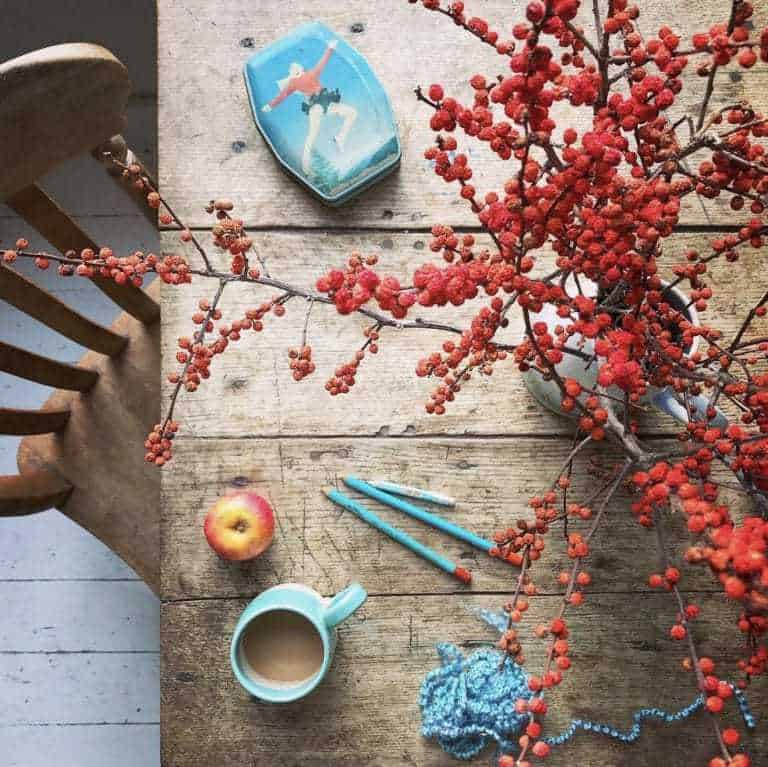 It must be something to do with feeling so despondent that I start playing around with ideas; old ones, new ones, regurgitated ones, and then I suddenly start to find a sort of secret and very personal way through the winter darkness. It's almost like I feel so rubbish that it liberates me; I allow myself to let go of any expectations because I'm telling myself that it's all pointless anyway.
It does seem a rather perverse way to initiate a creative boost, but I genuinely feel that January and the beginning of February should be regarded as a sort of personal creative retreat.
We shouldn't shy away from the shadows, we should embrace them and try to use how they make us feel. Being positive, bright and jolly all the time is just not real or achievable, and there should be no shame in feeling the melancholy of the beginning of the year. It's a time to literally look at things, consider possibilities, not make any major decisions which will tie you up for the rest of the year and privately mess around with any notions which may or may not lead to other things.
I've also learnt through past experience that I have a tendency to have a January financial panic. I feel like I have to really get on top of my sales as every other online business doesn't even appear bruised after Christmas and New Year, but honestly this is not the time for that. Everyone is feeling a version of the same thing. Everyone is nervous, everyone wants it to be Spring and no one wants to spend money.
So, I always try to let myself off the hook at this time of year. I have to do it in a very conscious way as my sub conscious is constantly telling me that I should be panicking and feeling intimidated by everyone else's amazing work. These weeks are best utilised as a domestic retreat where you just do the things you have to; the tax return, the washing up, the ironing, the tidying, the hoovering, the cooking and maybe some exercise.
New year quotes
'Give in to the dreariness this period of time makes you feel, and I guarantee creative ideas will start shimmying into your everyday life when you're least expecting them'
This time will pass, and pretty soon you'll be looking March straight in the face with a much clearer idea of what is achievable for the year ahead.
New Year quotes – Sara Tasker, Me & Orla
Sara Tasker (Instagram queen Me & Orla, with over 208K loyal followers) offers a range of creative online courses for anyone wanting to take their Instagram to the next level. I asked if she could share a few of her own favourite tricks and processes for moving forwards into a new year creatively. I knew I'd love what she came back with…
'A new year can be an exciting catalyst, but it can also be a terrifying prospect. Like a brand new notebook, we only want to fill it with wonderful things – so as soon as we misstep or stumble, we feel like we've ruined the whole thing. It's just another perfectionist trap. Chasing a 'brilliant year' takes our eye off the real target in our creative pursuits – happiness, fulfilment, making enough money to feel safe.
Here's what I've found out about success: it's sometimes lonely, often quiet. It happens in a series of small, hopeful wins that you never quite take seriously at the time, and certainly never label with that S-word. It never feels like success – there's always a bigger fish, someone higher up the ladder.
How do we keep moving forwards in the face of all this? My process is simple:
'Never go to bed at night without having taken some small step towards your goal.'
One day it's writing a blog post or sales page – the next day it might be just a list of ideas. On bad days it might be nothing more than a single email response, or watching a tutorial in bed with a cuppa. It doesn't matter how big or how small. When we make every day carry us forwards, little by little, we get to our goals.'
New Year quotes – Kayte Ferris, Simple & Season
Kayte is a marketer turned coach and creative mentor (Simple & Season). She lives in Snowdonia with her partner and a tiny dog, with a mission to help small businesses and makers find clarity and strategy that will enable growth – with soul. What I particularly like about Kayte (apart from her beautiful atmospheric images of one of my very favourite parts of the world) is her no-nonsense approach.
I knew I wanted to collaborate with her when I read her post about the reality of slow living and how to avoid the ironic trap of stressing over the demands of publishing 'the perfect' slow life. Better to enjoy a greasy takeaway pizza laughing with good friends than to sweat in the kitchen cooking the perfect meal, she wrote. Slow living, she says, is less about doing things 'properly', in that certain #slowliving way. It's actually simpler than that:
'It's about actually living slowly. It's about knowing and passionately loving the things we value, and designing our lives to spend the most time possible enjoying them. About having intentionality and consciousness in our activities, about escaping the mindless scrolling and unproductive multi-tasking and focusing on purposeful action. It's about embracing the fact that you're not doing it all – it's about doing less, but better.'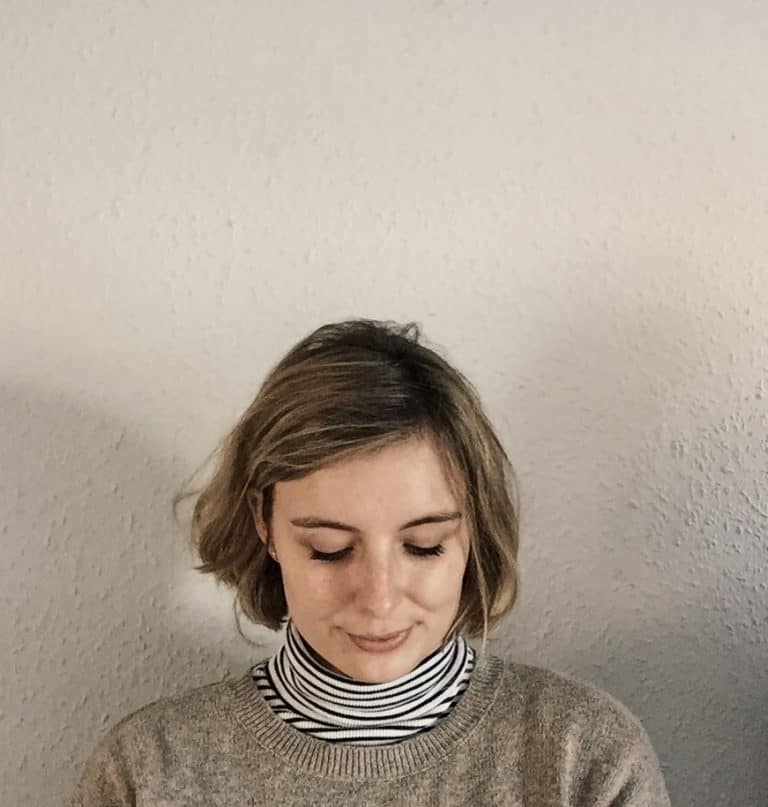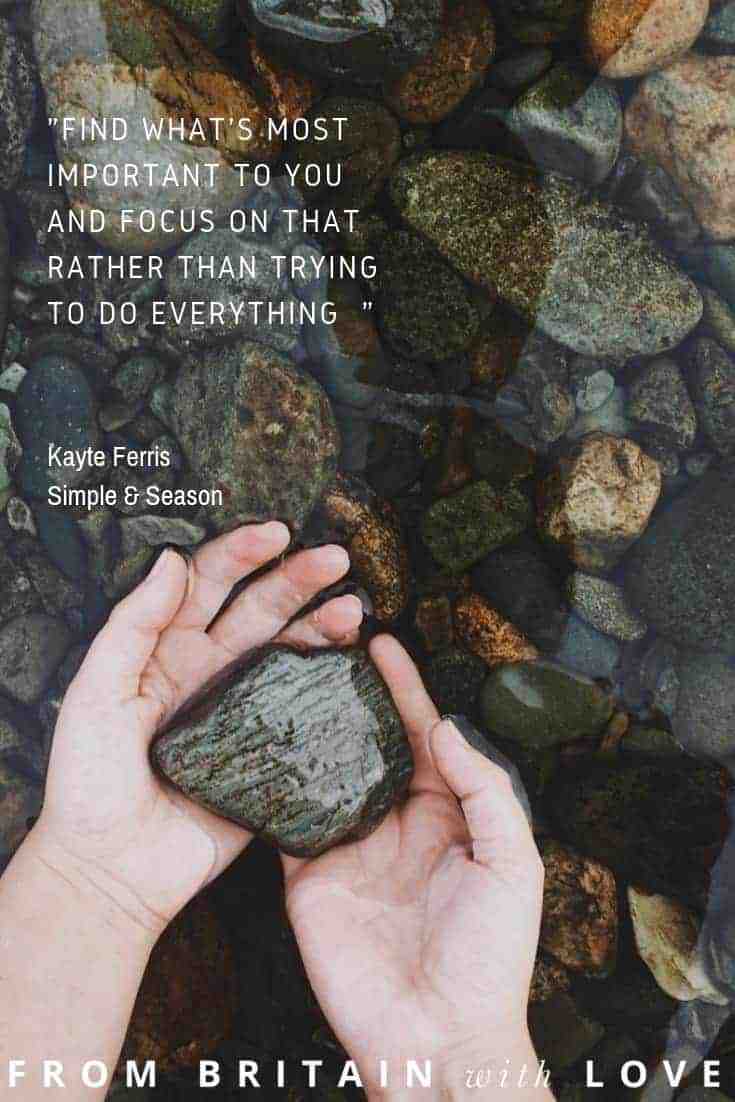 'I don't go in for tough love as a rule, but I find it comforting, in a strange way, to remember that no one cares. No one is paying close enough attention to me and what I do to notice if I post on a Thursday rather than a Wednesday, or if there was a typo in my Instagram caption.
No one is at home making lists of my failures or sniggering at my choice of metaphor.
'Because everyone is too busy worrying about themselves and what they're doing to worry about us.
And this realisation should feel quite freeing. Knowing that no one is paying the intense attention we sometimes feel, sets us free to let our shoulders drop, remove that weight and start doing some true experimentation in our businesses.
I find it helpful to always approach things from the perspective of your customer. As humans we approach relationships from a "what will this do for me?" perspective – whether you're meeting new contacts or creating a new product. That's how people are approaching you and your business. If you turn your perspective into "what can I do for others?", then you and your customer meet with the same perspective.
If you plan and operate from this point of view, focusing on how you can provide the most value to others, then you feel more confident in your operations. Thinking like this gives you objectivity in what you're doing, taking away that second guessing of 'will people actually buy this?', and in turn giving you clarity over why you're doing what you do.
Finding clarity and value is one of the main things I work on with my coaching clients and in my workshops.
Once you have a purpose, and one that is valuable to your customer, the rest of your marketing activity naturally flows.'
New Year quotes – Clem Balfour, Yoga Brunch Club
Wonderful Clem Balfour, founder of The Yoga Brunch Club shares some really inspiring tips for finding new creativity and true happiness here. Click through to read the full post, but I've picked out a couple of my favourite quotes below:
New Year quotes – Georgia Miles, Sussex Flower School
I spent a very inspiring day a few weeks ago with founder of The Sussex Flower School, Georgia Miles and wanted to share this great quote from her:
Read the full, inspiring feature about Georgia here
New Year quotes – Anya Raczka, Oak & Claw
As someone who spends too much time tapping away on my computer, Anya Raczka's inspiring tips and ideas for finding creativity and simple happiness really connected with me. Read the full post here – Anya shares utterly beautiful images of the Peak District landscape in which she spends her time. But here are my key take aways from the ideas she shared:
What I've taken away for myself…
I've loved reading these New Year quotes, thoughts and creative ideas – hope you have too.
My takeaways? Well, I loved Philippa's idea of seeing January and February as a kind of personal creative retreat. I'm immersing myself in A Town Called Solace a great book my brother gave me for Christmas. I've enjoyed drinking really good tea, made the proper way, with leaves in the teapot my son gave me for Christmas. And I've finally finished an online course I signed up to ages ago but never quite got beyond the introduction modules. I've taken time to really look at what's going on in the wider creative community. I found some amazing new, and totally unexpected, ideas and people. I now have a long list of exciting blog posts planned for the year ahead, some exciting meetings in the diary and am feeling that warm glow you get when an idea that seems to come to you from nowhere starts to look like it might actually work…
My positive new year plan
Just as she promised, Kayte's point about realising that no-one is watching or judging you the way you can sometimes fear is very liberating. We all make mistakes. Perfectionists (like me) can spend way too long feeling bad about tiny errors. Much better to let it go, realise no-one really cares and focus on something productive instead.
Kayte has written a great post all about the value of doing nothing . As she says, if you google it, you'll find plenty of scientific research to justify doing nothing for a while. How it will benefit you. I do think many of us tend to demonise laziness in our obsessive pursuit of busyness. Better to banish the guilt.
I'm going to revisit my Vision Board that I made last year. See which of my intentions have actually materialised, and make a new one for next year. 'Vision Board' sounds like management handbook speak, I realise. But I can honestly say that making one really helps focus your dreams and goals. They're particularly useful if you're a visual person, like me. If you fancy having a go at making one, why not read my post here.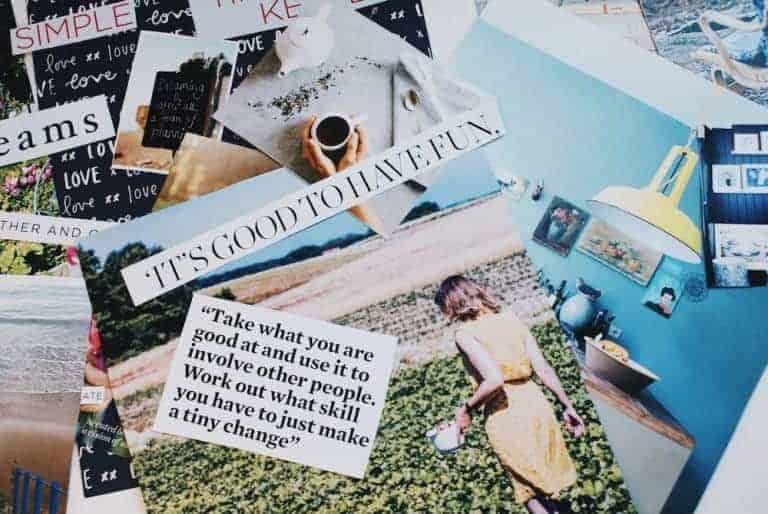 Creativity blossoms and grows best where it has room – and time – to grow.
And from Sara I also took away the great idea of making at least one small step forward each day. And also that success is something that happens slowly and gradually and is easy to miss. After the trials and difficulties of the last two years I think we all need to be a little kinder to ourselves. As we would be to a friend.
Love Georgia's quote about us all being here to do different things with our lives and there's no point competing. It's much better to support one another in our creative endeavours.
From Clem, I found the push I needed to sign up for a photography course. I have always worried I wouldn't be good enough before. I'm just going to jump straight in and do my best. Go outside my comfort zone to learn new things and properly follow my passion.
And I couldn't agree more with Anya's view that it's important to spend time outdoors, without the phone. And to really listen to the sounds around you. Connect with what's there on a much deeper level than when you're just rushing through and on to the next task. And it's definitely true that spending more time with dogs is a guaranteed route to simple happiness!
January is the start of things and full of possibilities. But it's important not to rush. Appreciate what we have, embrace being outdoors in all weather. Enjoy coming back into the warm. Let you mind wander while you sit a while. Open yourself to new possibilities. See where that takes you… Happy New Year X
INFORMATION
---
Feeling inspired? Take a look at the Creative Workshops category in our Directory, where you'll find a variety of inspiring courses, from art and crafts to fashion and beauty, interiors, cooking and flower & gardening.
If you run a creative course that would interest our readers, please get in touch. Email us at editor@frombritainwithlove.com
---
A pin to share to Pinterest
I hope you've enjoyed reading this New year quotes to help you find fresh purpose blog post. It would be great if you shared this pin to your Pinterest boards – it's all about sharing the love! thank you X