I know the term Vision Board sounds like jargon plucked straight out of a management or marketing handbook. But hear me out. If you're a visual person, there's plenty of research to show that identifying your goals in this format actually increases the likelihood of you achieving them. Plus it's a really fun, creative exercise to do.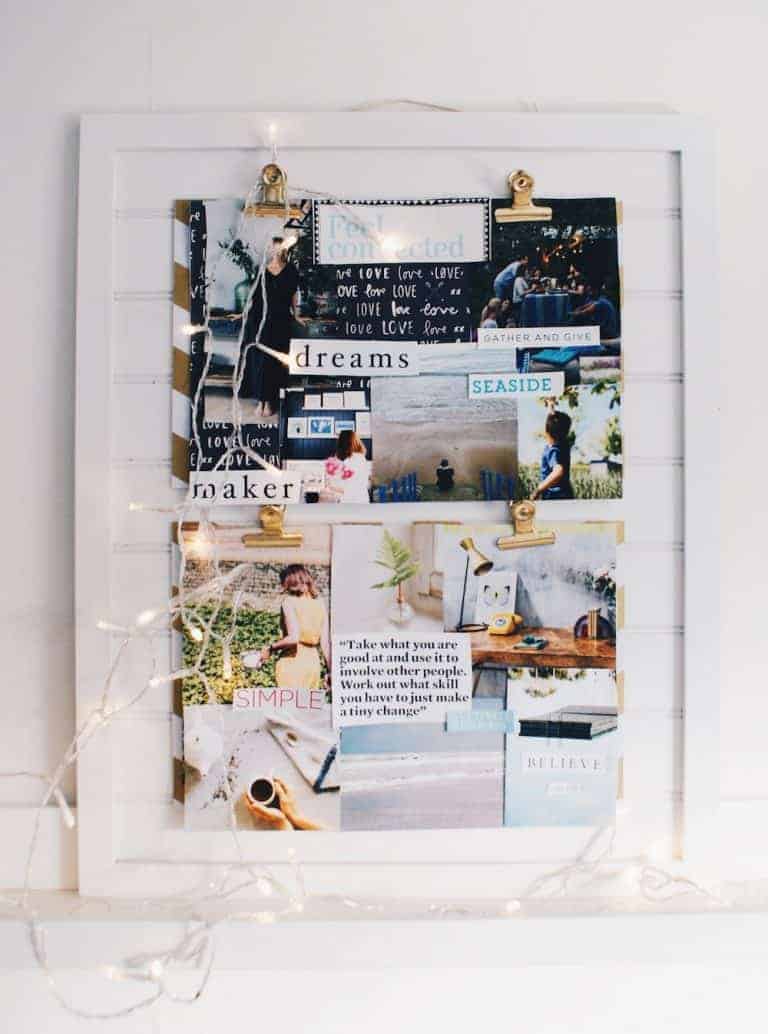 The idea is that if you can see your goals, it not only makes it more likely you'll achieve them, but doing the exercise itself will help you realise where it is you really want to go. What you want your life to be like in the year ahead. It's about identifying and focussing your intentions. What you'd like to DO, BE and how you'd like to FEEL in the year ahead. It might surprise you where the exercise takes you…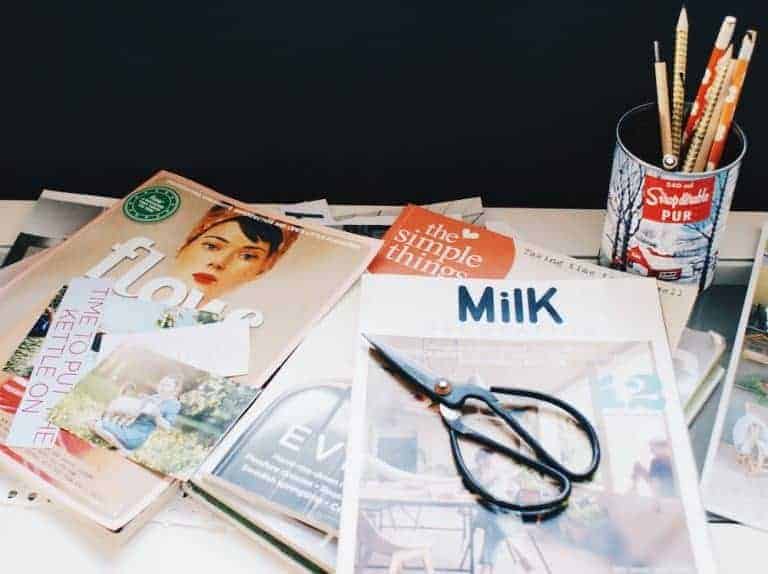 With those three categories in your head, amass a pile of your favourite magazines, print out images you might have found on Pinterest etc and then cut out anything that speaks to you. If there's a headline or piece of text that grabs you, cut that out too. As my pile of images grew, I began to realise a pattern was emerging.
Once you have enough images, you start to edit them down and arrange together how they feel best. It's a totally personal thing, so just do what feels right for you.
I decided to do mine on 2 pieces of A4 that I could pin one above the other inside a frame I already have beside my desk.
The editing process for me was about weeding out the pictures of lovely interiors because I decided that was a separate thing. And reluctantly also chucking out multiple images of the sea. And the woman kneeling in a wildflower meadow at dawn. Because I won't ever do it. Not with my knees.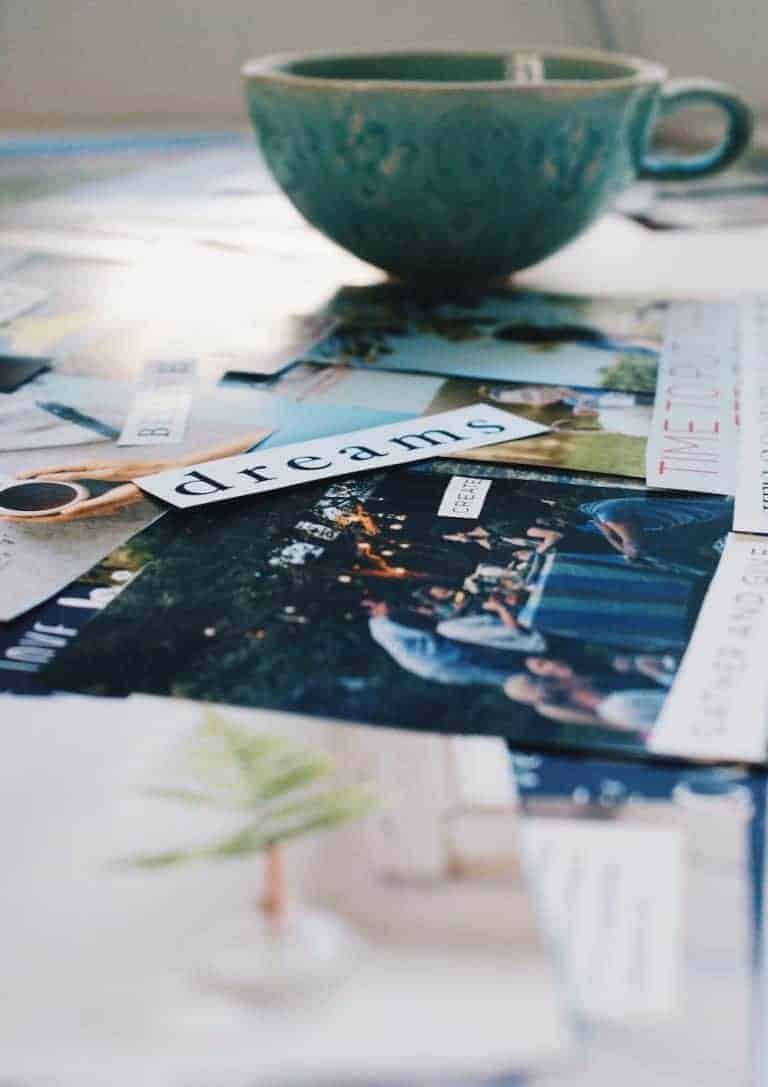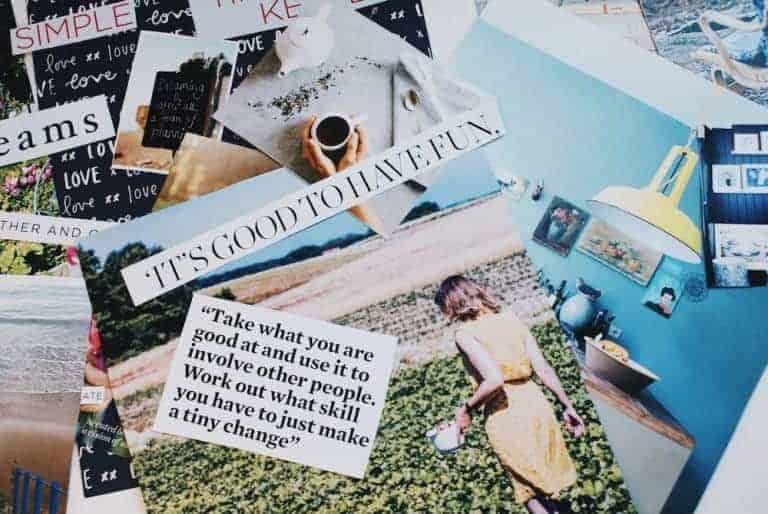 Once you've made your choice and the images are in place, the final part of the exercise is to identify, and write down, the intention behind the images. Why you chose them and what you want the intention to be. Keep in mind the DO, BE and FEEL headings. I wrote mine down inside a brand new notebook that I have with me all the time. You could use post it notes to add them to the board itself if that would work better for you.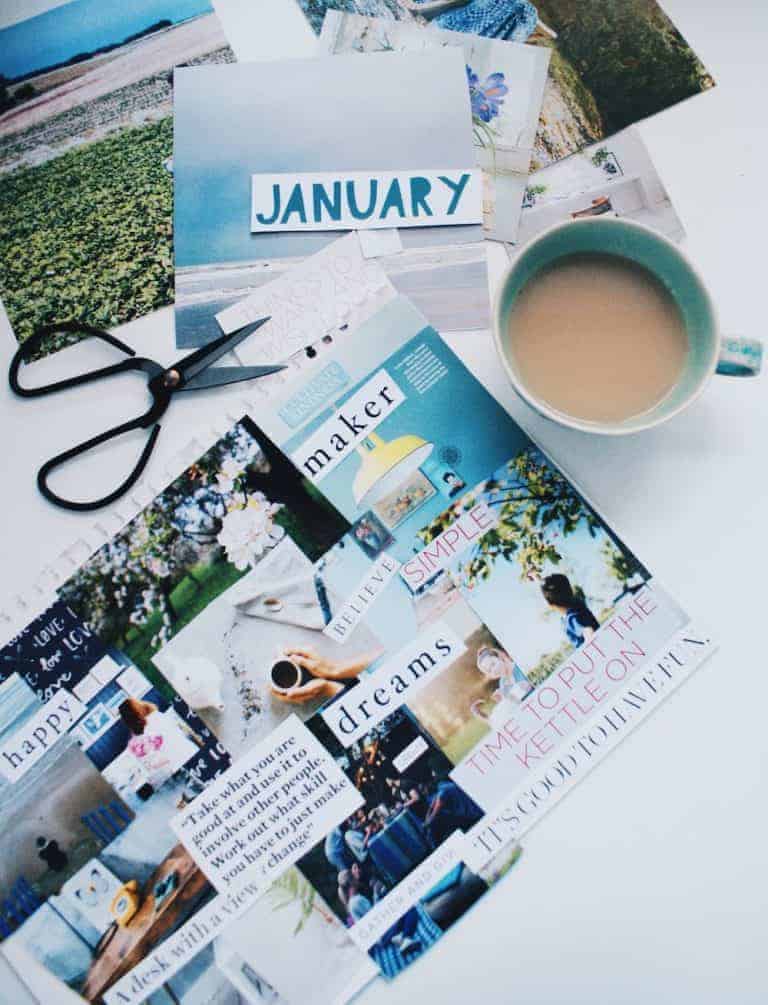 Don't worry about people seeing your vision board, or your list of intentions. This is just for you. I've put mine on the wall beside my desk. And added some fairylights. Because I had them and because when the light's starting to fade in the afternoon and energy levels start to dip, it's actually quite magical to look at the lovely board I've created and remember the feelings and goals I want to move towards this year.
I've already spent time really looking at my board and thinking about the intentions that came out of the note-writing process:
My intentions for 2018:
Spend more time enjoying simple pleasures.
Go back to my yoga class once a week and banish the guilt about taking this time out.
Meditate every morning for at least 5 minutes
Get to the beach more often. In all weather.
Dive in to new ideas and take leaps of faith. You only learn from mistakes, after all.
Find more time to make things at workshops and by myself.
Issue more invitations and gather good people around me.
Sometimes wear something unashamedly glamorous. Possibly full length. Think gorgeous dark linen kaftan rather than Abigail's Party though…!
Get out and about more to discover great makers. Just because I love doing it, doesn't mean it doesn't class as work. I don't need to feel guilty.
Take time to nurture the small orchard my dad planted for me last year, not long before he died.
Embrace connections within the creative community and beyond.
Find new ways to give individual makers support, positive direction and help.
Re-do my workspace to make it fresh, beautiful and a pleasure to be in.
Tea. Drink more of the very good stuff and take time to make it properly. Also, drink it before it goes cold!
INFORMATION
---
Feeling inspired? Take a look at the Creative Workshops category in our Directory, where you'll find a variety of inspiring courses, from art and crafts to fashion and beauty, interiors, cooking and flower & gardening.
If you run a creative course that would interest our readers, please get in touch. Email us at editor@frombritainwithlove.com
---
A pin to share to Pinterest