Discover Welsh flowers by Pheasant Botanica grown by Donna Bowen-Heath on her family's farm in Wales.
It was this Instagram post by Donna Bowen-Heath that first drew me to Pheasant Botanica welsh flowers. The photo shows her holding a single deep red Sweet Pea Henry Thomas. It's a flower she grows on her family's Welsh hillside farm first cultivated by her great grandfather (whose name was also, coincidentally, Henry Thomas). I knew I had to make contact when I read what Donna went on to write:
'I don't remember my great grandfather, but there is a photo of him holding me as a babe in arms, many years ago. And being able to not only grow the flowers on the same land he walked but, also have my workshop in the old cattle shed keeps my ancestors close to my heart.'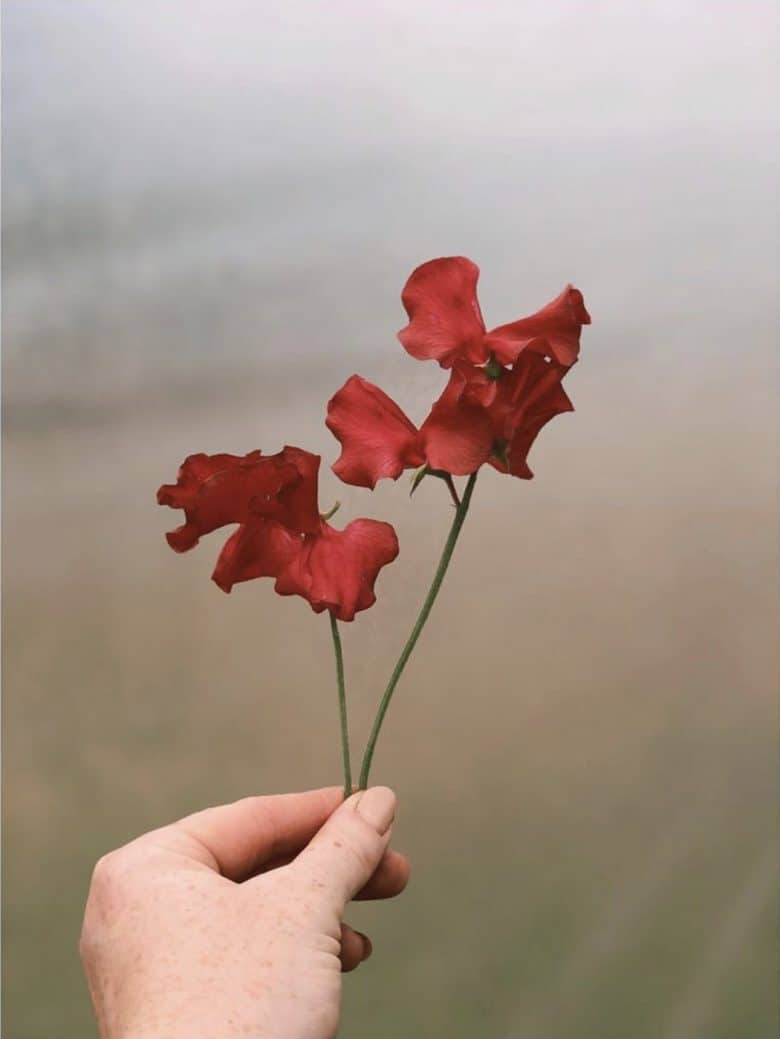 It's stories like this that make me excited to do what I do and I am so happy that Donna has joined our directory. So I asked her to share a little bit more about the story behind her business with us as well as one or two inspirations and local loves. I must say I really enjoyed joining Donna on her windswept welsh mountain and felt a real emotional connection. Hope you enjoy reading Donna's story as much as I did. Now you know where to find beautiful and sustainable welsh flowers, grown with love.X 
Please tell us the story behind your welsh flowers
I'd like to say I have an unconventional take on floristry. Often I find myself explaining that I am not a 'traditional' florist, so to speak. I grow as many of the flowers as possible that will be a part of your wedding or event. Welsh flowers which add character and feeling to the floral creations. I like to think I give personality to the flowers, for them to tell a story.
Being my own boss is key to my work/life balance. Being able to work around my family. I love the freedom I have, to grow what I like, trial different flowers and not be restricted by rules. The location of my business, although challenging, has the one of the best views! I love that some days, my family can come to work with me or I can have a day off to see my children at school. I have created quite a flexible business that works around my young family, rather than the other way around. It is definitely an important factor, as most of the time I am parenting single-handed as my other half is away most of the time.
It's a bit of long story of how I got where I am today, so bear with me! I did Theatre Studies at university, came home after graduating, got a job at good old Woolworths and then following a bereavement in my family, suffered with anxiety and depression. After taking time out, I took a summer job at my local plant nursery, convinced them to take me on, despite not really knowing much at all.
A summer job that lasted for 3 years…
Well, I never left the summer job, and stayed there for the next 3 or so years and learnt so, so much. Not only did I learn a lot, it also helped my mental health – which taught me I needed to be in touch with nature and use my hands. I know a lot of Latin plant names, rather than the common names. My husband looks at me weirdly on walks whilst I'm going along, saying Latin names out loud and touching the plants with excitement.
At the same time as the nursery, I was working a Saturday job at a local florist. Again, I learnt useful things, like the basics in floristry. Looking back, that florist was not a good experience. I was usually left to run the shop on a Saturday, knowing virtually nothing. In the end, I got sacked from the shop as things weren't working out – I had worked a full day beforehand too, on my own!! Because I was actually enjoying the floristry, I had enrolled on a floristry course. However, this wasn't to be either. I found it restrictive and bound by rules of how you should 'do flowers'. It was dated and stifled any creativity, and 6 weeks in, I quit the course, thinking that was it.
Learning how to grow welsh flowers
I was still working at the nursery, when I became pregnant with my first daughter. With my husband in the Forces, and based away, I decided to leave work and be at home with my daughter. However, keen to keep a toe in the plant world, I put up a polytunnel on the family farm, and began growing plants for the nursery's garden centre. I must have driven them nuts, as I was rather persistent asking for plants to grow on for them, and then sell them back. It worked though and this is what I did for the 5 / 6 years.
There was one problem though – my creative streak wasn't being satisfied and I mentioned this to somebody. I realised I should be growing welsh flowers and creating bouquets etc and that was it. So I went on a couple of courses – one for flower farming to see if I could grow anything up on the hills of Wales and the other was a course on how to make a hand tied bouquet. Then I got my first booking for a wedding and, as they say, the rest is history! I continued doing the odd class here and there and found using home grown welsh flowers really allowed me to be myself and break the rules.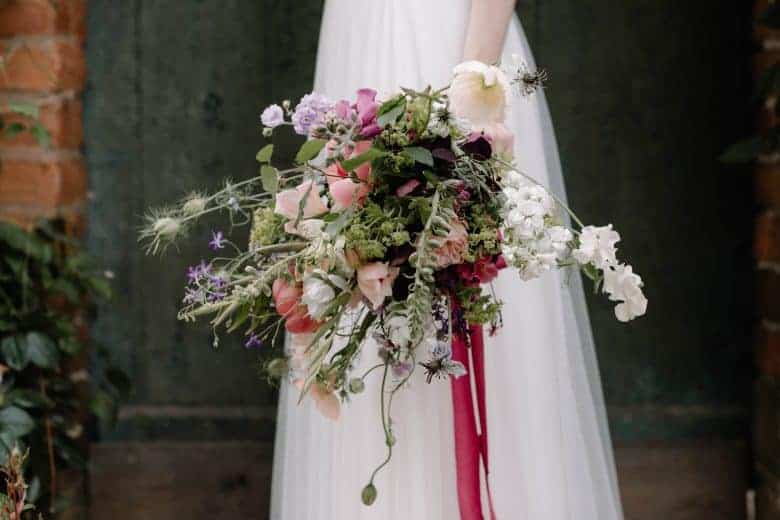 What inspired you to grow welsh flowers?
I'll forever be inspired by where I live. Living in rural mid Wales, it is only now, as I've got older, that I fully appreciate the beauty of the hills and valleys around us. The patchwork of countryside and how it changes throughout the seasons. I only have to step outside the door and something will catch my eye. I'll think 'I could use that as a starting point' for something that will work in tune with my flowers. Each homegrown bloom and welsh flower has its own personality, a kink in the stem, petals that are not perfect. All of which adds to make an interesting display rather than the rigid, straight stems most people are used to.
What's your creative process?
My creative process varies depending on what I'm doing. I find creativity much more straightforward and organic if I'm creating something for myself. I guess this is because there are no restrictions and I can just go off on a journey wherever the creative spark takes me. Perhaps a single flower has caught my eye in the polytunnel, and seeing how it grows, the way a flower is turned towards the light, can set me on my way… However, fulfilling a brief for a client, perhaps for a wedding, is much more challenging. They may have a vision in their mind and somehow you need to interpret it. This is when I can struggle and I have to walk away, take a break and quite often taking a walk clarifies everything. Thinking too much often kills the creative process.
And as for knowing when a creation is finished, that can be a difficult one!! Again, for me, it's about stepping away, and coming back to look at the creation with fresh eyes, or even taking a quick photo of it. This can help work out if you could do more or ultimately, take something away, to finish it.
What's your favourite way to start the day?
I always start the day with a cup of tea. I don't function without it. It would be a real treat to sit and drink the tea, in peace and think about the day ahead as well as collecting my thoughts. With a busy household there's no real chance of that happening though! As soon as I'm up, the whole house has risen, dogs wanting to be let out, the cat wanting to be let in and the children to be seen to, ready for school. Unless I have a wedding, work doesn't start till gone 8.30, when the children have caught the school bus and calm ensues!
What's your morning routine?
Once the children have gone to school, work begins. The dogs are hustled into the old car and we take the short trip up to my flower field and workshop. Both are based on part of the family farm, which has been in the family for years. It took a lot of persuading my father to allow me to have part of a field to erect my first polytunnel 12 years ago. Gradually, I've expanded down the field, another tunnel and flower beds. It's a challenging place to work. The location is beautiful in the summer, with views that go on for miles but in the Autumn/Winter months it can be very bleak, with the winds blowing up the valley and the rain beating down.
The workshop is quite a new addition. Like many small businesses, I began in the kitchen. Creating wedding flowers in a kitchen, with a family, was not ideal and so, as my father came to understand my welsh flowers business more and saw how it was progressing, I was given one of the old cow sheds specifically to do the flowers – which has been invaluable! My husband boarded it out, built workbenches and we've painted it white, so the light in there is so reflective and perfect for flowers. It's not quite finished but we're nearly there and it's a very short walk from the flower field, which makes it ideal.
What keeps you going through the day?
On a normal day, I'm restricted to working school hours, so I automatically have a deadline that I need to do things by. This keeps me on my toes and keeps my time management skills in check.
Top tips for enabling creativity?
This is really difficult but, do try not to compare yourself to others. All too often, particularly with the use of social media, we see others and think 'Why aren't I doing that?' I tell myself that much of what you see online, is not true to life, and even I'm guilty of creating a persona, an ideal, of what we think we should be. I find if I get consumed with social media, it stifles my creativity and weighs down on my mind, which is bad for my mental health. Switching off devices, embracing the outdoors and being with the ones you love works wonders for rebooting creativity and clears the mind of any doubts you might have. Over the years I have learnt to recognise the signs – a 'weight' on my shoulders; I take myself away and get back in touch with myself and my family, the things that really matter.
Favourite season?
Spring is my season. Everything is reborn again. The bulbs poking through the soil. Seeds I have sown start germinating. The gentle heat of the spring sunshine felt on the skin. I think this probably come from growing up on a farm, with the new life of lambs, hopping and skipping in the fields. It's the cycle of life, I guess.
What do you love best about each season?
There is something new to look forward to every season. Different welsh flowers starting to bloom and the change of nature in the countryside. Despite me knowing what blooms each season, it never fails to excite me to see the first snowdrop of winter, the first daffodil of spring, the first rose etc. I think living where we do, I feel very in touch with nature and the seasons and recognising when things are changing; from seeing the berries ripening and the squirrels gathering nuts.
What are your favourite welsh flowers from each season?
I wish I could say I have a definitive list of favourite flowers but, it changes all the time!! This summer it has been the poppy. I've grown a lot of varieties I haven't before, and they have been an absolute joy with their colours and markings on the petals. I would say though, my favourites are never the stereotypical big bloomers like roses and peonies. As much I like them, I'll always plump for the underdogs, the more understated blooms that often pass by unnoticed.
What do you do when struggling for creativity?
I take a complete break from work. And I don't touch any flowers creatively but continue with the growing side of blooms. I switch off from social media and don't put pressure on myself to do something creative. Sometimes I might do something different. And when I'm not thinking about it, I find my creative streak again, usually in the middle of the night, I'll have an idea, so will note it down next to the bed!
Greatest simple pleasures?
Apart from my family, who give so much joy and surprise all the time, it must be nature. There are lots of hills where we live and every time you reach the top, lift your head and see the view, it's something special. Blows away the cobwebs, I suppose! We are lucky that we can just roam free all over the farm.
What is your approach to setting and achieving your goals?
I like to aim big but realise it has to be done in small stages. It's better to take your time than jumping in with both feet. That way I don't feel overwhelmed.
Please share a real hidden gem with us – the sort of place we'd never find in the guidebooks
About 3 miles away, there is a place a called Gregynog. It's a large country house but not all that well known. Lots of locals know about it and walk the grounds there but, the joy is, it's never over busy. It's not a National Trust location, like many places, which allows it to pass under the radar. It has some beautiful walks through the woods and countryside, and you can easily lose an afternoon there.
Best place to watch the world go by?
We have a steep hill we go up on the farm, and every time if the view blows my breath away, I'll never tire of it. We can see right across to the mountains and almost have a 360 view of the countryside around us. My children have already realised what a beautiful place we live and often belly ache to go up the hills and take walks.
How important is seasonal living to you and how do you respond to this in your work and home life?
Growing up on a farm, I've always seen how important seasonal living is. Realising there's only certain times of the year produce can be harvested and that not everything is available all the time, if you choose to live seasonally. I try to educate my children about this and explain why I choose not buy strawberries, for example in the winter. Quite often I'll have people asking for a bouquet in November and I have to explain my welsh flowers are seasonal, we don't have the climate to grow them winter.
How do you support plastic-free and zero waste in your welsh flowers business?
All my floral designs are created foam free. It's amazing what a bit of chicken wire can help to create! Reusing chicken wire and pots time and time again, not only cuts down on waste but also saves money in the long run. Initially it might take a little time to design the mechanics of a design but, once you've done it once, it's there to be used again. With regards to flower waste, everything gets put back on the compost heap and the cycle begins again.
How important is ethical production to you?
It's important to know where products come from. Seeing the animals on the farm, I know they have a good life and are well cared for. The same with my flowers. Undoubtedly there are times when we can't always know these things but, as long as we are trying and make small changes, they become second nature in our lifestyle.
Best place to escape to in the British Isles?
Either the mountains or coast. The welsh coast is only an hour from us and with the mountains meeting the sea, you get the best of both worlds. A trip to the sea works wonders for me, particularly in the winter, when there are very few people about. All the space on the beach and the sea air. I've always had this obsession with the sea and if I didn't live in the country, it would be beside the sea. It has a rejuvenating nature. The Mawddach estuary is a favourite, where we walk along the railway bridge and into Barmouth, for fish and chips and the children can run free on the beach.
Best piece of advice you could share based on your experiences so far?
Trial and error. Do not be afraid of getting it wrong. You learn from your mistakes and what you can do better. If everything went the way you wanted it, you would never progress.
Favourite book of all time?
I can't say a single book. There are different books which have stood out for me depending on what age I have been. Our house is full of books and we all have a huge love of reading. We are lucky enough to have a mobile library that comes to us once a month where we empty it of books. We had 40 books last month!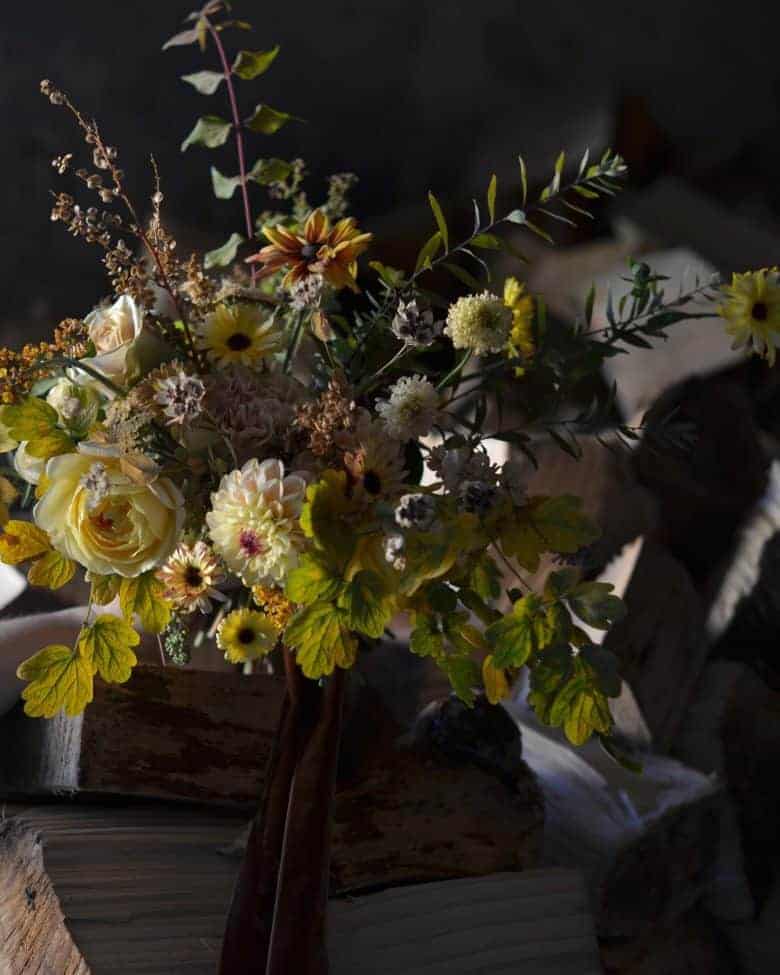 Secret to being happy?
Putting the family first and not being consumed with work. Being able to work around my family and understanding that I can say 'no' to certain jobs. I'm more confident in deciding what is good for my business rather than taking on everything that comes my way and being overwhelmed. Talking is key as well, and I share everything with my husband. He sees things from a different point of view. Taking time out, stepping away, and enjoying life. Don't feel guilty for not working!!
Your goals for the future?
I would like to be growing a lot more welsh flowers. To be able to offer workshops where I can share my passion and knowledge with others. I love being able to teach and explore different floral methods with people. And I would like to offer people the chance to come and pick their own welsh flowers from my field and then use those flowers to create something beautiful.
My husband leaves the Forces in a few years as well, so I would love for him to be a bigger part of the business. He is already involved when he is able to. He's great at working out logistical problems out and any manual labour that is too much for me! He's also a dab hand at making a buttonhole or knocking up a garland when needs be!
INFORMATION
---
Find Pheasant Botanica welsh flowers in the Sustainable British Flowers section of our Directory
Photo credits: Katrina Bartlam (capturedbykatrina.co.uk); Motiejus (www.motiejus.com); Sarah @ Simply by Arrangement; Rebecca Goddard Photography (rebeccagoddardphotography.com)
Are you a maker, grower or creative course provider? Like to list with us and benefit from joining our supportive community? We'd love to hear from you. Check out the packages we offer on our Join Us page and get more details from our Information pack here
---
A PIN TO SAVE TO PINTEREST
It would be great if you could share the love for Pheasant Botanica welsh flowers. All you have to do is hover over the image below until you see the pinterest button appear. Then share it to your boards. Thank you! X