Tiny Theodore teddy bear free sewing pattern
When Lisa from A Sewing Life got in touch to ask if I might like to share her adorable mini Theodore teddy bear free pattern with you, I didn't have to think twice. I had a strong inclination that you'd very much enjoy making this little chap. In these difficult times we're all living through, I really like the idea of sending this highly huggable tiny handmade bear to loved ones we're missing or to anyone who is struggling and alone. He is also perfect for making as a little memory bear in honour of loved ones lost. At the end of the day, mini Theodore bear is all about love… a labour of love and a creative way to share a little love and to remember lost loved ones. Hope he brings a tiny, huggable spark of joy into your life and to those you hold dear. X
First things first, get your tiny Theodore teddy bear free sewing pattern:
teddy-bear-free-sewing-pattern

Once you've got your pattern, here are some super-helpful tips from Lisa to help you on your way:
Lisa's top tips for making your tiny Theodore bear
This little sewing project is a hand-sewn one that is intended to be made with love and the most important part of the process is to enjoy it. If you sew him with love, that will be transferred into the finished bear. It's a perfect idea to give him to a loved one who can keep him and give him a squeeze when they need some love. 'Share the love, sew a bear hug'. Show someone that you care by sewing them a bear hug and enjoy the wonderful feeling that you get by giving them a handmade gift.
This bear is made out of small pieces of felt fabric. Felt is a wonderful fabric that is so easy to work with and the edges do not fray. There are many different types of felt from the cheaper acrylic felt which are often used to make felt crafts, through to the more luxurious wool felt. Felt with a wool content is a better quality, feels and looks nicer and lasts longer. I use a wool blend felt which I find has a really nice handle and texture to it. I like to use marl colours as I like the traditional feel that they give but feel free to make the bears in an amazing array of colours.
Stitches & thread
The stitch used in this pattern is whip stitch but you can also use blanket stitch or running stitch. Each stitch type will give a slightly different look but there is no right or wrong stitch. You could try each type of stitch out on a piece of a scrap of fabric first to see which you prefer.
I have used a matching colour all-purpose sewing thread to sew up the body of the bear. However, if you want a different look, you could use a couple of strands of embroidery thread which will show the stitching more. It might be nice to use blanket stitch in a contrasting colour which has quite a different look.
If you would like to make this into a memory bear, simply cut the pattern out of a piece of clothing that holds sentimental value to you. It is likely that if you are making this out of an item of clothing that the fabric will fray. If so, simply iron a piece of fusible interfacing onto the back of the pattern pieces to avoid it fraying. An alternative is to add the little heart out of a piece of the clothing instead.
Stuffing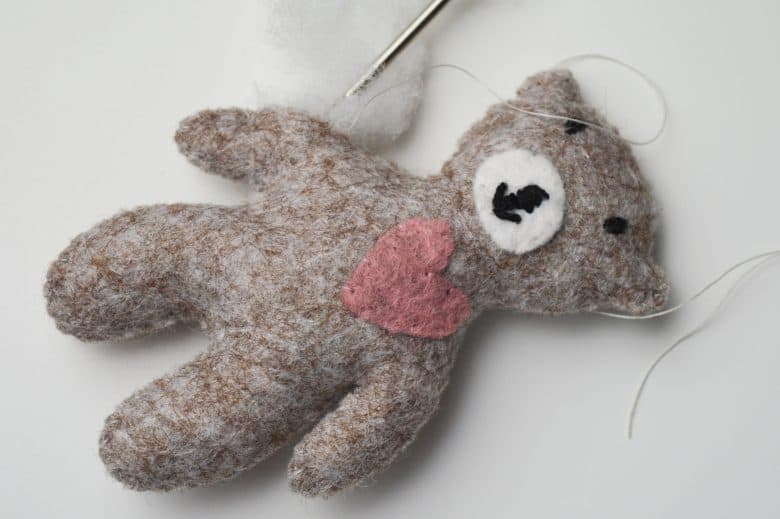 There are several options for this little bear. I use a toy stuffing but if you don't have any to hand you could use fabric scraps or cotton wool. You could also use rice if you have used very small stitches to ensure the rice can't escape. Because the bear is so small, you need something to gently push the stuffing inside. You could use a chop stick, a knitting needle or anything similar. Be very careful to push the stuffing in gently to avoid making a hole in your lovely little bear.
Creating the nose
The face of the bear is where you can make some changes to give him his own personality. Experiment with different expressions to see what you would like. I would recommend drawing them on a piece of paper first and then practising on a scrap of felt so that you can get it right before you do it on your bear. Use 2 strands of embroidery thread to make the eyes, nose and mouth. Embroidery thread has 6 intertwined strands and you will need to gently cut your piece of thread to the correct length, separate the 2 strands and use those.
There is no way to fail with this project. Anything that you do adds to his character and individuality so know that this is a win-win sewing project.
Thanks to Lisa for sharing mini Theodore bear with us.
If you would like to discover more about the beautiful collection of patterns and sewing kits Lisa has created, you can
find out more here.
Buy Theodore bear sewing pattern on Etsy here
Buy Theodore bear sewing kit on Etsy here
Lisa: Theodore Bear is the first of the characters that I designed for Theodore Bear and Friends and I wanted him to be the central character. When I designed him I knew that I wanted a traditional bear with movable arms and legs and he was to have a kind character. I took a long time making changes to the pattern to get it just right and searching for the perfect fabric to give him the old fashioned, vintage look that I was searching for. I designed the coat to keep him cosy and I was careful to choose colours that continued the earthy, traditional feel.
My daughter Grace has written a lovely short story that we call All About Theodore Bear which you can download here.
A little snippet:
Theodore Bear is a peaceful soul who will hum as he cracks open another dusty old book before bed every evening, at precisely nine o'clock. He will have spent the day wearing a mellow smile which he shares with everyone he passes. It has been a while since Theodore frowned, in fact.
When not guzzling another steaming pot of freshly brewed tea, you can find this bear scribbling his thoughts onto any surface he can get his paws on – notepads, the backs of receipts, or some kitchen roll if he's in a spot of a rush.
Bluebell Rabbit
Buy Bluebell Rabbit pattern on Etsy here
Buy Bluebell Rabbit sewing kit on Etsy here
Florence Piglet
Buy Florence piglet sewing pattern on Etsy here
Buy Florence piglet sewing kit on Etsy here
James Fox
Buy James Fox sewing pattern on Etsy here
Buy James Fox sewing kit on Etsy here
Beatrice Fawn
Buy Beatrice fawn sewing pattern on Etsy here
This article contains affiliate links, which means we may earn a small commission if a reader clicks through and makes a purchase. All our blog posts are independent and in no way influenced by any advertiser or commercial initiative. By clicking on an affiliate link, you accept that third-party cookies will be set.
INFORMATION
---
Find A Sewing Life listed in the Makers and Sewing Courses, patterns & kits sections of our directory
Are you a maker, grower or creative course provider? Like to list with us and benefit from joining our supportive community? We'd love to hear from you.
Check out the packages we offer on our Join Us page and get in touch…
---
A PIN TO SAVE TO PINTEREST
If you've enjoyed discovering this teddy bear free sewing pattern, it would be great if you could share the love. All you have to do is hover over the image below until you see the Pinterest button appear. Then share it to your boards. Thank you! X