Christmas embroidery ideas to enjoy making either for yourself or to give as handmade festive gifts. I have searched and searched for the kits that really stand out from the crowd. Hope you find something you love!
I do have a bit of a thing for robins, so I've picked out quite a few to share here. This kit is perfect for beginners upwards and has everything you need including organic and ethically made navy cotton fabric, DMC embroidery threads and needle, felt for covering the back and a 3 inch wooden embroidery hoop. The instructions include a stencil and stitch guide as well as pattern transfer paper. All you'll need to supply is a pair of scissors, a pen and some seasonal cheer.
What I love about this embroidery kit by Nancy Nicholson is that it's six mini projects in one. The box includes everything you need to sew and embroider two cats, one dove, one peacock and two bauble designs. Lengths of gingham ribbons (to hang them from the tree) are the perfect finishing touch to this folky collection. You could make them to hang on your own tree each year, or to send as handmade postable gifts. Either way, they look great fun to make.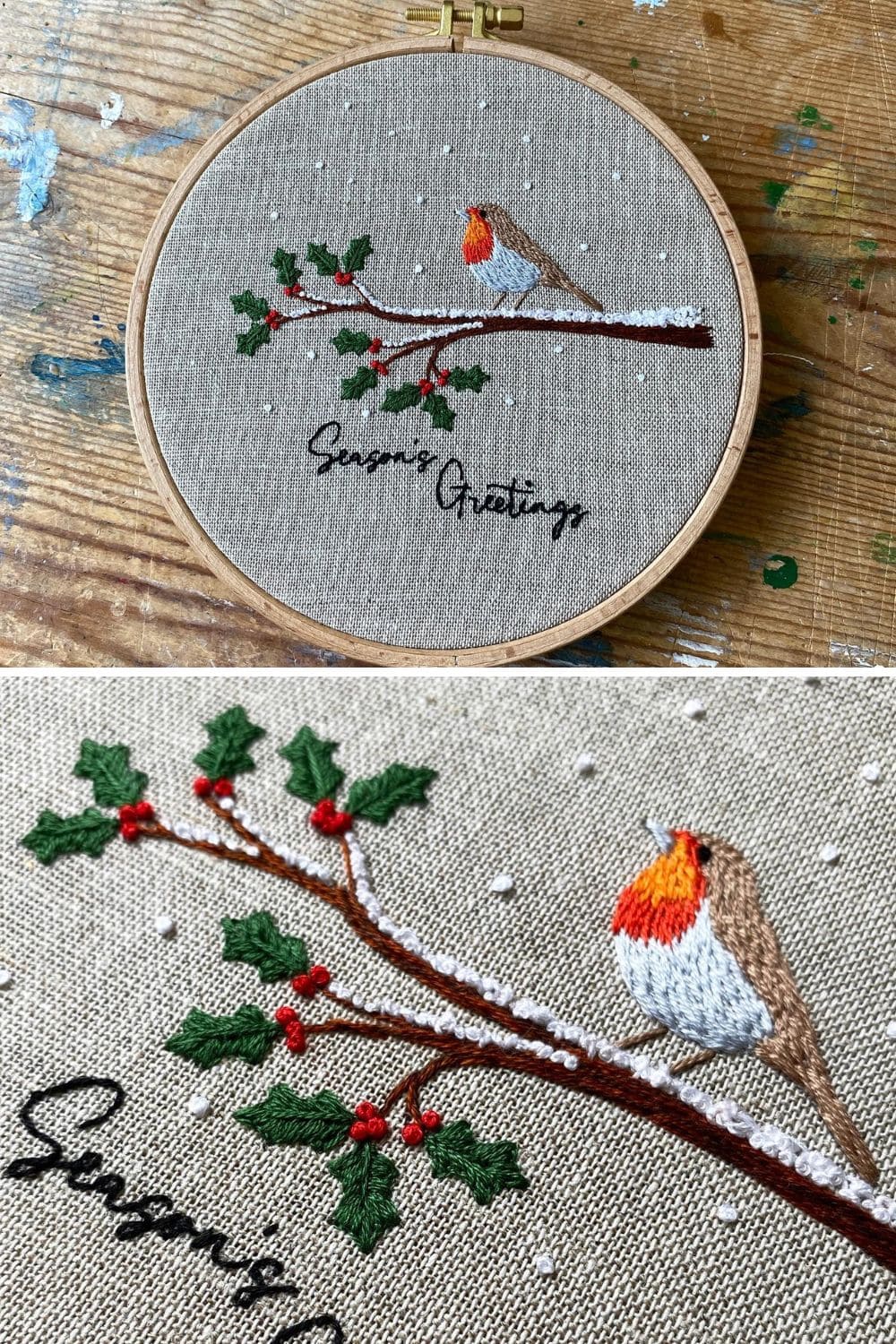 I did already say I have a bit of a thing for robins – and there are more to come! The reason I picked this kit is because it's suitable for beginners and includes natural unbleached linen and a really pretty snowy branch of holly into the bargain.
I love Corinne Lapierre's collection of folk-inspired craft kits on Etsy. For Christmas, I've picked out a couple of festive favourites to share with you here, but check out her full collection here.
The other Christmassy kit by Corinne that I really want to share with you is her 12 Days of Christmas full kit. I get that it's pretty pricey (£75) but when you consider it contains a copy of her book along with everything you need to make 13 different beautifully decorated soft natural felt decorations it works out at £5.80 each (it costs £10.80 to buy each of the decoration kits separately). NB it's 13 not 12 as the pear and partridge are separate!
The alternative is to buy Corinne's 12 Days of Christmas book separately for £9.50 (it contains full scale templates, all instructions and a stitch guide) and either use your own materials entirely or buy Corinne's 12 Days of Christmas felt bundle (£26.50) if you have the other supplies needed (ribbon, threads, needle, scissors, toy filling….) but not the felt. Lots of options – hope I've helped clarify rather than confuse!
As with the 12 Days of Christmas decorations, this totally adorable kit combines simple embroidery stitches with natural felt appliqué. Love.
I did say there'd be more robins… This exquisite kit is from Stitchery Studio. There's a beautiful delicacy to their designs and I love that their kits include vintage linen along with all the threads and instructions you need. This kit includes a 8 inch piece of antique linen that is screen printed by hand with the pattern for you to follow. Suitable for enthusiastic beginners upwards.
Possibly my favourite of all the kits I found when researching this feature. Both of my children totally adored snow globes when they were small and this makes me think of them. Such a gorgeous project for this time of year.
Before we leave Stitchery Studio, I had to share this Beatrix Potter-inspired Christmas Tree embroidery kit too. Complete with bob tail bunnies, candle-decked tree, tiny candy canes and stockings, I'm not sure you'll find anything more adorable than this one. Again, the fabric is pre-printed antique linen and the kit includes plenty of threads and full instructions. You'll need to supply your own scissors, needles and embroidery hoop (the design is approx 23cm by 17cm).
Love the simplicity of this botanical design. More Winter than Christmas (but then Christmas isn't relevant to all of us) – so it's perfect for crafty folk who fancy making something seasonal rather than festive. I have picked it also partly because I know from your messages that many of you live in Canada – so this one's local to you!
The full kit includes pre-printed fabric, 6 inch bamboo embroidery hoop, DMC embroidery floss, needle, felt backing and easy to follow instructions. Embroidery & Sage is based in LA, so if you live this side of the Atlantic, you might prefer to buy the PDF version of the kit which you can download with pattern for 6, 7 and 8 inch hoops as well as easy to follow instructions and suggested materials. I love the contemporary, graphic design of this one.
Closer to home (for me) again, this next kit is by Ruby-based Purple Rose Embroidery.
This fab kit includes pre printed cotton fabric (pattern transfer if you prefer), stitch guide, full instructions, DMC threads with references, a John James needle and embroidery hoop. It's also suitable for beginner's upwards.
Give your tree and/or gifts a handmade festive feel this Christmas with this cute DIY Cross stitch kit from Stitch Happy. Choose from Peach, Mustard or Plum – each comes with velvet ribbon so that you can hang them as tree decorations or attach them as gift wrap toppers. Worth knowing that these kits also arrive in the prettiest packaging so they make the perfect gift for a crafty friend!
I know I said I was moving on from The Stitchery Studio several paragraphs back, but I couldn't actually leave without just sharing one more idea from them. How perfect is this Christmas Wreath design?
The kit includes a 10 inch pice of hand-printed antique linen together with all the threads and instructions you need. Also, if you're looking for a gift idea for a crafty friend, it's worth knowing that The Stitchery kits come beautifully packaged in textured card folders that close with hand-dyed silk ribbon. You will need your own scissors, embroidery hoop and needle though.
This article contains affiliate links, which means we may earn a small commission if a reader clicks through and makes a purchase. All our blog posts are independent and in no way influenced by any advertiser or commercial initiative. By clicking on an affiliate link, you accept that third-party cookies will be set.
You might also like
flower embroidery ideas to enjoy
How to make embroidery hoop art with dried flowers
Crewel embroidery inspiring and beautiful DIY kits