flower embroidery ideas to enjoy
I know just how many of you have enjoyed trying your hand at the numerous flower embroidery ideas we've shared on the blog. So I thought it might be helpful to collate them in one place.

Flower embroidery ideas
If you haven't already discovered the wonderful Olga Prinku, now's your chance! Olga has created a whole new art form – embroidering on tulle with dried flowers. Her creations are utterly beautiful and gaining a bit of a cult following. If you fancy trying your hand at creating your own dried flower embroidery, Olga has shared her simple step by steps over on the blog: How to make embroidery hoop art with dried flowers.
There's also a helpful video tutorial here (with links to lots more in-depth tutorials): Dried flower embroidery video tutorial
To give you some inspiration, here's a taste of one or two of Olga's wonderful designs: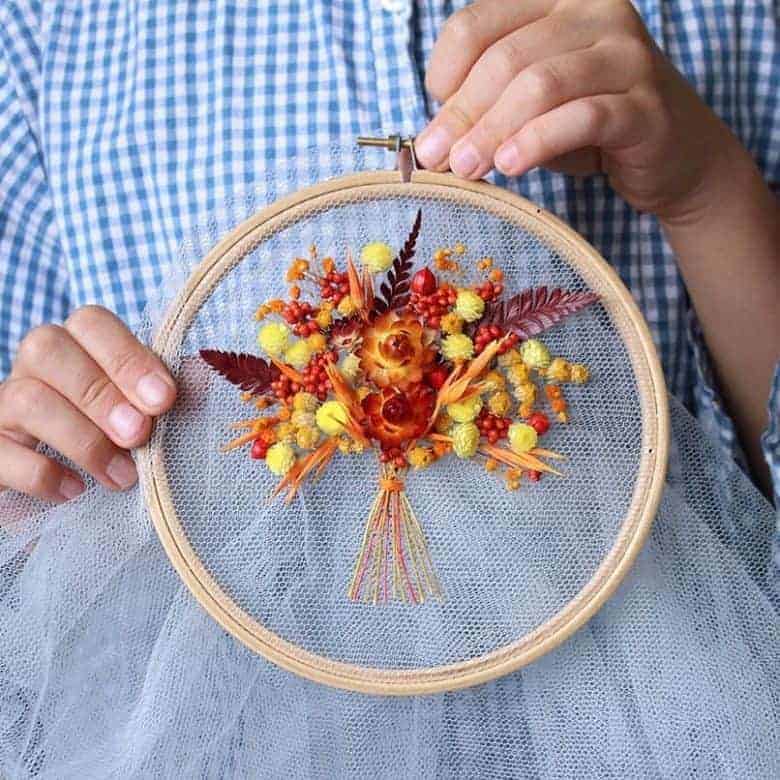 Freehand machine embroidery with Poppy Treffry
Love how this freehand flower embroidery by Poppy contrasts vibrant colours with dark navy linen. The design is inspired by sketches Poppy made at the Eden Project and brought to life by her vintage sewing machine.
Join Poppy's embroidery club
This is such a popular way to enjoy embroidery along with Poppy herself. Offered seasonally, you can sign up for online tutorials, how-to videos, instructions sheets and templates as well as an option to have all the materials sent to you too. Get the spring embroidery club details.
Make your own kits
Poppy also offers a really sweet collection of make your own kits, including this spring flowers embroidery storage pot project. And what about snapping up a bag of jolly Poppy Treffry fabric scraps?
Flower embroidery kits – favourites from Etsy
There's so much flower embroidery inspiration over on Etsy. Here's my own particular selection of favourites.
If delicate vintage-inspired embroidery is your thing, you'll love Stitchery Studio Their beautiful kits include pre printed antique french linen, plenty of threads and full instructions suitable for beginners upwards.
This is The Seasons Summer Wreath embroidery kit (above) and Spring Wreath kit (below).
I also absolutely adore this Stitchery Sampler
What about this 'She is beauty' kit by Stitch with Skye?
You can choose the hoop colour (natural or black) and whether to opt for blank or pre-printed fabric. The kit includes all the materials you need and 100% natural unbleached cotton.
Spring garden flower embroidery kit
How pretty is this country garden flowers embroidery kit by Natalie Gaynor Designs?
You can also buy personalised flower embroidery hoops – such a lovely wedding gift idea.
How pretty are there embroidered roses?
This Summer embroidery wreath is available to buy as a PDF pattern and it's by Pixels and Purls.
This pansies hand embroidery pattern tutorial by Emillie Ferris is exquisite – like painting with thread.
Vintage flower embroidery
Etsy is also a great place to source original vintage embroidery. Vintage & Botanica is a great place to source them along with beautiful vintage fabrics and vintage embroidery craft fabric packs.
The possibilities for re-purposing vintage embroidery are endless. As well as lavender bags and cushions, what about using pieces as appliqué decoration or visible mending?
How pretty is this apple blossom embroidery on vintage white linen tablecloth?
I have quite a collection of vintage embroidered table cloths and the like and this has got me thinking. I have a really simple summer dress that I have had for years and love to wear on summer days gardening. It could do with a new lease of life, to be honest, so I'm wondering about adding a couple of pockets made from a pretty vintage embroidered linen tablecloth I never use on a table. If this goes well, I'm wondering about upcycling more of my sizeable stash of beautiful embroidered linen and cotton table cloths. Maybe making something new like a dress or bouse.
I've found these patterns on Etsy which I think might work well – what do you think?
This Liberty Bella Tea Dress would look lovely either with upcycled vintage embroidered fabric on the collar, or around the bottom of the skirt, don't you think? I'm not sure I'm good enough at sewing to centre a panel down the front of the bodice, but that could look gorgeous too.
I'm thinking that the sleeves would work well in vintage embroidered fabric on this Liberty Boho Shirt pattern:
This Mabel Tiered Dress would also adapt well to use with upcycled embroidered fabric – possibly the bodice and bottom tier?
I just love this vintage springtime wild flowers embroidery with bluebells, primroses and violets. It was stitched in the 1940s and feels like a moment captured in time. There's something quite special about picking up and appreciating up close something made by someone else's hand isn't there?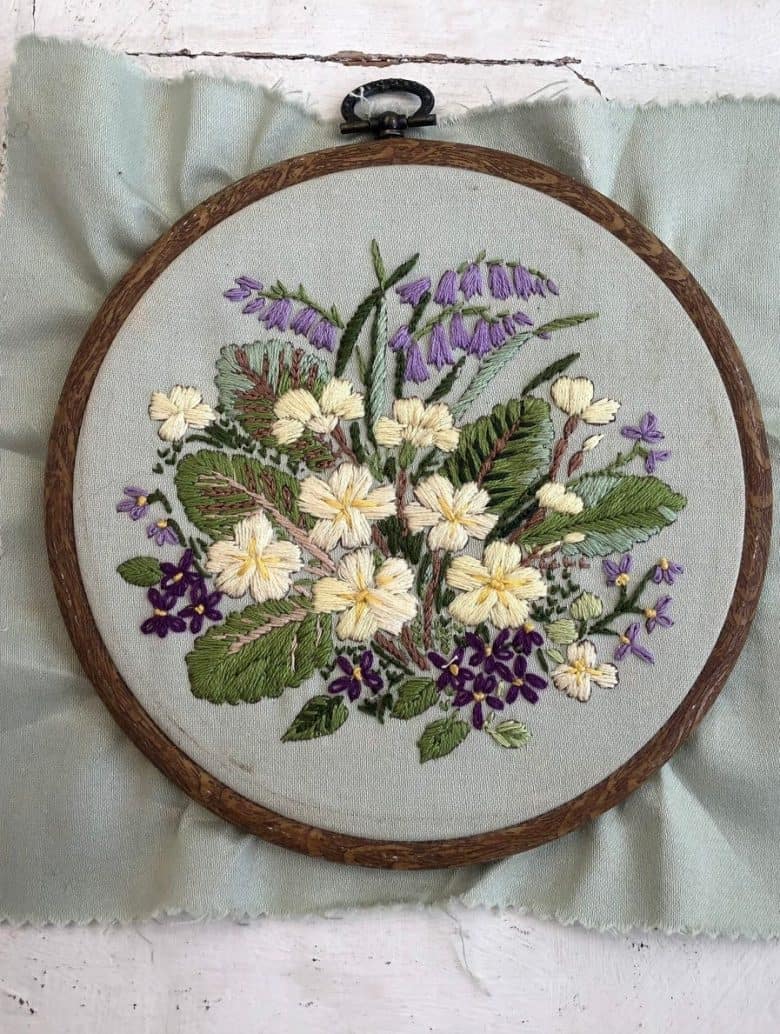 Yumiko Higuchi
No blog post about flower embroidery would be complete without mention of stitching genius Yumiko Higuchi.
This Mimosa embroidery is taken from A Year of Embroidery which includes 38 patterns that follow the seasons. From snow flowers in January to lily of the valley in May, seed pods in October and trumpeting angels in December, this book is suitable for embroiderers of all levels and has plenty of detailed diagrams and clear step by step instructions.
Trish Burr
I adore the painterly shading of Trish Burr's designs. She offers a range of online workshops and classes and sells her beautiful patterns as PDF downloads.
I love this jug of flowers design don't you? Buy the pattern here.
INFORMATION
---
This article contains affiliate links, which means we may earn a small commission if a reader clicks through and makes a purchase. All our blog posts are independent and in no way influenced by any advertiser or commercial initiative. By clicking on an affiliate link, you accept that third-party cookies will be set.
Find Olga Prinku in the Creative workshops section of our directory
Find Poppy Treffry in the Textiles section of our directory
You might also like: Freehand machine embroidery with Poppy Treffry
Dried flower embroidery video tutorial
How to make embroidery hoop art with dried flowers
Are you a maker, grower or creative course provider? Like to list with us and benefit from joining our supportive community? We'd love to hear from you.
Check out the packages we offer on our Join Us page and get in touch…
---
A PIN TO SAVE TO PINTEREST
If you've enjoyed discovering these flower embroidery ideas, it would be great if you could share the love. All you have to do is hover over the image below until you see the Pinterest button appear. Then share it to your boards. Thank you! X