How to grow sweet peas with Rosebie of The Real Flower company
Like to grow perfect sweet peas this summer? I have expert tips on how to do just that from queen of the scented flower growers, Rosebie Morton.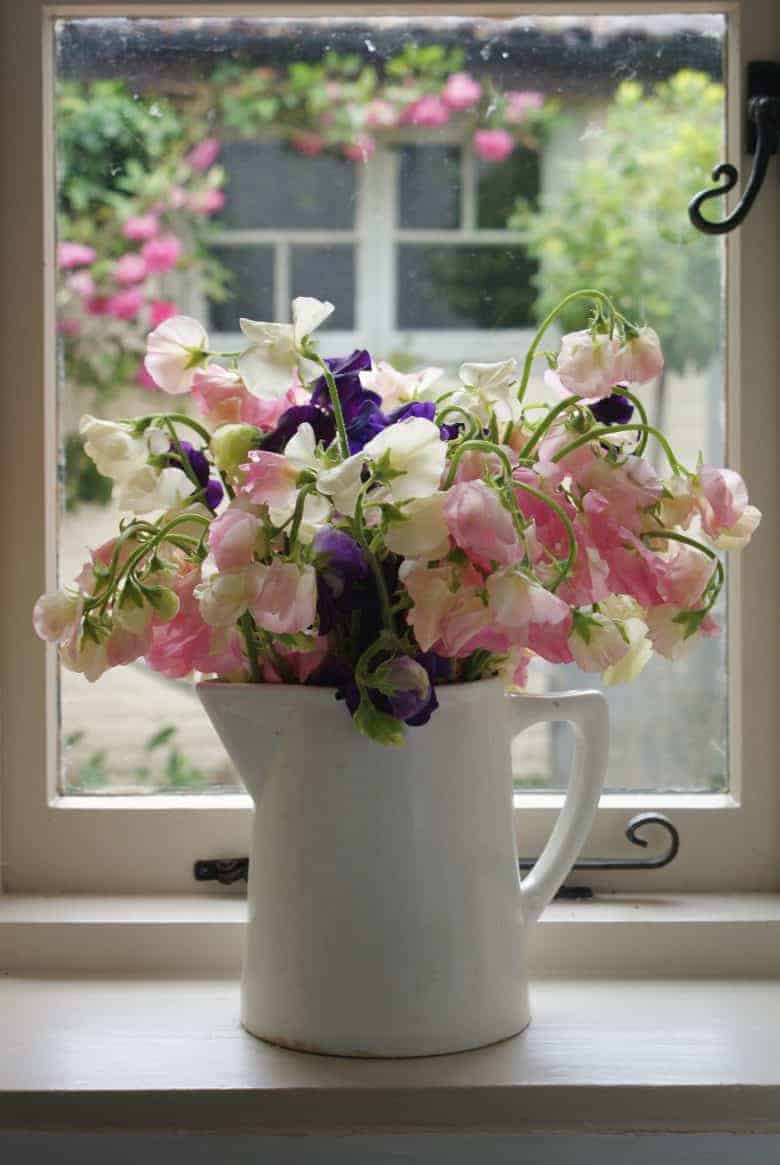 This is Rosebie, founder of The Real Flower Company, photographed at her Hampshire farm yesterday. Sweet peas are flowering in abundance there now – and are available to buy in simple posies, glass jar arrangements, and bouquets. Browse the collection of sweet pea arrangements here: https://www.realflowers.co.uk/scented-flowers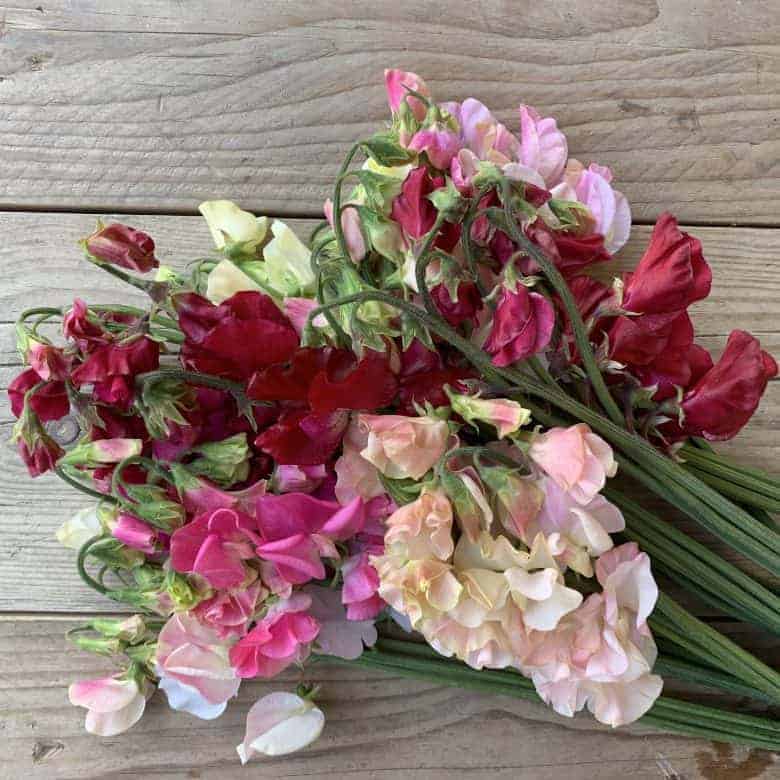 If you're stuck inside right now, and maybe don't have access to a garden, you can order a bunch of sweet peas to be sent direct to your door – or to someone you'd like to cheer up. I can't think of a nicer way to celebrate the arrival of Spring can you?
Grow your own
If, like me, gardening is offering welcome relief and relaxation right now, you might like to try your hand at growing sweet peas yourself. And if, also like me, you could do with some expert tips and ideas, look no further. Rosebie shares her 5 essential tips for growing perfect sweet peas this summer. It's not too late if you get cracking.
I've had limited success with growing sweet peas in previous years, so I'm going to take note and follow the advice. I did start off some seeds in tubes of kitchen roll back in the Autumn. Not sure what I did wrong, but most of them didn't make it. I have three strong looking seedlings and a tiny tiddler from a whole packet of seeds. Four is better than nothing, but still…
I do like the selection of sweet peas by Sarah Raven – click the image below to browse her seed collection.
Rosebie's tips have already helped me to work out where I've probably been going wrong. Last year's container was too small I now realise. And I planted the seeds straight outside. I let them do their own thing and didn't pinch out at all. Not surprising I didn't get the best results. And I am so excited to discover her favourite seed supplier. A great find and it's not too late to order some seeds for this year!
Hope you find some tips to help you too!
How to grow sweet peas – Rosebie's top 5 tips
1 Choose the right variety
If you are growing outdoors in the UK or somewhere with a similar climate I'd always recommend a summer-flowering variety. I think Roger Parsons, who holds the National Collection of Sweet Peas, has a wonderful selection – my favourites are Cathy, Romeo, Zorija Rose, Alisa and Emily.
Tip: Day length is more important than warmth when growing most cut flowers including sweet peas, so choosing a summer-flowering variety is likely to give the best results.
2 How to sew
I'd always suggest sowing inside on a windowsill or in a greenhouse rather than directly into the soil. February to March is the best time to get started but I've sown seeds at the end of April and still been successful – I just had a later crop.
Sweet peas need a good amount of depth for their roots (known as a good root run) and don't like their roots to be disturbed once they've been planted. So I'd suggest sowing your seeds in loo-rolls, kept upright in groups in pots. Or invest in Root Trainers, which cleverly hinge open.
Always use a good-quality compost.
Cover the seeds with about 2–3cm of compost and water them in well.
Water regularly to keep the soil moist but never wet. Don't let the soil dry out.
Expect your seedlings to start to appear after about two weeks.
There's no need to chit or soak sweet pea seeds
Tip: If your greenhouse attracts mice, place holly over your pots to act as a natural deterrent. Mice tend to be very keen on sweet pea seeds
3 Pinch out for stronger flowers
If you are growing your sweet peas for cutting, then when the shoots first appear you will get better results if you establish which is the dominant shoot and pinch out the other, subordinate shoots. Continue to do this as your seedling grows. If you are growing for cutting then also pinch out any tendrils.
If you want a fuller plant for your garden, there's no need to pinch out.
4 How to plant out
Plant out your sweet peas when the risk of the last frost has passed, usually in May.
sweet peas are very hungry, so make sure you prepare the soil well with good compost and muck, digging in at least 30cm down.
While planting be careful not to disturb the roots. If you've used loo-roll tubes, these can go straight into the ground along with the seed.
Water in well.
Tip: Sweet peas can do well in containers but make sure you choose one that's 20 litres or bigger.
5 Provide the right support
Your sweet peas will need some kind of support. If you are growing sweet peas for the garden, they can look wonderful grown through a tall rose. They also work well growing up a trellis.
I make teepee shapes using hazel sticks but bamboo from a garden centre works well too.
Tie your sweet peas on to the support as they grow
When your sweet peas first start to bloom, make sure you cut the flowers regularly (or just deadhead regularly if you've planted them to enjoy in the garden). Don't let them go to seed.
Feed your sweet peas again half way through the summer.
Tip: For longer stems, continue to pinch out the tendrils throughout the growing season.
INFORMATION
---
Find The Real Flower Company in the Sustainable British Flowers section of our Directory.
To discover more about Rosebie's inspirational story, read our blog post: Meet Rosebie Morton of The Real Flower Company.
Join me on a visit to Rosebie's beautiful Hampshire flower farm here: Discover The Real Flower Company flower farm Hampshire.
Are you a maker, grower or creative course provider? Like to list with us and benefit from joining our supportive community? We'd love to hear from you. Check out the packages we offer on our Join Us page and get in touch…
---
A PIN TO SAVE TO PINTEREST
If you've enjoyed discovering how to grow sweet peas it would be great if you could share the love. All you have to do is hover over the image below until you see the Pinterest button appear. Then share it to your boards. Thank you! X