Free scarf pattern – ombre cowl design by Jules Hogan
Make this beautiful exclusive ombre shawl with Jules Hogan's free scarf pattern
Jules Hogan's designs
I first met Jules at a London pop-up shop in Chelsea and was instantly smitten with her knitwear collection because of her exquisite use of colour and the soft, natural wool she chooses to work with.
If, like me, you love well-made knits, Jules Hogan is a designer maker you need to know about. Her collection includes jumpers, wraps, scarves… and she does love a stripe or two. Which can only be a good thing in my book. Love this jumper/scarf combination from her current collection.
So, I was really excited when Jules offered to create a unique, free scarf pattern for us. I loved her idea of combining different simple-to-do stitches and ombre shading to create a cowl scarf that is actually very easy to make. I also love that she chose an ethically produced yarn by John Arbon's collection of beautiful wools made at their own mill in North Devon.
This lovely scarf is the perfect way to add some comfort and warmth on chilly Spring mornings and evenings. In Winter it will layer up with other warm layers beautifully. Jules is offering this one-off handmade scarf as a giveaway to one lucky reader (details at the bottom of this post). Hope you enjoy! X
To download your FREE Jules Hogan ombre cowl scarf knitting pattern with full details of how to knit your own click here >> Jules Hogan Free Scarf Knitting Pattern PDF
OMBRE SNOOD FREE PATTERN

Q: Why did you choose these specific colours and wools?
Jules: When sourcing yarn for the project I wanted to support a UK business that offers something a little bit different. I have admired John Arbon yarns (listed in the FBWL directory here) for a number of years. They have a wonderful selection of subtle colours that look like they have been inspired by nature and the knit by numbers quality is 100% organically farmed and spun in their Exmoor mill.

I chose this Knit by Numbers yarn colour combination of neutrals and a highlight of dusky blue to easily show what can be achieved with 5 colours, and simple knit stitches. The blue could easily be swapped for a brighter shade or all bright shades could be chosen, the skies the limit! I hope your readers enjoy knitting my free scarf pattern!
Q: Can you talk us though your design process a little?
Jules: I knew that I wanted to use the blended effect within the design. It's a wonderful way of using 5 colours to make a luxurious scarf with what ends up as 10 colours. I thought back to times of old when a 'Sampler' was produced to practice embroidery, the concept is the same, a perfect way of learning and practicing the basics. Using stocking, seed and garter gives texture, depth and another dimension with the stripes of plain and blended yarn.
Simple to make, beautiful to look at and cosy to wear – why not have a go yourself? Click here to get Jules' free scarf pattern with all the details you need.
Free scarf pattern – s

tep by step images
How to wind off a skein of wool
The yarn Jules used for this beautiful scarf arrives in skeins of each colour. Before you can get stuck into the knitting, she advises winding off each skein or hank of wool to create two balls per colour.
Jules loves this collection of Knit by Numbers yarn by John Arbon (listed in our directory here). To see a list of the exact shades of yarn used by Jules to create this scarf, click this link to open up the free scarf pattern.
Unwind skein into a circle
Place over the back of a chair
Undo the knots and set aside yarn ties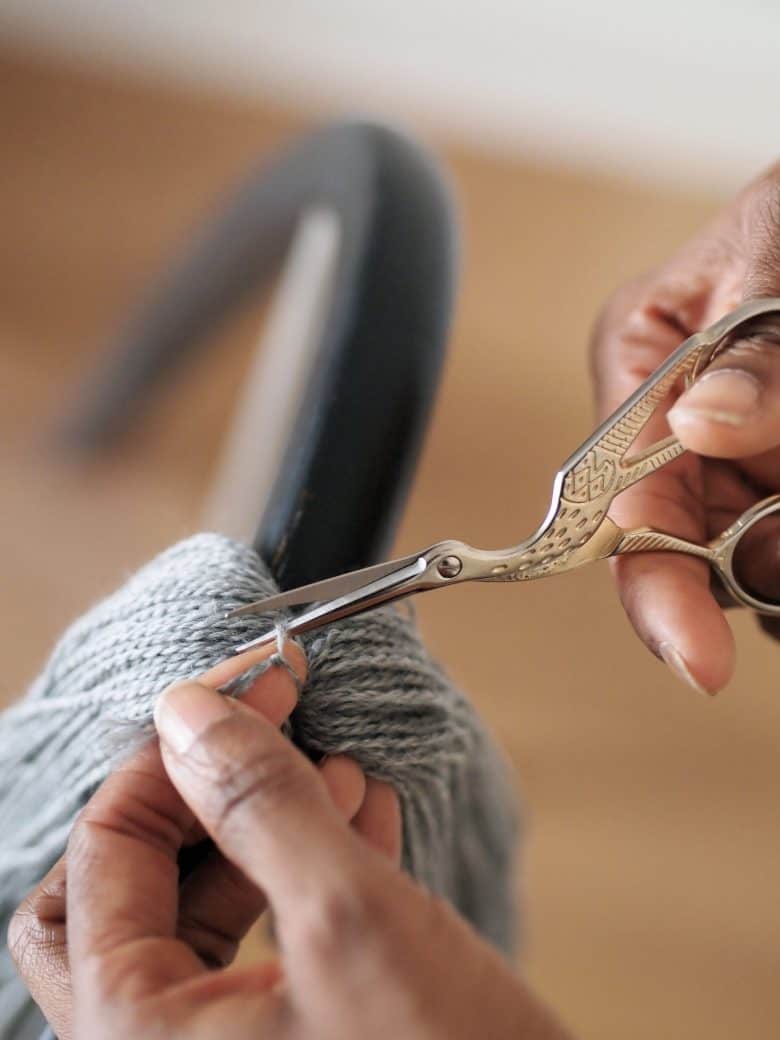 Find the end of yarn that is leading the skein and wrap around 3 fingers several times. Be careful not to pull and stretch the yarn
Take yarn off fingers and places this wrapping over three fingers again. Continue wrapping in the other direction. Do this a few times and when the wrapping is stable you no longer need to place fingers underneath. Continue until you have wound approximately half into a ball.
Do the same for a second ball. You need two balls per colour. 10 in total.
INFORMATION
---
Scarf giveaway details
Download your free scarf pattern
Jules is offering this one-off handmade scarf as a giveaway to one lucky reader. For a chance to make it yours, all you have to do is to sign up to receive Jules' newsletter here (there's a sign up box at the bottom of the page) then send Jules an email on Jules Hogan is listed in the From Britain with Love directory here >>
John Arbon is listed in the From Britain with Love directory here >>
Are you a maker or creative course provider? Like to list with us and benefit from joining our supportive community? We'd love to hear from you. Check out the packages we offer on our Join Us page and get more details from our Information pack here
---
A PIN TO SAVE TO PINTEREST