Sustainable farm flower subscription for just £20 a box
Love to receive exquisite flowers and foliage at regular intervals throughout the year? For just £20 a box, The Real Flower Company will deliver a bunch of seasonal loveliness direct from their sustainable English farm.
The Farm to Vase subscription offers the choice of weekly, fortnightly or monthly deliveries and your flowers will arrive ready-arranged, so all you need to do is snip the ends and place in the vase provided. (Your first delivery will include a recycled glass vase like the ones shown).
The arrangements are just the right size to place on your desk, bedside or kitchen table to bring a fragrant connection with the seasons. I just love this idea and I know, from personal experience, the simple joy of receiving a delivery from the Real Flower Company.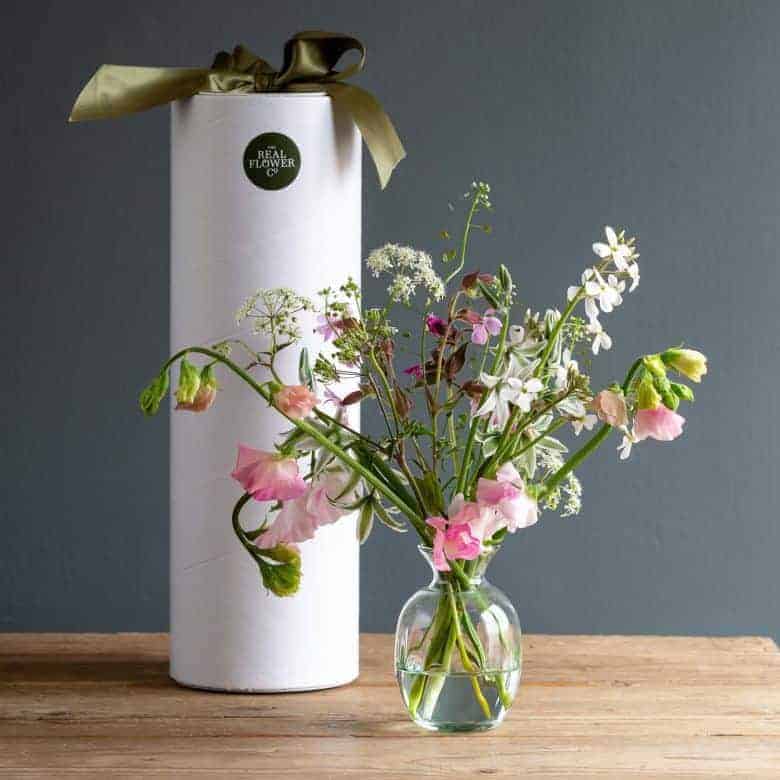 Every stem has been grown by the small team on the RFC Hampshire farm and arranged with a light, natural touch. Just my kind of flowers.
Arrangements will vary throughout the year as the seasons come and go and be a mix of flowers, foliage and herbs. Whatever's particularly beautiful on the farm at that time, basically.
Examples include roses, sweet peas, astrantia, scabiosa, campion, orlaya, sweet rocket, honeysuckle, mint, purple basil, scented geranium, lavender and rosemary.
Eco credentials
I was chatting to RFC founder, Rosebie, at a flower workshop the other day and I was really interested to hear more about the sustainability of the company. I love how proud she clearly is that their Hampshire flower farm is now judged to be carbon positive (this is a term used to describe climate positive and carbon negative – which is when the amount of CO₂ emissions you remove from the atmosphere is greater than the amount of CO₂ emissions you put into the atmosphere. Your impact is positive, meaning you're actively doing something to better the climate). Click here for further information on the RFC environmental policies and practices.
To give you a flavour of what you could expect from a Vase to Farm subscription, here are some images of seasonal foliage, herbs and flowers growing on the farm, along with a few of the finished arrangements.
Flowers direct from the farm throughout the seasons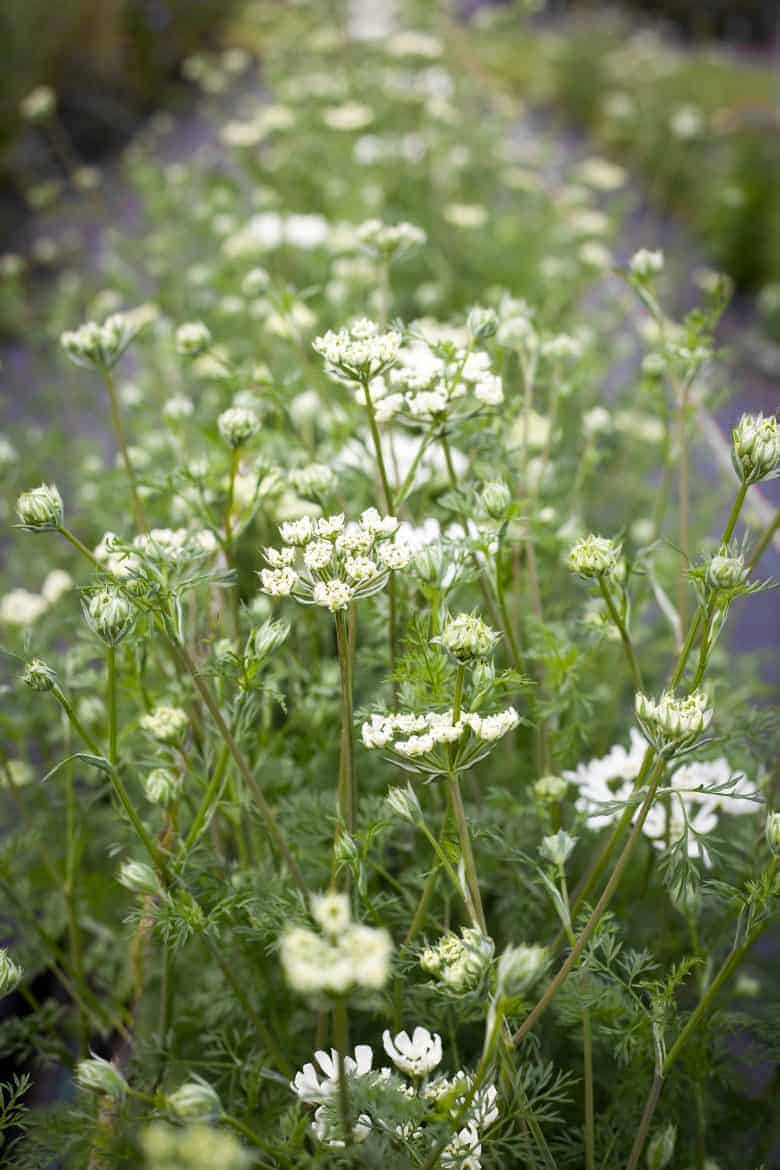 Tell me you don't love the idea of opening up your box each week/fortnight/month to find out what you've been sent from the farm! I'm also thinking this would make a great gift idea for anyone who appreciates simple, seasonal flowers. Each fragrant delivery will be a pleasure to receive – and a reminder of you. You can't really put a price on that can you? Strictly speaking, in this instance you can – £20 a pop to be exact. So this is definitely a flower subscription that doesn't cost the earth. And by cost I mean both to your bank balance and our planet.
For a behind-the-scenes look at life on the Real Flower Company farm, I've shared the day I spent there with founder, Rosebie Morton (above), over on the blog:
The Real Flower Company flower farm, Hampshire
You might also like:
Meet Rosebie Morton, founder of The Real Flower Company
How to grow sweet peas with Rosebie of The Real Flower company
INFORMATION
---
The Real Flower Company is listed in the Sustainable British Flowers category of the From Britain with Love directory
Are you a maker or creative course provider? Like to list with us and benefit from joining our supportive community? We'd love to hear from you. Check out the packages we offer on our Join Us page.
---
A PIN TO SAVE TO PINTEREST
Hope you enjoyed this Sustainable farm flower subscription blog post. It would be great if you could share the love by pinning this to Pinterest. Simply hover over the image until the red Pin it symbol appears and share! Thank you X