Discover Shropshire Petals sustainable dried flowers and petal confetti all grown on the family-run Shropshire farm. Here's my pick of the prettiest bunches right now
Shropshire Petals were one of the first to list in the FBWL directory many years ago now and I love that this family run sustainable British business has gone from strength to strength since then.
Their seasonal, sustainable and eco-friendly ethos fits perfectly with ours, as it always has, so I thought I'd share my current pick of their beautiful dried flowers with you in case it sparks something creative in you.
I know from your lovely email messages just how many of you (like me) are always on the lookout for something to set your creative process in motion. I'm thinking that a seasonal bunch or two of beautiful Shropshire Petals dried flowers might just do the trick… It's certainly got me thinking . I have a piece of embroidered vintage linen that I'm going to stretch inside an embroidery hoop and embellish with stitched-on dried flowers. I'll let you know how I get on – and share photos etc if it all works out. If not, we shall never speak of it again.
But that's just part and parcel of being a creative person, don't you think? Having an idea, giving it a whirl. Enjoying the process whether the result is what you'd hoped or not. Learning along the way – and applying it to your next idea. Anyway, enough from me, let's enjoy looking at pictures of pretty dried flowers shall we? I've picked out my own current favourites, but you can browse the whole Shropshire Petals collection here.
Shropshire Petals dried flowers – the edit
It's important to remember that not all dried flowers are as sustainable and natural as they could be. Shropshire Petals are all 100% natural and eco-friendly with no colours added. When nature's this beautiful why on earth would you want to pollute them with artificial dyes or strip away their colour with bleach?
Also known as Straw Flowers, Helichrysum is such a useful dried flower and how beautiful is this seasonal deep orange colour?
These look like dried larkspur to me. I love the soft, pastel shade and how pretty they are. You can also opt to gift wrap them with your own hand-written message which is a great idea to have up your sleeve.
It was at last year's Christmas Wreath Making Workshop with Sarah Diligent that I first fell in love with Bunny Tail grass. It was a magical final ingredient in the dried and fresh wreath I made. Here's a photo so you can see, but do click through here if you'd like step by steps to make one too… Make a fresh and dried Christmas wreath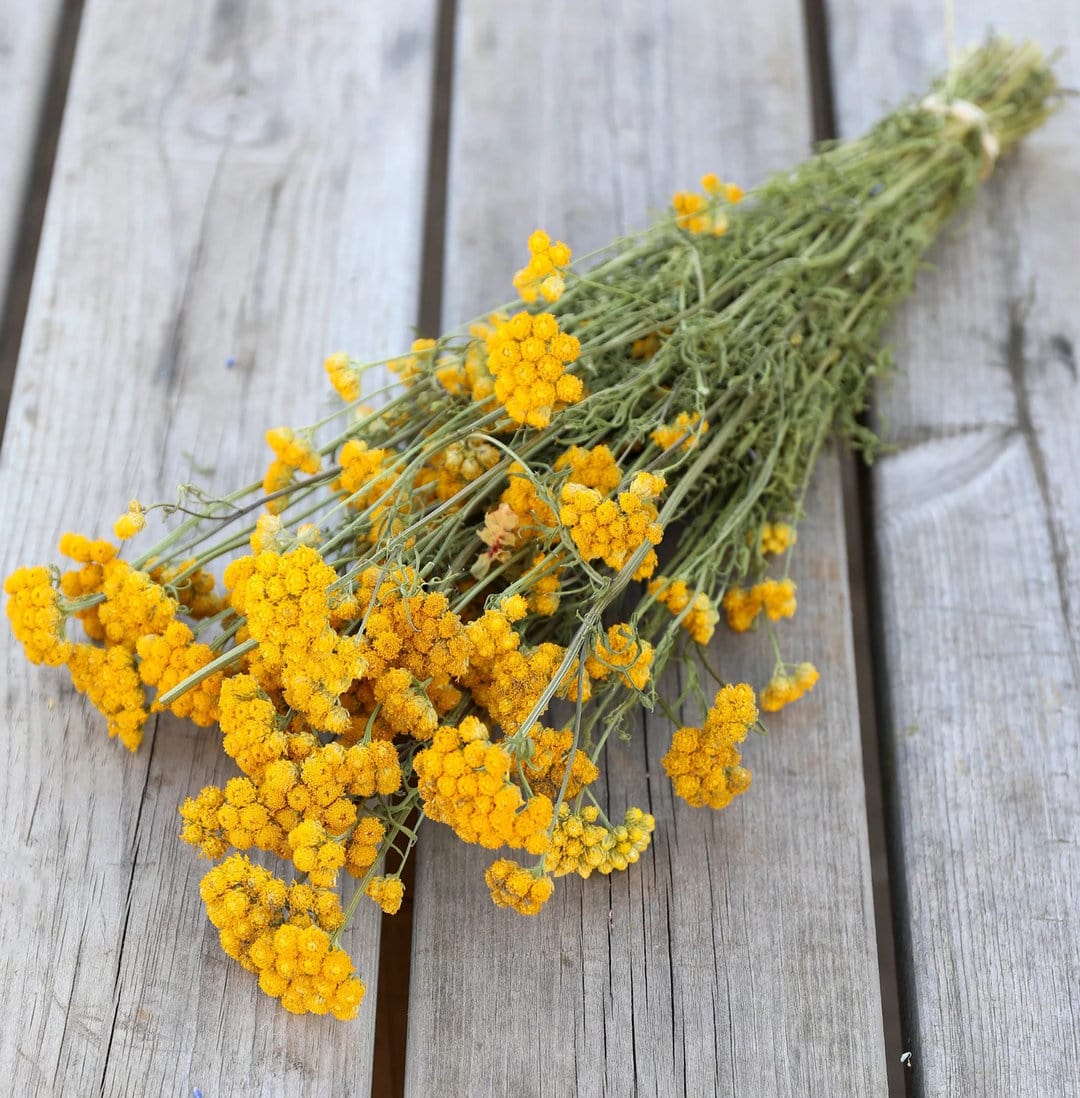 Love the sunshine yellow colour perfect for adding to a jug and enjoying simply as they are. I'm also looking to find a few tiny individual flower heads for the creative project I have in mind (embellishing a piece of embroidered vintage linen with dried flowers), and this would be perfect.
Dried yellow natural craspedia, also commonly known as billy buttons or woolly heads makes a stunning minimal display all by itself. Also wonderful for adding structure and strong shape to craft projects and arrangements.
Hand-picked dried British lavender… smells as divine as it looks. Each bunch contains around 200+ stems, so I'm thinking you could make little posies tied up with string, jam jar flowers for beside the bed and 101 other ideas that I'm sure will pop into your head once you've got your hands on a bunch…
At the time of writing there's white or lilac statice to choose from but I suspect that my favourite, apricot statice, will be added to the collection soon. This is such a stalwart of a dried flower – sturdy yet pretty and the colour lasts and lasts.
Because sometimes you just need to be able to put your hands on the perfect dried pink daisy flower and this definitely fits the bill! This bunch is a real beauty – and, like all the others sustainably grown on the farm and hand picked by Shropshire Petals.
Dried flower ideas to make
I know just how many of you are creative souls always on the lookout for something to spark a new project, so what about embroidering with dried flowers on tulle? This Typography Dried Flowers on Tulle kit below is by Olga Prinku and includes all the materials you need to make a stunning typography piece of embroidery hoop art. It's available to buy on Etsy from Dried & Floral along with other great kits and dried flowers.
Olga Prinku has kindly shared her free tutorial with us if you'd like to explore the idea: How to make embroidery hoop art with dried flowers.
Or how about creating wild and natural dried flower arrangements inspired by the work of Bex Partridge? She has shared some wonderful ideas with us over the years , including a dried flower and fabric wall hanging from her latest book: How to make a dried flower wall hanging – wildly beautiful by Bex Partridge and various dried flower wreath ideas: How to make a dried flower wreath.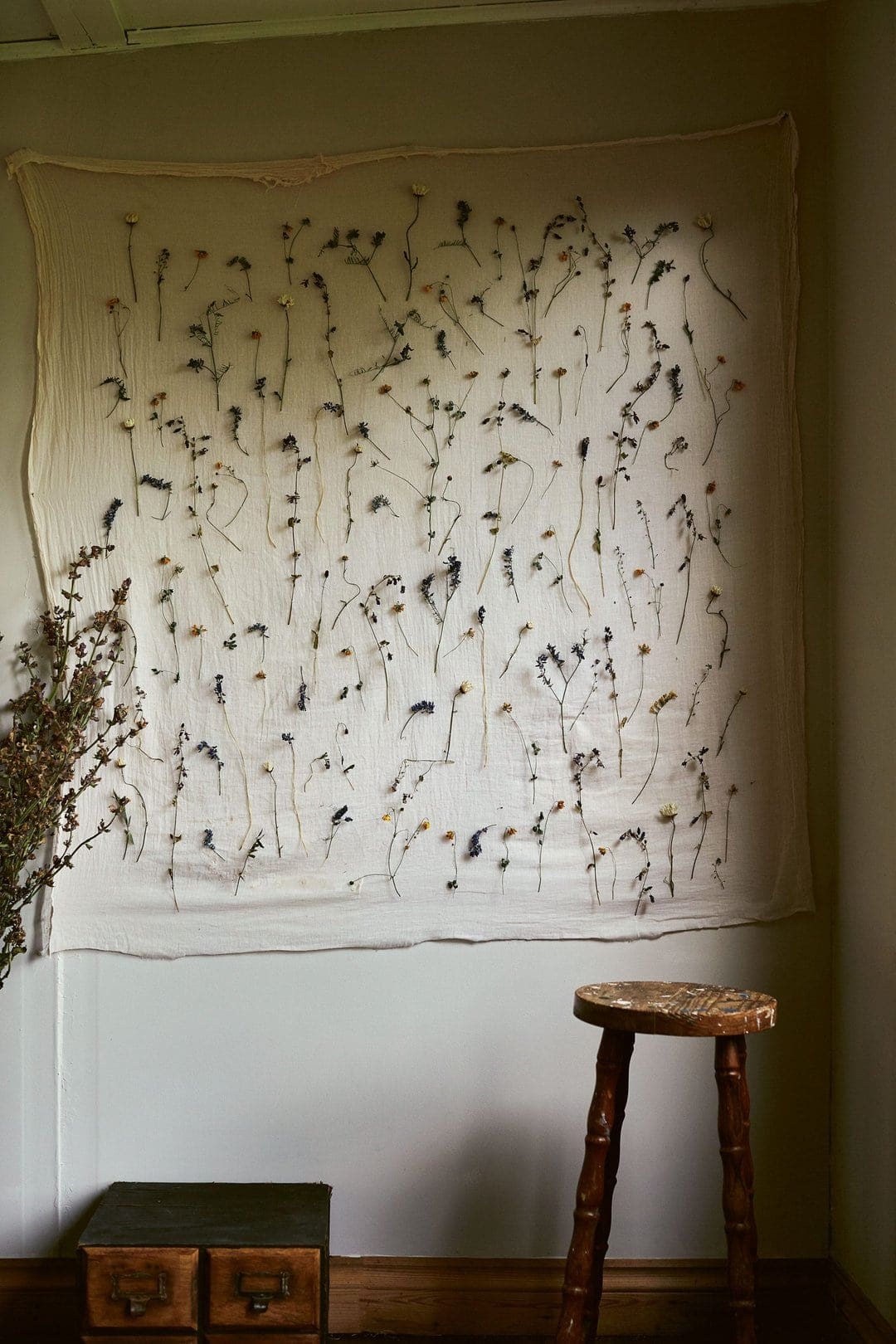 Whatever you decide to make, I hope you are happy to have discovered Shropshire Petals. They are the sort of sustainable UK business I love to support – hope you do too!
Information
This article contains affiliate links, which means we may earn a small commission if a reader clicks through and makes a purchase. All our blog posts are independent and in no way influenced by any advertiser or commercial initiative. By clicking on an affiliate link, you accept that third-party cookies will be set. 
Find more dried flower inspiration over on the blog:
Dried Flower Embroidery book by Olga Prinku
Dried flower embroidery video tutorial
A pin to share to Pinterest
I hope you've enjoyed discovering Shropshire Petals – and maybe picked up the germ of a new creative idea…? It would great if you shared the love by pinning the image to Pinterest. Thank you! x