Indigo dye shibori workshop with Flora Arbuthnott
I've had a bit of a thing for indigo dye shibori and ombre effects for a little while now so I was delighted when Flora Arbuthnott (listed in our directory here) invited me to join one of her organic Indigo dye shibori workshops. After just one day, I came home with this little collection (which I couldn't resist hanging up and photographing to show you!)
Read on for a peek behind the scenes of the totally wonderful day I spent with Flora as well as to get all the info you need to try your hand at indigo dyeing too. It's easier than you might think and totally addictive!
Cotswolds studio
Flora is the daughter of fabric designer Vanessa Arbuthnott and the workshops  run from the studio at the family's beautiful country home near Cirencester in Gloucestershire. It's a chilly Sunday morning as I drive up the gravel drive and head inside to meet my course mates for the day. There is a small, friendly and highly creative group of three other women as well as Flora's mum, Vanessa, who is taking part too. Flora clearly really knows her stuff.
With cups of tea and biscuits to warm us up, we sit around a large workshop table topped with tins of beads and buttons, masses of different wooden shapes, metal clamps, lengths of string and clothes pegs. Flora tells us a bit about the technique we'd be learning which originated centuries ago in Japan. Vanessa shares some of the inspiration behind her love of shibori designs too.
Flora uses Michel Garcia's 1-2-3 indigo method which he developed from time spent travelling the world, studying ancient dye techniques and adapting to modern times.
Indigo dye shibori
What you need
A tall cylindrical container with a flat bottom made of plastic or stainless steel
1 part indigo (indigo fera tinctora). Flora recommends Wild Colours
2 parts lime (calcium hydroxide/hydrated lime/slaked lime). Try ebay or builder's merchant for this.
3 parts reducing agent (fructose). Flora recommends Buy Whole Foods Online
Hot water
Suggested quantities:
25g indigo – weak vat
50g indigo – medium vat
100g indigo – strong vat
We watch as Flora sets up a new vat of indigo and see the indigo 'flower' created on the surface. According to Flora you can keep a vat going for ages – you just need to keep an eye on its balance and add more fructose or lime accordingly. Experienced dyers, she tells us, can tell the health of their vat immediately from the smell. Then Flora talks us through the simple process:
Achieving Shibori patterns and shapes
So that was creating a dye vat covered. Now we need to understand a little about how to achieve the patterns and shapes characteristic of shibori dyeing. Flora shows us how to concertina the fabric and then fold and clamp using wooden or plastic shapes to provide resistance to the dye as it makes its way through the layers of fabric. Margarine tubs are great for cutting out shapes to create patterns. The darkest folds would be the outer layers, Flora explains. While the faintest would be those in the middle, as the dye has further to penetrate. To achieve a line effect, Flora shows us how to use running stitch and pleating.
To create circles, you can tie bands or string around beads or buttons. Stitching in clumps can also create interesting patterns, as can simply tying sections with string. My head was slightly spinning with it all, trying to translate the sort of patterns I've seen and love into the techniques we'd been shown. So I decide it would be better just to get stuck in and have a go without worrying too much about the end result.
Indigo dye shibori process:
1 pre soak the fibres in water
2 Dip in indigo vat
3 rinse in water to wash off indigo particles (you can reuse)
4 oxygenate in water or air
When the cloth has gone completely blue, repeat the process. You need to do 3 dips to achieve a colour that stays.
Soaking in water
Flora gives us all several pieces of fine organic cotton to practice on and I go for two totally different approaches with each of mine. The first one I concertina and then triangle fold before clamping on leaf shapes top and bottom. I pop that one in to pre soak in water before starting the second one. This time I go for much smaller, square folds with a few stitches added in on some corners. That one goes in to soak as I take the first one out and gently lower it into the indigo vat.
Into the indigo vat
Flora explains that it's important to minimise the air bubbles created at the top of the vat as this can affect the oxygenation process. The weight of my clamp helps keep the fabric bundle underneath the surface of the dye and I attach it with a piece of string to a peg on the outside of the vat. It issn't long before the vat is full of our weird and wonderful clamped and stitched bundles.
A minute or so later, it's time to gently remove from the vat, minimising the amount of drips we allow to flow back into the vat (again to minimise air bubbles in the vat) and then sluice around in a series of pans of increasingly clean water. (Flora would refresh these pans in rotation, pouring away the water and collecting the residual indigo to reuse.)
At this stage our fabric looks green not blue. After removing all the obvious dye, we allow the air to get to our still-clamped and tied bundles and watch as they magically turn indigo blue. At this stage the bundles are returned back into the vat and the process repeated a couple more times.
Open up and see what you've got
After three dips, the bundles are ready to be rinsed and then carefully un-tied, un-clamped and any stitches picked ahead of the moment of truth – the fabric is opened up and the pattern revealed. We all gather round each time someone is ready to unwrap and are really quite excited to see the beautiful – and massively varied – patterns that start emerging.
We break for lunch (you bring your own) and more cups of tea. But I decide to press on and get started with the two plain white linen tea towels and linen table runner I've brought with me. Flora also provides organic cotton scarves which you can buy for a very reasonable £5. I don't have time to do this as well, but would definitely do this next time.
The effect I achieve by clamping with simple shapes top and bottom on my trial pieces was lovely, so I decided to do this again in different ways on my three linen pieces. I concertina fold all three first, then triangle fold and apply the shapes and several clamps.
Mine is the only one to break free of the peg and land at the bottom of the vat, but Flora is a calm, patient sort of person who really didn't seem to mind fishing it out for me… twice!
A washing line of loveliness
Soon the washing line above our heads in the workshop is filling with beautiful indigo patterns. What's lovely is how time slows down and conversation is easy. You're creating alongside people you have never met before, sharing a simple, creative goal.
Vanessa shows us some of the amazing shibori pieces of fabric she'd picked up on a recent trip to China (below).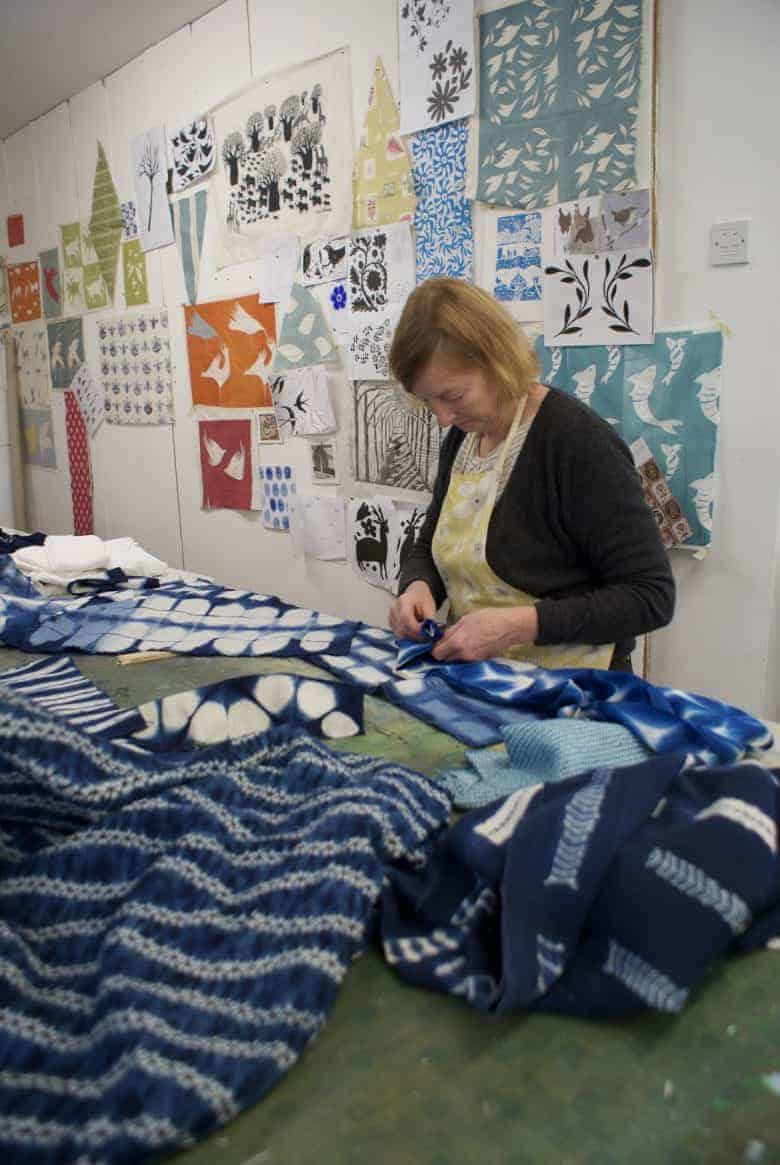 They had inspired her latest Artisan collection, so it was fascinating to get a glimpse at the creative process behind it.
I was totally thrilled with how my pieces turned out. I have decorated my table with the runner and hung the tea towels up in my kitchen. Not that I'll allow anyone to actually use them to dry up! Not yet anyway. All in all a hugely enjoyable and creative day that I would wholeheartedly recommend.
I'm thrilled with the linen tea towels and table runner I came home with. Now I'm thinking of trying my hand at dyeing some cushion covers for my garden chairs. That's the thing about indigo dyeing. It's kind of addictive and easier than you might think.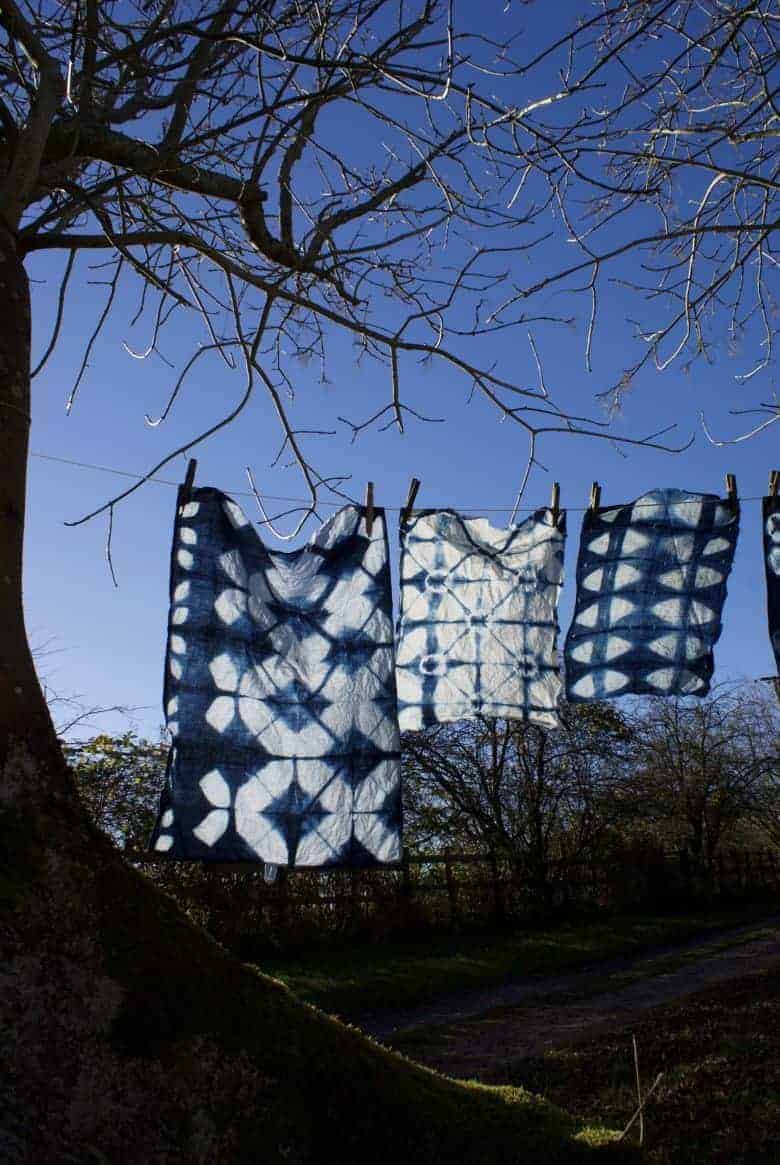 Natural Indigo Dye Kit from Indigowares
This kit by Lisa of Indigowares makes life really easy. It is based on the same Michel Garcia's 1-2-3 vat recipes that Flora taught us and is perfect for anyone starting out. It contains all you need to create a natural organic indigo vat, as well as a prepared cotton scarf, bands, sticks, pegs and beads for pattern making. Buy the kit here
INFORMATION
---
Flora Arbuthnott is listed in the From Britain with Love directory
Indigowares is listed in the From Britain with Love directory
Feeling inspired? Take a look at the Creative Workshops category in our Directory. You'll find a variety of inspiring courses, from art and crafts to fashion and beauty, interiors, cooking and flower & gardening.
If you run a creative course that would interest our readers, please get in touch. Email us at editor@frombritainwithlove.com
---
A pin to share to Pinterest
If you enjoyed reading this Indigo dye shibori blog post, it would be great if you could share the love. Hover over the image below until the 'Pin it' button appears then share away to your Pinterest boards. Thank you! X