15 free knitting patterns you'll love to make this Autumn and Winter
It's that time of year, suddenly isn't it? I've finally stopped clinging onto to the last bittersweet moments of Summer and I'm embracing the new season instead.  I decided to find some creative projects to inspire me because I am really missing spending time in my garden. What better way to enjoy a cosy Autumnal night in than clicking away with the knitting needles?
In case you're feeling the same way, I thought I'd share my favourite knitting patterns for Autumn – many free, and some available to buy.
I've found 15 of the best free knitting patterns – scroll down to get them all.
Discover my pick of the patterns to buy right now too. Hope you find something to inspire you.
15 Free Knitting patterns for Autumn
Free pattern download #1:
Ombre Shawl free knitting pattern by Jules Hogan
I absolutely love Jules Hogan's hand-crafted knitwear. Her use of colour, soft, ethical yarn and well-placed stripes and shading really sets her apart.
So I'm thrilled to be able to share this stunning Ombre Sampler Cowl scarf free knitting pattern that she created especially for us.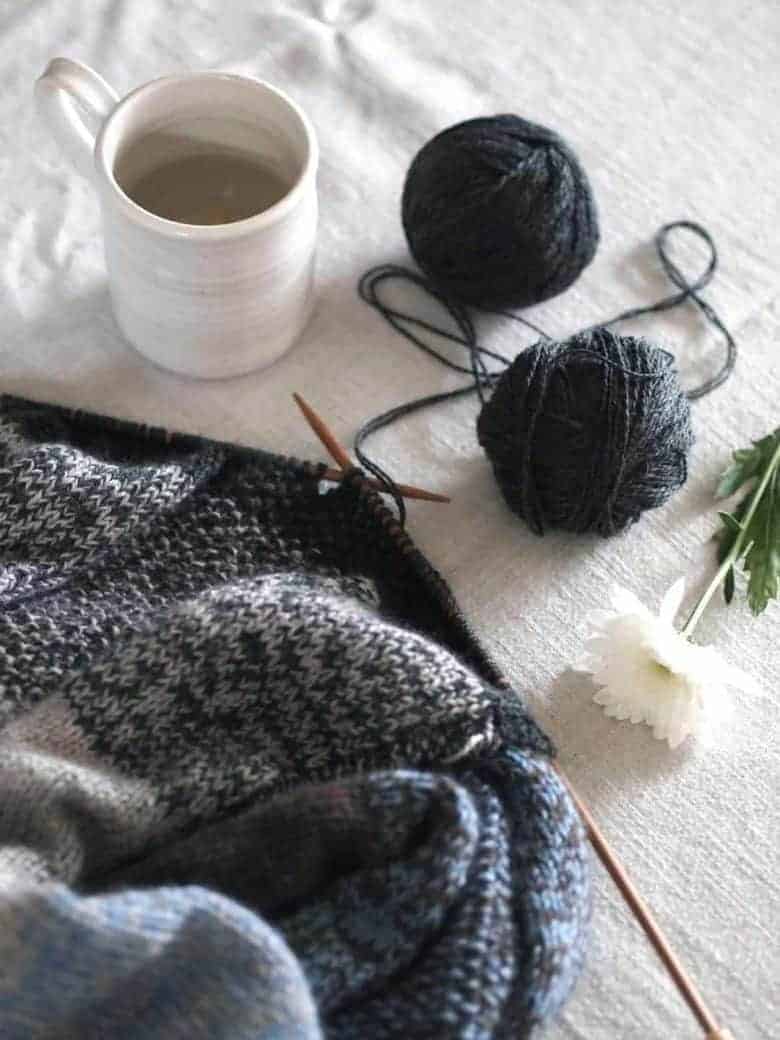 Read the full blog post here: How to knit an ombre scarf free pattern and step by steps
Get your free pattern PDF by clicking here
Free pattern #2:
Whilst we're on the subject of scarves, how cute is this Circle Scarf by Kristabel Plummer of inspirational blog I want you To Know? Kristabel has shared all the details you need as well as a super-helpful video tutorial. The perfect knitting project for beginners – and a cosy scarf to enjoy wearing yourself or to give as Christmas presents.
Free pattern download #3: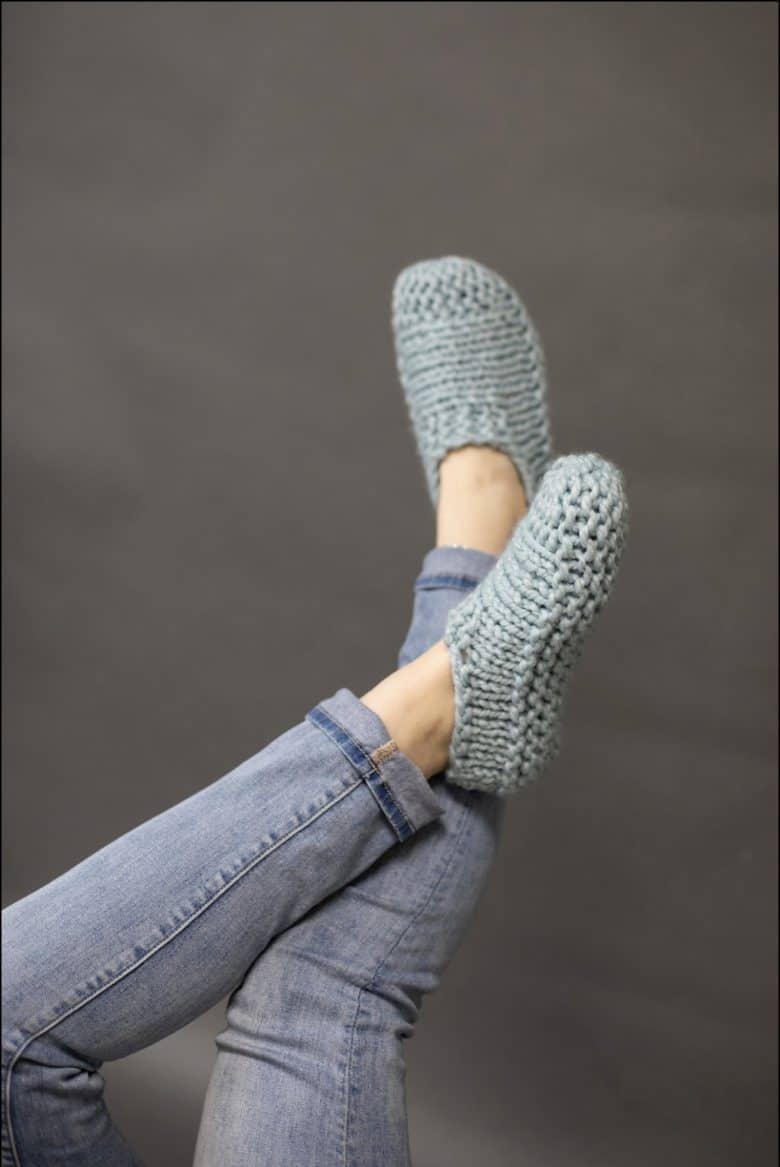 Love these super-cosy simple to knit slippers – get your free pattern download here
Free pattern download #4
How adorable is this Mia knitted baby romper playsuit by Rowan? Perfect for keeping little ones cosy on chilly days, it's knitted in baby cashsoft merino yarn.
Download your free pattern here >>
Free pattern download #5
This Snowberry baby hat is just the cutest thing ever, don't you think? It's designed by Martin Storey and is worked in a heavenly soft 95% cashmere 5% wool yarn. It's super simple to make too – worked in stocking stitch with a ribbed edging and cute bobble. Download the pattern for free from Ravelry.
Free pattern download #6
This Arabian raglan sleever sweater by Lisa Richardson is also free to download from Ravelry. It's the perfect Autumn cosy layer and I do love this seasonal colour, don't you?
Download your free knitting pattern here >>
Free pattern download #7
I just love this knitted shopping tote bag. It reminds me of the knitted bright orange bag my great Auntie Nancy used to carry with her everywhere. Usually with treats inside for me.
If you fancy making it, the pattern is free to download from Ravelry here
Free pattern download #8
This super cosy longline Karoo Fair Isle cardigan with pockets is also by Lisa Richardson, and the pattern is free to download here. 
Free pattern download #9
If you're not the most experienced of knitters, why not try your hand at this Namib scarf first? The pattern is free to download here It's based on the same fairisle pattern by Lisa Richardson, and would be perfect for adding interest to a plain winter coat or sweater. The stripy hat pattern is free to download here >>
Free pattern download #10
Free woodland knitting patterns by Claire Garland
I asked Claire Garland of wonderful Dot Pebbles Knits if she had any Autumnal patterns she might like to share here… and it turns out she had just created this Woodland Collection free knitting pattern collection which she is happy to share with us. Choose from a snow-dappled nordic tree, toadstool or fox's head – or make all three.
Get free The Woodland Collection pattern by Claire Garland here
If you're not already signed up to Claire's newsletter to receive her bi-monthly #freebeefridayknit free knitting patterns, you can do so here.
Free pattern download #11
Other freebies by Claire include these lamb and baby bunny knitting patterns. For more details on each check out our blog posts:
How to knit a bunny rabbit – free pattern and step by step tutorial
Free pattern download #12
How to knit a lamb – free pattern and step by step tutorial
I just wanted to add in a couple more patterns by Claire. They're not free ones, but they are going down a storm right now, so I thought I'd share them with you here too. Fancy knitting a cat or kitten? If you do, the cat pattern is available to buy here and the kitten pattern here and here: To find out more, and to get expert tips from Claire herself, you can read our blog post How to knit a cat – knitting pattern and expert tips here
Free pattern download #13
The Simple Collection by Tin Can Knits
This is a beautiful collection of quick to make accessories and simple sweaters, sized from newborn to grandpa in worsted weight yarn and all 12 patterns are free. It's the perfect collection for newer knitters building skills and confidence, and also a treat for experienced knitters who enjoy modern lines and simple details. Download the patterns and tutorials here
Free pattern download #14
My favourites from the collection are this adorable Barley light hat
And simply beautiful Flax sweater:
Now, I do get that needle felting isn't knitting as such, but it's still all about wool and working with needles… So I couldn't resist adding in a few lovely ideas from Lincolnshire Fenn Crafts too – some free some not.
The needle felted deer pattern is available to buy here. The kit includes specially dyed Shetland wool in this perfect shade of brown. You can buy the deer needle felting kit here
This fox pattern is available here You can also buy the kit which also includes all the wool you'll need here
And this wonderful grey hare pattern, kit and tutorial videos is available to buy here. If you just want the hare pattern, you can buy an instant download and printable pattern here
There are some really helpful video tutorials here which talk you through the basics of getting head shape, legs and ears just right.
This blog post: Easy Steps to Make Needle Felted Animal Eyes is a wonderful tutorial explaining how to make oval animal eyes. They would be perfect for the knitted bunnies earlier in this feature too.
And, as it's Autumn, I thought I'd also share this wonderful blog post tutorial that takes you through all the steps you need to make Needle Felted Halloween Pumpkins

There's more help in this wonderful free video tutorial too
Free pattern download #15
Sparkly Ballet Slippers Free Vintage Crochet Pattern
When I found this vintage crochet pattern in my local charity shop I suspect I squeaked a little with excitement. Trust me, I had to leaf through a whole load of humdrum designs from the 70s and 80s first.  These are just fab though, aren't they? I love how kitsch they are and that you can get as creative as you like with choice of ribbons, sequins, jewels, beads…. I did a bit of research and it turns out there is no copyright on the pattern, so I've created a PDF of it to share with you. I'd be tempted to channel Judy Garland from The Wizard of Oz and make them in scarlet with lots of red sparkly jewels and pretty velvet ribbon ties. They'd be a lovely handmade Christmas gift don't you think? I'd love to see what you create! I'd make them for myself only I have learned the hard way that I need a slipper with a solid base. On account of the amount of heavy duty gardening I find myself doing early doors, still in my dressing gown and slippers.Not sure how practical these would be for working a spade or garden fork…
vintage slipper crochet pattern

Knitting Patterns to buy – and love – this Autumn
Nordic inspired knitting patterns from Laine magazine
Laine magazine is always a source of inspiration and their latest issue (9) is no exception.  You can buy a copy here on Etsy A nordic knit and lifestyle magazine, I love the ethos – cherishing natural fibres, slow living, local craftsmanship and the simply beautiful things in life. I'll be speaking to the editor, Jonna Hietala, over on the blog soon, so watch this space…
To give you a taster in the meantime, my own personal favourite knitting patterns from the latest issue are these beauties:
This is the Joy cardigan and I love the pretty detailing don't you?
These cosy Florea mittens also have lovely detailing.
And how pretty is this Woodbine pullover? I love the contrasting lacy pattern and soft and simple stocking stitch. Just lovely!
Scandi sweaters to knit by Petite Knit
If, like me, you love simple, textural knits, I suspect you'll share my enthusiasm for Petite Knit knitting patterns. Based in Denmark, the woman behind the brand is Mette and there's a whole section of knitting patterns in English.
My favourites are this Sunday Sweater which is knitted from the top down and the yoke shaped with ribbing. The sleeves are what make it for me – they are intentionally long and widen before the cuff. Just lovely and so cosy.
I also really like this Cumulus Blouse, Scotty Sweater and Sequence sweater too.
They're not free, but they are great value in my book at less than £5. You can also buy buttons and cute labels to sew in if you're knitting something as a gift.
This Anker's Dress pattern for girls is totally lovely too, don't you think?
INFORMATION
---
Find the following designers in the  Creative Workshops and Textiles sections of our Directory:
Are you a maker, grower or creative course provider? Like to list with us and benefit from joining our supportive community? We'd love to hear from you. Check out the packages we offer on our Join Us page and get more details from our Information pack here
---
A PIN TO SAVE TO PINTEREST
It would be great if you could share the love for my favourite free knitting patterns for Autumn. All you have to do is hover over the image below until you see the pinterest button appear. Then share it to your boards. Thank you! X