I have a sneaking suspicion that Living Coral being announced as Pantone's Colour of the Year for 2019 is a bit of a reaction to the omnipresent greys that we've surrounded ourselves with in recent years. Don't get me wrong, I do love a nice bluey-black or soft french grey, particularly contrasted with other colours. But there's something about this shade of coral that just makes my heart sing.
I wouldn't cover a whole wall in Coral but I do like the idea of bringing splashes of into my life, so I thought I'd pull together some ideas for doing just that.
Paint
Firstly, chalk paint queen Annie Sloan (listed in our directory here) explains how to mix your own Living Coral shade using her wonderful non-toxic paints.
To recreate the vivid energy of Living Coral, Annie recommends mixing Chalk Paint in Emperor's Silk, Barcelona Orange and English Yellow. Use one of Annie's silicone MixMats to experiment with mixing the colours together in various ratios until you achieve your desired hue. Her other recipe for creating Coral is to try mixing 1 part Emperor's Silk and three parts Tilton.
This is the beauty of Annie's paints – you can mix them up to create exactly the shade you want. Just make sure you keep a note of the relative quantities so you can recreate it!
And if you feel like being very literal about embracing the whole coral idea, Annie has created a Coral stencil. A great way to bring an updated and fresh coastal feel to your home.
Check out Annie's blog for inspirational ways to get creative with her paints – I found a link to this wonderful idea over there. It's a collaboration with artist in residence Abigail Ryan
Upcycle furniture
I absolutely love the idea of painting an old vintage chest of drawers a beautiful new vibrant shade and filling it with seasonal spring flowers. Great for a conservatory or workspace that needs an injection of character don't you think?
Get the full details of how Abigail achieved this over on her blog here  Basically, though, she mixed a base of Pure White chalk paint with Scandinavian Pink, Emperor's Silk, Barcelona Orange and a touch of English Yellow. She mixed until she'd achieved the neon coral colour she had in her mind. To achieve a flat finish, she also used Annie's Flat Finish brush to apply the paint.
To create the stunning spring display, Abigail mixed potted hyacinths, primula, narcissus and hellebores with some eucalyptus and some straw to add a rustic edge. The bright yellow fruit basket was from M&S.
For a more salmony take on coral, Valspar (stocked at B&Q) sells a soft Coral Crush shade (R71B).
Another creative way to use coral in your decorating is to use wallpaper. You could paper one wall or even experiment with filling some frames with paper to add colour and pattern to a gallery wall.
Wallpaper
This coral pink Denver wall paper by Miss Print (listed in our directory here) is just fab don't you think? I'd love this inside fancy vintage frames against a grey (sorry!) wall. There's a graphic midcentury feel to the design that I really like about this.
I've only just discovered Woodchip & Magnolia wallpapers, all made up in Lancashire and really beautiful. Love this blousy and unapologetically floral Wisteria Coral Floral wallpaper, part of a collection designed in collaboration with Pearl Lowe.
Accessories
Adding a cosy welsh blanket in a coral shade would be a lovely way to go with this. I have a blue welsh blanket that is one of my most treasured possessions. We bought it direct from the mill in Wales a few years ago and my youngest son and I often snuggle up underneath it in the evenings. I love this beautiful Pink Ednyfed Merino lambswool blanket by Mamws interiors (listed in our directory here)
Bring colour with flowers
Probably the easiest way to bring splashes of coral into your home is to use flowers. There are so many beautiful shades of Dahlia you can grow or buy – Try Sarah Raven (listed in our directory here) for ordering bulbs to plant. Sarah Raven is always a great source of beautiful bulbs, seeds and plants. Love these brightly coloured and coral coloured dahlias from her: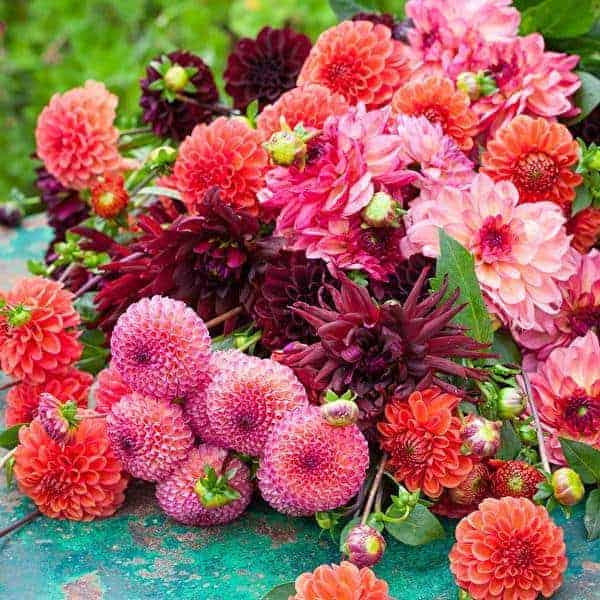 For inspiration, I also love to browse Erin Benzakein's beautiful blog Floret. There is a lovely online shop there too, and you can order seeds to be shipped to the UK. Bulbs and tubers can't be shipped outside the US. There is a fab Farmer-Florist directory here, where you can find local flower growers around the world.
Love these smoky coral Mystique dahlias grown by Erin on her flower farm: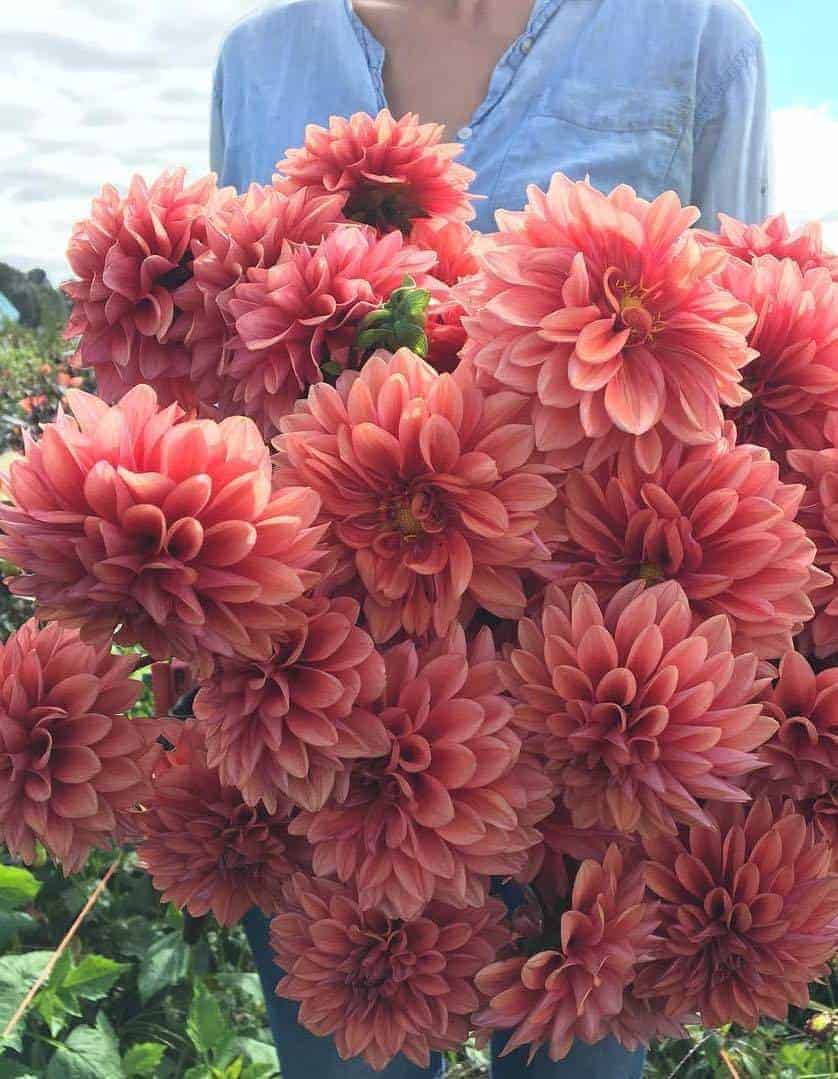 Roses also grow in some really beautiful coral shades. I love this image by Peony & Sage  – a great source of beautiful fabrics and home accessories all made in England.
I love to browse the seed and plant catalogues at this time of year, dreaming of spring and summer days ahead. For roses, particularly scented English roses, David Austin is the best.
I love this highly fragrant Boscobel rose – an English shrub rose with a fragrance described as 'myrrh with hints of elderflower, pear and almond'
To buy cut scented David Austin roses, head to The Real Flower company (listed in our directory here)
As a customer, you'll find a simply beautiful seasonal selection of roses in all different shades in their shop. If you're a florist, you can set a trade account up with them here.
This Juliet bouquet includes beautiful coral roses and I know from personal experience that RFC bouquets last far longer than shop bought flowers.
I hope you've found some ideas you like and want to try. I'll add in more as I come across them, in the meantime let's enjoy living life in a more rose-tinted way. It makes me smile a little just thinking about it…
INFORMATION
---
Annie Sloan is listed in the From Britain with Love directory here >>
MissPrint is listed in the From Britain with Love directory here >>
Mamws is listed in the From Britain with Love directory here >>
Sarah Raven is listed in the From Britain with Love directory here >
Real Flower Company is listed in the From Britain with Love directory here >
Are you a maker or creative course provider? Like to list with us and benefit from joining our supportive community? We'd love to hear from you. Check out the packages we offer on our Join Us page and get more details from our Information pack here
---
A PIN TO SAVE TO PINTEREST