Traditional Guernsey cotton sweater on sale right now
Original Blues, is THE place to source indigo cotton knits, as well as beautifully made cotton Guernsey sweaters, submariner jumpers, Aran-style sweaters and more. Again, all are designed and made in England using only the best natural fibres.
I love that Original Blues were the first to produce the world's first indigo sweater back in 1985 using indigo denim yarn. I also have a bit of a thing for indigo dye – the purest of deep blue natural dyes, stretching back to ancient times. Read more about Original Blues and indigo dye here.
I have picked out my own personal favourites from the collection, including some fantastic bargains that are on sale right how. Hope you find something you'll love and wear for years and years. The beauty of all the pieces I've picked out is that they only look better with age…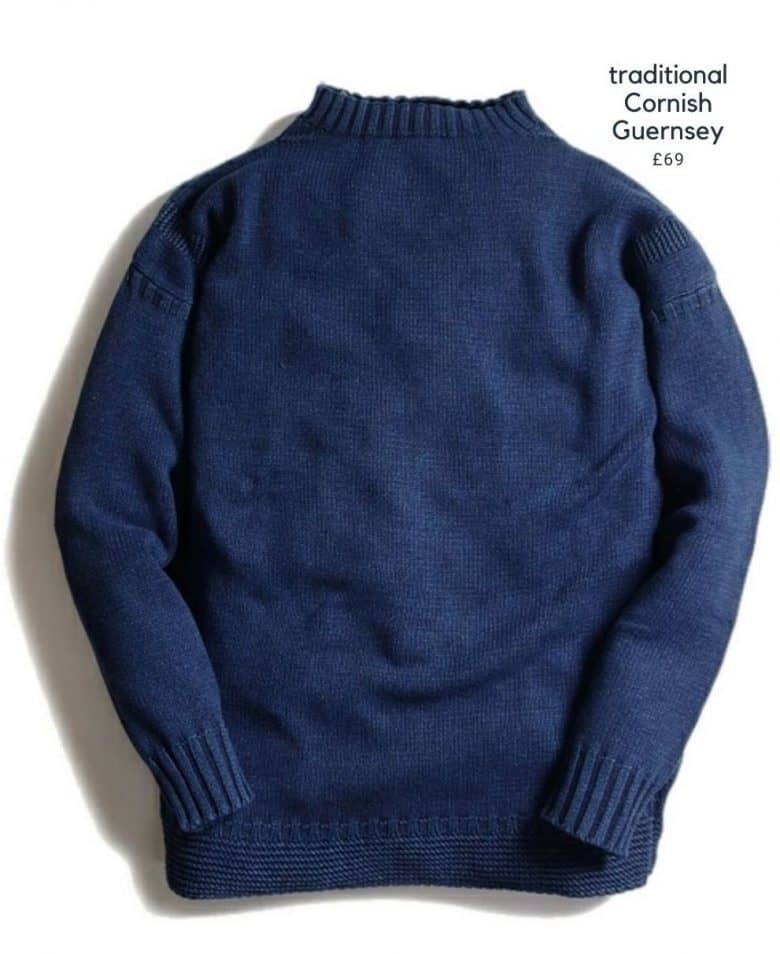 I LOVE a Guernsey sweater. Originally designed for fishermen, the style originated in Elizabethan times and was adopted by Nelson as part of the Royal Navy's uniform. Traditionally knitted in one piece on five needles 'in the round', Guernsey sweaters were made using worsted wool for protection from cold, wind and rain. Seafarers wore dark blue and natural indigo dye was the only blue dye available until the late 19th century. For cold winter days the hefty wool original Guernsey can't be beaten.
For a Spring and Summer lighter alternative, this 100% pure cotton indigo dyed version is perfect. It's also on sale right now, with £20 off. So it's £69 instead of £89.
BUY TRADITIONAL CORNISH GUERNSEY SWEATER NOW >>
This design is inspired by the traditional sweater that was issued by the Admiralty to the Royal Navy in both world wars. This version features the same enduring ruggedness, durability and classic design, but is made from the softest cotton yarn. The Submariner sweater will keep you warm and comfortable all year long. As well as being a great pairing with your favourite jeans, I do also love the combination of submariner chunky jumper with a pretty skirt or dress.
BUY THE SUBMARINER SWEATER NOW >>
If, like me, you have a bit of a thing for Fair Isle knits, you need to know about Michael Ross Knitwear. Knitted on hand knitting machines, their Fair Isle patterns can contain up to 11 colours in one design– something not possible when using automatic machines.
Only the best natural fibres are used – 100% Pure New Wool – and everything is crafted in their own workshops in Thatcham, England.
This Harvest pattern was originally conceived in 1979, inspired by wildlife and landscape artist Gordon Beddingfield. His paintings of butterflies, songbirds and the English countryside are strong influences on the palette. Crafted by hand knitting machines using 100% pure wool, this is a beautiful piece of knitwear. I just love Fair Isle tank tops and this is a great price for something so beautifully made. As well as Harvest (heather) there are also Country (navy) and Crest (green) colour ways to choose from.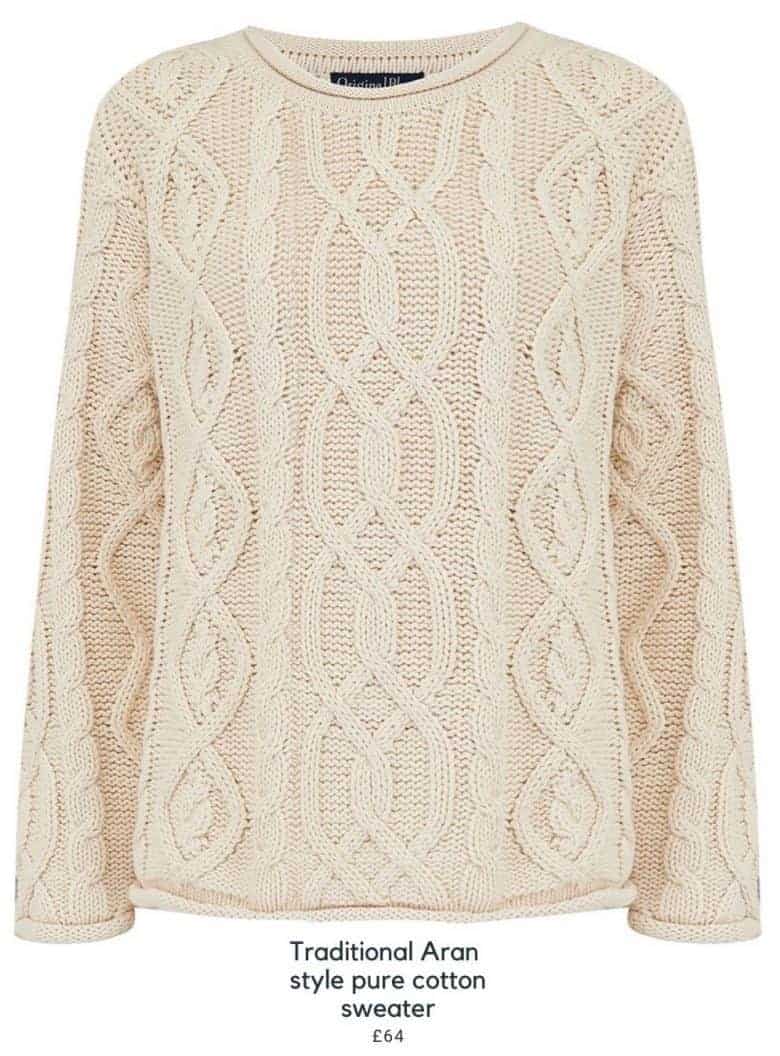 This is a hand framed piece of knitwear – all linked by hand and not over-locked. Definitely not to be confused with automatic machine made garments on the high street. Knitted in hard wearing yet soft to the touch heavy gauge 100% cotton, this essential sweater features a traditional Aran cable pattern. It's a lighter version of the traditional super-warm traditional wool Arans and perfect for Summer layering. And it's in the sale with a massive £31 off the usual price – £64 instead of £95.
I also love the dark navy blue version of the natural Aran – also on sale right now. I'd be tempted to buy one of each as I think they'd more than earn their places in your wardrobe over the years. This one I'd wear with simple white desk shoes and cropped jeans or capris.
I hope you've enjoyed discovering my selection of essentials from the Original Blues – Michael Ross designs. Looking back over what I've picked out, and how nautical in flavour so many of them are, it strikes me that maybe I ought to actually try and live by the sea one day… With a Guernsey sweater, Submariner Jumper and Arans in natural and dark navy, I'd certainly have the wardrobe for it!
INFORMATION
---
Find Original Blues – Michael Ross in the British Clothing section of our Directory.
Are you a maker, grower or creative course provider? Like to list with us and benefit from joining our supportive community? We'd love to hear from you. Check out the packages we offer on our Join Us page and get in touch…
If you'd like to join our Virtual Market too, all you have to do is take out a listing in our directory and let us know that you'd like to take part. It's the next best thing to getting to meet your customers face to face.
---
A PIN TO SAVE TO PINTEREST
If you've enjoyed discovering Original Blues – Michael Ross knits on this virtual market stall, it would be great if you could share the love. All you have to do is hover over the image below until you see the Pinterest button appear. Then share it to your boards. Thank you! X