Gift ideas for gardeners
Pottering in the garden is one of my biggest pleasures, and I love nothing more than getting hands-on in the soil. Sitting with a cup of tea and watching it all up close. Admiring my handy work and feeling proud to watch things grow and bloom that I planted. I'm a keen amateur, with lots to learn, but I definitely think of myself as a gardener.
But… at the risk of sounding a bit pompous, I'm really not interested in most 'gift ideas for gardeners'. You can keep those prettily-packed gift tins or trugs containing flimsy trowels, floral gloves that offer zero real protection and generic packs of seeds. I would rather have a delivery of well-rotted horse manure for my roses, to be honest.
I do realise that there's probably a middle ground between manure and pretty pastel gift tins, however. So I would like to share some gift ideas for gardeners that I would actually love to receive myself. In the hope that the garden lovers in your life might like them too.
Gift ideas for gardeners
My first port of call is Pippa Greenwood's new online shop. My favourite Gardener's Question Time panellist, and also a good friend, Pippa offers the most wonderful Grow Your Own service. It's perfect for any gardener or would-be gardener interested in growing their own produce.
To give as a gift, you can choose from three GYO gift voucher and signed book gift sets (A, B or C). The recipient will receive garden-ready plants at the right time for planting (4, 6 and 10 veg choices respectively). The signed book is Pippa's The Gardener's Year, which I have myself and absolutely love dipping into each season.
There are gorgeous vegetables to choose from including calabrese, sweetcorn, sweet and chilli peppers, squash and courgettes, climbing French beans, sugar snap peas, lettuces, beetroot, several different types of tomatoes, runner beans, greenhouse cucumbers and melons and leeks.
All with with weekly advice and tips emails from Pippa herself. Your own actual Gardener's Question Time expert on hand to help you on your way! Emails will cover all you need to do with your chosen crops – starting with soil preparation and pre-planting advice and guiding you right through from planting to the best ways to harvest for maximum yield and best quality.
Advice includes feeding, watering, staking/supporting, pinching out, thinning and of course, pest, disease and problem warnings and advice… and maybe the occasional recipe! A really special and unique gift idea in my book.
BUY GROW YOUR OWN GIFT VOUCHER SET (A) HERE >>
BUY GROW YOUR OWN GIFT VOUCHER SET (B) HERE >>
BUY GROW YOUR OWN GIFT VOUCHER SET (C) HERE >>
Win a GYO gift set worth £36
And because it's approaching the festive season and Christmas is a time of giving, Pippa is kindly offering her Grow Your Own gift sets (worth £36 each) as a competition prize to two lucky FBWL readers. Find out how to enter here
I have hankered after one of these beauties for ages now. They are expertly hand-crafted in the UK by Haws, who have been manufacturing since 1886 and are built to last. I love the classic curved spout design and that the hand-polished copper is designed to age beautifully.
BUY COPPER FAZELEY FLOW WATERING CAN HERE >>
Eva is my favourite garden photographer and she offers inspirational workshops to help anyone looking to capture the joys of gardening on camera.
Inspirational sustainable flower growers Green & Gorgeous offers a wide array of courses that are perfect for anyone passionate about the subject.
From flower painting to floristry, growing, one to one classes (featured in video above) and flower photography, there is something for everyone. During the growing season, there is also pick your own and Farm Gate sales. Green & Gorgeous gift vouchers are redeemable against courses, fresh flowers and produce and include a personalised card.
BUY GREEN AND GORGEOUS GIFT VOUCHER HERE >>
This is the most wonderful seasonal guide from Lia Leendertz and I definitely have it on my own wish list. It gives you the tools and inspiration to celebrate, mark and appreciate each month of the year in your own way. As well as highlighting developments in the garden, Lia also includes folklore and stories, seasonal recipes and natural phenomena. Beautifully illustrated, it's such a lovely stocking filler idea.
I am a big fan of a really good apron. With large pockets and built to last. You'd be hard-pressed to find a better than The Stitch Society artisan aprons. Designed and made in Yorkshire, they are so good, they come with a 10 year guarantee against wear and tear.
A hard-wearing apron is a great gift choice for gardening lovers. The key is to go for something robust, well-made and with pockets roomy enough to keep twine, snippers and bits and pieces handy. It should also look good so you enjoy wearing it. Here are two of the best: The unisex Gardener apron is practical and stylish. Whilst the Florist apron is a knee length version that I would personally go for as it's more suited to those of us who aren't that tall..
Gift ideas for gardeners #6: gift vouchers from specialist seed, bulb and plants suppliers
As someone who literally spends many, many hours poring over seed catalogues, compiling long lists then short lists of all the plants I dream of growing in the coming year, I can honestly say that a voucher from one of my favourite specialist seed suppliers would always be VERY well received. My favourites are:
Grace Alexander Flowers (above)
Chiltern Seeds (buy gift vouchers here)
Roger Parsons Sweet Peas (buy vouchers and gift packs here)
Plants of Distinction (buy gift vouchers here)
Rose Cottage Plants (buy gift vouchers here)
Sarah Raven (buy gift vouchers here)
It's the beautiful packaging that I love – and that Love in a Mist is so pretty when it grows. With bushy petals in blues and white they are a really useful flower to cut for arranging.
BUY LOVE IN A MIST SEEDS HERE >>
I always love to browse the Foundland shop – there's a whole section for Garden Picks for me are: this Kenzan set for arranging flowers without planet-unfriendly florist's foam and these proper garden scissors I wouldn't be without mine.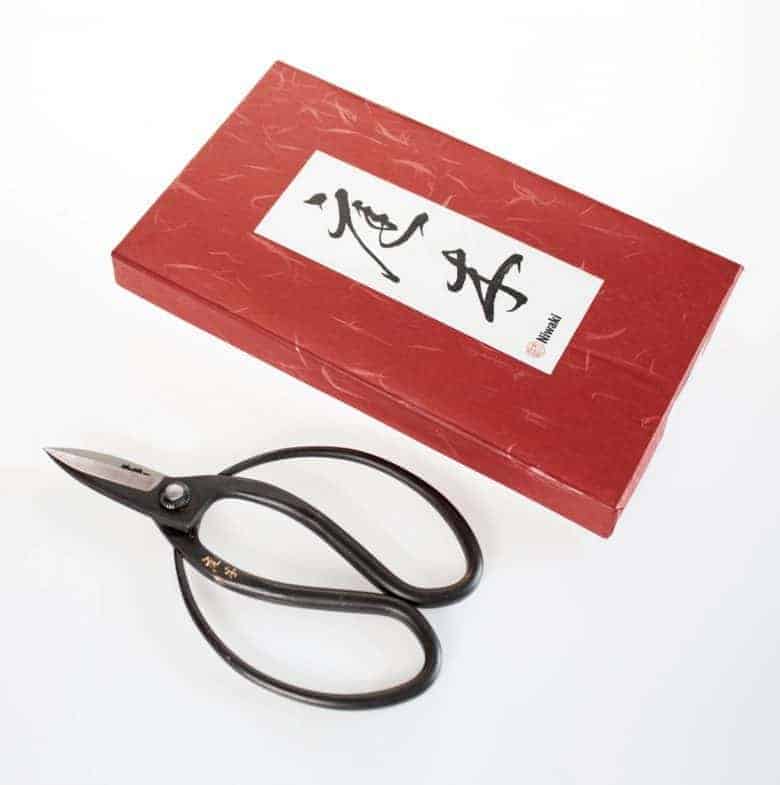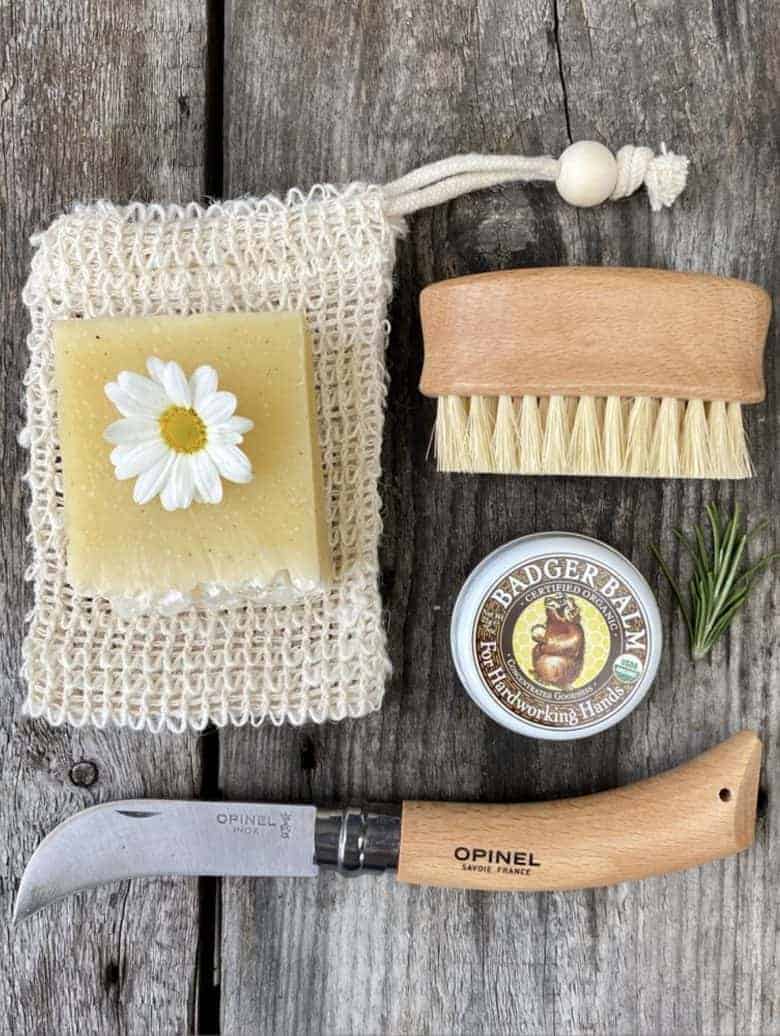 I know I said right at the outset that I have no time for gardening gift sets. And that this is exactly that. However, I really want to include this because it's actually useful as well as gorgeous. Natural soap, a sturdy sustainable nail brush, soothing hand balm and quality pruning knife make a wonderful combination. You can also add in a pair of secateurs if you choose. All arranged inside a gift box.
BUY GARDENING HANDS GIFT SET HERE >>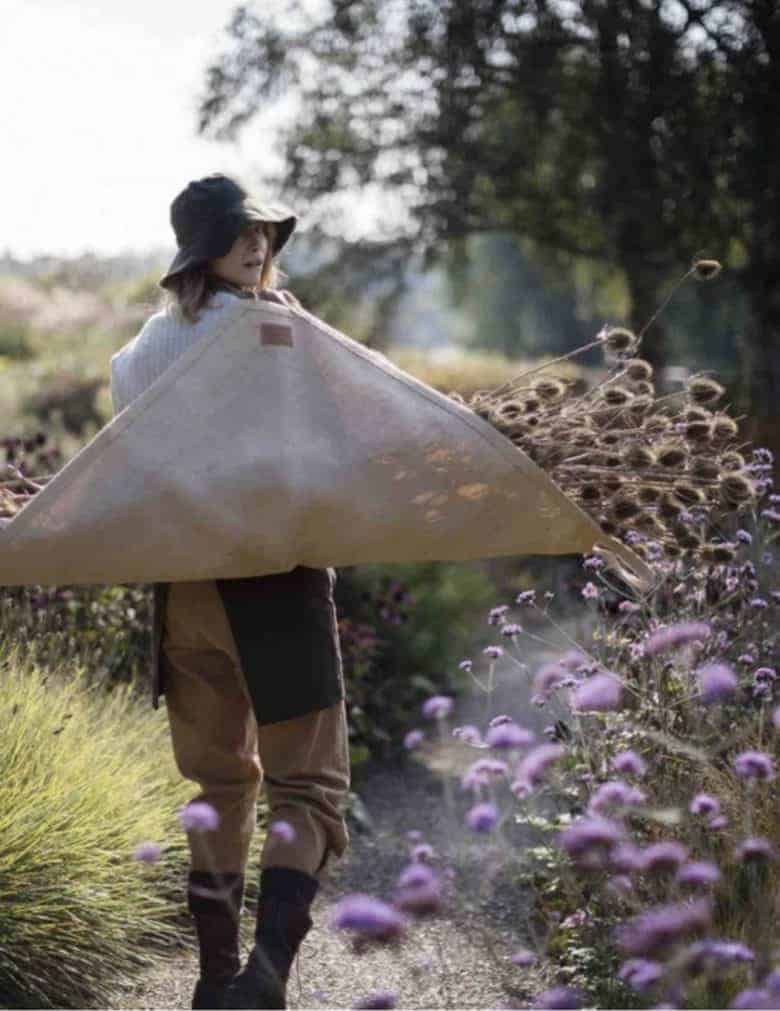 I have loved The Carrier Company for years – a small family business in Norfolk creating sustainable outdoor clothing and garden accessories. The Classic Carrier is the product that started it all – a generous square of jute fabric with a handle at each corner, traditionally used by gardeners of the past. It's perfect for carrying anything in the garden – such as clippings, logs, soil and light rubble.
BUY THE CLASSIC CARRIER HERE >>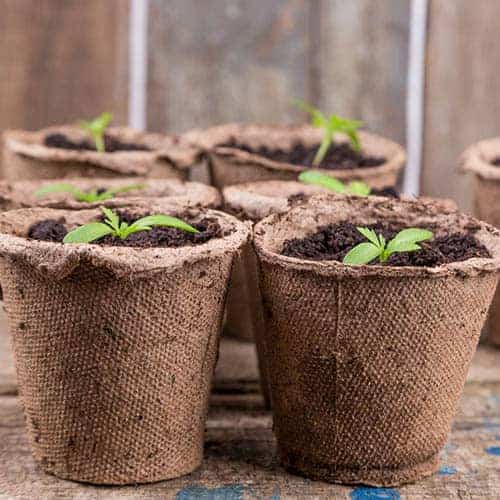 You can never have enough of these if you grow from seed. They're a plastic-free sustainable option and you could add to a pack of seeds or two if you felt like it.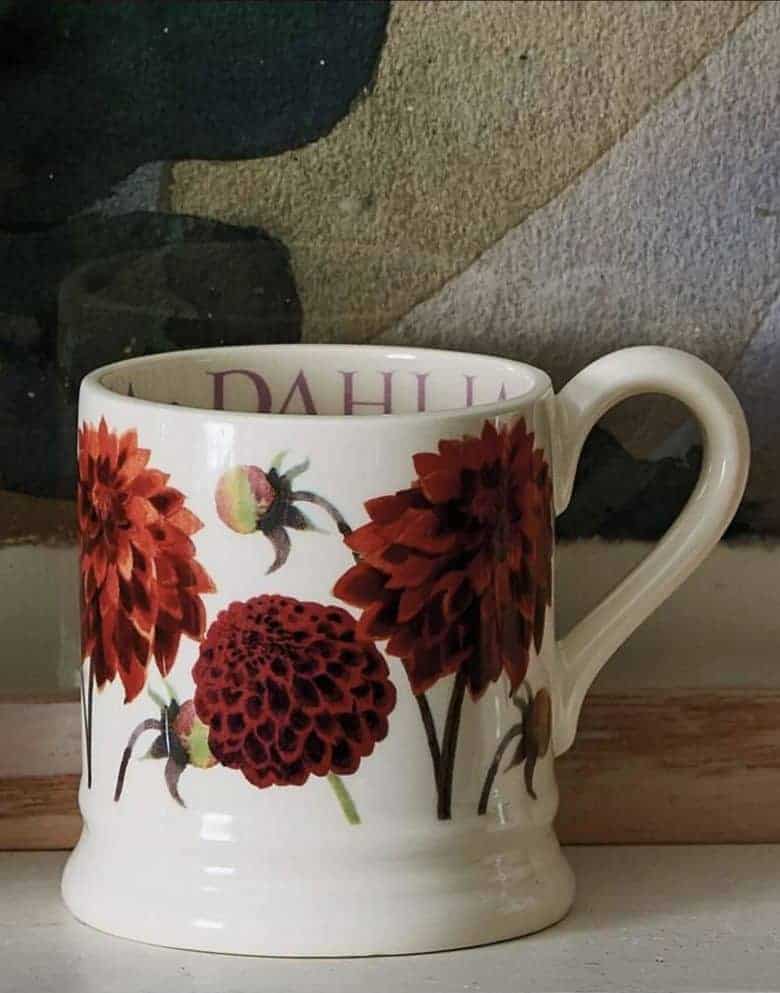 As I said at the very beginning, sipping a large mug of tea in the garden is one of life's real joys. There's a whole set of beautiful flower mugs to collect from Emma Bridgewater, but if I had to choose just one, it would be this handsome Dahlia mug. which will hold a generous half pint of tea. That's probably enough even for me.
BUY DAHLIA MUG FROM EMMA BRIDGEWATER HERE >>
For anyone of a daintier persuasion, this Scylla small mug is really beautiful don't you think?
Founder of Denys & Fielding, Liz Ridgway, is a keen gardener herself and this blissful balm works wonders on hardworking hands. It's handmade using plant based ingredients including shea butter, rose hip oil, and essential oils of sandalwood, geranium, patchouli and borage. All beautifully presented in a recyclable amber glass jar. Buy the nail pumice (great for removing ingrained soil) and balm as a duo set, and save money on buying the two separately. Buy the duo here: Gardener's hand balm and nail pumice duo
BUY GARDENER'S HAND BALM HERE >
How many times has what started out as an afternoon of gentle pruning in the garden ended with your arms scratched to ribbons? These handmade fully lined leather gardening gloves have a full 20cm saddle hide leather cuff which gives great protection against brambles and other sharp plants. Beautifully made and very durable, these gloves make the ideal long-lasting and arm-saving gift.
BUY HERITAGE ANTI BRAMBLE GAUNTLETS HERE >>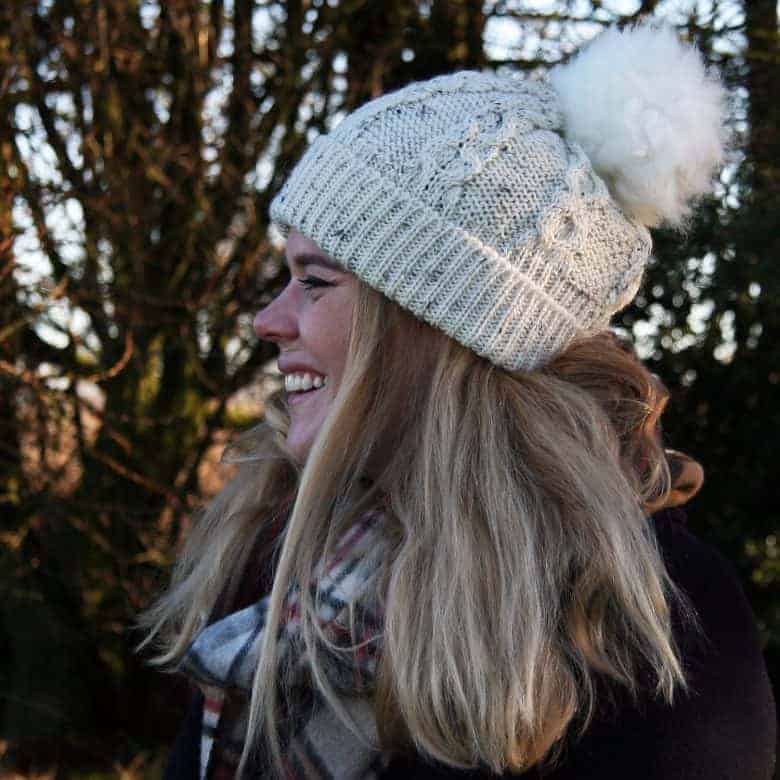 Nippy days in the garden are so much more enjoyable if you keep your head warm with a cosy hat. This is a beauty from Glencroft in Yorkshire. It's made from 100% British wool using a traditional Aran pattern and the fluffy pompom is made using offcuts from their own sheepskin rugs. I'm not sure you can get much cosier than that…
BUY ARAN BEANIE WITH SHEEPSKIN BOBBLE HERE >>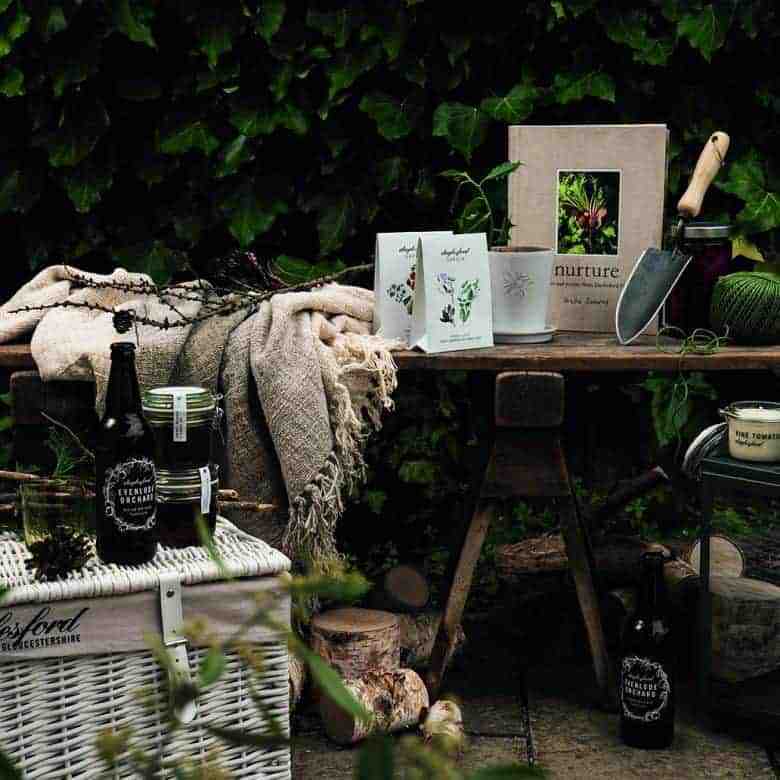 This is such a wonderful collection of goodies chosen by the team who keep the Daylesford organic market garden flourishing.
As well as jars of pickles and jams and two bottles of cider, there's a copy of Carole Bamford's recipe book, Nurture, organic hand balm, twine, a planter, packs of organic seeds, a white ceramic planter and a blissful Tomato Vine candle. All packed inside a white wicker hamper with leather straps and lined with linen.
BUY SUSTAINABLE GARDENERS HAMPER HERE>>
There's a lovely selection of bird and wildlife feeders available from the Sarah Raven online shop. Ideal for anyone with a love of garden birds and wildlife and an appreciation of good design. I love this heart shaped hanging metal bird feeder but there's also a gorgeous solitary beehive, dovecote nesting box, aged metal hanging bird bath and simple wooden bird nest box. Hours of pleasure to be had watching your wildlife visitors come and go.
BUY BIRD AND WILDLIFE FEEDERS HERE >>
What could be better for prolonging the joy of a warm cup of tea outdoors? Linda Bloomfield's beautiful mugs are gift boxed with a hand knitted mug cosy made from the finest Scottish lambswool. Love that the mugs have coloured insides that complement the cosies.
You can choose from a hand thrown mug or a manufactured version with a tactile satin matt glaze on the outside.
BUY HAND THROWN MUG WITH WOOL COSY HERE >>
INFORMATION
---
Listed in the From Britain with Love directory:
Feeling inspired? Take a look at the Ethical Shopping section of our Directory where you'll find more special UK makers and producers
---
A pin to share to Pinterest
If you've enjoyed discovering my favourite gift ideas for gardeners, it would be great if you could share the love! Simply hover over the image below until the Pinterest button appears and share to your boards. Thank you X