It was our second year at Wilderness Festival and this time we were determined to get the camping part of it right. No more child-sized flimsy sleeping bags or air beds that deflate within an hour or two like we stupidly had last year. We arrived at the festival, loaded with new mattresses that plug in and inflate to a good three feet high, as well as plenty of proper bedding. We'd brought fur throws for the ends of our beds and cosy rugs for the floor. My lovely friend, Jo, and I were there with our older teenage children and a couple of their friends.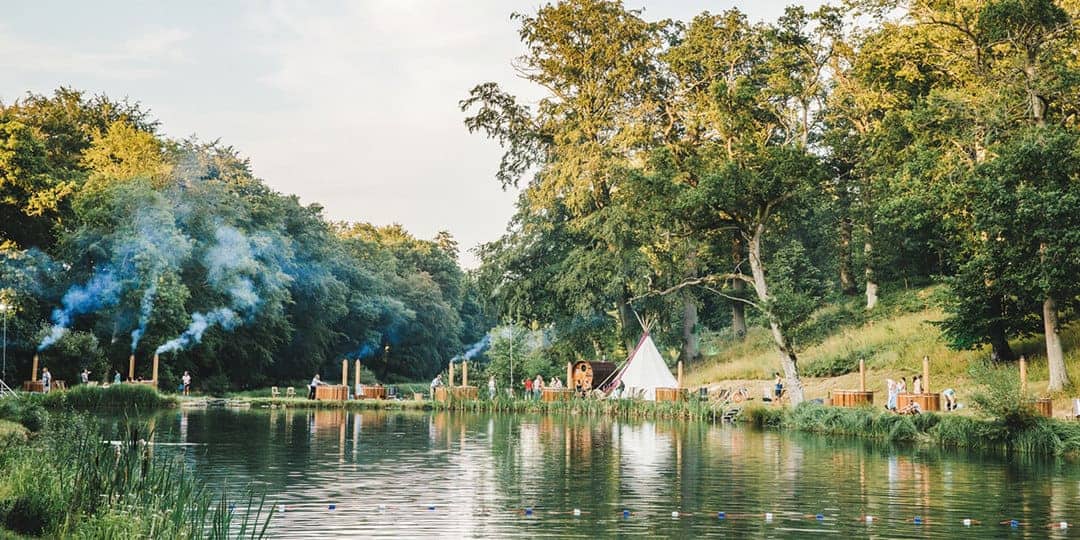 We'd booked the Meadow Campsite, a small field with few campers and plenty of showers and loos. The tents are spacious and the joyful part is that they have already been put up for you. Our tent was on the end of a row, beside a large old oak tree with views over rolling countryside. It's not an exaggeration to say that I actually loved our tent once we'd finished decorating it.
Battery-operated night lights flickered and strings of lights twinkled everywhere. I love that Jo shares my slight obsession with symmetry. Once we were done, Jo and I sat outside our tent enjoying the view with a glass of wine and grinned at each other. We were ready to have a good time.
The four days went by in a blissful blur of memorable music as well as great food, glitter and good times. We enjoyed all types of music – from bands we already knew to many we didn't. I particularly loved First Aid Kit's set, as for me the mellow sound worked perfectly with how we were feeling.
Two Door Cinema Club had everyone dancing and singing along. The Wilderness Choir were wonderful and made us feel quite choked. The Folk Barn always had something interesting playing and was a great place to sit, eat lunch and then lie back for a snooze.  In the daytime, children are having fun. Come the evening, dancing is everywhere you go. Whether it's to DJ mixes at The Love Hotel, more retro pop at The Peacock Bar or into the early hours in The Valley. We loved that even a small stall selling snacks had a sizeable gathering around it late one night of people energetically dancing along to their pretty decent playlist.
There's so much to see, hear and do at Wilderness festival it's impossible to cover it all. So I thought I'd share with you a few of the things we most enjoyed this year.
five favourite finds from this year's wilderness festival.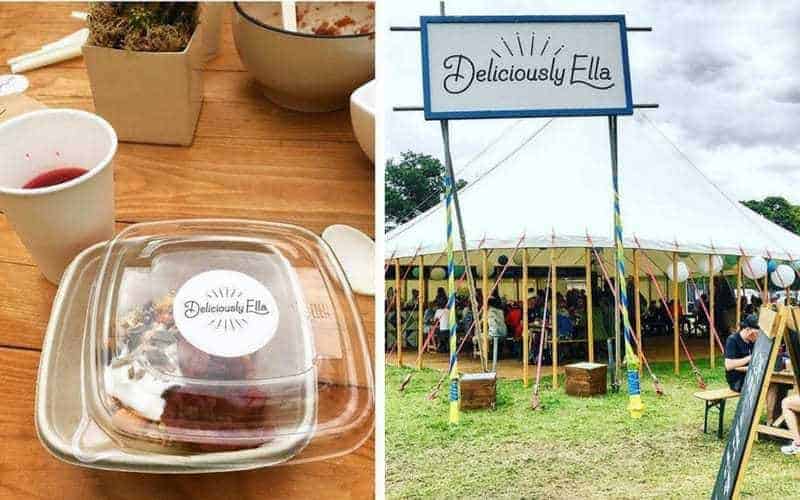 1 Yoga Brunch Club
We'd booked this for our first morning and to be honest we almost didn't go. It started at 9.30 and we hadn't been up long. It was tempting to have another cup of tea in the morning sunshine instead and ease into the day a bit more slowly. We roused ourselves and decided to make the effort and we're so glad we did. Our yoga teacher – Maren Weege – was fantastic and we were soon stretching, and breathing, into a whole new level of well being. After the session, our shoulders were much less stiff than they had been (from carrying our stuff the day before) and we both felt full of energy. Tables had been laid in the sunshine for us at the pretty Deliciously Ella tent opposite. Simple jars of wild flowers sat beside bowls of homemade toasted granola, seeds, coconut yogurt and fruit compote. We helped ourselves and got chatting to the people around us. The two guys in grass skirts explained how their outfit choice for the session had proved near-catastrophic during at least one of the postures… You meet so many wonderful, friendly people at Wilderness festival.
2 The Good and Proper Tea Company
We'd first discovered Good and Proper Tea at last year's Wilderness festival and really hoped they'd be there again. It took us a little bit of time to find them as they were slightly tucked away, but we were thrilled when we spotted their vintage metal van. Jo and I are both tea lovers and of all the tea we drank last year, the cups we had from Good and Proper tea were head and shoulders above the rest. They use their own blends, brewed freshly for you, with a timer to ensure the optimum steeping time. A truly well-made cup of great quality tea is surely one of life's great pleasures.
3 Ottolenghi
We'd wanted to book places at Ottolenghi's Long Table Banquet but it had totally sold out before we managed to get our act together. I love Ottolenghi's sunny eastern-meets-mediterranean way with food and have a few of his cook books. Actually that's not quite true. It's my youngest son, Gabe, who has the cook books. He is passionate about food and cooking (he has been since he was tiny). It was Gabe who first discovered Yotam Ottolenghi in our family, having watched a TV show that followed the Jerusalem-born chef around the Med. Gabe told me he liked the happy, sunshiney way Yotam cooked and talked about food and life.
We just happened to be sauntering past the bookshop tent when Jo spotted a blackboard saying that Yotam would be signing copies of his books in 10 minutes time. I didn't need asking twice and quickly bought a copy of his beautiful Jerusalem cook book and got in line. Wearing chef's whites (he told us he'd just finished cooking) Yotam asked who my book was for. I told him a little bit about Gabe and his love of food. Yotam smiled his enormous smile and asked me to give Gabe my love. Then he wrote this lovely message for him in the front of the book. You should have seen the look on Gabe's face when he saw the photo of his book being signed and I told him 'Yotam said to give you his love'. Best £30 I've spent in a long while.
4 The Tea Stop
Wilderness wouldn't be Wilderness for us without the big red double decker bus selling freshly made cheese toasties and cups of tea into the early hours. There's usually a queue for seats inside, and yet the table at the top of the stairs somehow always comes free, just as we happen to get there. Apart from one time. It was a bit like that scene in Friends when random strangers are sitting in the main characters' usual places at Central Perk coffee shop.
Jo and I had hurried up the stairs to the top deck as usual, tea and toasties in hand, then ground to a halt, as we took it in. Other people were sitting in our seats. It took a second or two for us to get over ourselves. There was another table free further down the bus, so we managed to cope. What's so great about this lovely old red bus is that it's always buzzing, warm and cosy. Which is perfect if you're steeling yourself before heading back to a chilly tent for the night.
5 Lakeside Spa
We missed out last year and were determined to enjoy a hot tub beside the lake this time at the spa run by Bathing Under the Sky. Sunday afternoon at 2pm was our slot and it was the perfect, blissful end to our festival.
You start by having a warm shower using Neal's Yard toiletries. Then you wrap yourself in a soft, fluffy towel. The hot tubs themselves are wood-fired and individually hand-crafted from cedar in the Peak District by Forest Flame. The water in the tubs is kept gloriously hot and it's so gorgeously relaxing to let the warmth gradually ease your muscles. If you get too hot, you can either go for a bracing swim in the lake. Or do as we did and stand up in the tub and let the fresh air cool you down. A small band started to sing laid-back music as the staff milled around plying guests with glasses of champagne. We were going to be driving home later that night so we couldn't indulge, but it seemed the perfect accompaniment to an afternoon of hedonistic pleasure. Next time… We say that a lot.
Food we loved at Wilderness Festival
There's never enough time to enjoy all the food you want to in the four days, but we did eat very, very well.
Our favourites included:
Massaman curry with kimchee pickle Buddha Bowls (winner of the people's choice award at Glastonbury Festival) from Wholefood Heaven
Classic steak and rosemary chips with homemade secret sauce (spicy salsa verde) from STAKEhaus,
Frito Misto from Cafe Murano takeaway. We hear they also do amazing takeaway breakfasts.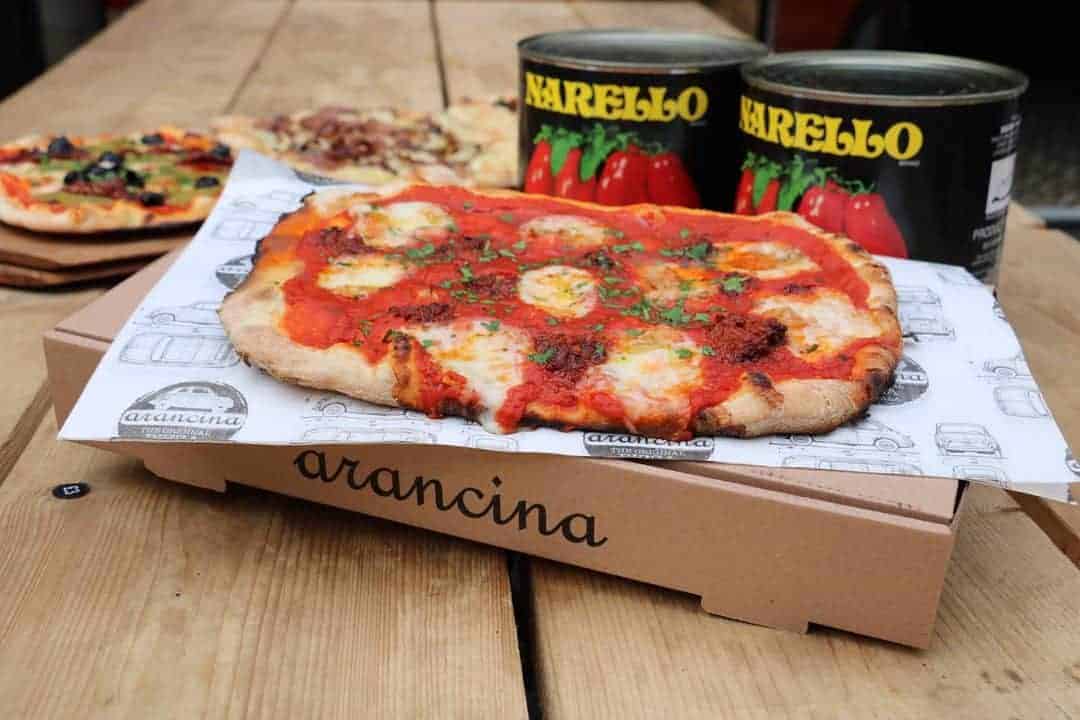 Freshly cooked pizza by Arancina – so simple, so good.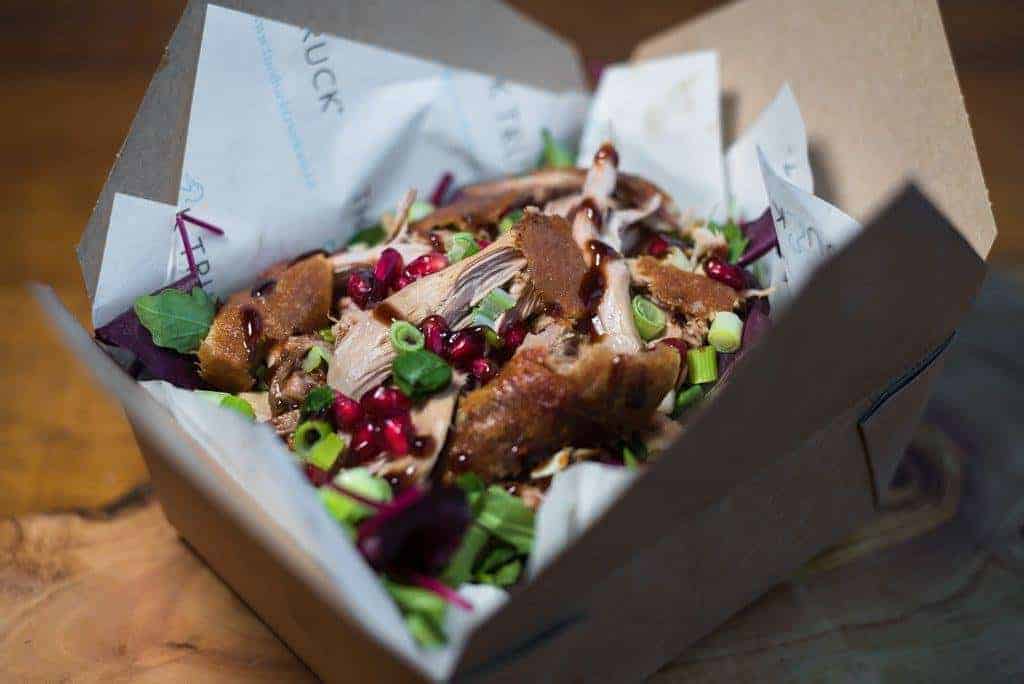 Our children's favourites were: The Cooking Cooks fresh pasta; Anna Mae's mac and cheese, Happy Maki vegetarian sushi; Barnaby Sykes pie maker; smoothie bowls from Boa Vida Acai; The Duck Truck (above).
We also loved tea and homemade cake from the pretty vintage caravan.
Wilderness Festival – what a wonderful way to spend 4 days. I was back at my desk on Monday morning when I got this email from the festival organisers and it really made me smile:
To our darlings. 
Our wild warriors. Our bright lights. Our sky of superstars. 
What an amassing of incredible humans. We are dazzled, overawed and utterly in love.  Thank you for your wall-to-wall gold. 
Words (almost) fail us when we consider all that has happened. The fierce, bedazzling Grace Jones. The utterly legendary tribute to Nina Simone. The transportational power of the Letters from the lips of an all-star cast. The spine-tingling finale with our dear Wilderness Orchestra.  
Two Door Cinema Club with their bright disco-infused pop, the hypnotic show from Bonobo and of course, the other-worldly Spectacle from Master of Light Chris Levine…
The beats shaking The Valley, the sparkling Missy Fatale and her cast of cabaret all-stars. The chefs and the troubadours, the philosophers, the movers and shakers who enlightened The Forum. The yogis, the world-class dancers, the taxidermist. The festival favourites that spun the Carousel and shook The Hustle.
Our hearts are full. We can still feel the music. And we will always remember the magic.
Shine on you crazy diamonds,
With all our best love, 
Wilderness Festival HQ x