Why you need shibui linen simple wear jackets, overalls, tees and easy trousers for Autumn…
I'm a sucker for Japanese aesthetics. I took to wabi and indeed sabi like a duck to water. In case you don't know, wabi sabi is all about seeing and appreciating the beauty of imperfection and transience. I embraced shibori indigo dye techniques with a passion. I've willingly attempted the Shinrinyoku technique of forest 'bathing' for wellbeing.
So it's no surprise that when Nadia, founder of Rutland-based clothing maker Nadinoo emailed me to let me know about new Shibuiwear collection of linen essential pieces, I instantly wanted to know more.
Shibui – what it means
Shibui, I discovered, is a Japanese term used to describe objects that: appear to be simple overall but they include subtle details, such as textures, that balance simplicity and complexity. This balance of simplicity and complexity ensures that one does not tire of a Shibui object but constantly find new meaning and enriched beauty that cause its aesthetic value to grow over years….
I love this idea. Simple beauty made interesting with details and built to last. The opposite of fast fashion rushing its way to make landfill.
I looked into the history of shibui and discovered that the seven elements of shibusa are: simplicity, implicity, modesty, naturalness, everydayness, imperfection, and silence. They are adapted from the concepts authored by Dr. Soetsu Yanagi (1898-1961), aesthetician and museum curator, published in the Japanese magazine Kogei between 1930-1940. The aristocratic simplicity of shibusa is the refined expression of the essence of elements in an aesthetic experience producing quietude.
All very fine and definitely down my street. I already love the ethos behind Nadia's business. (Nadinoo is listed in the FBWL directory here). She hand makes down to earth clothing to order in an idyllic countryside setting. Where there is no rush to complete a new collection or catch a trend. It's all about creating great garments that wear slow and stand the test of time. And I have a passion for linen. So the question is: which pieces from Nadia's new collection would actually suit me? And work for my life?
The Shibui wear collection
Soro soro overalls
Inspired by the Japanese term 'sorosoro' meaning to move slowly, gradually or leisurely. I love the idea of the clothing we choose to wear reminding us to take life slow or at a gentler pace…
Nadia's design notes: 'This evolution of the Cross back overalls from the Simple wear collection gives you more freedom of wear. Enjoy them worn alone in the warmer months or accompanied with cosy layers both under and over when there is a nip in the air.'
Sold. I do love overalls. And linen. And a crossover back. I'd like a pair in navy and grey please. And I am now quite looking forward to cosying up with a chunky knit over and soft cotton layers under.
Haiku jacket
Taking inspiration from the Haiku – a simple three line poem, traditionally evoking images of the natural world. The idea: to help you to be present in the moment and take note of the simple things that surround you, perhaps even write your own Haiku.
Nadia's design notes: 'I had been daydreaming of this design long before I put pen to paper, I wanted loose A-line drape, a gathered scarf neckline and deep, deep pockets. The result has been an easy versatile layer I've been reaching for each time I head out.'
Breathe easy Tee and Trousers
The trouser and tee combination sounds perfect for everyday easy dressing. The simple joy of wearing linen next to your skin in pieces cut for ease and comfort.
Nadia's design notes: 'This easy tee silhouette is the perfect daily companion. It's loose oversized fit gives you all the room needed to relax in comfort or get on with your busy work day. Adapted from the ultra comfortable Slow morning trouser that I live in all year round. I wanted to design a loose leg option that could be worn on occasions as well as every day. All of course while looking effortlessly elegant.'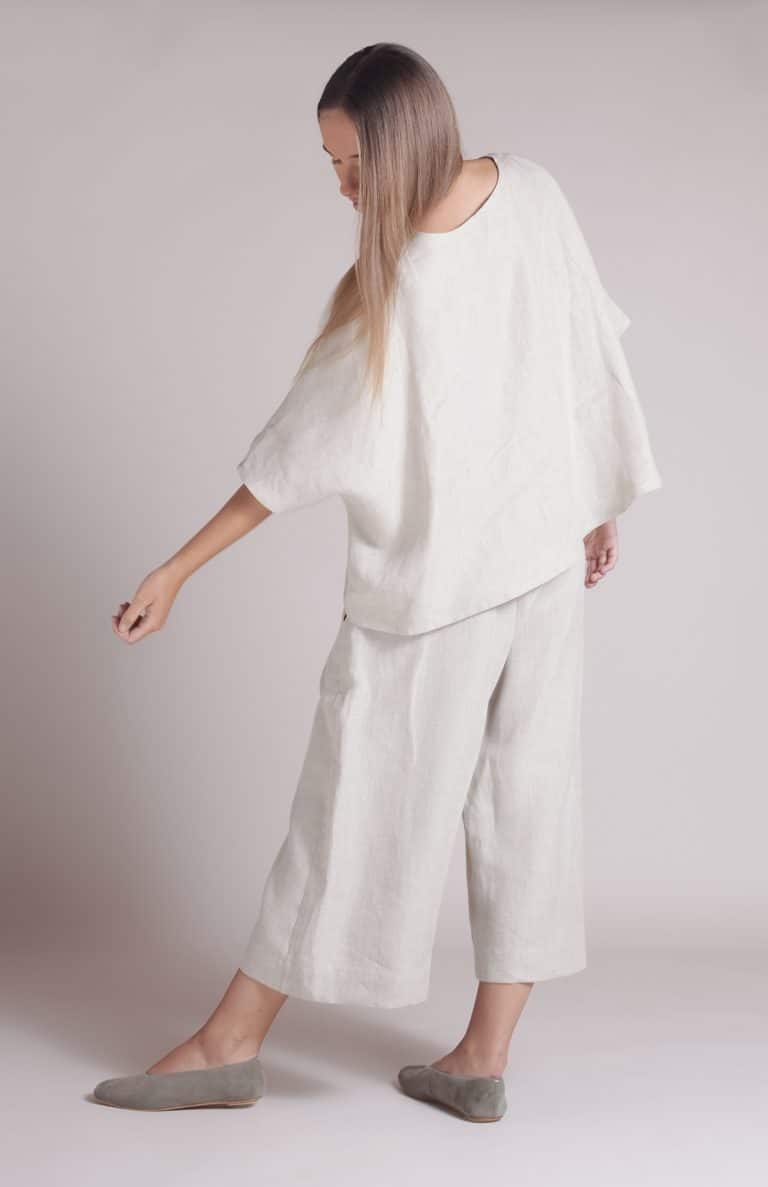 My shopping list
If I was tall and willowy, the tee and trouser combination would definitely be on my list, but as I'm short and slight, I've decided to go for:
Soro Soro overalls in navy and grey (I do have a bit of a thing for overalls!!) These look so easy to wear and I love the crossover back.
Haiku jacket in organic blue – I just love the shape and colour. I'm tempted to go for navy as it feels a more practical colour choice, but that blue though… sometimes you just have to go for a colour because you love it don't you?
INFORMATION
---
Nadinoo is listed in the From Britain with Love  directory here >>
Visit the listing to find all the information you need to browse – and shop from – the website or to connect with Nadia on social media.
Are you a maker or creative course provider? Like to benefit from joining our supportive community? We'd love to hear from you. Check out the packages we offer on our Join Us page and get more details from our Information pack here