We love soft blue and yellow interiors like this one by Studio Cuvier
For us the success of this scheme is that it's not too rigid – other colours and quirky pieces such as the eclectic mix of prints stop it looking like a showroom. The soft aqua blue of the sofa is the perfect foil for touches of monochrome and other shades of blue. The sunshine yellow is added by the use of accessories with splashes of the colour. The sunshine comes from the arrangement of fresh lemons and the bowls with yellow insides.
blue and yellow interiors Moodboard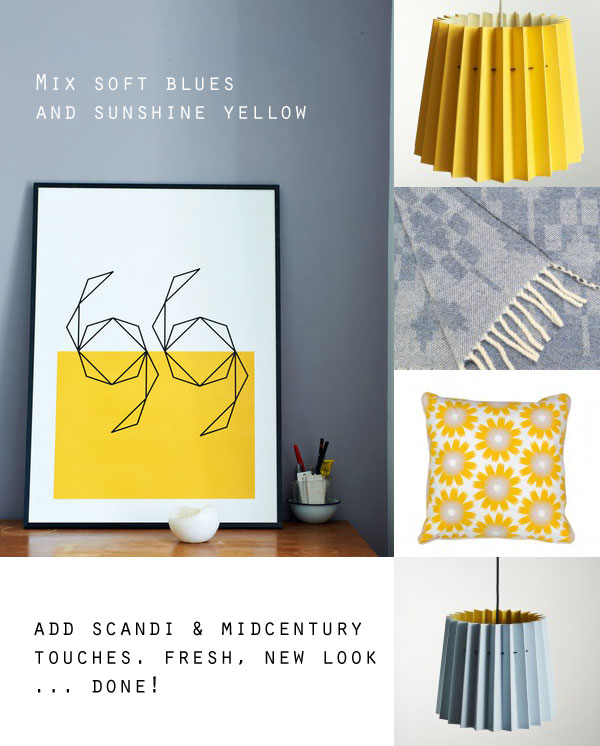 How to find the products featured in our moodboard
The makers we have featured are listed in the From Britain with Love directory. Each of their listings has all the contact details you need to connect – and shop – with each of them.
We have also added in the individual links to the relevant shop pages below to help you source them.
ABOVE, CLOCKWISE: Swimming Yellow hand-pulled print by Lane, £55; Handmade Twintone Yellow lampshade by Lane, £65; Soft Blue hand woven Dukagang throw by Madeleine Jude, £99; Hand-printed Blooms cushion by Sarah Waterhouse, £69; Little Greene Editions twintone lampshade by Lane in Little Greene shades Brighton and Mr David, £65.
Lane and Madeleine Jude are listed in the From Britain with Love Directory.
Discover Lane in our Directory now >>
Discover Madeleine Jude in our Directory now >>
main photo credit: Fredrik Karlsson