If you're thinking of buying a velvet sofa or home accessories, you need to know about the beautiful Velvets collection by Vanessa Arbuthnott (listed in our directory here). Perfect for adding an opulent and textural feel to your home and to contrast with patterned linens.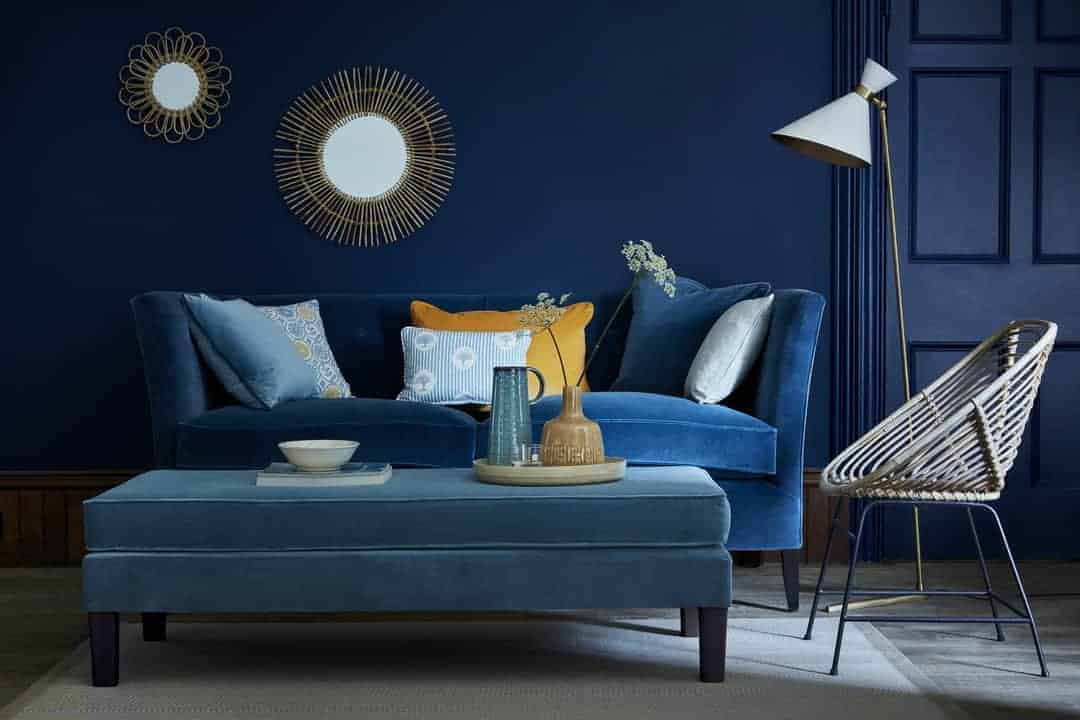 What is velvet?
You might be surprised to learn that velvet isn't actually a material at all; it's a weaving technique which creates a soft, dense pile that covers the base cloth, forming the sumptuous plush surface we all know and love. Vanessa explains the idea behind her Velvets collection:
'Our patterned velvet fabric transcends, trends and styles beautifully. I've selected a range of jewel-like colours that I think work wonderfully in any setting. Their luminous sheen makes them especially fitting for a glamorous room, but equally at home in relaxed or modern spaces.
A surprisingly practical option for any home, our patterned velvet fabric feels and looks more luxurious than most textiles and just like leather (or fine wine) it gets only better with age.
There are eight beautiful colours I have chosen to complement my patterned fabrics. Velvet is sumptuous, yet durable, oozes style and luxury and instantly adds texture, warmth and comfort to a room.'
Here's my pick of ideas from the collection.
There are some great ideas here from Vanessa – with all the information you need to recreate them…
Love this deep pink velvet covered armchair contrasted with linen printed curtains and cushion and soft grey velvet footstool
CURTAIN: For the Love of Rose Clay, Damson LOVE-37-45 £54/mtr; CHAIR: Rose Velvet VELVET-76 £58/mtr; CERNEY FOOTSTOOL: Elephant Velvet VELVET-75 £58/mtr piped in Thunder Velvet VELVET-74 £58/mtr; Cushion (back): Self piped and zipped Thunder Velvet VELVET-74 £58/mtr; CUSHION (front): Branching Out Scree BRANCH-67 £52/mtr piped in Plain Linen Charcoal PLAIN-38 £48/mtr; RUG: Dark Grey Tapestry by Solva Woolen Mill £99.75 each; PAINT: Scree 227 by Little Greene Paint Company £42, per 2.5 ltr
If dark colours are your thing, this charcoal grey velvet armchair is perfect and I love how it contrasts with pops of orange from fresh flowers.
SAPPERTON CHAIR: Thunder Velvet VELVET-74 £58/mtr; CUSHION: Self piped and zipped Shibori Charcoal, Tangerine BORI-38-60 £52/mtr; RUG: Herringbone Thunder, Bracken RHB-47-180 £240; PAINT: Lamp Black 228 by Little Green Paint Company £42 per 2.5 ltr
If you're drawn to the idea of an orange velvet sofa, how amazing does it look combined with dark charcoal grey black?
TRADITIONAL SOFA: Marigold Velvet VELVET-73 £58/mtr; CURTAIN: Up the Garden Path Winter PATH-50 £52/mtr; CUSHION (left): Large rectangular Life and Eternity Detail Charcoal LIFE-38 £49.50/mtr piped in Plain Linen Charcoal PLAIN-38 £48/mtr; CUSHION (middle): Marigold Velvet VELVET- 73 £58/mtr piped in Thunder Velvet VELVET-74 £58/mtr; CUSHION (right): Self piped and zipped Thunder Velvet VELVET-74 £58/mtr; RUG: Stripe and Dash Smoke, Cornflower RSD-30-16 £390; PAINT: Lamp Black 228 by Little Green Paint Company £42 per 2.5 ltr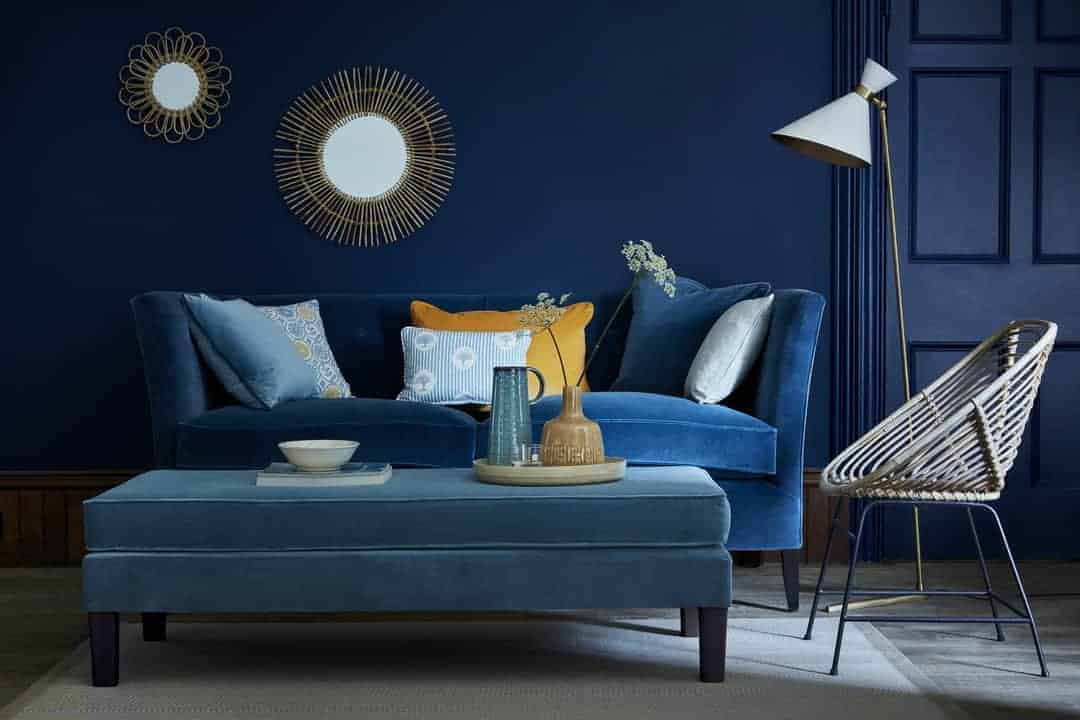 Shades of blue, charcoal grey and marigold velvet cushions make a stunning combination of cushions. Love the idea of having a sofa and footstool in different shades of blue too…
Top: CIRENCESTER SOFA: Tarn Velvet VELVET-78 £58/mtr ;FOOTSTOOL: Lake Blue Velvet VELVET-77 £58/mtr; CUSHION (left front): Self piped and zipped Lake Blue Velvet VELVET-77 £58/mtr; CUSHION (left back): Self piped and zipped Pie in the Sky Speedwell, Straw PD-32-9 £49.50/mtr; CUSHION (middle front): Self piped and zipped Four Seasons Speedwell, Denim, Straw FR-32-6-9 £49.50/mtr; CUSHION (middle back): Self piped and zipped Honey Velvet VELVET-72 £58/mtr; CUSHION (right back): Self piped and zipped Tarn Velvet VELVET-78 £58/mtr; CUSHION (right front): Self piped and zipped Cow Parsley Duck Egg, Cornflower CP-8-16 £49.50/mtr; RUG: Stripe and Dash Smoke, Cornflower RSD-30-16 £390; PAINT: Royal Navy 257 by Little Green Paint Company £42 per 2.5 ltr
Bottom: FOOTSTOOL: Lake Blue Velvet VELVET-77 £58/mtr; CUSHION (from bottom): Self piped and zipped Tarn Velvet VELVET-78 £58/mtr; CUSHION: Marigold velvet VELVET-73 £58/mtr piped in Thunder Velvet VELVET-74 £58/mtr; CUSHION: Self piped and zipped Thunder Velvet VELVET-74 £58/mtr; CUSHION (top): Self piped and zipped Lake Blue Velvet VELVET-77 £58/mtr
I just love how this sunshine yellow velvet chair softens, warms and contrasts with shades of grey…
SWEDISH BLIND: By the Sea Scree, Charcoal SEA-67-38 £52/mtr lined in Simple Ticking Detail Charcoal TICKING-38 £49.50/mtr; LAMPSHADE: By the Sea Scree, Charcoal SEA-67-38 £52/mtr; RETRO CHAIR: Honey Velvet VELVET-72 £58/mtr piped in Thunder Velvet VELVET-74 £58/mtr; RUG: Geometric Grey, Saffron, Winter RGEO-95-52-50 £240
INFORMATION
---
Vanessa Arbuthnott is listed in the From Britain with Love  directory here >>
Are you a maker or creative course provider? Like to list with us and benefit from joining our supportive community? We'd love to hear from you. Check out the packages we offer on our Join Us page and get more details from our Information pack here
---
A PIN TO SAVE TO PINTEREST