Finding the perfect handbag – our favourite makers share their thoughts
What makes the perfect handbag? Over the years I've had all sorts of different handbags – from grown-up Mulberry work bags which said 'take me seriously' to my current circular straw bag (not sure quite what this says other than I am definitely not commuting to a 'serious' job…) What they all have had in common is that they can hold the paraphernalia that goes with whatever stage of life you're at.
Once upon a time it was all about make up bags, work folders and perhaps emergency toothbrush and overnight essentials… Then it was nappy sacks, mini changing mats, boxes of raisins and emergency Bob the Builder books. Now I can't leave home without the iphone, reading glasses and a lipstick or two. Adding a slick of glossy lip colour can make up for a multitude, I find. Quite often I finally get round to doing this in the car, when the traffic lights are on red. Rummaging in my bag to grab whichever one comes to hand quickest.
Finding the perfect handbag made in the UK
I got to thinking about how important a woman's bag is to her life and how our needs change. I decided to ask a few of our favourite UK handbag designer makers to share their thoughts on finding the perfect handbag – our favourite makers share their thoughts… as well as one or two of their own handbag loves…
Finding the perfect handbag – Grace Gordon
I LOVE Grace Gordon bags because of their simple aesthetic, the carefully chosen high quality raw materials and exquisite attention to detail. All Grace's bags are made in Britain using quality leather hand picked from UK suppliers with solid brass hardware. Bags built to last and to love for a lifetime… Grace picks her go-to bag from the collection and shares her tips on finding bag perfection…
'For me the perfect bag has to have the ability to work cohesively with a variety of outfits, both day and night, whilst carrying all of your essentials. If you invest in a really great bag you'll be able to wear it time and time again and, with natural leather like we use for our bags, it'll only get better with age.
The Lucy cross body bag
My first design, the Lucy Crossbody, has a special place in my heart. It's named after my sister and has always been a firm customer favourite. For every investment piece I buy I have a three-step checklist; things have to be functional, made using high quality materials and designed with a simple aesthetic.
If you stick to this mantra you'll inevitably end up with a beautifully cohesive set of wardrobe basics. The Lucy epitomises this idea and is my absolute go-to. The detachable shoulder strap makes for a great hands-free option when I'm running errands and without it she's transformed into a neat little carry case, perfect for a night out.
As well as being drawn to a minimal look, I'm driven by a fascination with the materials which go into making a bag. In my previous job as a buyer I focused mainly in the menswear sector and found it increasingly frustrating that there were lots of really high quality vegetable tanned leather goods in the form of belts and wallets but often no handbag equivalents. I decided to make my own designs using natural leathers, and quickly fell in love with figuring out how to marry modern femininity with such a traditional material. Now we have a range of bags which wear, soften and patina over time; every bit of them transforming into something different and rich in personality.'
Finding the perfect handbag – Susie Faulks
What I particularly love about Susie Faulks (listed in the FBWL directory here) are her beautiful, unique, patterns. Often inspired by the Cotswold landscapes where Susie lives and works, her unique motifs are printed in England onto high quality linen union cloth and then coated to produce a durable oilcloth fabric. A dedicated animal lover, no animal products are used in any of Susie's designs. Once the oilcloth has been made, the bags and purses are either made by Susie herself or in a small factory in England. I asked Susie to share her own favourite with us:
Betty Blue
'My favourite bag is my shoulder bag that I designed a few years ago and I love this Betty Blue design. It is large enough to carry just about everything, which is so important in this day of laptops, tablets and phones. After doing some research I found that people often wanted a larger bag as we tend to carry more around with us these days. If I carry a tablet or phone I do want it to be safe so my shoulder bag design has a very large zipped pocket each side. It also makes it easy to grab that phone quickly when it rings!
Before having my business I always found it very difficult to find attractive vegan bags. Certain other brands of oilcloth bags always use leather for fobs and detailing so they were not what I would ever buy. Animal free design is very important to me and the ethos behind my brand. Long straps are always necessary for me as I am tall and a good rivet or two always makes a bag strong and lasting.
I always use top quality linings in my bags which are double bonded meaning that they also repel any liquid. My shoulder bag is perfect for for beach trips as it is waterproof inside and out so perfect for those days by the sea.
I am a pattern and colour addict, so a good bag for me always has to have an attractive textile design in some wonderful colour combinations, plain just simply won't do! My Betty Blue shoulder bag coordinates really nicely with my Wild Hare Blue oilcloth purse (below).'
Buy Betty Blue Oilcloth Shoulder Bag here>>
Finding the perfect handbag – Sarah Haran
What's so inspiring about Sarah Haran is how she made the leap from high flying exec at a major IT company to follow her passion instead… to design and make the perfect handbags for working women. The bags she felt her lifestyle demanded, but she couldn't easily find.
Sarah enrolled herself on a training course in handbag design and leatherwork that culminated in an apprenticeship with the Creative Director of Mulberry. She now designs and makes her own beautiful collection of high quality eco-conscious leather bags and accessories. Handmade in Britain, many of Sarah's designs are customisable to adapt to the varied needs of the women who buy them. I asked her to share her thoughts on what finding the perfect bag means to her...
'As my customer base has grown I have become more aware of how important a handbag is to my customers. It can say so much about you and your style. Our choice of handbag is so personal and the type you choose is personality driven. When observing my customer's handbag choice, I have noticed that there are certain customers that prefer a certain type. For instance:
The Tote
Is great for people who like to be prepared for every occasion or situation that life throws at them. They tend to be organised and find joy in a tote handbag because of the space it affords them to carry around just about everything that they think they will need to get through a day. I have seen customers with everything from pain killers to dressing up clothes in their tote handbags. They are always the ones colleagues go to if someone in the office has a headache or needs a plaster!
The Dahlia
Our hero handbag, (above) is a simple tote, handmade in fine leather, with detachable front pocket, luxurious pink suede lining, six internal pockets and interior key chain. Our best-selling bag, the Dahlia is a classic investment piece that will only improve with age. And because it comes with a detachable strap, you can also wear it as a shoulder bag. What more could you ask for?
Structured and with plenty of room, the tote is perfect for work and for polishing your look. Large totes are perfect for going to the gym.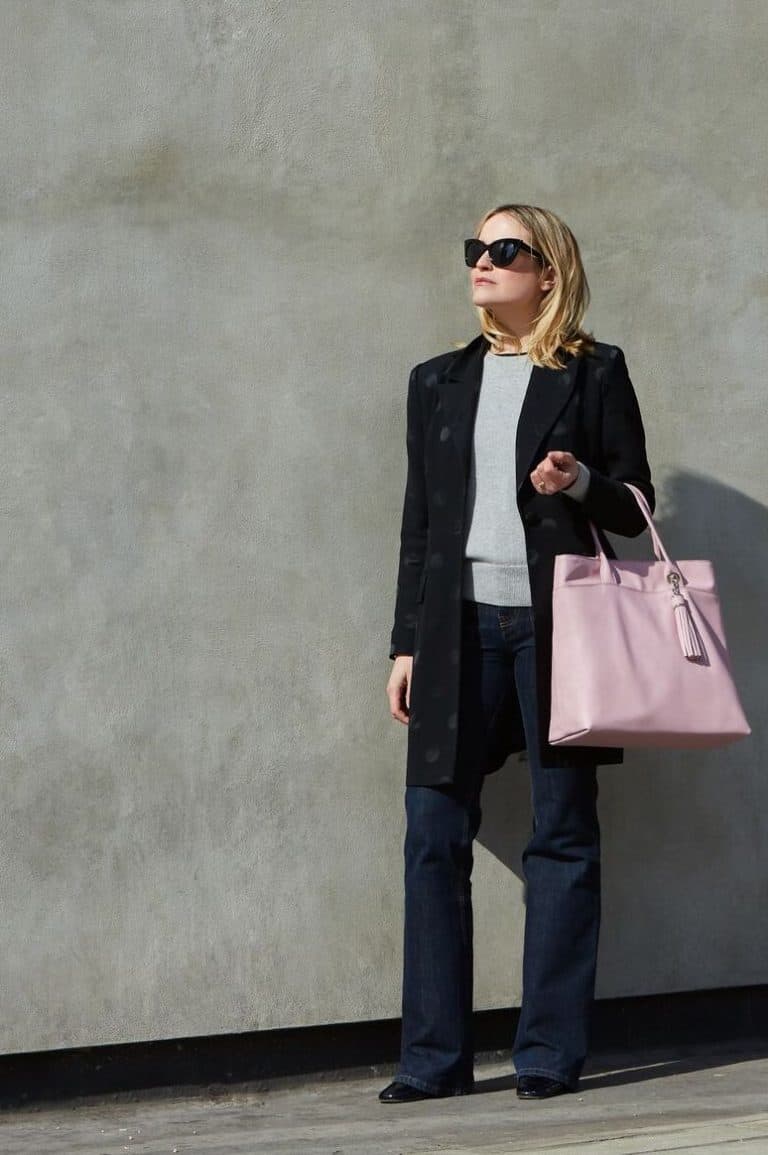 The Shoulder bag

A bag that is often seen as a status symbol and one of the most popular shapes that high-end luxury designers use. Think Dior, Gucci and Prada. This type of covetable handbag is a status symbol and generally users care about function but also want a handbag that displays all the bells and whistles so that they can turn heads and impress people. The more IT the bag is the better.
Cross Body Bag– tend to be worn by fun, and free-spirited types. The type of woman who loves a versatile bag that is perfect for a night out, yet suitable for the office. They are not afraid of spontaneity and tend to carry only the essentials – phone, wallet keys and a small amount of makeup.
Clutch – I have noticed that my more outgoing customers with busy social lives love clutches. They tend to be the life and soul of the party and love dressing up. Happy to carry just the bare essentials with them.
All that aside, I always advise my customers to 'try on' a bag. Look in a full length mirror from all angles to make sure it suits you and your shape. Give some thought to how well it will go with your favourite outfits. You ideally want a bag versatile enough to look good with all of them. Especially if it's an expensive investment!'
Buy the Dahlia tote bag here >>
Finding the perfect handbag – Poppy Treffry
Poppy Treffry (listed in the FBWL directory here) designs and makes a joyful collection of bags and accessories in the far west of Cornwall. I follow Poppy on Instagram and enjoy seeing the glimpses she shares of her coastal Cornish life and her heavenly little shop in St Ives. I knew there'd be a particular bag she is loving right now so I asked her to share her thoughts on the matter. Turns out her latest bag love is a beautiful new bright orange wool tote with an embroidered lobster. Definitely a bag to make you smile.
'My perfect, go anywhere, bag is our new cross body mini sketchbook tote. It's the perfect size for essentials and the cross body strap means you have your hands free whilst the shorty carry handles are really handy when you need more of a tote. It's great on a bike or when you're out shopping. In mine I have a phone (in the handy phone pocket) a sketchbook, purse and pencil case and because it's small it never gets too heavy.
These bags are embroidered by me and made by our team in our Cornish studio. I love our oyster catcher design which is a classic but I am head over heels for the lobster design which is embroidered on a gorgeous rich, orange wool – this is the one coming on my holidays with me!'
Check out these other lovely bags made by Poppy…
INFORMATION
---
Visit their listings in our directory to find all the information you need to browse and shop from their websites or to connect with them on social media.
Browse other makers in the Bags & Accessories category of our Directory
Are you a maker or creative course provider? Like to benefit from joining our supportive community? We'd love to hear from you. Check out the packages we offer on our Join Us page and get more details from our Information pack here
---
A PIN TO SAVE TO PINTEREST
Hope you've enjoyed this Finding the perfect handbag post. It would be great if you shared the love and pinned this to your Pinterest boards. Thank you! X