Tried and tested: Hello Sunshine body oil by MOA (Magic Organic Apothecary, London) listed in our directory here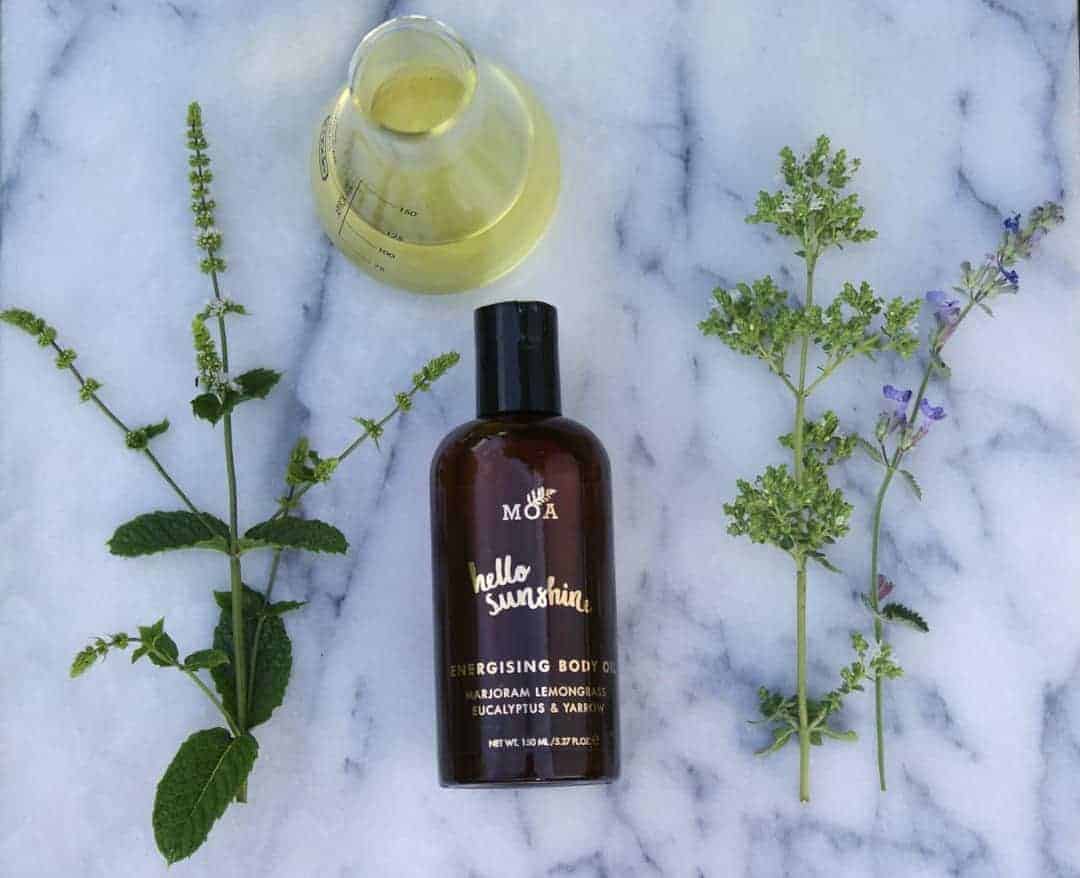 It was a grey, chilly day when the postman delivered a parcel from MOA (Magic Organic Apothecary, London). Would I like to try their new Hello Sunshine energising body oil, they asked. I didn't have to consider this question for long. I am already a huge fan of MOA's signature product –  The Green Balm – which is one of those magic beauty products that really does your skin good. So I was more than up for trying their new Hello Sunshine body oil. Particularly on such a grey, sunless day.

The ethos behind the brand
I love the ethos behind the MOA brand, founded by Charlie Fowler, and inspired by old herbal folklore. She and her team have created a range of natural beauty products, lovingly made in England and really good for your skin. Yarrow is their hero ingredient and can be found growing beside hedgerows across the country. Having worked at Culpeper the herbalists as a student back in the 90s, I already know a little bit about yarrow and other medicinal herbs. I used to love opening up the apothecary drawers behind the counter to pick out the neat little parcels of dried herbs for our customers. There were hundreds of different types but the most popular were always eyebright (unsurprisingly to soothe eyes), yarrow (to help heal and soothe irritated skin) and red clover (for menopausal symptoms).
I love that the yarrow in MOA products is grown on an organic farm in Somerset, and that sometimes Charlie and her small team help out with sowing the tiny seeds by hand or reaping the harvest in the summer.
Tried and tested
First impressions of the new Hello Sunshine body oil were good. I liked the simple, contemporary packaging in brown cardboard carton with gold embossed lettering. These things matter don't they?
I like beauty products that look nice in the bathroom whilst I'm using them, don't you?
The oil promises to energise and brighten your day. I can't say that liberally dousing myself with it was exactly like the sun coming out. But it wasn't far off. There's a really uplifting zesty/citrus sweetness to the fragrance and the golden oil base absorbed very easily into my skin, and left it gleaming and soft. Refreshing notes of eucalyptus and woody pine and yarrow give a depth of fragrance that really lasts as well as offering soothing properties for aching muscles.
Lemongrass essential oil has antibacterial properties whilst marjoram essential oil awakens the senses, kick-starting the circulation and purifying the skin.
I have been using the oil every morning after my shower and I'm loving it. My skin feels so soft and looks so healthy. I love the totally natural fresh and herby fragrance that lasts all morning. It costs £22.50 which I think is really good value for something made with such love and so many wonderful natural ingredients.
Shoulder rubs in the sunshine
I am heading to Wilderness festival with friends in a few weeks and I will be bringing the rest of my Hello Sunshine body oil with me. I'm picturing early morning shoulder rubs in the sunshine (fingers crossed). To ease aching muscles from a night spent sleeping under canvas. We're really going for it this year and have booked ourselves onto some quite out-there activities. I am (nervously) looking forward to getting stuck into Fierce Grace Hot Yoga. I suspect I'll be glad to have this fragrant bottle of sunshine in my tent to pamper any aching muscles afterwards. And if it rains, at least I'll have my own bit of  sunshine in a bottle.