We love monochrome and grey accessories right now so we've put together a moodboard with some of our favourites.
Find these and more by UK designers and makers in our directory >>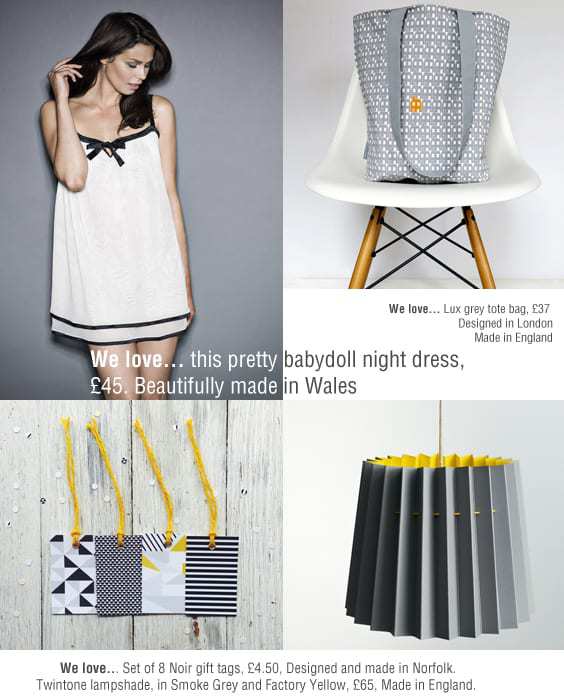 Shop this week's loves:
Grace babydoll night dress by Dentelle
Beautifully made in Wales from a soft cream mesh fabric with black satin detailing. The back is also cut to drape beautifully and is sure to make you feel like a Hollywood siren when you wear it.
Grey Paper House Lux Tote, by Oscar Francis
Screen printed with Oscar Francis' signature Grey Paper House pattern, this is THE tote bag of the season. It's fully lined with the same warm yellow colour picked out in the Paper House pattern and has a recessed zipped opening to keep your belongings nice and safe. Whether you need a sturdy and stylish carryall for work or a shoulder bag for the weekend the Paper House Lux Tote is a statement piece that will get you noticed.
Set of 8 Noir gift tags, by Mulk
What we most love about these stunning tags is that they are double-sided and have bright yellow twine. There are four bold designs featuring a selection of black and white patterns with yellow and grey stripes on the reverse.
Twintone lampshade, Smoke Grey and Factory Yellow by Lane
A pendant lampshade with a simple, beautiful and clean aesthetic. The Twin Tone Lampshade is made entirely from one single material – two sheets of heavyweight paper that are bonded together to show one colour on the inside and another on the outside. We love the combination of the smoky grey and bright yellow, which gives a mid-century feel.
Checkout these monochrome and grey accessories and more in our directory.
Simply search by category or business name to source special things made in Britain with care.