Discover the beautiful new Vanessa Arbuthnott Artists' Collection of fabric designs all printed in the UK on environmentally friendly 100% natural linen. (Vanessa Arbuthnott is listed in our directory here)
I spent a wonderful day in the workshop with fabric designer Vanessa and her daughter, Flora (a natural dyer, print maker and forager) last year. The workshop in question was the one attached to Vanessa's Cotswold home (below) and I was there to learn natural indigo dye techniques (you can read my blog post all about it here).
Pots of artist's brushes, paintings and swatches of fabric fill the space, whilst colourful ideas and sketches for design motifs are taped to the wall. I came away from an inspirational day there with the distinct impression that the Arbuthnotts are a highly creative and talented family. I wasn't wrong.  Vanessa's husband and two daughters  have just collaborated with her to create a beautiful new range of printed linens – The Artists' Collection
The Artists' Collection
I have a passion for fabric, so I was excited to be given a sneak preview of the new collection last year. It has launched this month – so I couldn't wait to share it with you. I love the modern rustic feel of In Full Flight and Branching Out – perfect for a contemporary country cottage. Teatime has a colourful retro feel that would add cosy vintage warmth to a kitchen. Whilst By the Sea is perfect for adding some cheerful coastal style. Cleverly, the designs and colours all mix and contrast really well with one another.
Funnily enough, this collection wouldn't have happened at all had Vanessa not been unfortunate enough to injure herself last year.
'I had a fall, which left me with two broken arms and made it impossible to hold a pencil!' she explains. 'I nonetheless worked with my husband Nicholas and daughters Rose and Flora, curating their sketches, translating them into workable patterns and scaling them for furnishings.
'Finally I was able to take charge of the best part of the whole process: choosing colours for the fabrics, both to pull the designs together as a cohesive range and to enable them to sit comfortably with my other collections.'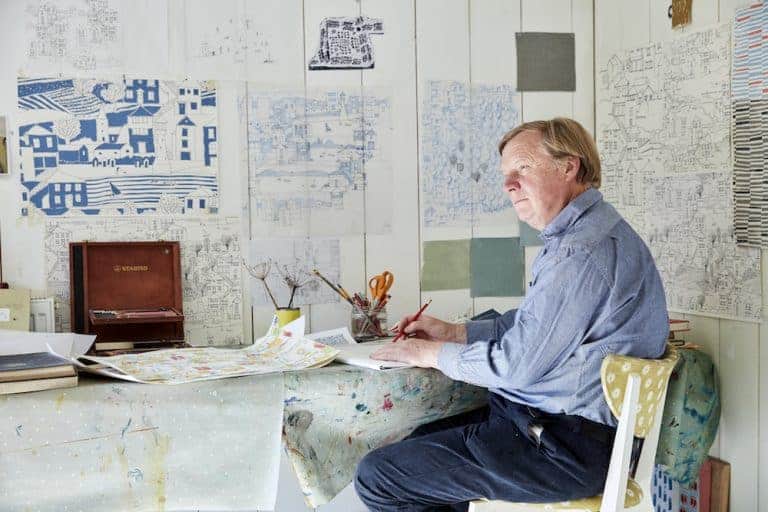 By The Sea
Vanessa's husband Nicholas, an architect, created the beautiful family house from a derelict cow byre 24 years ago and this is his first foray into fabric design.
'My design, By The Sea, has been inspired both by my early childhood in Solva and by time spent more recently at Mousehole,' he explains. 'I delight in coastal towns with their cosy harbours and brightly-coloured cottages nestling behind, the little pathways snaking between terraced gardens and climbing up the hillside.'
Teatime
Vanessa's elder daughter Rose, a fine artist, poet and writer, has designed the quirky and light-hearted Tea Time, inspired by every day items of crockery and kitchen.
'The daily adventure of cups and saucers, pots and flowers, the delicious enthralment of the simple things in life, are celebrated in this design,' Rose explains. 'Reflecting domestic life in your curtains and the furnishings around you makes for a very homely and fun feel.'
I love how boldly drawn this design is – and the cheerful retro feel.
Flora has produced three designs: In Full Flight, Branching Out and Hand Printed Stripe. The first of these depicts a sweeping, large-scale, stylised bird set within a leafy trellis (pale blue and scree colourways shown below). This is repeated, on a smaller scale in Branching Out.Flora elaborates on how she developed the ideas for her designs: 'I find it inspiring to walk along hedgerows and through woodland, watching the birds flying down to eat blackberries and elderberries and gather twigs for their nests. Observing branches and climbing plants such as Wild Clematis and White Bryony creeping up the edge of the trees, I develop patterns and shapes.'
She continues: 'I created In Full Flight and Branching Out by cutting birds and branches out of paper with scissors and then arranging them across the fabric. This way, Mum and I were able to play with different pattern repeats and arrangements.' Flora adds that the act of cutting out birds produces soft streamlined shapes and the flowing curves of necks, wings and tails.
For Hand Printed Stripe, Flora used a favourite technique taught to her by her mother in childhood: 'I cut a potato carefully to create this simple stripe, carving geometric shapes into the potato with a sharp knife and playing with pattern on a big piece of paper with poster paint. I am so thrilled that we managed to reproduce the soft texture of the potato in the final print.'
Environmentally friendly
I love that Vanessa uses an environmentally friendly 100% linen for her printed fabrics which also looks and feels beautiful. The flax is grown in Belgium, woven into cloth in Scotland and printed in England. Flax is inherently ecological as it requires little irrigation and virtually no herbicides or pesticides. Every part of the plant has a value, eliminating waste.
INFORMATION
---
Vanessa Arbuthnott is listed in the From Britain with Love directory here >>The Artists' Collection comprises five designs over 18 colourways.The fabrics are suitable for curtains, blinds, upholstery and accessories. The collection introduces three evocative colours: a smart grey called Scree, a warm blue named Powder Blue and Lily, a pretty pink.These colours are mixed with existing favourites, including Saffron, Charcoal, Smoke and Teal. All the fabrics are now available online here
Are you a maker or creative course provider? Like to list with us and benefit from joining our supportive community? We'd love to hear from you. Check out the packages we offer on our Join Us page and get more details from our Information pack here
---
A PIN TO SAVE TO PINTEREST