We catch up with Sarah Haran who has created a luxury range of bags and accessories beautifully designed and made in Britain
Above: Fashion Slave featuring The Dahlia. Photographer: Rebecca Spencer
Please tell us a little about what you do
Sarah Haran Accessories is a premium brand that allows individuality, function and choice to exist in handbags that are both beautiful and timeless. Functional versatility is the driving force behind what I do and has always been at the forefront of their ethos. The collection evokes both versatility and elegance and each Sarah Haran bag can be carried and styled in number of different ways. Sarah Haran handbags are individually produced and crafted by hand, using the finest British and Italian leathers. Hand finished with silver nickel details, each bag is as unique as you are. They are available in a variety of premium leathers, colours and prints. The collection is effortless and timeless, while still highly functional, ensuring that every occasion can be met with confidence and style
Above: Left to Right: Calf Cream Leopard Willow, Maroon Dahlia, Animal Print Cream Tassel, Calf Cream Leopard Ivy
What's your favourite way to start the day and when do you start work?
I Start the day by going to the gym when I can. I know that sounds mad but I find it gets me going in the morning. I tend to start work first thing so that I can get all administration out of the way and free up as much of the day for production and then of course sales and marketing.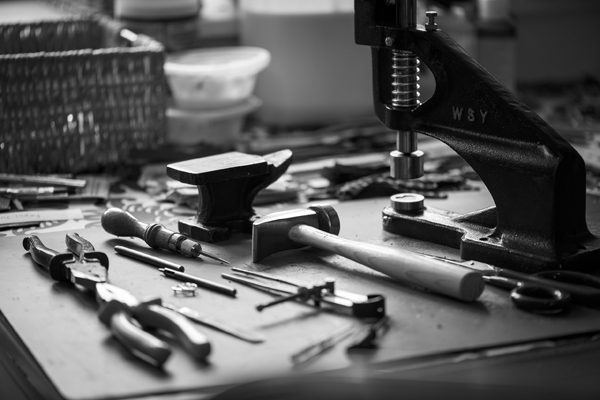 Where/what is your work? Describe the setting for us.
I have a studio attached to the side of my house. It was originally a dingy garage but is now a very modern small studio space. In here I can store all my wonderful leathers and cut all my handbags out. I also have a sewing room in my house which is where all the creative thinking goes on.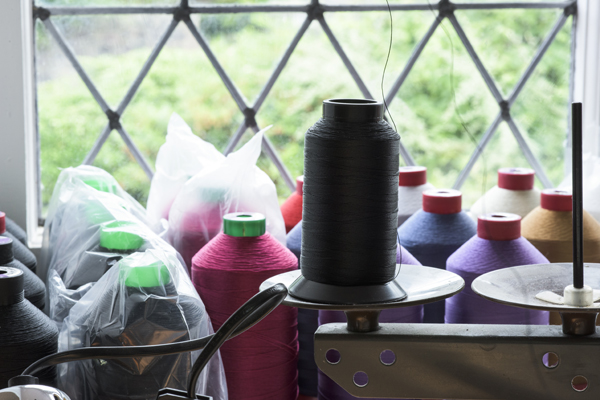 Why do you do what you do?
I love creating all sorts of fashion accessories, but my heart lies in making beautiful functional as well as stylish handbags. It sounds odd but the joy I get in creating something that is so personal to each wearer yet is an everyday must have that most ladies simply cannot do without – that thought just excites me so much. The appreciation I then get from my friends and customers makes it all worthwhile
Above: @sophiemilner_fs featuring Moc Croc Black Dahlia
Can you sum up your ethos and what inspires you?
Functional versatility is the driving force behind Sarah Haran handbags and has always been at the forefront of my design ethos. I m inspired by products that allow me to organise my life
Above: @toularose featuring Lemon Dahlia
Favourite design icon?
Oh there are so many but I particularly admire the timelessness of Chanel and Dior, the amazing creativity of Anya Hindmarch and of course the history and longevity of Mulberry. Victoria Beckham is also greatly admired for her clean cut dresses in my studio! All true icons that are always on trend.
What do you like to do for lunch?
I always seem to be rushing around but try to make time for a soup or a salad to keep my energy levels up! A few smoothies and a sneaky cake every so often always goes down well at lunch.
What keeps you going through the day?
Deadlines and knowing I am creating products that other people will love to use.
Best moment so far in your business?
There have been a few but I think seeing my products come to life after an intense design phase that ends up with the handbags being worn by both customers and celebrities.
What are you most proud of?
Actually getting the business off the ground. Its so easy to moan about everyday life and do nothing about finding what will make you happy. Taking the plunge and starting Sarah Haran Accessories has made me proud of myself
In a nutshell, what's special/unique about what you do?
I create functional and versatile handbags that allow our users to carry their life in style.
How important is sourcing British/local to you – and why?
Fundamental. I never wanted to be designing handbags made in high lots in far away places. I wanted full control over both my supply chain and my manufacturing. It's the only way I can fully ensure perfect British products.
Above: @toularose featuring Lemon Dahlia
What's your newest/most exciting creation?
I continue to evolve my handbag brand with new designs being launched this Autumn. The designs will continue to have the unique design feature that allows you to style up your handbag simply but will feature a number of different shapes and styles.
Best place to unwind/escape to in the British Isles?
Newquay in Cornwall remains one of our favourite family getaway spots.
Best piece of advice you could share based on your experiences so far?
Make sure you love what you do and whatever anyone tells you keep trying, keep pushing on. Don't give up!
What are you listening to/reading right now?
Very boring but I am trying to read a book on how to improve my website ranking! How tedious is that!