Pepper crusted venison – Mary Gwynn's farmer's market November recipe
Make Mary Gwynn's November farmer's market recipe of the month – pepper crusted venison. Our guest food blogger Mary Gwynn shares her tips on the best buys from your local farmer's market right now. It's all about comfort, warmth and getting back to your roots…
As autumn starts to move into winter, the days are shorter and we all seem to crave a little comfort. Slow-cooked casseroles, satisfyingly starchy creamy mashes, rich flavoured roasts and warming puds all fit the bill perfectly so wrap up and head out for a trip to your local farmer's market for inspiration. It's a treat for all the senses at this time of year, especially if there's a stand selling a sizzling sausage bap to stave off any hunger pangs, and a great chance to be sociable at the same time!
Game is the meat of the month for November
Game is the meat of choice for cooks in November as the season is well under way for birds such as pheasant, partridge and wild duck. Venison is available both farmed and wild in many markets, and makes a healthy choice as most wild game has just 5% to 7% fat, compared to red meat such as lamb with 25% or more, depending on the cut.
The lower fat content means careful cooking to avoid the meat drying out, so the old fashioned way of slow cooking in stews and casseroles for game is not really ideal. More modern, time-friendly techniques such as flash frying, grilling or even home smoking are better suited to lean, tender cuts.
Look online for ideas as plenty of chefs are discovering the joys of cooking with game. If you want to slow cook for great comfort eating, look out for the cheaper cuts of beef, lamb and pork – shin of beef, belly pork, or lamb neck all cook down to meltingly wonderful mouthfuls of flavour, perfect for comfort eating on colder days.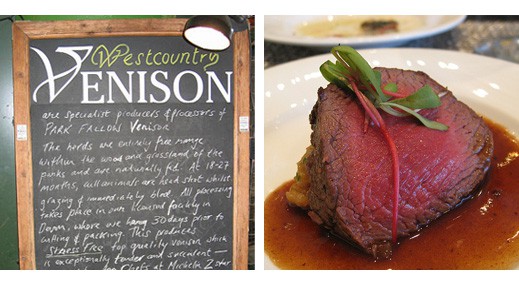 Root veggies make the perfect partner
Root vegetables are at their tastiest now and perfect for mashes, gratins and soups – they improve with the cold and you will notice a marked difference in flavour compared to supermarket specimens. Look out for parsnips, Jerusalem artichokes, swede and turnips. Try cooking peeled cubed celeriac with a couple of cloves of garlic in the cooking water for a perfect mash to go with your Pepper crusted venison or roast beef.
Main crop potatoes are full of texture and flavour and the varieties available locally are worth exploring. Ask the stallh older for advice on which potato to buy – the right one, floury or waxy, will make all the difference to the finished dish.
The brassicas really come into their own this month too – kale, Spring greens, and all kinds of cabbages are wonderful in stir-fries, soups, and hashes or just steamed with grated nutmeg and a knob of local butter. While red cabbage cooked with apple, spices and red wine is another seasonal treat to go with rich pork or maybe a roasted wild duck.
It's not been a great year for fruit, and growers are talking of reduced harvests and small sizes. But we are still in the Garden of England so what fruit there is will be full of wonderful flavour. Some apple varieties have performed better than others so if your regular favourite isn't at the market then try something new.
The nut harvest has also been affected so be sure to buy local chestnuts, walnuts, cobnuts and almonds when you come across them… they make great partners to all kinds of game and brassica dishes.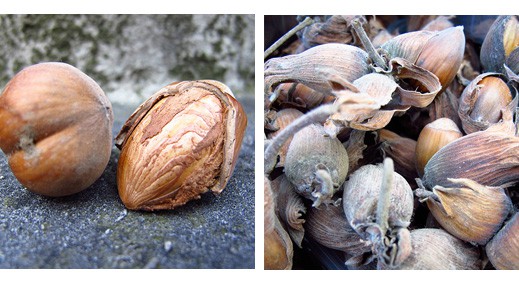 Great month for fresh fish
Colder waters make for high quality fish and seafood, and as the temperature drops the range available just gets better. At the luxury end of the scale, treat yourself to the very best crab, lobster and oysters and for fish, Dover sole, turbot and halibut are rightly considered the very finest eating by cooks and chefs. But also this month why not try some of the lower cost alternatives as many are at their best. Brill is a real discovery if you haven't tried it before – a firm white flesh full of clean flavour that only needs simple cooking. Or opt for healthy mackerel and herring, full of valuable Omega 3 fish oils.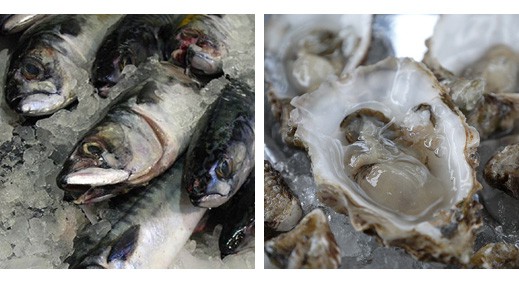 Pepper crusted venison recipe
Venison is very lean so the prime cuts need quick fast cooking to be enjoyed at their best. This version of pepper steak is a good way to introduce newcomers to the meat – it should be meltingly tender and full of flavour.
Serves: 2
Preparation: 15 minutes
Cooking: 30 minutes
1 tsp five pepper blend, coarsely ground
2 venison steaks, about 125g each
4 tsp cold pressed rapeseed oil
100ml red wine
100ml beef or game stock
2 sprigs fresh thyme
2 tbsp juniper jelly
For the celeriac and red onion mash
1 medium red onion, quartered
a handful of purple sprouting broccoli
1 small celeriac, peeled and cubed
a clove garlic
a large potato, peeled and cubed
large knob of butter
salt and freshly ground black pepper
Make the mash first. Preheat the oven to 220C/fan oven 200C/gas mark 7. Place the onion in a small pan and sprinkle with the sugar and vinegar. Cook in the oven for 15 – 20 minutes until caramelised. Meanwhile cook the celeriac, garlic and potato in boiling water for 15 – 20 minutes until tender. Drain thoroughly. Return to the pan and mash until smooth. Beat in the butter, onion and seasoning. Keep warm.
Press the crushed pepper onto both sides of the steaks. Heat the oil in a non-stick frying pan and cook the steaks on both sides for 4 – 6 minutes for rare, 8 – 10 minutes for medium and 10 -12 minutes for well done. Remove from the pan and leave to stand in a warm place for the same length of time as the steaks cooked for the juices to settle.
Add the wine and stock to the pan and simmer for 5 minutes until reduced by half. Whisk on the jelly and simmer till syrupy. Season. Transfer the steaks to warmed plates and spoon over the sauce. Serve with the celeriac mash and steamed purple sprouting broccoli or kale.
Mary's tip
I use Ouse Valley Foods Juniper Jelly for this dish or my own Elderberry and Apple Jelly but you can substitute redcurrant jelly.
Mary was the founding editor of BBC Vegetarian Good Food and subsequently editor of M&S Magazine. She has worked as a consultant editor for Waitrose and has written three cook books, including The Busy Mum's Cookbook. Her latest book The Busy Mum's Vegetarian Cookbook will be released in January.
Feeling inspired? Take a look at the Creative Workshops category in our Directory, where you'll find a variety of inspiring courses, from art and crafts to fashion and beauty, interiors, cooking and flower & gardening.
All images: flickr
You might also like