Meet Sarah Heaton
We love Sarah Heaton pottery so we were delighted to catch up with Sarah to hear about the inspiration behind her business. She also shares a few secrets of her success and one or two of her loves…
Q&A with Sarah Heaton
It was Sarah Heaton 's passionate belief in British potteries that led to her resigning as design manager at Denby pottery and going it alone. Her own range of award-winning designs are real favourites of ours, and her recent, wonderful, collaboration with Eve Midwinter has gained her worldwide recognition.
Sarah Heaton: please tell us a bit about yourself and what inspired you to start the business
My light bulb moment was down to feeling angry and unhappy about the ceramic industry. Over a short period of time, big iconic brands started to out-source production. I was shocked at the lack of care and investment made in our UK potteries and decided I would start my own collection and I would prove that we could have a relevant commercial product that could be made in the UK, using the best of our established workforce. To make this happen I resigned my job as design manager at Denby pottery, sold my car to pay for moulds etc and started from there.
Describe where you work
I work from my home in Ashbourne… well my home is currently a caravan as we are doing our very own Grand Design! My artist/illustrator husband is Graeme Reed and we work together. We have 2 children, 2 cats and 2 rabbits! You could say we are quite a creative family and we used to open up our studio in our last house to showcase our work. This is usually a family thing and the children make and sell what ever they come up with!
How do you like to start the day?
My day starts early as I tend to work better in the morning! I still do a few days as a design consultant, so my week is varied. Very often I'm in Stoke and really enjoy working with factories. Since running my business I seem to work all the time. I try to have Sunday off, as working from home can over take other priorities. We will make sure we eat together as a family without iPods, phones etc
What is the best thing about what you do?
I like the variety of my working life and the fact that I'm having a go. It's easy to moan about things and not do anything about it. I work with some amazing craftspeople and they all take the time to help me out as they believe in what I'm doing.
Do you use any specialist techniques or equipment to create Sarah Heaton pottery?
Sarah Heaton pottery shape design is quite high tech, all my shapes are generated in CAD and this enables me to build 3D printed models. Once I've got to this stage, I can gauge whether the shapes work etc. Utimately this saves me time and money. The actual ware is made in a factory using traditional industrial techniques, which has limits but I like working this way as I think it makes me more creative.
What is your latest or most exciting creation?
Take Two is my latest range. This one is really special to me as I have been working with iconic tableware designer Eve Midwinter. She is 87 and we've had a great time looking at some of her original designs and re-working them to give them a contemporary twist. Take Two is the first time she's had her full name on the backstamp and she is really proud of what we've achieved together. Take Two will be shown in New York in October so we have our fingers crossed that it will be a great success.
What do you like to do for lunch?
Lunch is usually on the go. I tend to work through, which I know is a little bit naughty and goes against what I tell my children…..when I do manage to grab something I will always make sure it's on a nice plate as I can't stand eating off rubbish crockery!
What keeps you going through the day?
I've usually got a mountain of things to do so it helps me to have a list and tick things off…..you can almost always guarantee that if there is any fiscal stuff to do I will have it at the bottom of the list. I'm not very good at record keeping!
What has been your proudest moment in business so far?
I did win a Twitter award from Theo Phaphitis, which was quite exciting and I won a trend bible award last year. I still think the best is yet to come from my own collection and as a typical designer I'm always chuffed when fellow ceramic designers give me the thumbs up!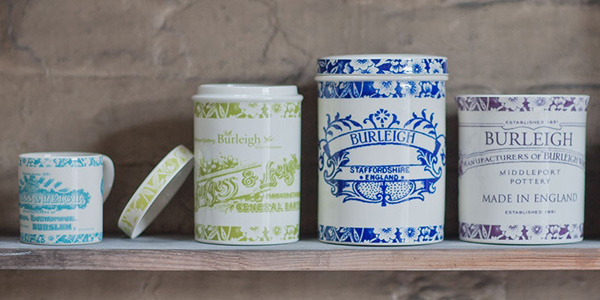 Which other British producers inspire you and why?
I spend one day a week working with Burleigh Pottery. I love it there – the place, the product, the ethos, everything. It's one of the highlights of my week. I met Wayne Hemingway yesterday and he was very inspirational, plus he liked my ware so that was really exciting. I have always collected Midwinter pottery and pottery from other mid century producers. We can learn a lot from the past !
Above: Dove Grey designed by Sarah for Burleigh and below: Sarah meeting Prince Charles at Burleigh.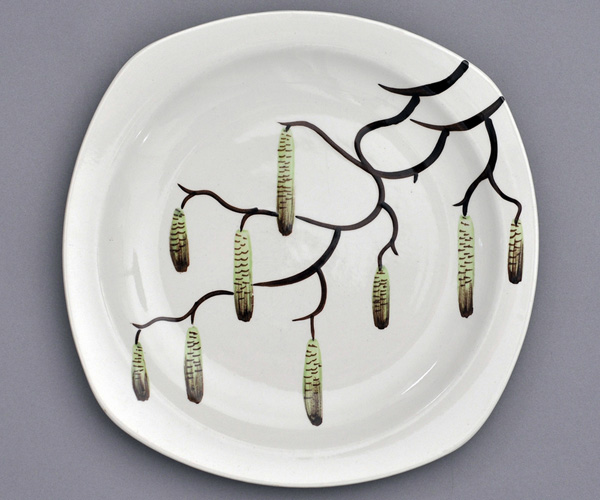 How important is local or British sourcing to you and why?
I love the ceramic factories in Britain. The operatives are so skilful and they keep you grounded. They are great fun to be around but deadly serious about what they do. My Dad was a carpenter and I think growing up with craftspeople has always been an inspiring environment. Making beautiful things out of very little is quite magical to me. Stoke on Trent has seen so much sadness over the last 20 years. Hopefully there are little pockets of creativity popping up and breathing new life into quite a forgotten place.
Where is your favourite place in Britain to getaway to?
This is going to sound backward, but I love to escape to London! I live in the Peak District, so for me going to London gives me a buzz and re energises me.
You might like
INFORMATION
---
Are you a maker, grower or creative course provider? Like to list with us and benefit from joining our supportive community? We'd love to hear from you. Check out the packages we offer on our Join Us page and get in touch…