Meet Lisa Procter of Sail Handmade
Lisa Procter, of uber-stylish British leather goods label, Sail Handmade, shares her passion for great
British design, quality raw materials, craftsmanship and the joys of a great local second-hand bookshop…
Meet Lisa Proctor of Sail Handmade
Please describe what you do, and tell us what's special about it.
I design and make handcrafted leather goods with the support of my partner Leon, who is also definitely Sail's 'photo guy', creating the beautiful images for our site.
We like to feel that we give a very personal feel to our products. Everything we design and create is done by our own hands, from hand waxing our 1960's Barbour thread with natural beeswax to hand dying and polishing our leather.
What's your favourite way to start the day and when do you start work?
Such a typical British answer but I like a big mug of tea to start my day! My working day starts as soon as I get home from dropping my two children off at school so it's about 9am when all the action starts.
What's your morning routine?
Firstly it's the kettle on (again), for a quick coffee fix then its straight to the computer to check emails.
Where/what is your work? Describe the setting for us.
Our small studio space is now at the side of our house. We have customised it specifically for our needs with a large workbench and ceiling space for our leather storage. With larger orders though, we find ourselves spilling into other areas of our home!
Tell us why you do what you do
We love handmade and more specifically, handcrafted products that are made here in the UK.
So for us, being naturally creative and able to create beautiful products here in Derbyshire, England is what drives us.
Can you sum up your ethos and what inspires you?
We like simple, timeless design and products that are made to last. Every day we are inspired by other British designer makers and the passion they have for their products.
Favourite British design icon?
I have always loved the fashion icons such as Vivienne Westwood and Alexander McQueen, just everyday people who had such passion and drive to become so inspirational and iconic to so many people.
Describe your typical working day for us – best and worst bits?
I love working from home as it gives me so much flexibility. Typically, my day involves working though my emails and answering customer enquiries, squeezing in some social networking, ordering my materials and then working through my orders, which come in from our main site and our other outlets.
There aren't really any 'worst bits' other than sometimes I find myself sat back on my computer at night ordering and researching materials, saving my day time hours for the creative stuff!
What do you like to do for lunch?
Lunch depends on how busy I am. Sometimes, its just some toast before I pick up my children from school but other times when perhaps I'm just sat designing new products, I make myself something nice and healthy!
What keeps you going through the day?
Am I allowed to say cups of tea?! Seriously though I think it's just the drive of seeing our customers enjoying our products and seeing a positive future for Sail.
Best moment so far in your business?
I think our best moments are happening every day. Sometimes it doesn't feel real that we are developing a worldwide customer base.
What are you most proud of?
Making a dream of having a business with my partner become a reality and learning a new craft together, developing our own style and being recognised for it.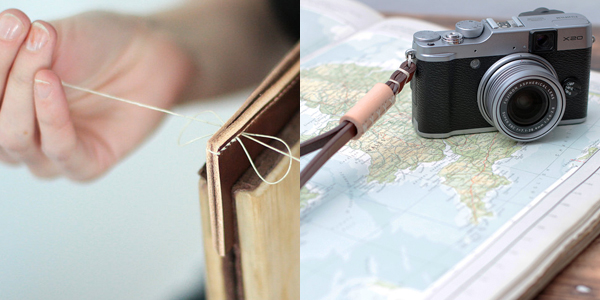 In a nutshell, what's special/unique about what you do?
We really do try to give our customers a personal service. Because we design and make everything ourselves, it allows us flexibility in our products.
How important is sourcing British/local to you – and why?
We are really passionate about sourcing from British suppliers. It is actually really difficult to get some of our materials here but where we can, we always use British made.
Tell us about the local/British goods you use and why you chose them.
We have a British leather supplier for all of our natural vegetable tanned leather and have now sourced a British foundry for some of our brass hardware. Most recently, we have been working with some beautiful British waxed cottons.
What's your newest/most exciting creation?
We are getting ready to launch our new website and a new range of products for men and women, which includes leather, canvas and waxed cottons.
Best place to unwind/escape to in the British Isles?
It has to be the Cornish coastline. It holds so many memories of happy, fun times with my family. I'd move there tomorrow if I could!
What's your favourite local find?
I really love Scarthin Books in Cromford, Derbyshire. It has the most amazing selection of books and tucked away on one of the floors is a small cafe…what more could you want?!
Another great place to hang out is the Quad in Derby. Not just for myself but for my family too. They have a great little cinema, exhibition space and lovely café.
Best piece of advice you could share based on your experiences so far?
Just follow your heart and stick to what you want to do. I think we all make/made mistakes when it comes to business but it's all just something to learn by.
What are you reading/listening to?
The last book I picked up was looking through my copy of 'What to do until the Messiah Comes.' Not your average coffee table book but for me, completely inspiring. Music wise, as soon as my computer gets turned on, its Radio 6 all day, loving the eclectic mix of genres. The last song that got turned up very loud was America 'A Horse With No Name'…pretty perfect music to work to, for me anyway.
_____________________________________________________________________________________
Browse our hand-picked directory to find plenty more inspiration. Find handmade ethical gifts, sustainable fashion made in Britain, Sustainable British flowers, ethical beauty made in the UK Ethical homeware and lots more.
If you're a maker, flower grower, creative workshop provider or ethical producer, we'd love to hear from you. Why not list in our directory and benefit from our massive and highly engaged community. We receive around 5 million viewers per month on Pinterest, over 100K website visitors and have a newsletter database of over 40K subscribers. The directory listings themselves offer many benefits, not least that they are worth their weight in gold for your own site's SEO.
For full details of what we offer, visit our Join Us page here. If you have any questions, please don't hesitate to get in touch. We always love to hear from you. Email us here