Using soft, merino wools and a beautiful palette of colours, Textiles designer Erica Quincey has created a stunning range of home accessories. Here, she shares the story behind her business, what inspires her and the joys of reading Julia Donaldson books with her daughter, a ginger snap and a morning cup of tea…
Tell us a bit about yourself and what inspired you to start the business After I graduated with a Textiles Degree, more years ago than seems possible, I somehow fell into running my own knitted accessory business.  Sales were good but I just wasn't business savvy – although I loved what I was doing there was an ominous lack of any sort of profit.  (Alan Sugar definitely had nothing to worry about from me). So I got myself a 'proper' job in Marketing.  London based, I went on to work in a Design Agency and then finished my education in entrepreneurship at the wondrous innocent drinks. At this point, my partner and I decided it was time to leave the rat race, so we headed to a new home in the Hampshire Countryside.  Alongside some major house renovation and bringing up our baby, we set up our business.
Describe where you work We're based from home, our Hampshire HQ.  The house is a 17th century, grade 2 listed labour of love and an inspiration for our home accessories website: The Other Duckling (www.theotherduckling.co.uk) which sells vintage, revamped and must-have homeware and gifts, (below), as well as my knits.  I have a cosy workroom in the garden, crammed to bursting with knitting patterns, my trusty sewing machine and a gazillion cones of lovely merino wool.
How do you like to start the day? I'd like to say 'with an hours yoga and an energy boosting smoothie' but it's really a quick cuppa and a ginger snap over a copy of the latest Julia Donaldson in bed with our little girl, Delilah.
What's the best thing about what you do? Working for yourself means that everything you achieve is yours to celebrate.  There are plenty of huge challenges and tribulations but working with Andrew means that we can get each other through the hiccups.  When Delilah was born I really wanted to be around to start her off in life and I'm very grateful that I've been able to, and that I now have the beginnings of a business that can grow as she does.
Do you use any specialist techniques? I now knit on the most functional of knitting machines, a pretty ancient but sturdy manual Knitmaster that is super reliable and challenges me to create lovely fabric from essentially simple knitting construction.  I always use luxurious Merino wool for my homeware because it feels special and stays that way.
What's your latest creation? I'm just beginning to start developing the fabrics for the next collection. That's a great stage to be at because it just means immersing yourself in magazines, wool swatches, and scribbles and letting your imagination run riot, before the reality of production problems or yarn availability kick in and start spoiling things!  I'm also working on some illustrations for a card range (which I've been selling for a little while through our site).  That's really just relaxation dressed up as work but I'm pretty excited about it.  We're also developing some new design ideas for our hand-painted chairs too.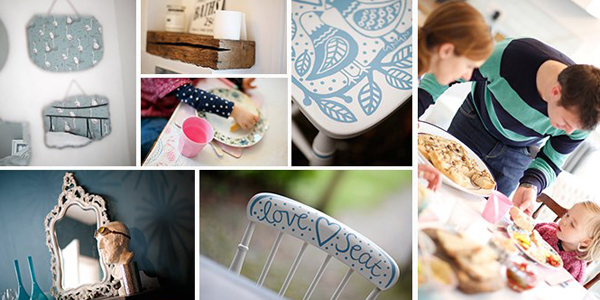 What do you like to do for lunch? We usually have lunch together, and in the garden whenever we can.  It's nice to have a breath of fresh air and think about something other than work for a few moments.  Lunch usually involves simple food followed by the obligatory cuppa and work discussion.  Then it's off to sleep for Delilah (usually) and a mad dash to get an hours' work done.
What keeps you going through the day?  The days are so full and varied that they keep us going.  There's always a huge list of things to do, but plenty of things get ticked off each day and if we lose enthusiasm for one thing or can't find a solution, we can always find something else useful to do for a while… We know we're lucky to live in a house that we love and to spend so much time together so we're enjoying it while we can.
What has been your proudest moment in business so far? We were really pleased when we first launched our lovely website, but really our favourite thing is getting orders and then hearing that our customers like what we've sent them.  We had our first 'grown up' article in Mollie Makes Home the other day which caused a bit of a stir (with our mums at least) and every time we sell some revamped furniture or one of our knits we're proud because we've made them ourselves.
Which other British producers inspire you and why? Where we live there are loads of brilliant producers, from our favourite local farm shop, Westlands to the Alresford Chocolate company. As well as getting to enjoy a lot of fabulous produce It's also good to learn how other businesses overcome problems, share contacts and just have a good gossip.  We love the way Dorset Cereals has grown yet kept to it's roots and Andrew is a huge fan of River Cottage (below) and all things HFW. Some friends of ours have grown a brilliant UK business –Scratchsleeves, whilst juggling babies and all the challenges that go with them so we know it's possible.  I also work with my sister, designing hand drawn cupcakes for the delectable Cupcake Dolly and that's provided plenty of inspirational sustenance!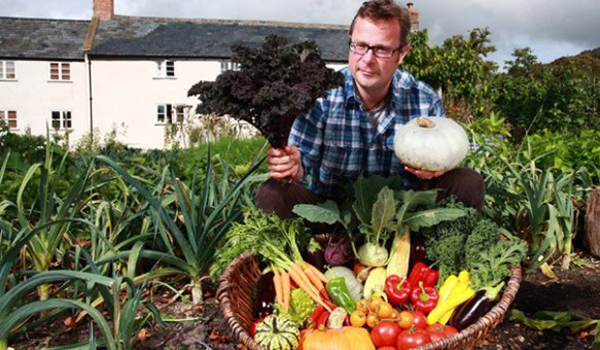 How important is local or British sourcing to you and why? We've always felt it's important to buy British, and local if you possibly can. It's better for the environment but it also seems so important to try to pump some money back into our dwindling economy.  We're lucky enough to have good 'home grown' stores locally that are also good value so that's an easy choice.  We try and grow our own a bit too but it's very unreliable!  We try to keep the business balanced so we champion revamping and recycling and use ethically sound UK products like chalk paints and British Wool wherever we can.  When it comes to craft, this country has an incredible range of talented makers and designers and the web makes them all so accessible so really there's no reason not to buy British.
 Where is your favourite place in Britain to getaway to? We don't get out and about as much as we'd like to and more often than not we'll cook for friends at home rather than eat out, but we have some excellent local pubs like the Bakers Arms (above) or the Hurdles in Droxford.  We love the Devon coastline too and the Bull Hotel in Dartmouth is well worth a visit.  The New Forest is wonderful for a walk or camping expedition but one of our favourite places to escape to is our lovely local café, Josie's in Bishops Waltham (below)– a nice cup of Earl Grey and a brownie followed by a nosey in the shops. Bliss.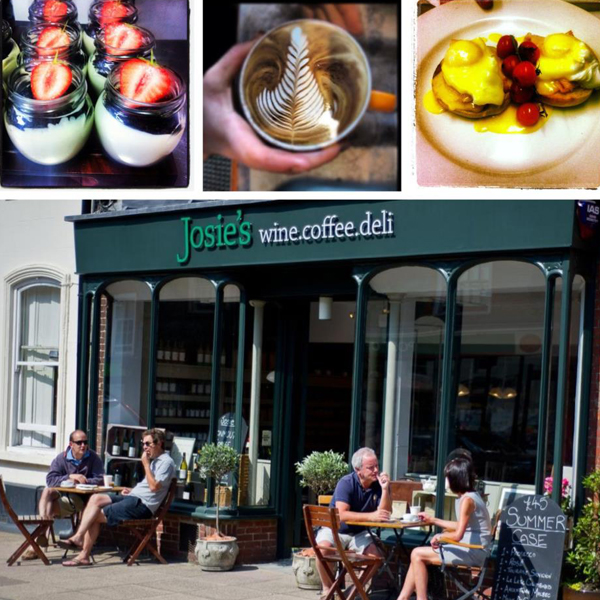 What are your plans or hopes for the future? We just hope that the business will grow and people will continue to love our work.  We'd like to scale up and grow production and begin to employ a team of knitters, we'd like to widen our search for vintage treasures and to supply to some of our dream retailers, like Liberty and The Cross.  We'd like to carry on living in our happy Hampshire home.