Meet Deborah Price of British Boxers
Staffordshire-based Deborah Price shares the story behind British Boxers boxer shorts – a great British business's success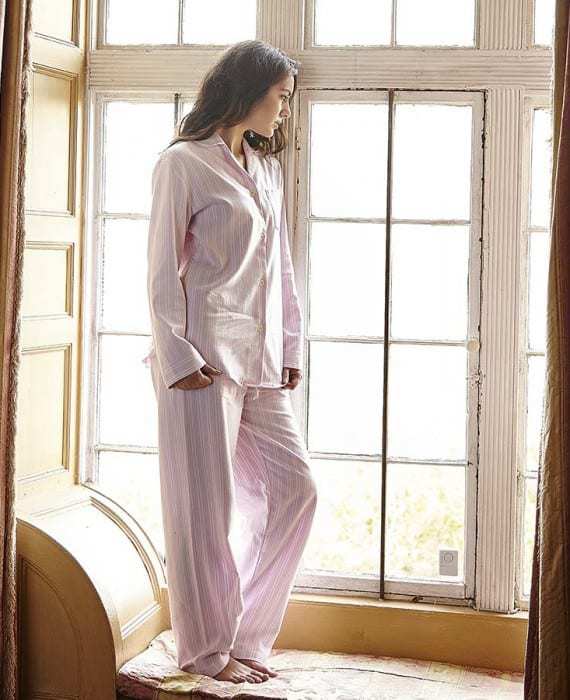 Q&A with Deborah Price
Please describe what you do, and tell us what's special about it.
I used to be Head of Buying at a London based nightwear company but when my daughter was born with a lifelong disability I left my job to set up British Boxers so that I could control my time and be there for her when she needed me. British Boxers are traditional cotton woven boxer shorts which feature Jem Mace the great Victorian and First World Heavyweight boxing champion on the packaging. We tell his story on the box and on a card inside the box too. Not only was he the first champion British Boxer he was also my great great great grandfather and when I heard about his fabulous escapades combined with the fact that I knew factories and mills this was a business that just had to happen.

What's your favourite way to start the day and when do you start work?
My days usually roll into one another. We are up a lot in the night in our house. Often my daughter (She's 8 and has Williams Syndrome) will come in and say "Good morning Mummy you're beautiful" It's important to note that I absolutely don't look beautiful at 5am or whatever the ungodly hour is.
What's your morning routine?
Get up, get the kids out (Dad takes them down to school) Shower, Coffee, Home office. Radio 4.
Where/what is your work?
I work from our office at home as it means I can control home and work and it's the hub of everything. I have to close the door though and be strict. The washing up has to come 2nd.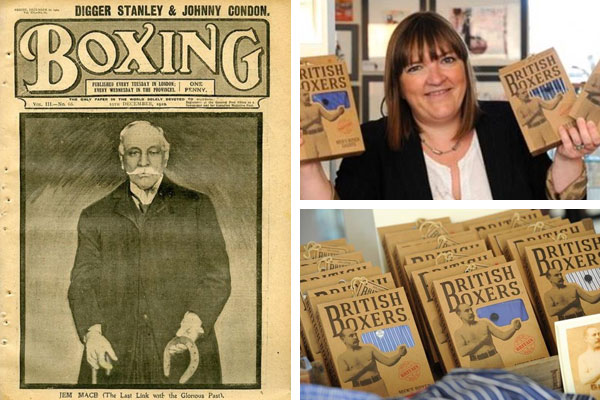 Why do you do what you do?
Because my daughter's future haunts me. My son will be able to fend for himself someday, but at some point I won't be here anymore. I have to make an investment for her future hopefully in terms of my time and financially.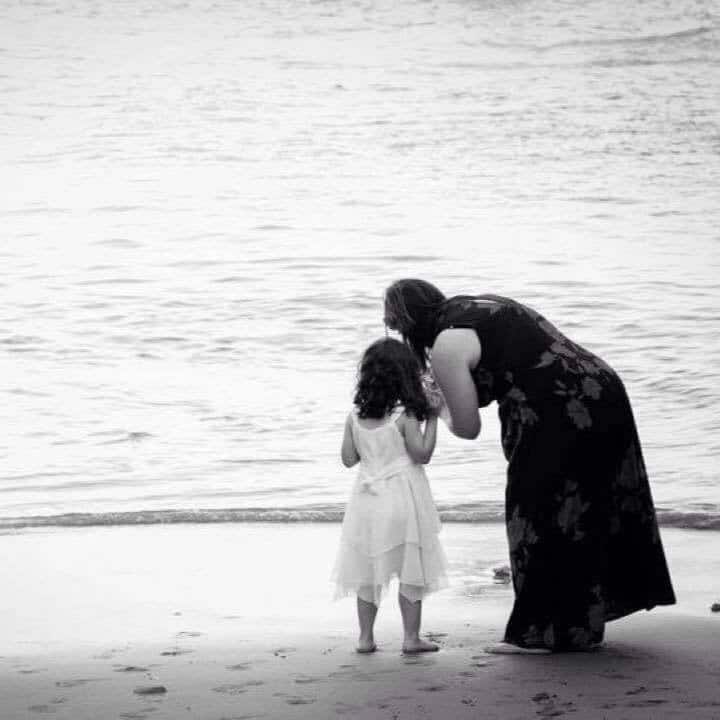 Can you sum up your ethos and what inspires you?
Fight for British manufacturing, Fight for my children, Fight to leave my buying job, Fight for the future. Fighting history… (I'm quite nice really though…!)
Favourite British design icon?
Vivienne Westwood. I love her eccentricity.
Describe your typical working day
Choosing fabric is the best bit, as is sales analysis. It's always fascinating to see which designs are working and conversely which aren't. The worst bit is most definitely doing the VAT. It's not why I did a degree in textiles and chose a buying career, but of course it is necessary to have a firm business head. Life's not all glamour.
What do you like to do for lunch?
Talk to my boy when he's back from nursery. He's 3 and knows everything. He tells me in great detail what's happened and who his new best friend are.
What keeps you going through the day?
Twitter. I love to glance down and see what everyone's saying. I think it's a lifeline if you work on your own. You suddenly realise there are loads of people to chat to at any moment. I think social networking is wonderful.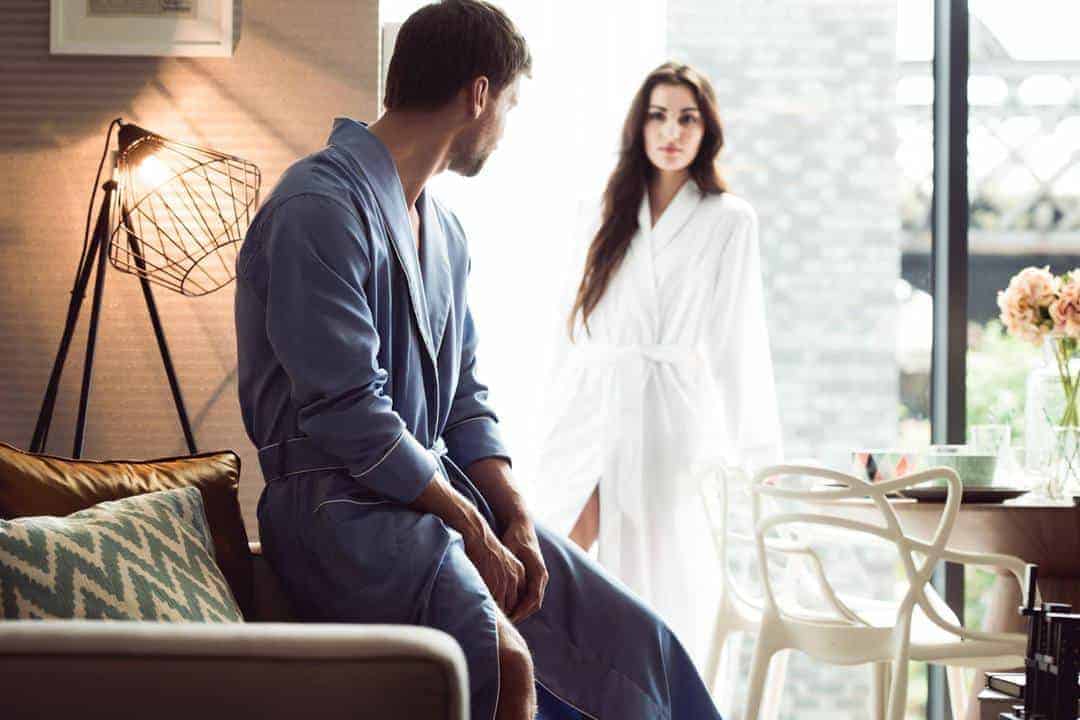 Best moment so far in your business?
When retailers in London started to contact me and take my British Boxers. That was fabulous.
What are you most proud of?
The fact that I've done it. I've reached for my dreams and aimed high.
In a nutshell, what's special/unique about what you do?
The story tie-in with British Boxers that customers seem to love and that's what makes this product so special. There isn't going to be anyone else out there with an ancestor who was the first world heavyweight boxing champion, especially one who travelled the globe, married 3 times, fathered loads of children, went out with a Hollywood actress and played his violin on Broadway… at least not with my knowledge of factories and mills anyway!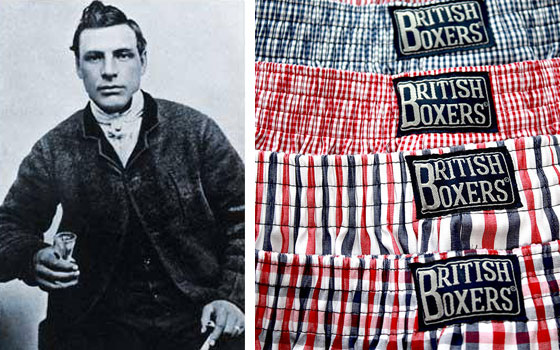 How important is sourcing British/local to you – and why?
Making here and exporting abroad is the way we get the economy back on track. It's vital we can grow our manufacturing sector.
Tell us about the local/British goods you use and why you chose them.
I try and make as many component parts of the goods in Britain as possible whilst still keeping a commercial head so if you take our cotton woven boxer as an example, the fabric is made here, the sewing done here, the packaging made here, the labels made here. The buttons aren't made here but they are dyed here..
Best place to unwind/escape to in the British Isles?
Newborough beach in Anglesey
What's your favourite local find
There's a little fish and chip shop we discovered in Aberdaron in North Wales. You go there and they serve up what's come in on the boat that day you can take your own wine which you buy from the shop round the corner. Absolutely no fuss. Fresh fish and chips and a glass of dry white in a plastic glass.
Best piece of advice you could share based on your experiences so far?
Fashion is a business and an industry. Analyse everything. Never assume because you like something that your customer will. Your customer keeps you in your job.
What are you listening to/reading right now?
Dusty Springfield 'Son of a Preacher Man'
Photo credits: Wales Directory; Joe Wainwright Photography
If you've enjoyed meeting Deborah Price you might also like
Find individual Father's Day gifts made in Britain by hand-picked UK makers