Charlotte Hay and Paris Hodson, the talented duo behind exciting British label Stella + Alf  share their passion for ethical British fashion, working yards from the sea in Lincolnshire and the joys of the occasional double egg and chips on a rainy day…
---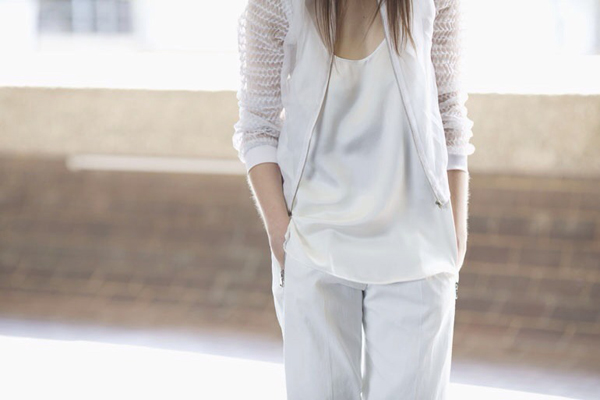 Please describe what you do, and tell us what's special about it 
We design and make luxurious yet simple womenswear. The collection is made up of polished statement items, garments which are designed to stay in your wardrobe season after season.
Alongside our seasonal collection, our new line 'The Twenty' is made up of affordable, casual basics, designed to be worn everyday. This collection is really special to us as we only ever make twenty of each piece, and when they're gone, they're gone.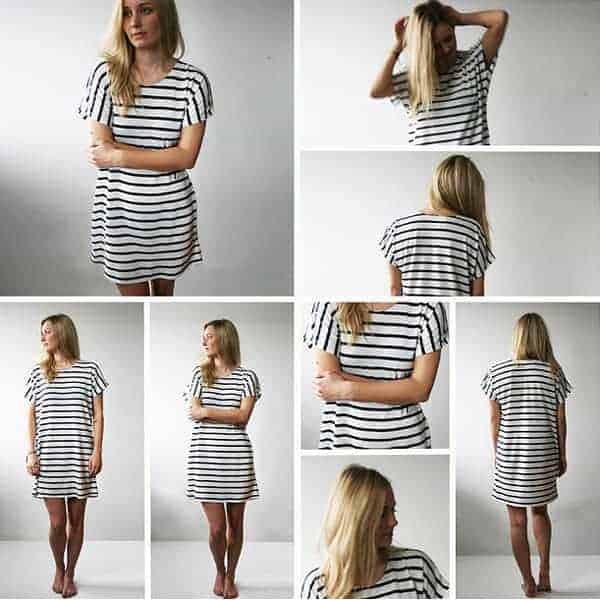 What's your favourite way to start the day and when do you start work? 
Coffee. The working day usually starts around 8am and we're in the studio Monday – Friday. As soon as we walk in, the kettle goes on and the coffee's poured.
What's your morning routine? 
We're both up and out of the door quite quickly in the morning. If the sun's shining, we try and squeeze in an hour of yoga on the beach, (we're so lucky as the beach is less than 100m from the studio door.)
Where/what is your work? Describe the setting for us 
We have the top floor of an old Victorian Post Office, just off the sea front, which is also home to a local architectural practice. Our studio space is great, as we have big double height ceilings and large windows, the perfect environment to design in.
Tell us why you do what you do 
Both of us really believe in quality over quantity. With Stella + Alf what we wanted to do was shift the focus onto the value of clothes and really slow down the whole process. We're not about fast fashion, for us classic staple pieces, beautiful fabrics and a transparent supply chain are what's key.
Can you sum up your ethos and what inspires you? 
Classic Design, beautiful fabrics, made in Britain. These three principles help up make the right decisions for our customers and brand.
Favourite British design icon? 
Perhaps not design icons, but Stella and Alf (Paris' grandparents) for us represent how their generation had a very different relationship with their clothes. Back then, clothes were valued, cared for, repaired and recycled. With the brand, we really want to rekindle this attitude and begin to change the way our generation treat their clothes.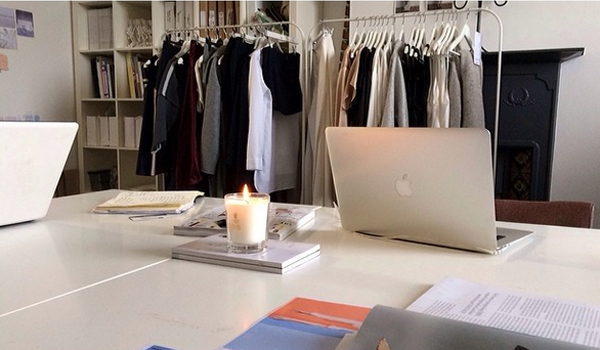 Describe your typical working day for us – best and worst bits? 
We both have such different roles within the company. Paris' day is usually spent pattern cutting, designing new pieces and working with our seamstress Elaine. Alongside this, a lot of Paris' time is spent sourcing new fabrics and searching out new inspirations. When Charlotte's in the office, her time is spent putting together our online magazine and refining the brand, however a lot of her time is spent nipping from appointment to appointment, meeting new clients and scoping out new cities. On top of this we always manage to squeeze in a good lunch, lots of coffee and are partial to an impromptu headstand or two (take a look at our instagram for our daily feed from the studio @stellaandalf)
What do you like to do for lunch? 
We have been know to frequent the local greasy spoon along the sea front; double egg and chips on a rainy day is a perfect pick me up. Day to day, the local deli sorts us out with huge salads, fresh juices and vegetable crisps.
What keeps you going through the day? 
You can always tell what's going on in the studio by the music we have on. When Paris is pattern cutting, something loud and upbeat reverberates around the room, and if Charlotte's writing, something much calmer, and when Elaine, our seamstress is in, it's old school classics.
Best moment so far in your business? 
Being such a new business we've had many ups and downs. At the moment we're really excited about our new line The Twenty and have lots of really exciting collaborations lined up.
What are you most proud of? 
We've recently taken on a few more stockists, and it's quite surreal, but also really exciting to see our clothes being championed by other great businesses.
In a nutshell, what's special/unique about what you do? 
Every single piece we make, is designed, pattern cut and individually handmade at our studio by the sea in Lincolnshire, UK.
How important is sourcing British/local to you – and why? 
This is very important to us, we're very passionate about promoting where we source our fabrics and how our clothes are made. Having said that, we do also like to incorporate ethical, natural, organic and cult designer fabrics into the mix.
Tell us about the local/British goods you use and why you chose them 
One of our favourite textures to work with is Blue Faced Leicester Wool. We source this from a mill in West Yorkshire, who spin their yarns from 100% British fleece. It's really lovely to see, such beautiful, high quality textiles still being manufactured in this area after so many years.
What's your newest/most exciting creation? 
We're really excited about the next few releases for The Twenty.
Best place to unwind/escape to in the British Isles? 
Paris: "Edinburgh and the east coast of Scotland. I love taking a long weekend to catch up with close friends in my favourite city, followed by a couple of days surfing and taking long walks around Coldingham Bay with family."
Charlotte: "I love travelling down to London, to catch up with close friends and family, trips to Borough Market and an afternoon at my favourite pub in Battersea, along the park helps me unwind."
What's your favourite local find
We're always hunting out new places to shop eat and visit locally. Any new discoveries can be found on our online Magazine.
Best piece of advice you could share based on your experiences so far? 
Always make sure that you believe in what you create. If you live, breathe and enjoy what you do, and take the time to constantly re-asses and listen to your gut, you'll be on the right track.
What are you listening to/reading right now? 
We're currently listening to our summer playlist, which includes a lot of reggae, perfect for the warmer weather. Paris likes the old classics; Cider with Rose, The Great Gatsby and Great Expectations, Charlotte is partial to a good science fiction novel.