Cecilia Crossley, From Babies with Love founder, shares the inspiring story behind her business. As well as creating beautifully designed cards and baby wear, every penny of profit she makes goes to SOS Children, to help abandoned children around the world.
Above: Cecilia winning the Rising Star award Autumn 2016 at Bubble London. One of the judges, CWB magazine editor Laura Turner, commented: 'From Babies With Love demonstrates a very well-thought out, engaging brand concept; from the beautiful, ethically designed products with packaging that can be upcycled to create a mobile for a baby's nursery, to the fact it donates every penny of  its profit to to support abandoned and orphaned infants. This is a brand that marries social-responsibility with commercial viability and a strong product offer.'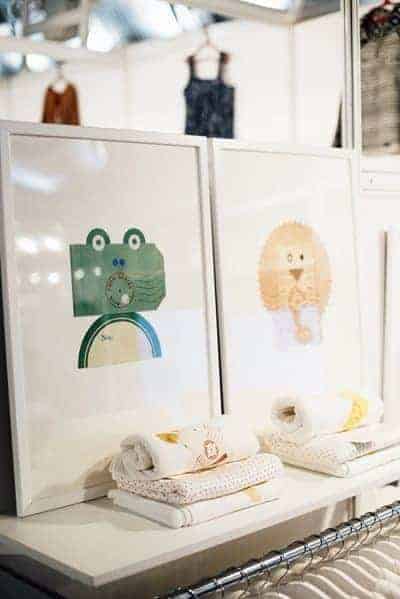 Please describe what you do, and tell us what's special about it.
Buying gorgeous gifts for a beautiful baby is one of life's pleasures. But too many babies in the world have no one to give them gifts, or anything else. So at From Babies with Love, we do things differently. Every penny of profit from our unique greetings cards designs (above) goes to SOS Children, to build and run children's villages around the world. And in these safe, happy places, abandoned and orphaned children can grow up in a loving family.
We started this company to make a difference. And with every card that you buy, you are too.
What's your favourite way to start the day and when do you start work?
Always with a cup of Earl Grey, swiftly followed by a strong coffee! I start work at around 9am once I've dropped my kids at nursery.
What's your morning routine?
Scrabble around to get our family of 4 ready for the day! It's all good fun, but I never know what game my boys will want to play, whether or not they'll eat their breakfast, how long it will take us to get out the front door…!
Where/what is your work? Describe the setting for us.
I find I'm quite nomadic, often in London meeting people and carrying my laptop so that I can work in between. There are several places I love to work, such as the Royal Festival Hall – sometimes there's live music at lunch time, lots of people meet and work there and it's floor to ceiling windows look right out over the river.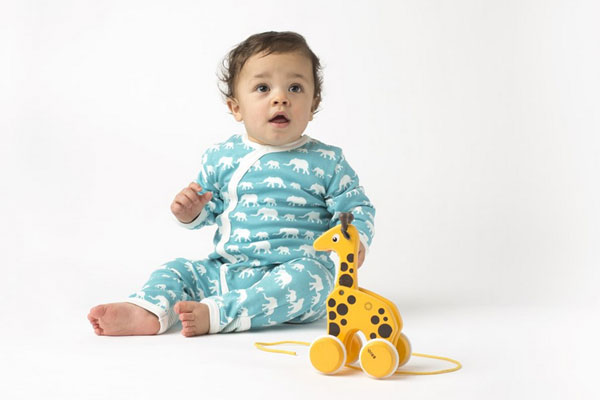 Tell us why you do what you do
When I became a parent, watching charity adverts and reading articles about the hardship children face all over the world made me more determined than ever to do something. The emotions of becoming a parent fuelled my belief that every baby should have a fair start in life, no matter where they are born.
I was out shopping for my firstborn's clothes when I thought to myself: if I could buy beautiful baby products and know the profit helps babies in need, why would I buy anywhere else?
The answer is I wouldn't! So I set up From Babies with Love – instead of profits going to shareholders, 100% of our profit goes around the world to abandoned children.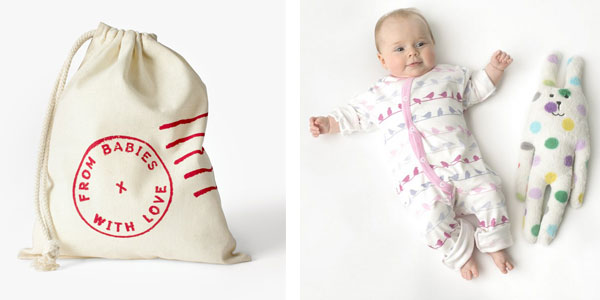 Can you sum up your ethos and what inspires you?
Buying gorgeous gifts for a beautiful baby is one of life's pleasures.
But too many babies in the world have no one to give them gifts, or anything else. So at From Babies with Love, we do things differently.
Every penny of profit from our unique, ethically sourced designs goes to SOS Children, to build and run children's villages around the world. And in these safe, happy places, abandoned and orphaned children can grow up in a loving family.
We started this company to make a difference. And with every card that you buy, you are too.
This ethos is our business model, we are a social enterprise – we exist for a social purpose.
I'm inspired by businesses that have created change in the way we produce, shop and use the things we buy. Dame Anita Roddick is a role model, the Body Shop being a brand that brought corporate responsibility to the high street in new and incredible ways.
Favourite British design icon?
Dame Vivienne Westwood. She campaigns for a climate revolution as well as being a designer.
Describe your typical working day for us – best and worst bits?
My typical day involves several meetings, with buyers, suppliers and agencies that we outsource to. These are the best bits, because I find everyone is so interested by our business model and excited to be involved. Worst bits are when I'm trying to find a coffee shop in between meetings and my wifi is playing up!
What do you like to do for lunch?
I'm a terrible lunch eater… I try to be disciplined but I end up grabbing something and eating it far too quickly whilst working. What I'd like to do is a yoga class or sit in the sunshine.
What keeps you going through the day?
Lovely feedback from our customers, receiving smiley photos and letters from the new families of the children our profits support, knowing that we are part of a social enterprise community that is thriving and creating real change in our society.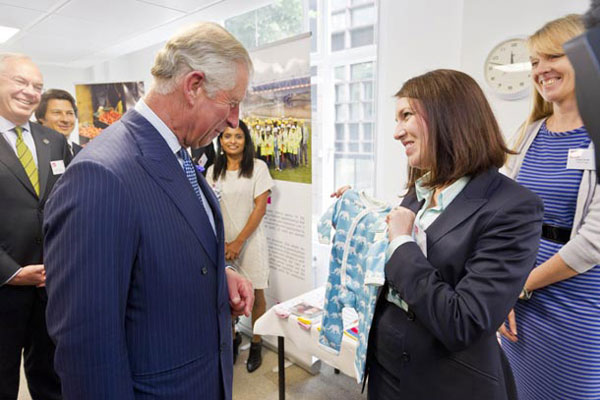 Best moment so far in your business?
It's a tie between visiting an SOS Children's Village in Brazil and meeting HRH Prince Charles!
Whilst I was on a family holiday in Rio last summer, I took the chance to visit a village, meet the children and their SOS Mother. It was fantastic to see first hand the loving homes they live in in their village.
Meeting HRH Prince Charles was an amazing opportunity, we spoke about the importance of organic and he was complimentary of the social impact our business is having. There was a lot of press at the event, and a photo of me giving him a gift for HRH Prince George ended up in a feature in Hello Magazine!
What are you most proud of?
We're supporting over 200 children and in the coming years will support many more. Our business model is ground breaking in the children's market – and thanks to all the people that have helped From Babies with Love establish and grow – I feel proud to have worked with them and what we have achieved.
Tell us about the local/British goods you use and why you chose them.
Our greetings cards are made in Kent. We found a supplier who could make our designs using recycled card and supplying recycled envelopes, meeting key criteria for our quality and environmental requirements.
What's your newest/most exciting creation?
We love our new range of greetings cards. We have 8 designs, all made from postal materials that create their unique photographic texture and character.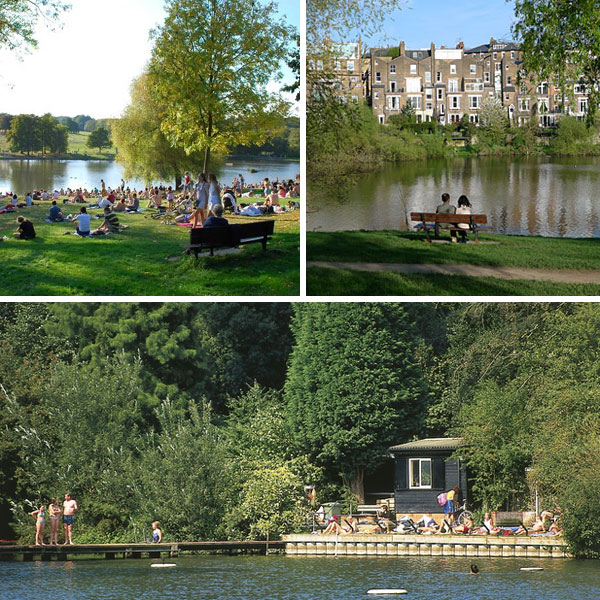 Best place to unwind/escape to in the British Isles?
Hampstead Heath. I find a spot where there's no sign of the city that has a wilderness feel. Or I take my children's to the fantastic swimming pools and playgrounds – an escape for them – which has a knock on effect for me!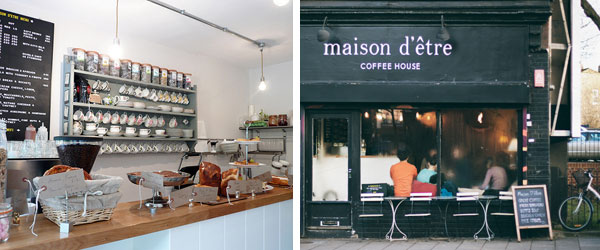 What's your favourite local find?
Maison D'Etre in Islington. The best coffee shop I've ever been in – for the coffee, the food, the atmosphere – working or relaxing, it's a wonderful independent coffee shop.
Best piece of advice you could share based on your experiences so far?
I've learned from many people and have found joining networks or associations very helpful. For example we're members of Social Enterprise UK – they advocate for policy change, run consumer campaigns and provide technical support such as social enterprise legal structures and how to raise capital. I've found that being part of such networks creates opportunities and helps overcome challenges – all by connecting with others.
What are you listening to/reading right now?
The Goldfinch by Donna Tart.
More about SOS Children
SOS Children creates communities for children who have nobody to turn to. The children are cared for by their SOS Mother; they live in family homes in the village with their SOS brothers and sisters. SOS Mothers care for the whole family, comforting, celebrating; doing all the things that parents do.
This enables children who would otherwise be left to fend for themselves, on the streets or in slums, to have a second chance in life.
The children's circumstances are not their fault, and by being loved, cared for and educated, they go on to lead independent lives, breaking the cycle of poverty.
As SOS Children's Zambia Director, Florence Phiri explains, for an orphaned or abandoned child, the difference a children's village makes is huge: "when they come to the village they are given a family – brothers, sisters and a mother to look after them. They have a home and can begin a new life."

Above: three of the children who have been helped by SOS Children. Left: Elisa was welcomed into her SOS family in Santa Tecla, El Salvador, when she was just a few days old. Gangs or 'Maras' have a growing presence in the area and are financed through drug trafficking and arms trading. Gang members include children and young people, often from broken homes, and on average he or she will live for only another three years. Now that Elisa is being cared for by her SOS mother, she is thriving and loves bathtime.
Middle: Ousmane is from Guinea in West Africa. His father sadly died and his mother was not in a position to care for him. Now he has a new, permanent home and has become very attached to his SOS mother and loves being cuddled by her.
Right: Sandrine is from Burkina Faso, where 770,000 children are growing up without parental care. Thousands are orphaned by HIV and AIDS, which is a driver of child labour and loss of education. Sandrine moved to the SOS children's village in 2012 and is going to school and is lively, very curious and eager to explore.
To find out more about SOS Children visit their website www.soschildren.org
Visit their listing to get all the info you need to connect – and buy – from them here >>