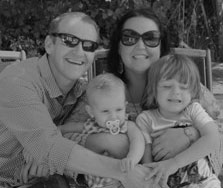 Founder of childrenswear label Brit Chic Signature, Alison Phillips-Pearce has created a collection of beautiful retro inspired clothing for boys and girls, all made here in the UK.
We asked Alison to share her inspiration, passions and plans for the future as she prepares to launch the brand's latest Autumn / Winter collection. 
---
Q. Tell us a bit about yourself and what inspired you to start the business
It all began really when I inherited a blanket that my mother made for my Nephew. My mum had passed at that time and so it was very special to me that I could have a little bit of her with me when I wrapped my lovely son Dylan and subsequently my daughter Ella in it for their journey home from the hospital. I had always been creative in my youth and began thinking that I wanted to create something that others could cherish for years to come.
Q: Describe where you work
Well, the business is registered and located in the beautiful historic coastal town of Tenby in West Wales and we have our offices in the upper part of the traditional market. I spend my time between Tenby and France. When in France I work from our home which is a converted Mill where I am lucky enough to look over the beautiful Jura Mountain. So wherever I work I am surrounded by beautiful natural scenery.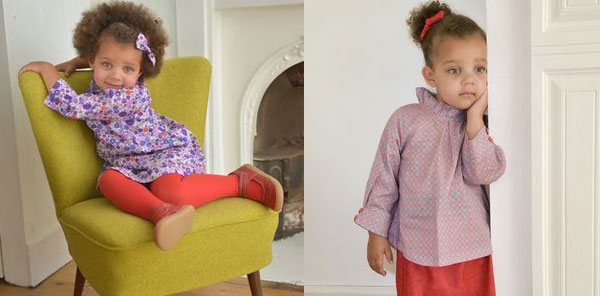 Q: How do you like to start the day?
Well, having two small ones (Dylan almost 6 and Ella 3) they take priority first so once they are fed, watered, drama's averted and dropped off at school it is then straight to it. I'm really a morning person so sometimes I manage to get a bit of work in before they rise. I have to admit I do love my to do lists and so usually my first job writing the to do list and the second is to try and complete it – not always achievable!!
Q: What is the best thing about what you do?
I find being my own boss is so empowering. I can fit things in around my family and focus on what I deem to be important or sometimes just wish to do for the business. Also, having the ability to be creative is so rewarding when you see your ideas turned in real life products.
Q. Do you use any specialist techniques or equipment to produce your goods?
My collections incorporate both knit and fabric wear and I am fortunate enough to work with some amazingly talented individuals. This means working with traditional handknit and crochet techniques for which we only use the finest raw materials such as merino, cotton and lambswool yarn. Each piece is hand knitted and hand sewn making them truly individual. My designs are retro-inspired offering a simple and timeless feel and are complimented by our exclusive fabric range designed just for us.
Q: What is your latest or most exciting creation?
I'm just in the throws of designing our AW14 collection. Again, our collection will have a retro feel – with simple lines and surprising colourful trims. Dresses will feature heavily and we will definitely continue with the Chelsea Crochet Bodice Dress (below right) which has proved to be very popular. I am also working on a reversible dress which I aim to launch next summer.
Q: What do you like to do for lunch?
I'm not very good at stopping for lunch. That said, I do try to grab a sandwich and continue to work at my desk. But I am trying to break the bad habit by popping out for a brisk 30 minute walk!
Q: What keeps you going through the day?
I am your a typical Brit and just love my cuppa – so tea is always plentiful while I am working. Also, having two little ones means having to be as productive as possible in the timeframe available.
Q: What has been your proudest moment in business so far?
Brit Chic Signature only launched this summer and the business has been very lucky in attracting good press coverage and excellent reviews from customers. We were also shortlisted for the Rising Star Initiative at Bubble in June which was a lovely surprise.
Q. Which other British producers inspire you and why?
I am really fond of Zozos they have great quirky designs including soft toys, blankets and cards and the quality and craftsmanship is second to none. I also love Nannolica (below left) who produce amazing artwork that can be cherished for a lifetime.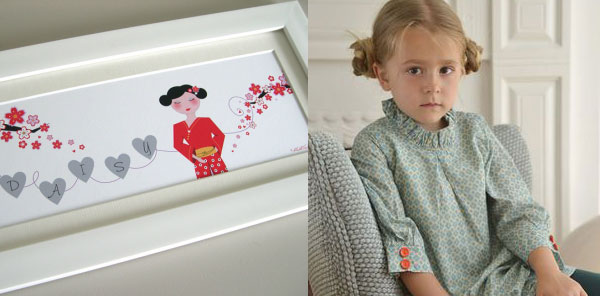 Q: How important is local or British sourcing to you and why?
At Brit Chic Signature we only source our materials from within the UK. It is important to us that we first try and support and build relationships with local businesses and / or seek supplies nationally. Also, I know that there is wealth of extremely talented individuals who continue to use traditional crafts and skills. I welcome the opportunity to keep these skills alive in the hope that they will passed down for generations to come.
Q. Where is your favourite place in Britain to getaway to?
I love to escape to the vibrancy of London. My husband and I love Mezzonine on Wardour Street, Soho for pre dinner drinks although they do serve great food too and then shoot off for a lovely traditional Italian at Italian Graffiti also on Wardour Street. These two places are very close to our heart as we used to frequent them regularly whilst living in London.
Q: What are your plans or hopes for the future?
I aim to build my brand with integrity and my hope is that it will be around for generations to come. I love the idea of being able to leave behind some treasures just like my late mother did. We are also hoping to build our list of stockists by identifying some unique boutiques who appreciate British made quality.