How to make willow Christmas decorations
Nicky Sherwood visits The Old Kennels in Devon to learn how to make willow Christmas decorations using a variety of natural materials. Working with basketmaker Hilary Burns, we learn how to weave traditional decorations from English willow, while florist Carol Kerr shows us how to use fresh foliage from the garden to create stunning wreaths and garlands.
The Old Kennels is a wonderfully relaxing location in which to learn a new skill or further develop an existing one. Owner Tracey Bell offers courses in a variety of traditional arts and crafts, as well as keeping a herd of alpaca for their fibre, and running self-catering accommodation which has been awarded 'Gold' in the Green Tourism Business Scheme.
Willow Christmas decorations day one…
Our first day in the studio was taught by basketmaker Hilary Burns, who began by showing us how to make simple star decorations using white willow, a premium grade of willow which has had the bark stripped off. First we took a long willow rod and made five soft bends in it, taking care not to snap it.
white willow star
We folded it into a '4' shape then tucked the last point back inside the triangle to form a five point star. I folded the end to create a hanger for the Christmas tree, but you could also leave the end long like a wand and display a group of them in a vase, or even join several together to create a starry willow garland.
Woven willow Christmas tree decoration
Next Hilary showed us how to weave little Christmas trees using natural dark brown willow. We made a V shaped frame and weaved the willow around it in a figure of eight pattern to form the tree shape. When the willow runs out you simply start weaving with a new rod, leaving a short length sticking out the side, which can be snipped off later.
Two sticks of willow were inserted to form the trunk, then we continued weaving in and out of the 4 uprights. Once the tree was the right height, we snipped off the two outer sticks and continued weaving the trunk until the willow was finished and the end could be tucked back inside. Finish it with a pretty raffia bow around the trunk or add a ribbon at the top to hang it from your Christmas tree.
Spiral willow decoration
Our third project was to create a hanging spiral decoration, using a wooden block with five holes drilled into it. We inserted five long willow rods into the holes and bent and folded them into a 'corn dolly' spiral, before tying off the top like a wigwam and snipping off the excess willow. These decorations can also be used as a hanging bird feeders by placing an apple inside and securing it with a length of willow through the base.
Lunch and the willow wreath
Following a delicious home-cooked lunch accompanied by steaming mugs of mulled wine, we were ready to start on the major project of the day – a willow wreath. For this we took a long, straight willow rod and gently bent it into a large circle, taking care not to snap it (or poke our neighbour in the eye!). We did the same with the second rod, wrapping it around the first one it so that the thickest end of the willow overlapped the thinnest part of the first rod to create a good, even base.
We added four willow rods in total, wrapping them all in a clockwise direction. Then we added another four rods, wrapping them in the opposite direction, to add bulk and strength. Gradually our wreaths began to take shape and soon we were ready to start adding the decoration…
Amongst Hilary's selection of materials I found some fresh fig tree branches with a few green figs still attached, which I wired onto my willow base. With the addition of a few pine cones, my wreath was looking suitably natural and rustic, and I nipped outside to photograph it in the fresh Devon air, overlooking Tracey's organic vegetable garden.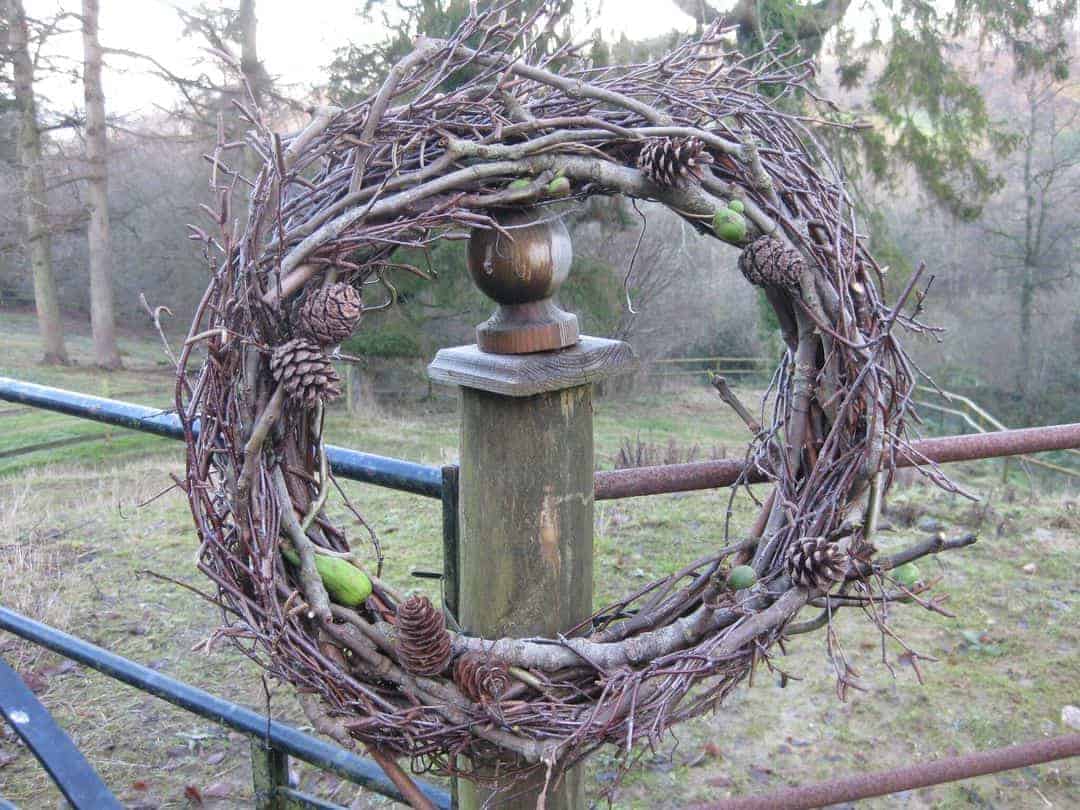 Then it was time to step back, admire our work, and realise just how much we'd achieved in a single day. Relaxing in the pretty guest accommodation that evening, I decided that I really liked working with willow. There's something very satisfying about working with such a raw and natural material, and knowing that people have been weaving long straight willow rods into sensuous, undulating shapes by hand for centuries.
For a one day beginner's course, you do learn a huge amount and are very productive, with lots of lovely willow decorations to take home and keep for many Christmasses to come.
Day two…
The next day I was up bright and early to go foraging in the fields of peacefully grazing alpaca, for some fresh evergreen foliage. Armed with bin bags full of holly, pine branches and trailing ivy, I headed back to the studio to survey my bounty. Today we would be making natural decorations of a different type, using the kind of fresh foliage that can be found in most gardens.
fresh foliage garland
Florist Carol Kerr began by showing us a simple technique for creating a festive garland to hang on a mantelpiece or decorate a stair bannister. Starting with a short length of rope, we made a loop at either end. Then we made up 8 small posies using foliage and decorations such as walnuts and pine cones. We wired the posies onto the rope, overlapping them until all of the rope had been covered. The last posy needs to lay in the opposite direction to cover the end loop.
For longer garlands, Carol recommends joining two shorter lengths or rope together to prevent the rope from twisting when hung up. This easy technique takes well under an hour, costs very little in terms of materials, and gives a really professional looking result.
Fresh foliage wreath
Next it was time to put our wreath making skills to the test again, this time using a very different technique to the willow wreath. Carol started by showing us how to cover a metal wreath ring with straw to create a good, firm base. After wrapping handfuls of straw around the ring with florists wire, we added strips of bin liner to the back of the wreath to provide a protective, waterproof backing.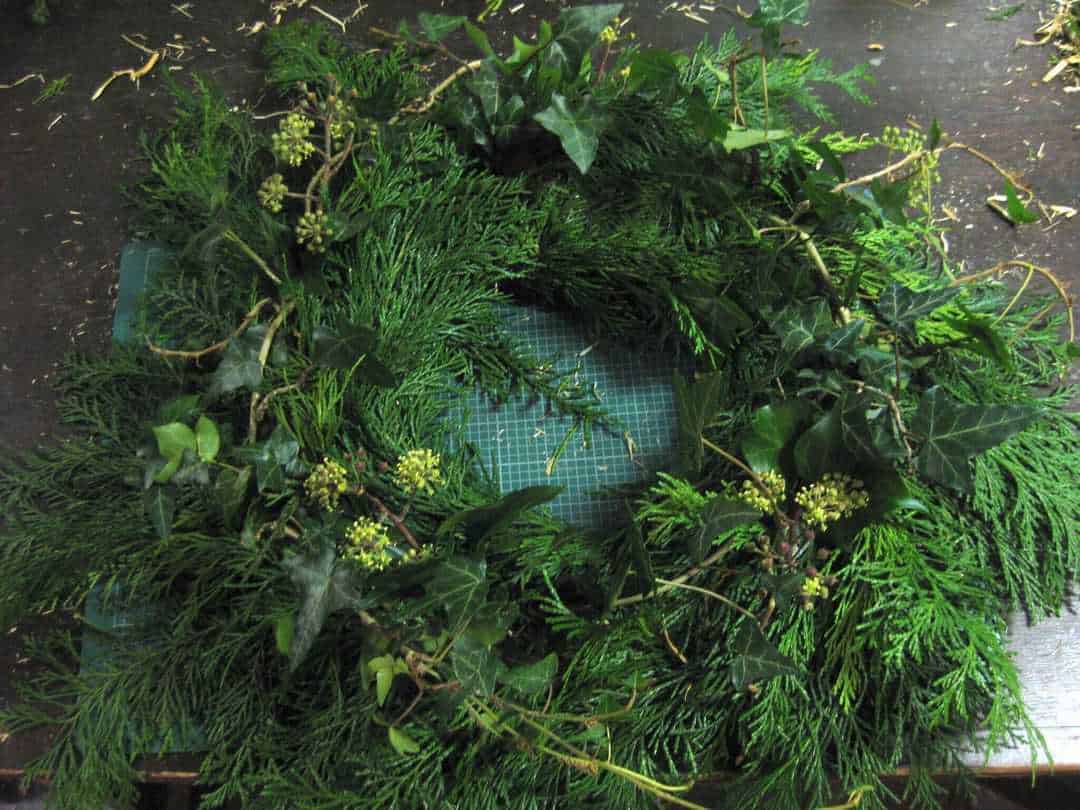 Then we added fronds of evergreen foliage, wrapping them onto the wreath with the wire, until all of the straw was covered. Next we added some colour and texture with trailing ivy and small bunches of dried hydrangea heads.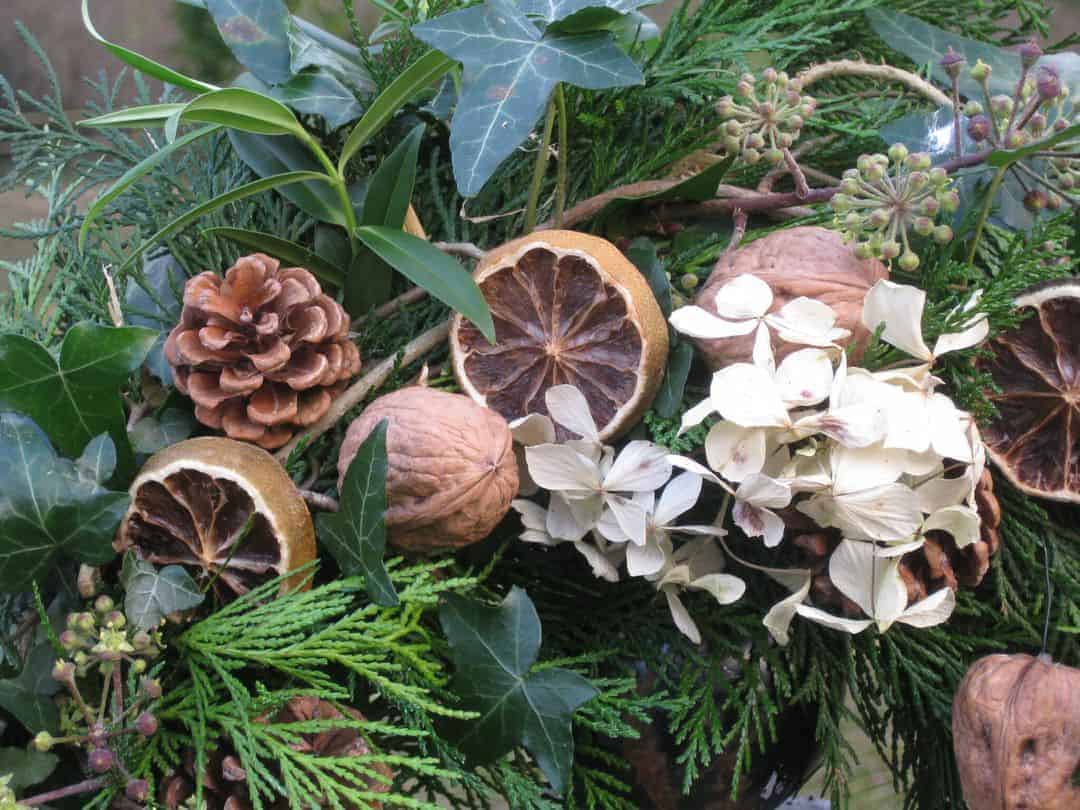 Then it was time to add the festive finishing touches using natural decorations. We chose from walnuts, pine cones, dried orange slices and cinnamon stick bundles. Dried fruit slices are available from most floristry suppliers, but they can be expensive. Carol tells us that you can buy small drying machines to make them yourself. You can also dry them in the bottom oven of an Aga, but you need to keep an eye on them so they don't overheat and discolour.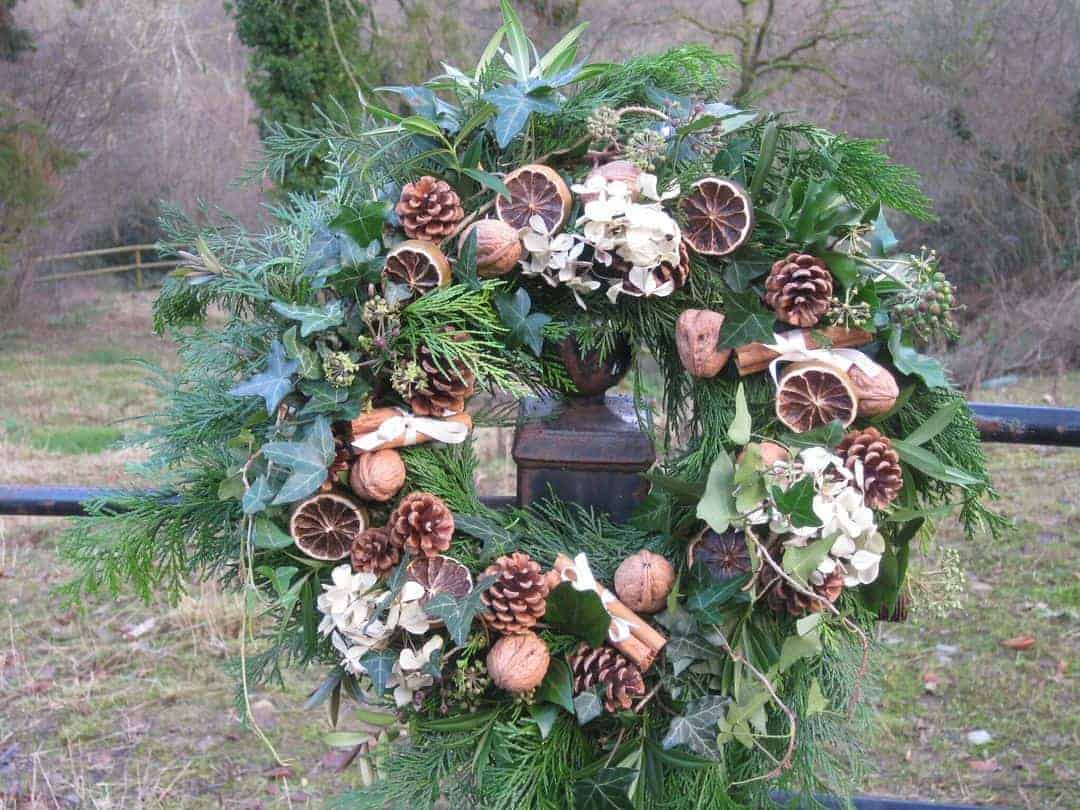 As the day drew to a close, I reflected that I'd learned a huge amount. I'd also met some lovely people, and picked up lots of great ideas and techniques to take home. But one of the best things about the course is the wonderfully warm welcome Tracey gives to her guests. She welcomes them into her home and makes them feel like part of the family.
At the end of my two day stay at The Old Kennels I really didn't want to leave and I can't wait to come back and try another course. The trouble is there are so many I want to do, I just can't decide which one to try out next!
INFORMATION
Feeling inspired? Take a look at the Creative Workshops category in our Directory, where you'll find a variety of inspiring courses, from art and crafts to fashion and beauty, interiors, cooking and flower & gardening.
If you run a creative course that would interest our readers, please get in touch. Email us at editor@frombritainwithlove.com
---
A pin to share to Pinterest
---