This month Nicky Sherwood visits Artyard Handmade in West London and learns to make a papier mache deer head under the expert guidance of artist Debra Luker.
Artyard is one of those places where you can't help but feel infused with creative energy the moment you walk through the door. The walls are adorned with artwork, while vintage cabinets display recent craft projects and shelves groan with jars of pencils, paints and creative paraphernalia.
As a local I had a feeling that this was going to be the first of many visits to this Aladdin's cave of craftiness. But on this occasion it was all in the name of work and my task was to create a deer head using the ancient art of papier mache, something I hadn't done since I was a child.

Debra Luker
Artyard owner, artist and stylist Debra Luker was to be our tutor for the evening and she began by explaining how she'd always had a passion for creating three dimensional work, having come from a background in theatre design. See some examples of her stunning event and styling work above.
Her papier mache animal sculptures line the walls of the studio and provided plenty of inspiration for our own creations. She also made these stunning flamingoes..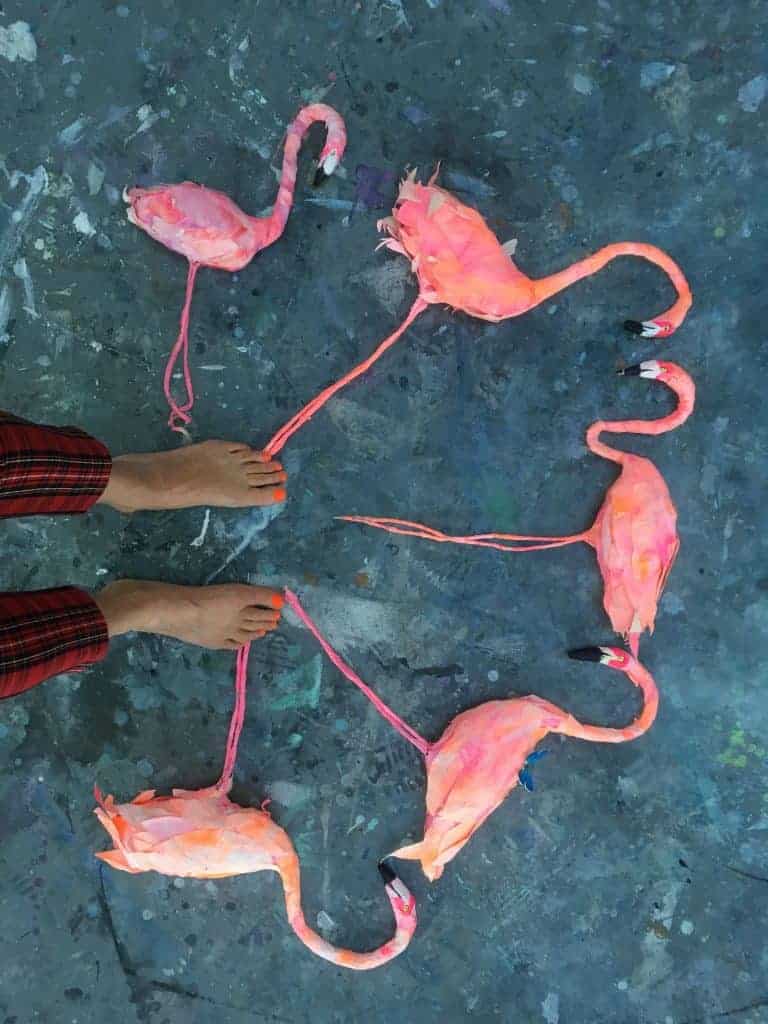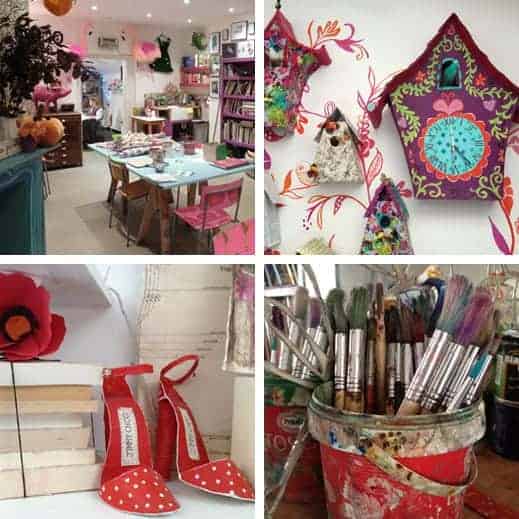 After meeting my fellow students (mainly local mums like myself enjoying a sneaky self-indulgent night out without kids) and with a much-needed glass of wine to get the creative juices flowing, it was time to get started.
Creating the shape of the head and neck
Armed with nothing more than a pile of old newspapers we frantically started ripping, scrunching and packing the newspaper into solid shapes to create the head and neck sections of our deer heads, suddenly silent with concentration.
Debra demonstrated how to keep wrapping in layers in order to build a firm base, then introduced us to the joys of the glue gun which we used to attach the neck and head sections together.
Making the eyes
Next we were shown how to roll up balls of newspaper to create the eyeballs then cut out ears and eyelids from card, before securing them all in place.
At this point our deer started to develop their own quite distinctive personalities; some lean and elegant while others were stocky and proud. Mine just looked mildly alarmed although he seemed a bit happier once he'd had his eyelids applied.
Decoupage decoration
Once we'd formed the basic shape Debra handed out tubs of paste and we each chose several sheets of wrapping paper with which to cover our deer heads, using a layered 'decoupage' technique.
There was plenty of choice, from brightly coloured glossy papers to matt retro prints, and even vintage maps and pages torn from old books, so everyone got the opportunity to experiment.
I chose a matt floral paper and began tearing off strips and applying them in layers with paste until my deerhead was completely covered.
Once our heads were sporting their new eye catching 'skins' it was time to pack up and leave our creations to dry and harden overnight in the studio, ready for collection in the morning.
Painted twig antlers
Before leaving, Debra explained how to create antlers for our deer using painted twigs and how to mount the heads onto a cardboard shield for a quirky take on traditional taxidermy.
Back at home the following day, fired with enthusiasm (and a nagging concern that my creation looked more like a donkey than a deer!) I decided to embark on a brand new project, this time aiming for a more elegant and doe-like profile.
This time a far more ladylike deer emerged from the newspaper and with the addition of eyes and ears she started to look like Bambi.
For the decoration I opted for a thin glossy wrapping paper with a retro flower print that seemed to flatter my feminine specimen.
When the paper had dried I was able to push two painted twigs into the head to form the antlers, and once mounted on her plinth above the kitchen door, she really looked the part.
This workshop is fantastic for anyone who likes to be hands on and get stuck in… not to mention a bit sticky! It's ideal for absolute beginners as well as as craft enthusiasts and for a two hour evening class they really do pack a lot in.
What I particularly love about Artyard is the variety of creative workshops on offer. Papier mache deerheads are just the tip of the iceberg… this Winter you could also learn to make a cosy felted hot water bottle cover, create your own Christmas stationery including paper gift corsages, or even discover the delicate art of wirework dresses (I'm planning to be back for that one!). To have this haven of creativity practically on my doorstep makes me feel very lucky indeed.
INFORMATION
---
Feeling inspired? Take a look at the Creative Workshops category in our Directory, where you'll find a variety of inspiring courses, from art and crafts to fashion and beauty, interiors, cooking and flower & gardening.
If you run a creative course that you think our readers would be interested in reading about, do get in touch by emailing laura@www.frombritainwithlove.com.
---
A pin to share to Pinterest
---