This month craft journalist Clare Kelly visited Making Mosaics in Essex and learns how to make a mosaic sign. Discover how to create a unique house number plaque under the expert guidance of mosaic artist Anne Cardwell.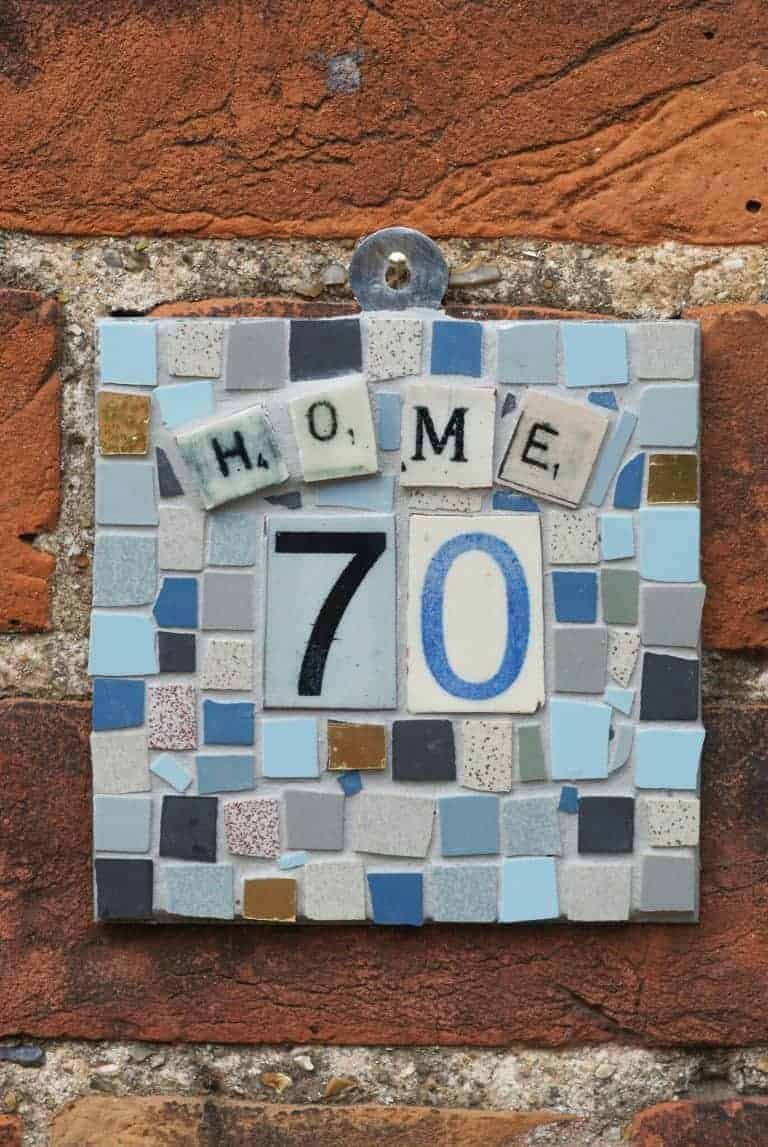 Making Mosaics studio
Just a short train ride from London's Liverpool Street station I find myself in Newport, Essex, home to Anne Cardwell's mosaic studio. Newport is relatively small so if you do take the train, you'll have no problem finding Making Mosaics or the 'mosaic place' as a local referred to it when we began chatting on the journey.
Housed in a beautiful building next to a traditional bakery, you only need to peek in the windows which are adorned with mosaics to see that this is a creative hub – not just for those nearby but also for those from much further afield who come to learn the art of mosaic.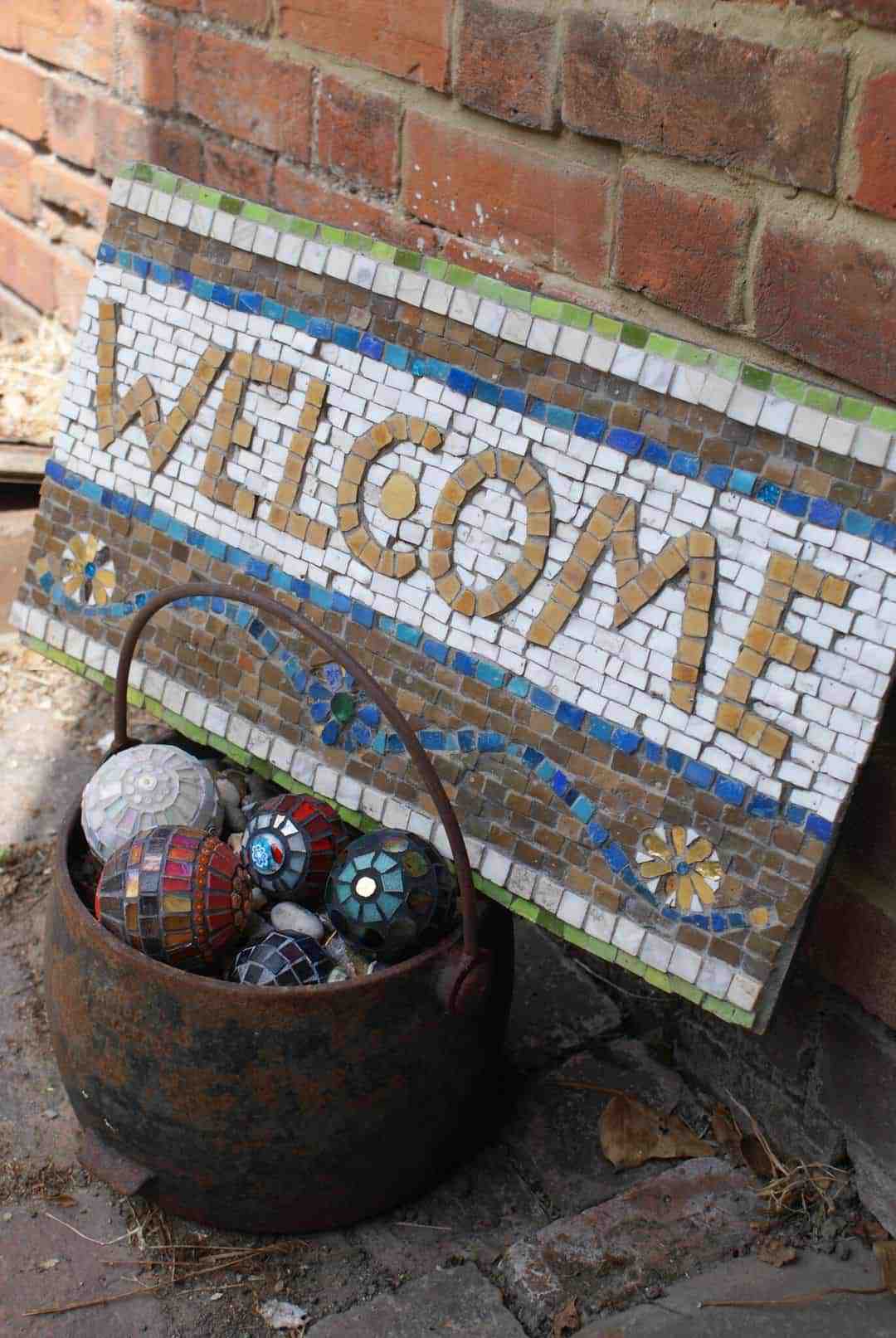 graphic design background
Formerly a graphic designer, Anne's mosaics have a cheerful, tactile quality and she often uses her own handmade ceramic pieces which add a graphic dimension to her work. In addition to the full range of materials on offer to students, the studio also acts as a small gallery for Anne's own very beautiful collection of work, which is a real inspiration to the aspiring mosaic artist – a striking combination of type and image.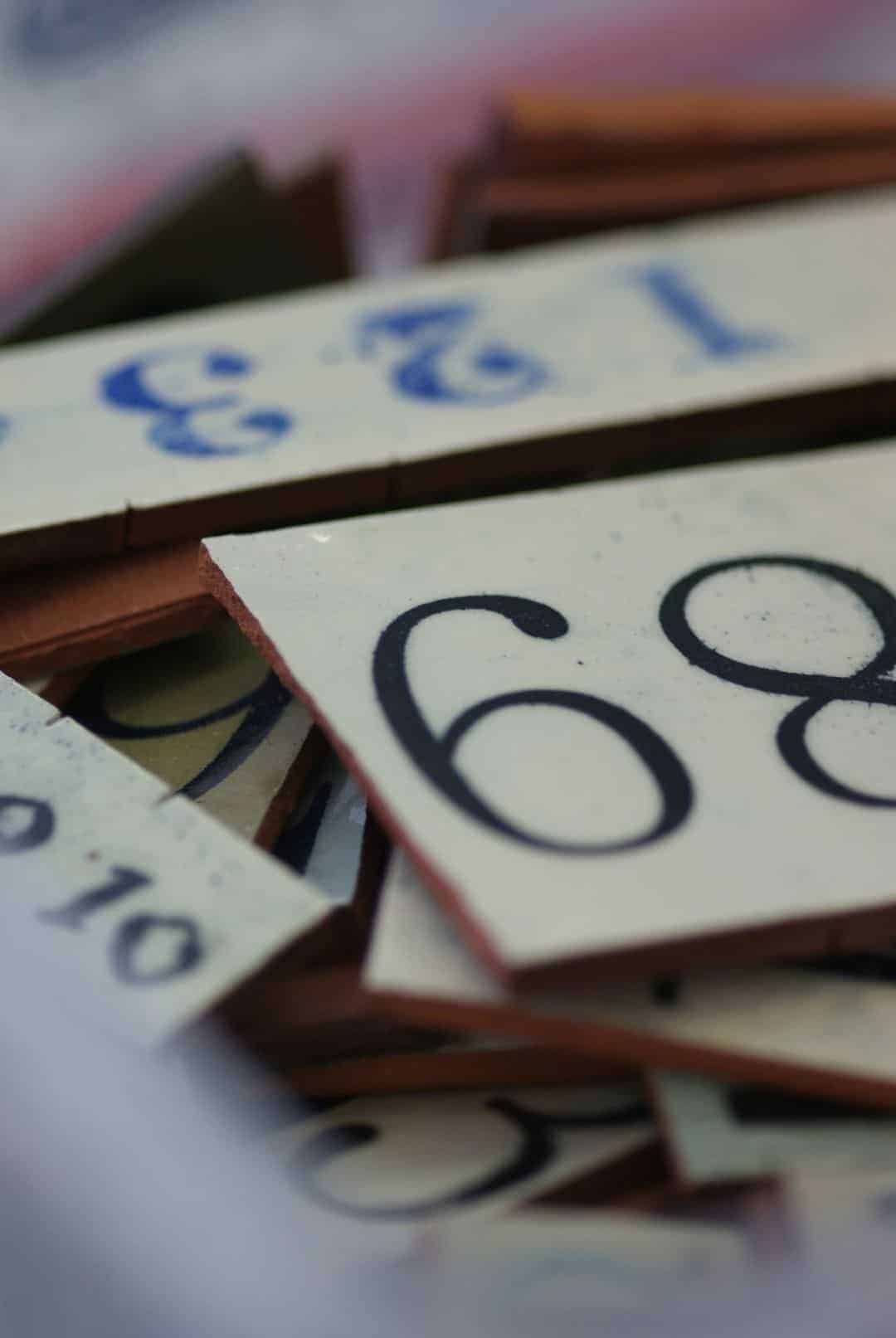 Choosing which tiles to use
Inspired and fired up, I was ready to get cracking. Quite literally! I'd decided to make a house number plaque as a gift for my mum and began with a metal base, which Anne informed me had been made by local metalworker Geoff Curtis. I then set about choosing my tiles and opted for some small matte ones in shades of blue, grey and for a little glam, gold.
Shades of blue and grey
Anne's studio is very well organised and you're sure to find tiles in a colour to suit your unique project. Each person in the class was doing something entirely different; from a delicate dragonfly complete with tiny shards of glass (don't forget your protective goggles!) to a tribal mosaic mural for a school.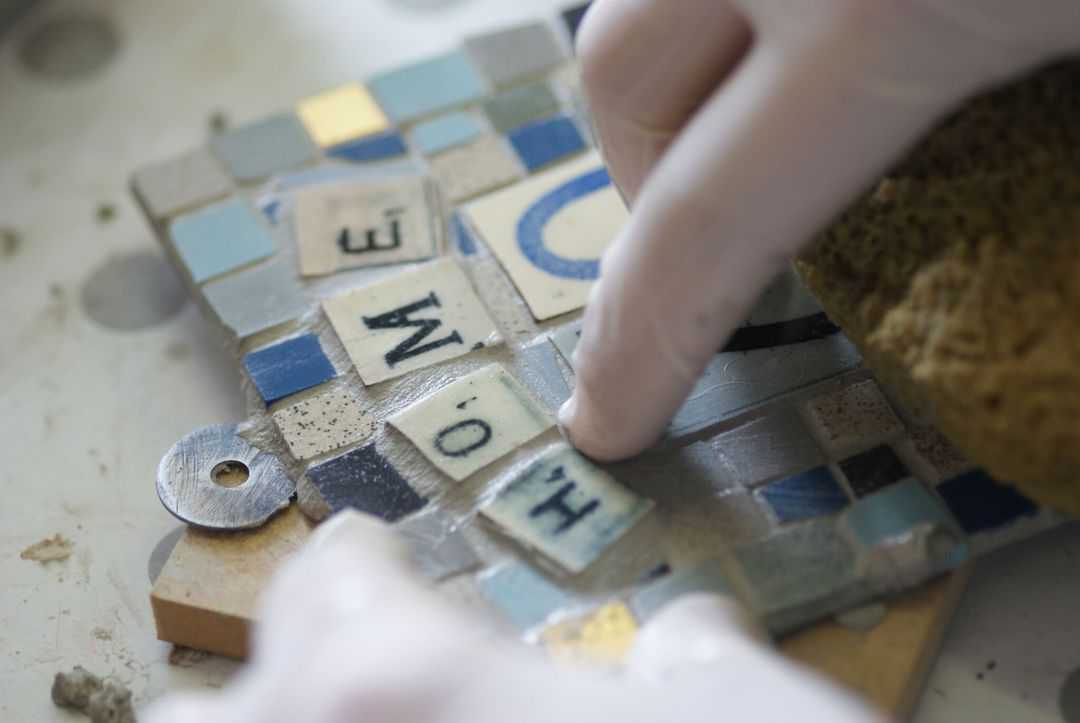 number tile love
For my house number plaque, I could have created the digits from scratch using individual mosaic pieces, however I was quite taken with the number tiles and Scrabble-inspired pieces available, so I chose to use those as the centrepiece of my plaque.
Cutting the tiles
Taking the tile cutters and ensuring my (colour coordinated) goggles were in place, I then began cutting my background tiles, taking care to not injure anyone in the process. Due to the nature of the materials I chose to work with, I needed to use a glue that was suitable for the job, so PVA was out as it doesn't have the staying power for a metal surface. Instead, I used a strong adhesive and applied it carefully to the tile before placing it onto the metal.
A good lunch
As I was working on a small surface area, it didn't take too long to get all my tiles where I wanted them. I'm pleased, as it meant I could take time to enjoy the wonderful lunch. Made by a local caterer, it was one of the best I've enjoyed. All rounded off with tea and homemade cake – something I can never resist.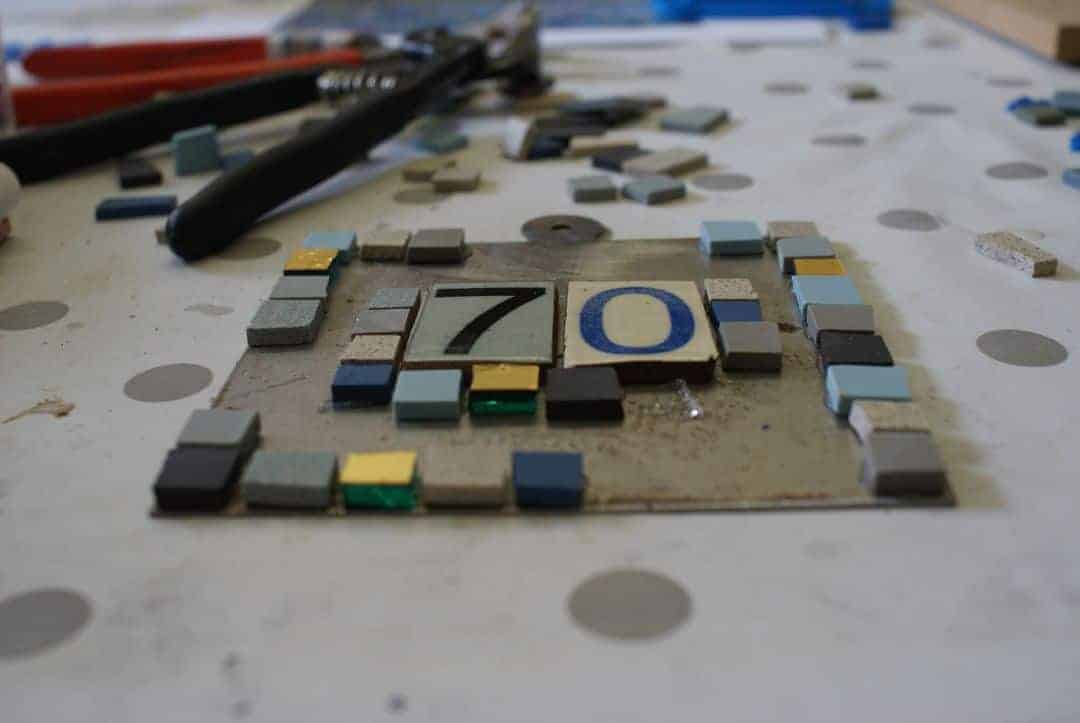 filling gaps and applying the grout
Glad to have got the real work out of the way in the morning, the afternoon was less about breaking tiles and more about finishing off the project, taking time to fill in the small gaps before applying the grout and admiring the finished results. This also gave me a chance to check out what my classmates had been up to and it was very impressive indeed. This was a friendly class with lots of chat but people still had time to produce beautiful, detailed works of art.
The finished result
Anne ensured that each person was encouraged to produce something unique to them. There was no pressure to do it this way or that. At the end of the day, I left with a plaque that I was thrilled to have made myself. If I'm honest, I'm a bit reluctant to give it away. However Mum and I don't share the same house number so I guess it makes sense…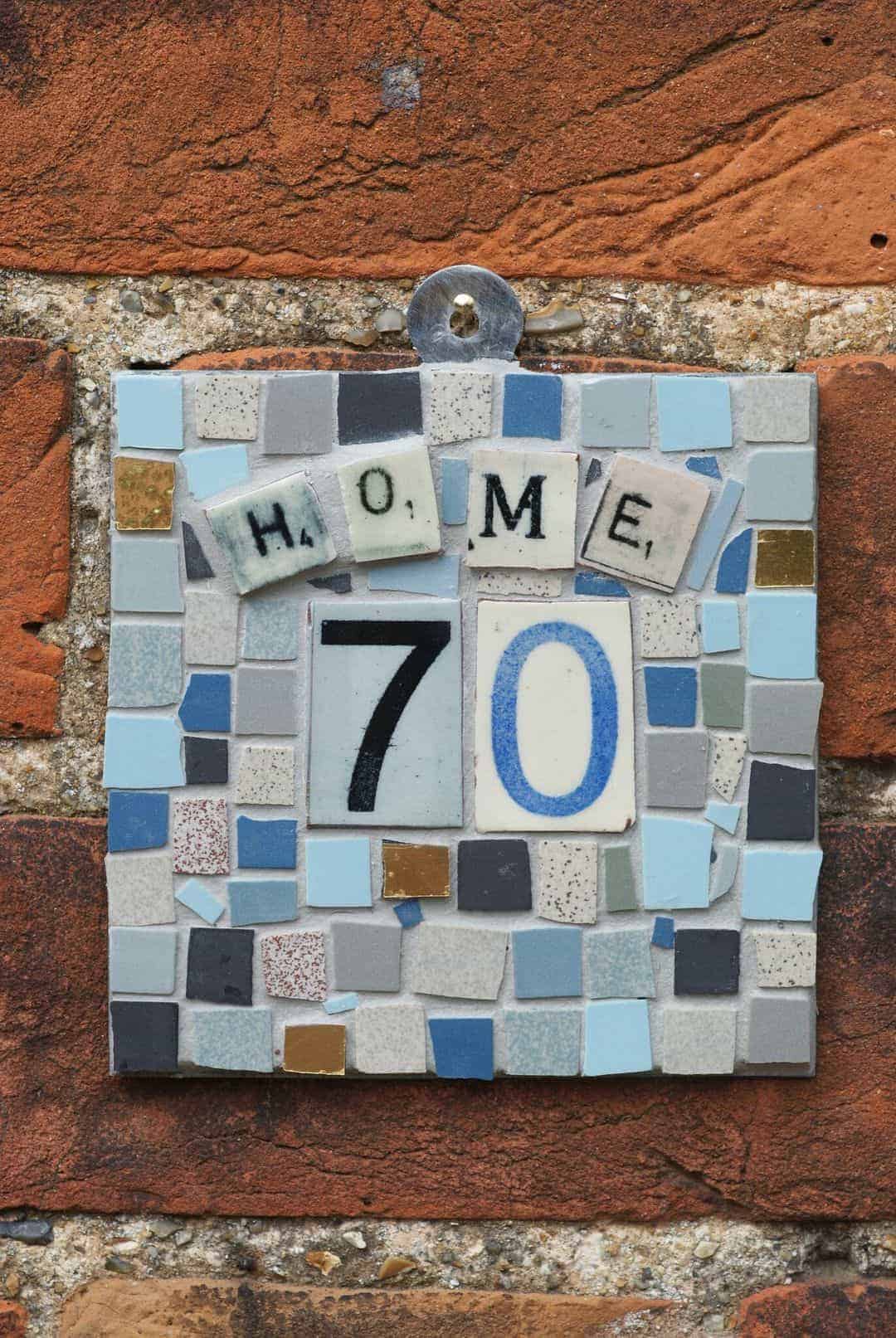 INFORMATION
---
Feeling inspired? Take a look at the Creative Workshops category in our Directory, where you'll find a variety of inspiring courses, from art and crafts to fashion and beauty, interiors, cooking and flower & gardening.
If you run a creative course that would interest our readers, please get in touch. Email us at editor@frombritainwithlove.com
Clare Kelly is a freelance craft journalist. All images courtesy of Clare Kelly.
Recommended Reading:
Anne Cardwell is the author of Stylish Mosaics: 25 Contemporary Projects for Your Home.
---
A pin to share to Pinterest
---