Handmade Mother's Day gifts made in Britain
Mother's Day is just around the corner. We've pulled together our pick of the best handmade Mother's Day gifts made in Britain by our hand-picked designers.
Support local talent and choose a beautiful British made Mother's Day gift to make Mum's day… Here are a few of our particular favourites
Handmade Mother's Day gifts made in Britain
I have picked out a few of my favourites from the makers listed in the Ethical Gifts section of the FBWL directory – click through to find many more ideas.
This is a really lovely handmade gift set that combines the benefits of an aromatherapy candle and bath oil with the skin softening effect of a biodegradable natural bath mitt. Made using natural, plant-based ingredients only, Liz and her team at Denys & Fielding hand blend, pour and make both the bath oil and candle at their studio in East Sussex.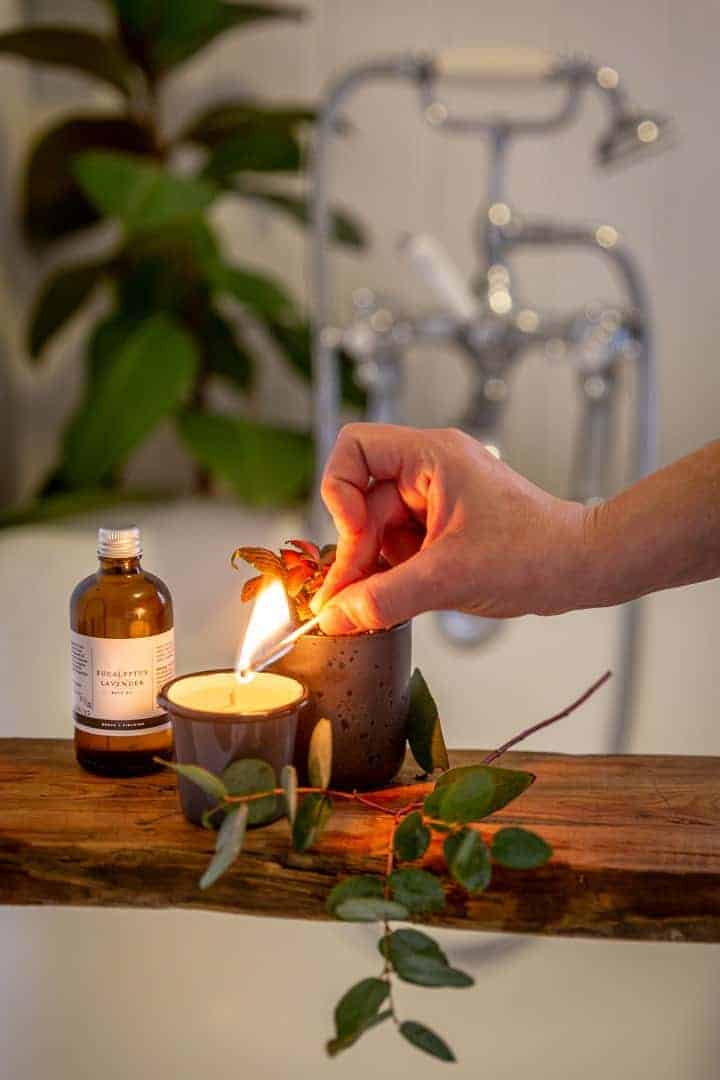 Packaging is sustainable and locally sourced. Choose from a green or grey refillable enamel container.
There are two fragrance options – Pelagonium & Grapefruit or Lime & Peppermint. I love pelargonium – a floral essential oil that can be helpful in reducing stress, enhancing mood and possibly responding to menopausal symptoms. Grapefruit, meanwhile, is wonderful for helping to combat fatigue, lift spirits and tackle hangovers.
A great handmade Mother's Day gift idea.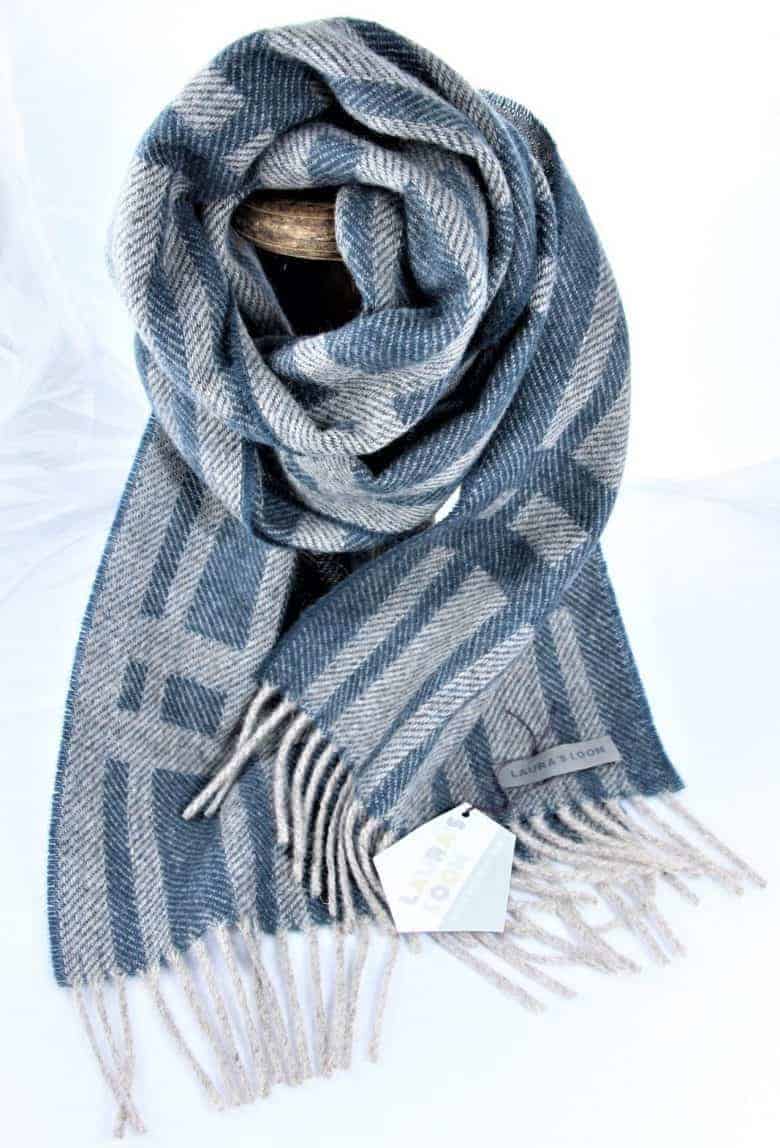 Laura's Loom is one of those special makers that you feel quite excited about discovering. Based in Sedbergh, Laura's Loom sources silky soft local Bluefaced Leicester wool from the Yorkshire Dales and Cumbria. This long Cumbrian Summer scarf is woven in Scotland and is available in a wide range of colours inspired by the northern fells and dales. The sort of scarf you'd enjoy wearing and treasure for many years. This one is Tarn Blue, but other lovely colours include Bracken Red, Pine Green and Campion Pink.

I love these handmade 100% wool felt birds. Working from her small attic in north west London, founder of the business Anika hand embroiders each one with cotton embroidery thread before filling with organic lavender and hanging with natural hemp string.  Handily, you can choose to have them gift wrapped in an eco-friendly cardboard box and tissue.
I remember buying a welsh wool tapestry coin purse on a holiday in Snowdonia when I was a very little girl. And I still have it! I love traditional welsh tapestry weaving patterns and a coin purse is a lovely way to carry them with you. Perfect for carrying loose change or lipsticks. I think this is the kind of handmade mother's day gift that could be used and kept for years and years…
Ever since a spring lamb almost jumped into my boot at a rural flowers workshop last Spring I've had a bit of a thing for sheep. This one, handmade by Sandy of Lincolnshire Fenn Crafts just makes me smile. It's the attitude she manages to capture… and the plant dyed organic locks. Find more handmade creations by Sandy here: https://lincolnshirefenncrafts.com/product-category/hand-made-ready-to-purchase/ Check out Ciara the sheep who is definitely having a bad hair day – and all the more lovable for it!
I absolutely love this lambswool and angora wrap hand made by Jules Hogan. Its generous size makes it the perfect shawl for draping over the shoulders on Summer evenings or for wrapping cosily around the neck on cold Winter days. All very useful… but it's the stunning use of colour and stripes that really make this for me.
The wool is sourced from a mill in West Yorkshire and Jules makes on a hand flat standard gauge knitting machine in her garden studio. The fabric is gently washed to slightly felt it, then pressed and finished by hand. A lovely, lovely handmade mother's day gift idea.
I love the vintage 1950s fabric used to recover this A5 lined notebook and it feels perfect for Mother's Day. Founder of the business, Emma, hand re-covers old novels as well as sketchbooks and notebooks in a wide range of vintage fabric. Browse her etsy shop here
Who doesn't love Bluebells? I love that this bath essence is made in Yorkshire by a family business which has been around for over 100 years and is formulated with natural ingredients without parabens or palm oil. On contact with your bath water, the oil disperses to create a slightly milky, highly moisturising elixir and a fragrant bathing experience. The range includes Rose, Lavender and Jasmine too – and there is a triple milled soap and natural honey lip balm too. Browse the range here: https://foundland.shop/found/the-british-edit/?page=2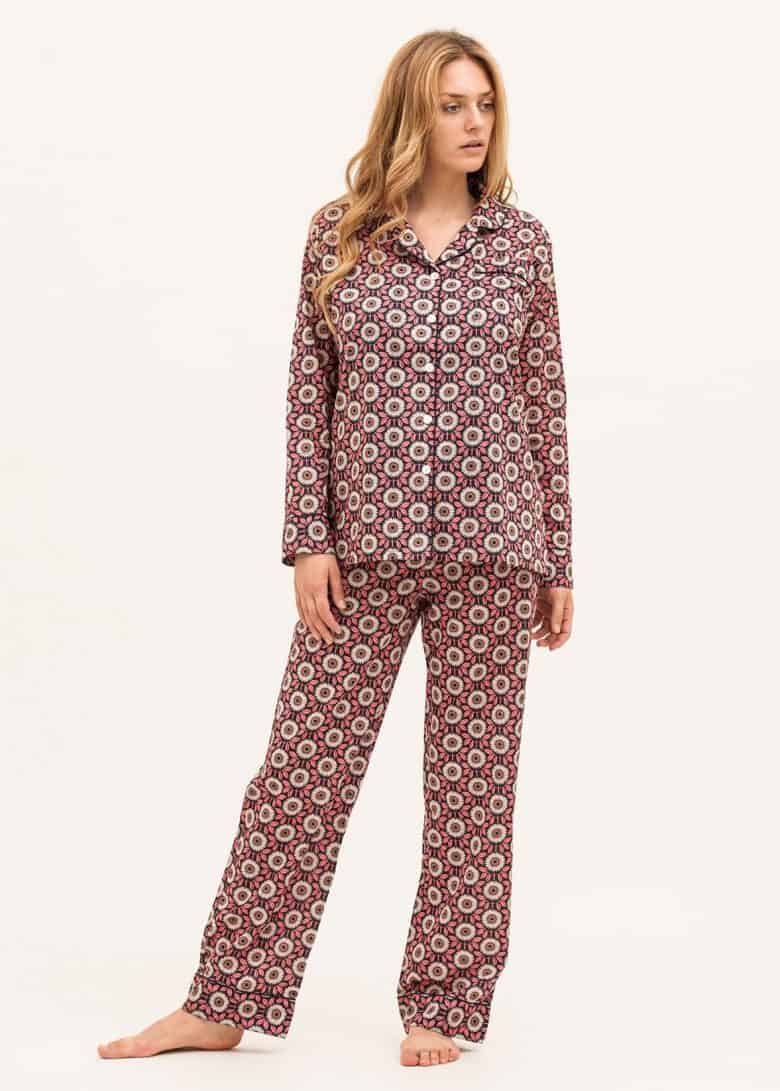 I found it hard to pick just one from the six different Liberty fabric choices available. As it's Mother's Day, somehow this pattern featuring pink daisies on a navy background felt right. It's the quality of PJ Pan pyjamas that sets them apart. This particular cut features a flattering shaped jacket with a tapered waist and french seams throughout. Finished with real shell buttons and navy piping on the jacket and trouser hems and made from lightweight cotton lawn. Nightwear to make you feel really pampered and special. The ideal gift for Mother's Day.
Browse the Liberty Pyjamas collection here: https://www.pjpan.co.uk/womens-nightwear/liberty-pyjamas
I love this new range of soaps from Emma and her team at The Little Soap Company. Fragranced only with pure essential oils they are also plastic free, eco friendly, biodegradable (soap and packaging) and 100% vegan. Available in a range of fragrances including Clarifying Charcoal with Tea Tree, Shampoo bar in Orange & Ginger, Sensitive facial bar in Chamomile & Calendula and Moisturising Hand & Body bar in coconut. Buy individual soaps or opt for the 6-bar gift box.
Another great idea from The Little Soap Company is The Organic Pamper Pack 
Lasting longer than a bunch of flowers and better for you than chocolates, this is the perfect Mother's Day gift. The reusable box contains organic pure rose geranium soap, hand wash, body wash, bubble bath and travel candle. I am already a fan of the Rose Geranium soap – it's the best quality soap you can buy and the natural essential oil fragrance lasts and lasts to the very end.
I was delighted when Old Faithful joined the FBWL directory because I'd already heard such great things about their hand balm. Originally made for ceramicists whose hands tend to dry out, I know from what other makers, growers and florists tell me, that this balm also works wonders for them too.
Made in Wales, this magical balm combines the benefits of shea butter to moisturise and protect with anti-inflammatory calendula, wound healing oils of carrot, macadamia vetiver and patchouli and antiseptic beeswax and bergamot. Mango butter helps regenerate and the deep scent of elemi tops it all off. Whether you're working at the lathe, in the flower bed or at your desk, Maker's Balm is what your hands need.
You can add in the Sole Salvation Foot Balm too for a more top to toe approach.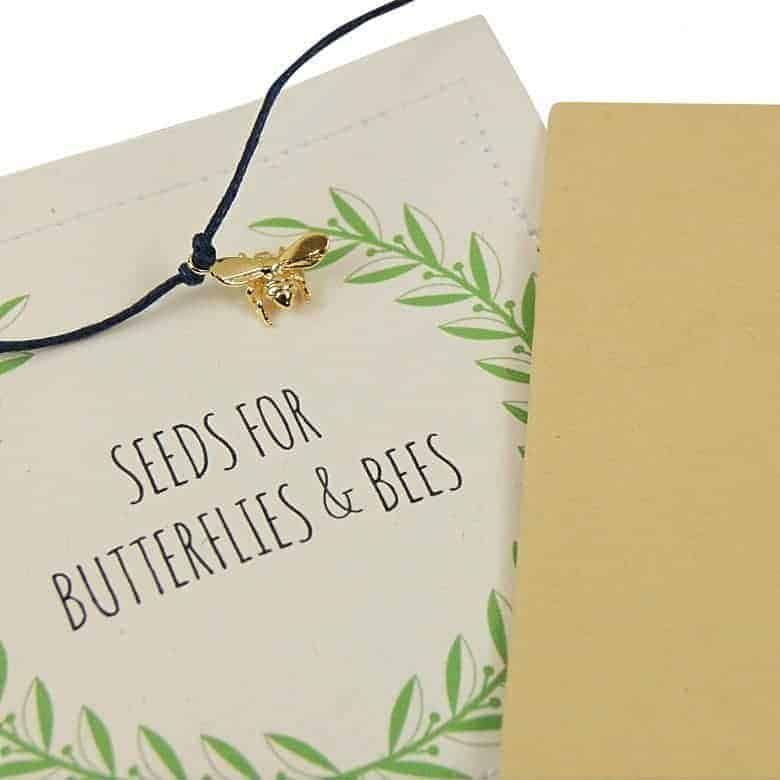 If you can't be with your mum on Mother's Day and you'd like to put a little something in the post to her, this is a great idea. The set arrives carefully wrapped in an eco-friendly sliding gift box, tied with ribbon. Inside is a packet of bee-friendly flower seeds and a bee wish friendship bracelet that is handmade in Cornwall. 10% from the sale goes to the Bumblebee Conservation Trust.
Inside a hand-painted grey ombre cotton bag are mini sizes of Moisture One, Moisture Two and Facial Oil One by Olofson Skincare. Founder of the business, Wendi Olofson, makes premium products by hand in small batches on the Sussex coast. The range is made using carefully sourced natural ingredients and packaged using recycled packaging wherever possible. There are no parabens, PEGs, SlS, synthetic fragrances or mineral oils.
This gift set is the perfect introduction to the range combining the benefits of safflower,  rosehip, jojoba, macadamia, apricot and hazelnut. The rich Moisture 2 cream is ideal as a night cream or day cream for dry/mature skin. Moisture One, is suited to normal or combination skin, sinks in easily and makes a refreshing day cream. The facial oil is a great rejuvenator for all skin types and can either be massaged in as a treatment or added in to the day or night cream.
A qualified aromatherapist, Corinne Taylor hand makes her skincare from her studio in Brighton. This great gift set includes a relaxing selection of aromatherapy products all made with 100% natural and organic ingredients.
The recyclable kraft card box contains Calm Himalayan bath salts, Inner Peace soy aromatherapy candle and Calm aromatherapy room and linen mist.
As someone who is always keeping old seed packets and cut outs from flower catalogues, this beautiful embroidered garden journal would be the perfect gift. Handmade using Liberty fabrics and 100% linen I love that you can personalise the cover. The thick white pages of the journal itself (made by Seawhite of Brighton) are unlined which makes them perfect for little sketches, sticking in seed packets or adding a border plan or two. The A5 journal can be replaced when full which means this gift will last for years and years.
I have loved Madder Cutch & Co for a couple of years now – ever since I first came across their hand screen-printed linens. I love that Nicola Cliffe and her team use only sustainable natural plant dyes and pigments. This pine cone design is one of my favourites so I would love this zip up make up bag.
I love these handmade ceramic soap dishes by Wendy Calder available from These Two Hands. Founder of the business, Naomi, has curated and commissioned a truly lovely collection of handmade loveliness so you're sure to find something special whoever you're looking to buy for.
I love how Wendy imprints real fern leaves into slabbed white earthenware, using a green underglaze to highlight the print, then a transparent glaze is added. You can add a block of heavenly handmade Wild Sage soap too.
What I love about this handmade organic aromatherapy candle is that it brings the joy of Spring with it. Like opening the windows and letting in the blissful fragrance of a flower garden on a sunny day. Handmade in small batches by experienced aromatherapist Linda, this combines lavender, patchouli,  pink grapefruit and rose geranium. There's a sprinkling of rose petals too for good measure. What more could you ask for from a Mother's Day gift?
Find many more great handmade Mother's Day gift ideas made in Britain in our hand-picked directory of Britain's best makers and independents. Browse by region, key word or category.
INFORMATION
---
Find Denys & Fielding
in the Ethical Gifts section of our Directory.
Are you a maker, grower or creative course provider? Like to list with us and benefit from joining our supportive community? We'd love to hear from you. Check out the packages we offer on our Join Us page and get in touch…
---
A PIN TO SAVE TO PINTEREST
If you've enjoyed discovering these handmade Mother's Day gifts it would be great if you could share the love. All you have to do is hover over the image below until you see the Pinterest button appear. Then share it to your boards. Thank you! X