We spent an inspiring evening previewing The London Design Fair 2016 at Old Truman Brewery in vibrant Shoreditch.  So we thought we'd share a few of our favourite finds with you.
Find #1 Linda Bloomfield (listed in our directory here)
It was great to catch up with Linda, who is known for the dimples and visible lines she incorporates into her handmade ceramics. Linda's work is also characterised by her restrained palette of soft, muted shades. I particularly loved the shell pink pieces that have been recently added to the collection. We both agreed that neither of us usually likes anything pink but that there's something about this shade that seems to add a whole new dimension to the range as a whole.
The simple wall-mounted painted grey box displaying a well-arranged selection of pieces worked really well. Like a still life. When the work's as good as Linda's it really can speak for itself. Linda is listed in our Directory >
Find #2 Sue Pryke (listed in our directory here)
Sue has an interesting story. After graduating, she started out learning shape design at Wedgwood, and these skills still inform her work today.  Sue's intention is to create a collection of objects that sit comfortably in the home, aren't awkward, audacious or tricky to use or care for, but are familiar, have fluency and sit effortlessly. As we wandered around the halls at the festival, Sue's collection really stood out. There's a simple confidence about her designs. And Sue's right. You also really want to use it. I have fallen head over heels in love with the Mrs and Mrs teapot in stone-like fired clay with oak handle.
As someone who drinks a lot of tea, this would give me immense pleasure every single day. I think I'll have to drop some hints for Christmas. The stylish oak and concrete shelving that showed Sue's ceramics off so well was by Wild + Wood which is a collaboration between Sue and her talented husband, John. How amazing must their home be? Sue is listed in our Directory >>
Find #3 Forest + Found (listed in our directory here)
There was no walking past this stand. A long trestle table held organically shaped wooden bowls, vessels and spoons laid out with a geometric neatness. The backdrop was a simple wall hanging in natural whites with graphic criss cross pattern. I got chatting to Abigail who, it turned out, had hand made the exquisite wall hanging that had caused me to stop in my tracks. Both with backgrounds in fine art, Abigail and her partner Max (who crafts the wooden objects) work with traditional craft techniques using wood and natural dyes sourced from the forest to create their collection of contemporary wooden objects and hand-stitched textiles.
What I'd pick for my own home is the wall hanging I saw (obviously) as well as three different sized bowls that I could place on open shelving in my kitchen. I'm also drawn to the oversize wooden spoons which have so much character and texture because of the marks made when they were carved. Not quite sure what I'd do with them, but they are real objects of beauty. Forest + Found is listed in our Directory  Get all the info you need to connect with them from our listing here >>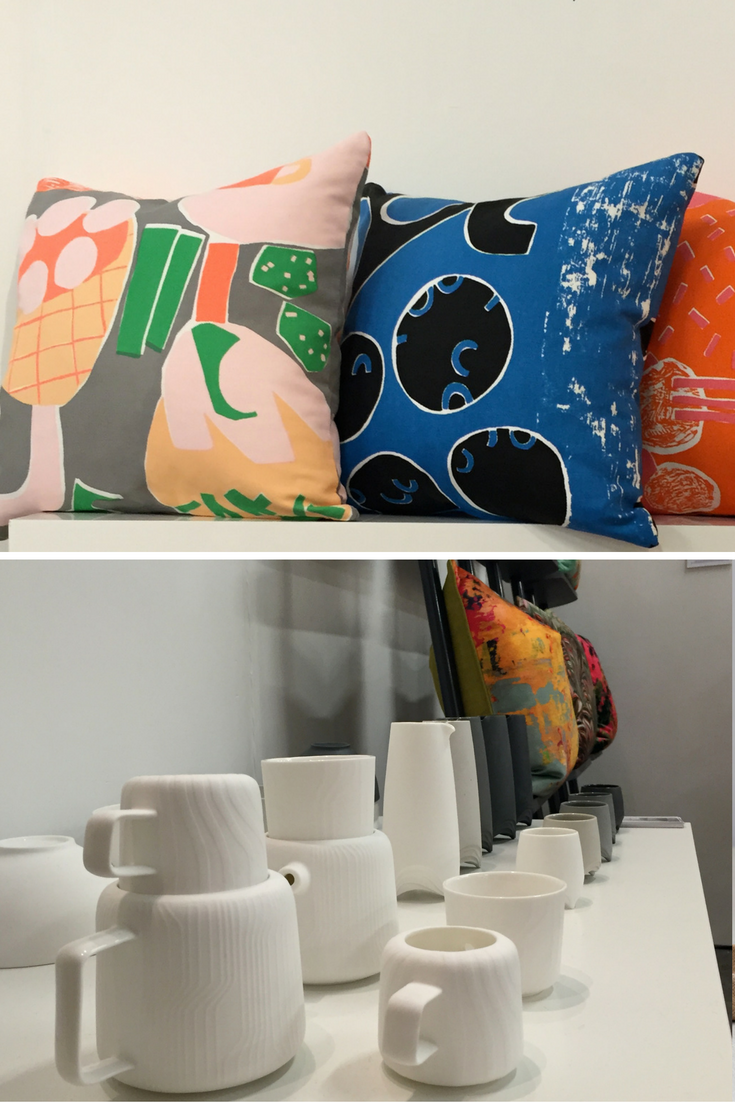 Find #4 The Maker Place (listed in our directory here)
This is an online marketplace selling beautifully crafted homeware well curated by founder Philippa Cambers. Philippa and I live quite near to one another so have had fun comparing notes and experiences over cups of tea. It's amazing what Philippa has achieved already (the site launched earlier this year) and what's lovely is how quietly modest she is about it all. The evening I was there, a few of the makers from the site were on the stand in person so I was able to put a face to some of my favourite designs.
If, like me, you love scandi and midcentury fabrics you'll understand why textile designer Sarah Fennell was such an exciting find. She uses oversized prints and bright colours to create a show-stopping collection that includes cushions (above, top), prints and wall hangings. It turns out we both love the designs of Lucienne Day, Lotta Jansdotter and Marimekko. You can simply feel the sheer joy and passion that goes into Sarah's designs when you look at them. I didn't get to meet ceramist Eva Radulova but I was happy to discover her beautiful textured white bone china collection (above, bottom). I particularly loved her stacked teapot and teacup. There is a nod to midcentury design in the simple, contemporary lines. Just beautiful.
It was a real pleasure to meet Christabel Balfour (above) who weaves scandi-inspired rugs and wall hangings on a vintage floor loom she has painstakingly restored herself. Most of the time we chatted I realised I'd  been stroking the various rugs on display. They were so, so soft and luxurious to the touch. Best of all, Christabel will weave a rug to order in any colour combination to suit the scheme of your home. The Maker Place is listed in our Directory >>
Find #5 Nature Lab
There was quite a buzz around this stand which was presented by Crafts Council and The New Craftsmen to showcase the work of six makers. Eleanor Lakelin; Emily Gardiner; Jochen Holz; Joseph Harrington; Marcin Rusak; and Marlène Huissoud. Clever use of darkness, spotlight, and foliage really allowed the designs to sing in a rather magical way. The installation, designed by Gitta Gschwendtner, described its creative intention: 'wild, encroaching nature is transmuted by skilled hands and ingenious minds into elemental objects that emerge from the darkness to conjure wonder and intrigue. A laboratory of nature will present what looks like insect glass, flower fossils and ice caught at the moment of melting'. No wonder so many people stopped to stare, just as I did.
Find #6 Studio Haran
Working from their workshop in Cornwall, husband and wife team Joel and Helena design and lovingly craft sustainable furniture, lighting and homeware using British timber and natural materials. We were so impressed by the quality and simple beauty of the Studio Haran designs. The passion they clearly have for what they do is no doubt what drives them to achieve such perfection. This is their debut range. Definitely an exciting new find. Standout piece for me was their sculptural wigwam light.
Pick #7 Majeda Clarke
I discovered Majeda's work whilst browsing the Cockpit Arts stand – always a great place to find inspiration. What stopped me first were her ethereal sheer oversized hangings. Then I spotted a bright, geometric wool fabric that had been used to re-upholster a rather lovely vintage midcentury chair. I was hooked. Majeda herself is full of passion about the weaving process and is inspired by using skilled craftspeople to weave her cloth. Whether that's Silk Mills in Suffolk, the Woollen mills in Pembrokeshire or UNESCO Jamdani weavers of Dhaka, renewing ancient techniques.
Find #8 Wooden and Woven
Designer maker Alex Devol from Lancashire has created a simply beautiful – and useful – collection of handmade homeware including vessels, spoons and bowls. His background is in menswear design but he turned from the world of fast fashion to become a true artisan, embracing the slow, consideration of making individual pieces by hand. To last a lifetime. What inspires him is the idea that his pieces will mellow with age and make the otherwise mundane tasks of scooping, stirring & sipping handsome & homely. Wooden and Woven is listed in our directory >>
Find #9 Owen Leather
You get the feeling that Harry Owen was born to do what he does. Before graduating with a degree from Camberwell College of Art, he had already taught himself the basics of traditional leather craft techniques having worked at his local cobbler's from the age of 16. Owen Leather  launched in 2013 to deliver luxury and bespoke leather goods and, for me, stands out from the crowd because of the way every single piece is made. Harry passionately explained how he never uses sewing machines. He prefers to hand cut every hole with an awl threaded with waxed linen in a process often referred to as saddle stitch. You can just feel the skill and love that has gone into every piece.
I admired the solid oak planning chest/display unit at the centre of his stand and, it turns out, Harry also happened to make that too. He loves working with wood as well as leather, he explained – oak in particular – so he incorporated a piece of oak into the top of one of his cases to add structure. Don't you just love craftspeople?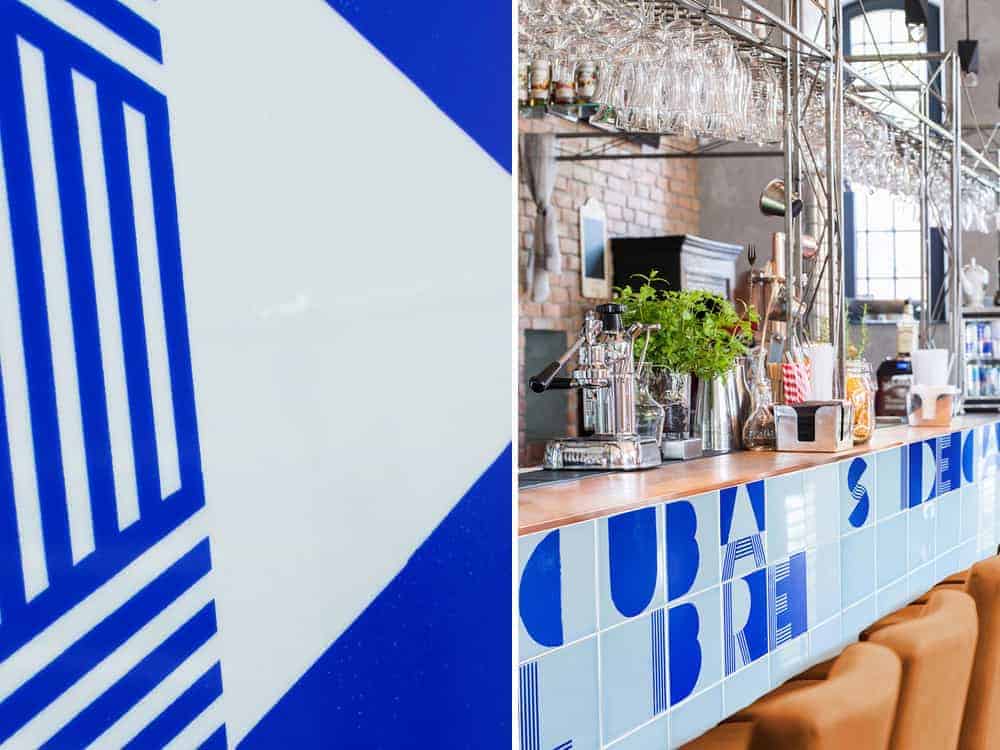 Find #10 EK Colours
It's hard to believe that this show-stopping stand is the debut range for EK Colours, who design in London and make their tiles in Staffordshire. Using two-tone hand printed font designs in a deep blue, it's easy to see why interior designers are so enthusiastic about this range. Perfect for adding a highly individual touch to your own home. New colour ranges are in the pipeline too.
I couldn't write about the Fair without also mentioning Craft & Design Scotland – a pavilion displaying a wide range of inspiring work by designers and makers north of the border. A tiny, silver penguin by Eileen Gatt was my very favourite thing in their pavilion.