Guildford Farmer's Market and quirky café
To be totally honest with you, I actually stumbled upon the Farmer's Market at Guildford in Surrey by accident. I was there to meet my lovely ex FBWL partner, Nicky Sherwood, who left the business following treatment for breast cancer over a year ago now. I'm very happy to be able to tell you that she is doing really, really well and looked a picture of health. It's funny how momentous, seemingly terrible, things that happen to us in our lives can actually help shine a light on what's really important and precious, don't you think? Anyway, it makes me happy to see Nicky where she is now.
We met up first for coffee at Coffee Culture (I actually had Teapig Earl Grey tea) and agreed that we loved the ornate panelled ceiling, strings of industrial lights hung over the counter (which you can see in the picture above) as well as the colourful patterned tile floor throughout. It's great, too, that this is a local, independent, café that is committed to selling produce from the Guildford area.
Good lunch, despite the sprouts
We eventually shifted ourselves next door to Bill's for lunch, sharing a whole load of different starters, including an 'Allotment Salad' which included halved brussels sprouts. I am partial to a sprout so I was quite happy. Nicky less so… I loved this view inside through a very old open window. What really made me smile was seeing a full box of free apples on the way in and an almost empty one on the way out.
After a happy couple of hours catching up, we went our separate ways and I found myself walking through Guildford's farmer's market snapping away. I hope this gives you a flavour of that happy, vibrant afternoon and some of the great local producers I met along the way.
Historic Guildford
The iconic Guildford Guild Hall has a fascinating history, I discovered, having walked past it a thousand times before and never really thought much more about it than how pretty the gold clock looks in the sunshine. Turns out the hall itself is Elizabethan, but very probably stands on the site of the medieval Guildhall which is known to have existed in the 1300s. I love that when Queen Elizabeth I paid a visit to the city, her Coat of Arms was added to the stained glass window above the Judge's Bench and is still there today.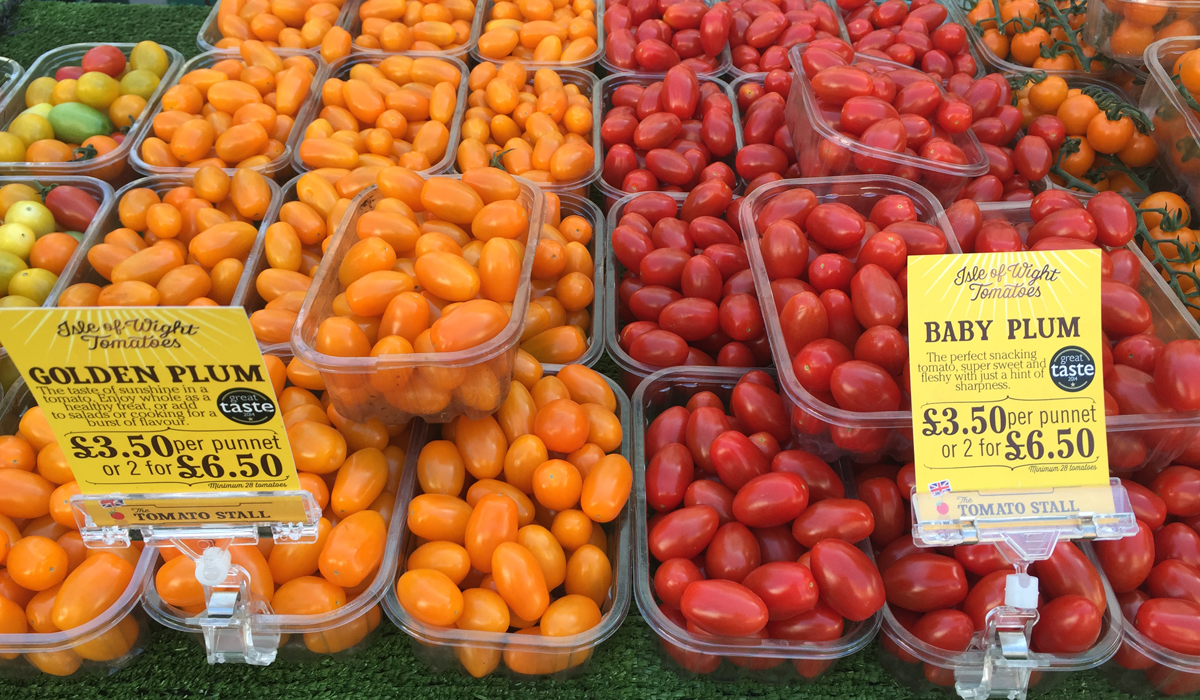 Isle of Wight treasures
We already know the team at The Tomato Stall (listed in our directory here) on the Isle of Wight so it was great to catch up with them at the market. I was given a paper bag full of lovely fragrant mixed speciality tomatoes to take away. I couldn't resist getting a snap of them for Instagram when I got home (the image below). What do you think? Why don't you connect with us on Instagram? We'd love to get to know you there – and try and post something beautiful every day…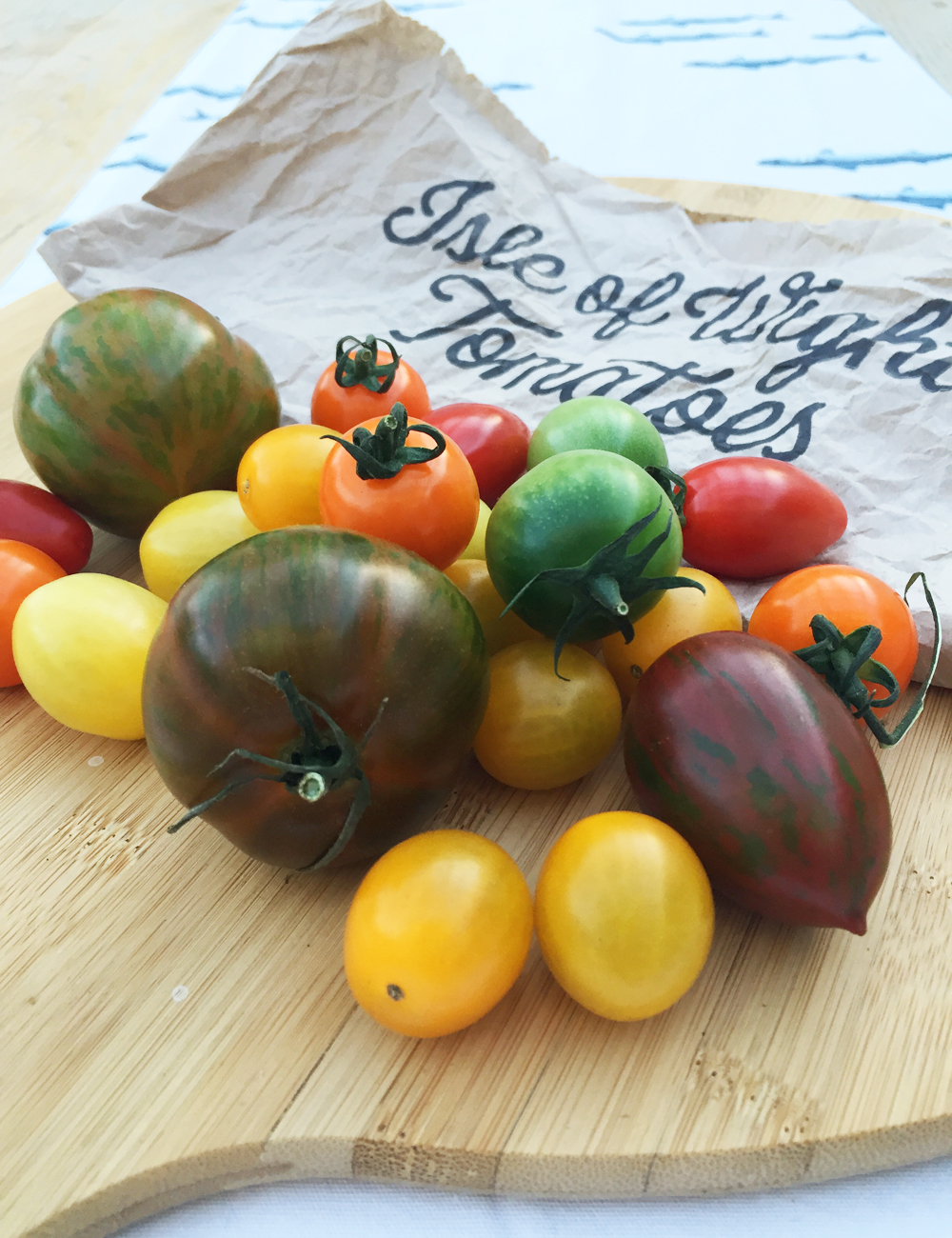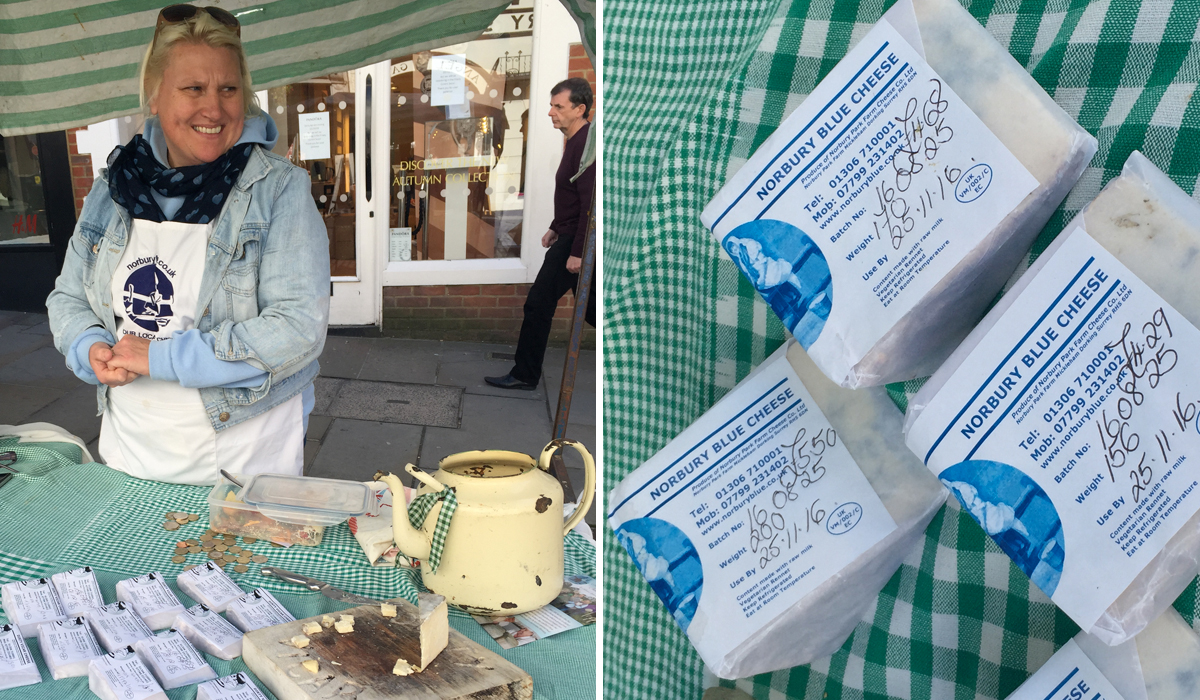 Artisan cheese and speciality garlic
I'm not a great cheese eater, but my husband is, so I was drawn to this lovely green and white rustic Norbury Blue stall on his behalf, really. Michaela was manning the stall and it was great to hear how she and her husband make their cheese using unpasteurised milk from the family's own closed herd of Fresian cows. I also really liked the battered vintage kettle you can see on the stall. Imagine it filled with masses of daffodils or white hyacinths. I made a mental note to keep an eye out for something similar next time I'm at a car boot.
Next door to the Isle of Wight tomatoes was The Garlic Farm (listed in our directory here), also from the island. Makes sense really. They share a van to bring their combined produce over for the market and catch the early ferry together. If, like me, you're a bit of a foodie you'd love this stall. Piled high with speciality garlic of every conceivable sort, including the smoked and jumbo varieties, as well as their own garlicky sauces and relishes this was probably the most visually exciting display at the market. I bought some smoked garlic which I actually used to make a pasta sauce with roasted aubergines, tomatoes and chilli. The smokiness was perfect for Autumn.
Cookie heaven
These cookies smelled every bit as delicious as they look. They are handmade by The Lallapolosa Baking Company, who have won 10 Great Taste awards for their brownies and cookies, and it's easy to see why. After much deliberation about which of the cookies and brownies to take home (and therefore which to reluctantly leave behind) I went for a Peanut Butter Brownie, Classic Brownie and Salted Caramel Brownie.
I have always loved these worn old stone steps up to the entrance of Heal's (apart from when my children were in push chairs that is) and there was something about the way the steps and columns framed this craft bakery stall that I really liked.
The displays in Anthropologie are always worth a look, as they put them together so creatively and I often come away with new ideas. Here are a few that really caught my eye:
Tea, cake and sunflowers
Last stop was Caracoli café and food store as I was in need of a decent cup of tea. I love Caracoli cafés (there are 5 of them – in Guildford, Winchester, Farnham, Haslemere and Alresford) as they serve truly delicious food, great coffee and proper tea. They are all great places for browsing local food and wine as well as well-chosen food gifts.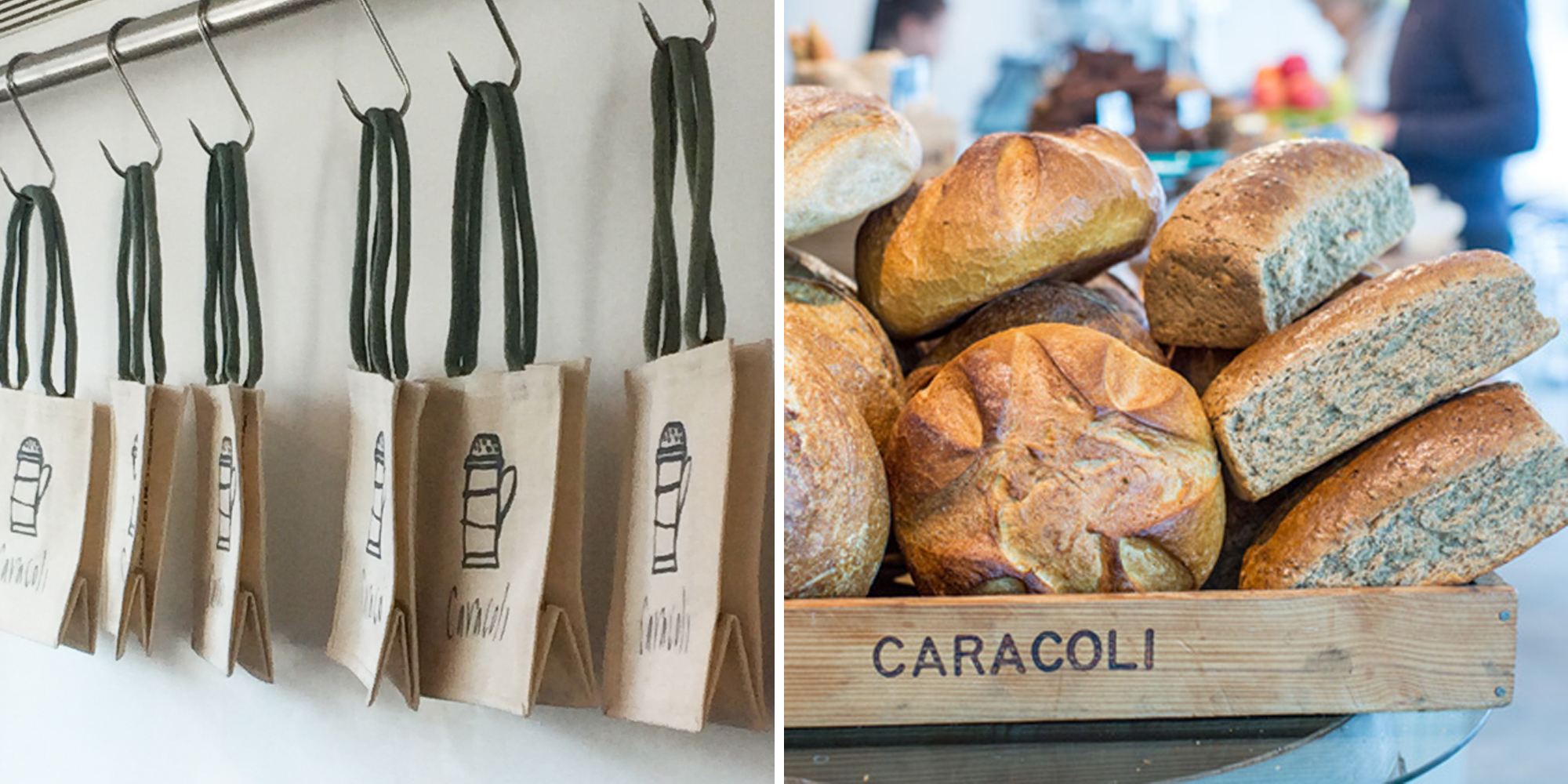 I was headed home when I spotted this bucket of sunflowers for 50p each and I couldn't resist taking a few back with me. Now looking very pretty in a small vintage watering can placed on the windowsill beside my desk, the sunflowers are a cheerful reminder of that lovely afternoon, the interesting people I met and the heavenly brownie I'd intended to take home to enjoy with a cup of tea but couldn't resist snaffling on the drive home. Actually, it never made it out of the car park. Guildford is a great place to while away a free afternoon.