I've always loved Brighton. There's a vibrant multi-cultural buzz about the city and every time I visit, I'm always inspired by cool local and independent finds and creative going on. And, because it has a beach, Brighton also manages to have a relaxed, seaside feel at the same time. It's a creative place with a bit of an edge which I really like.  I was well overdue a visit, so I headed off to spend a mild autumn afternoon mooching there, along with two of my good friends – Jo and Ali. As always, they waited whilst I took hundreds of images so that I could share the best ones with you of the great local finds we came across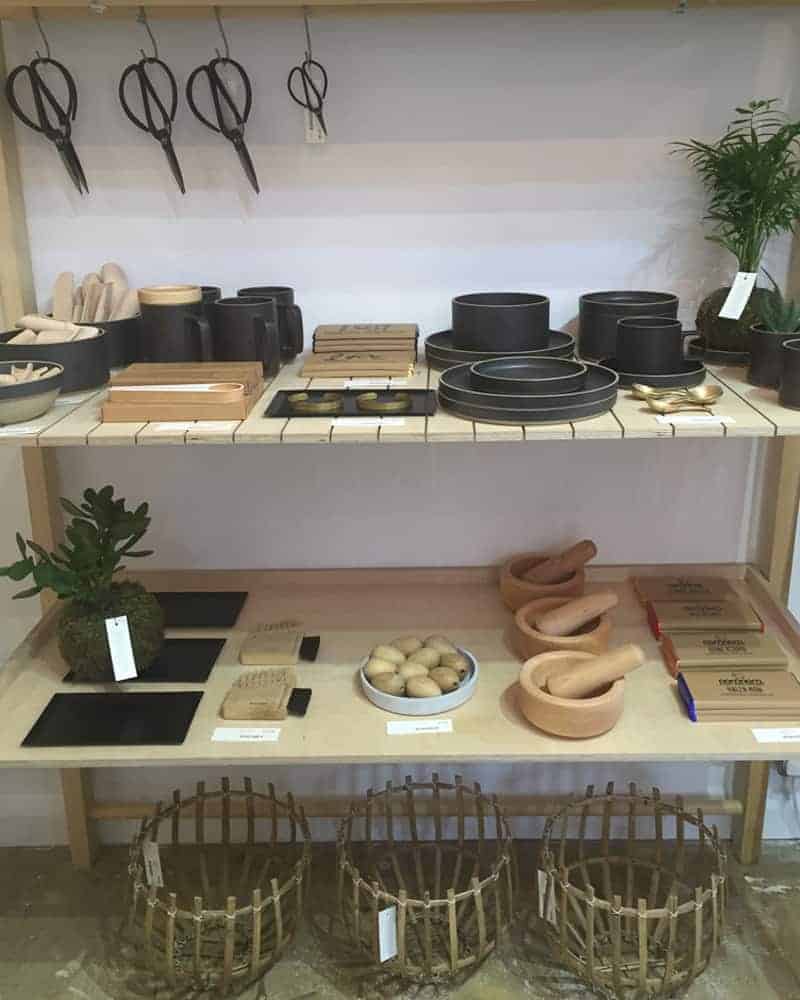 Scandi style and sturdy hardware
I was in heaven when I came across Workshop in Prince Albert Street (above). Simple utility and beautiful raw materials very cleanly and confidently put together. I have a thing about rows of three, Scandinavian inspired simple design as well as white painted staircases, so this place really inspired me. Made me want to declutter my home like I've never decluttered before.
There was a totally different vibe in the next great shop we found – Utility in North Road. Same utilitarian ethos but nothing minimal or scandi-chic about this great find. Stylish and well-chosen, yes, but with great humour and British eccentricity too – think The Two Ronnies Fork Handles meets Grace Brothers whilst still managing to have all the contemporary, well-chosen essentials you really want.
Vintage finds and great tea
Back out in the autumn sunshine, we found ourselves outside a vintage market on several floors with this cute turnstile entry sign. Now I'm usually more than up for an enthusiastic rummage through vintage finds but to be honest, I found there was just too much stuff to take in and having done a swift circuit, found myself back outside again in under 5 minutes. I just wasn't feeling it after the calm, pared back and simply beautiful aesthetic of Workshop.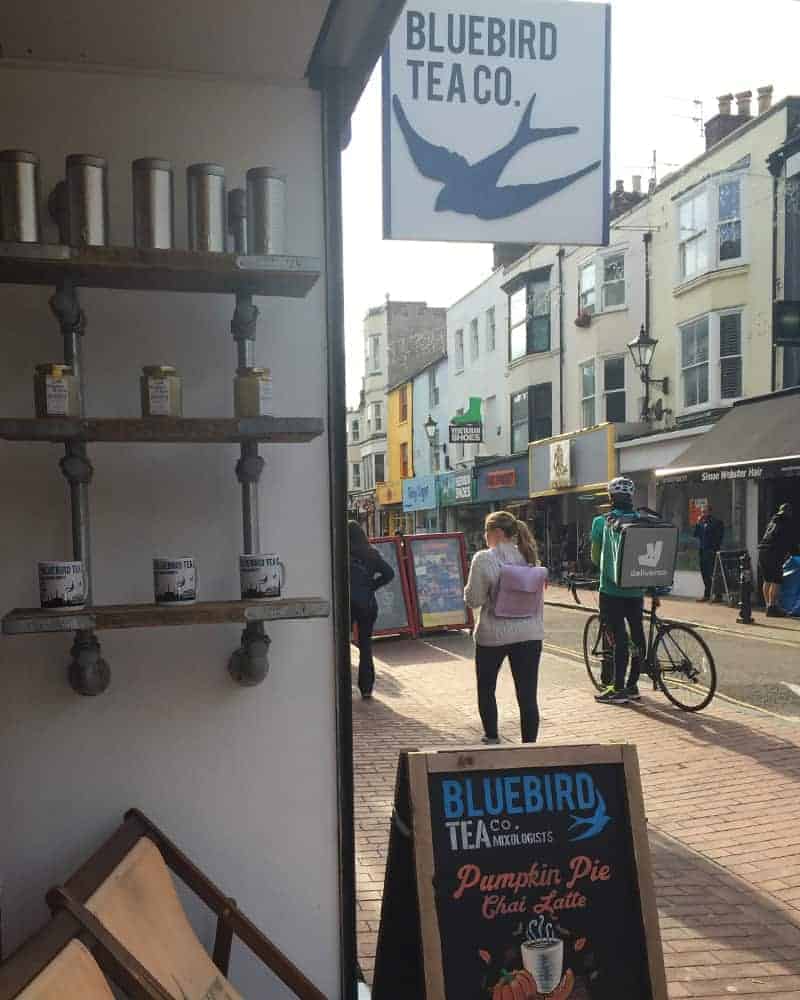 You know that urge for a good cup of tea you get an hour or so after enjoying a really good lunch…? We were all feeling it when we came across Bluebird  Tea. I love that they describe themselves as Tea Mixologists. A great little find. quirkily decorated, with a cute tea bar at the end and the countless different blends you can choose from. You can go as adventurous as you like. Adventurous wasn't what I had in mind, however. I knew what I wanted. A really well brewed cup of Earl Grey. Which is exactly what I got.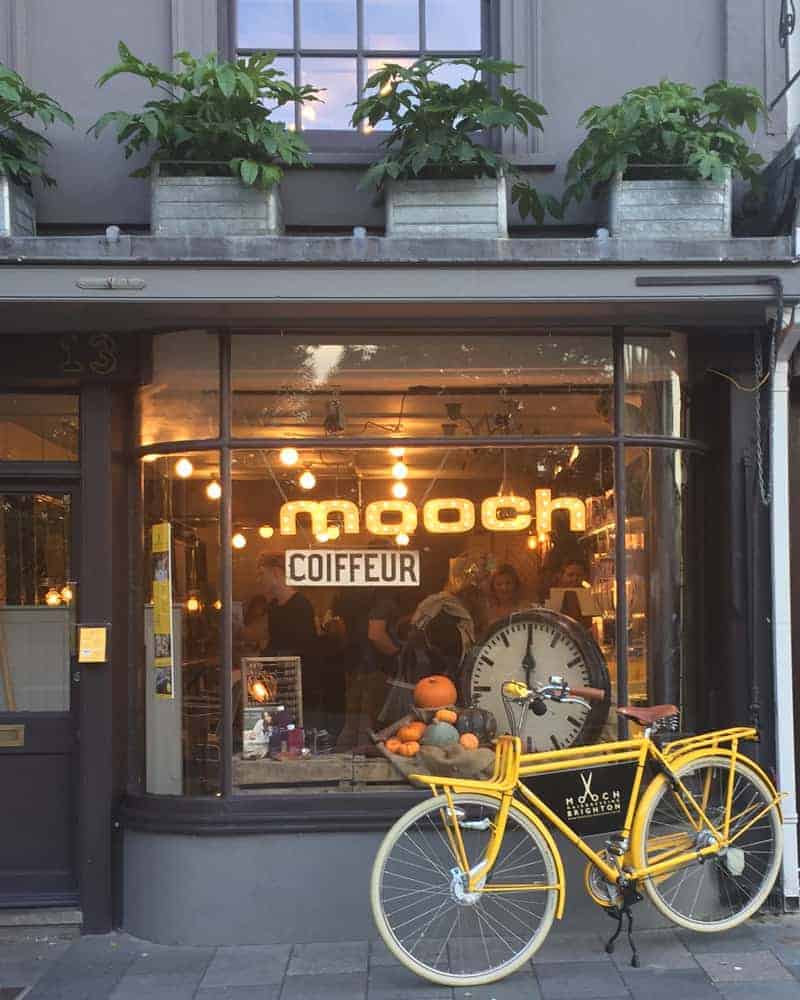 A mosaic seagull and reminder not to always rush straight ahead…
I loved this bright yellow bike and halloween pumpkins outside Hooch hairdressers and couldn't resist taking a photo of a seagull pavement mosaic that caught my eye. You can miss so much if you don't take the time to look down and properly around you, rather than always rushing straight ahead, don't you think?
Vintage bicycle and a spectacular sunset
I really liked how this yarn shop advertised using a vintage bicycle. I wasn't in need of any yarn, however and the sun was starting to set so we decided to call it a day and head home.
As we drove along the seafront, the sunset was so beautiful we just had to pull over to get a proper look. It was the perfect way to end a really lovely day.