This month craft journalist Clare Kelly joins Nicky Sherwood for a macaroon making class with School of Food, the cookery school that comes to you. Discover how to make macaroons just like these ones.
Pretty macaroons. How I've gazed upon them in patisserie shops, but never did I think I'd be able to make them myself. When Nicky invited me over to her house for a macaroon workshop I jumped at the chance. We were going to be under the expert tuition of School of Food's Alastair Instone.
School of Food is literally the cookery school that comes to you, and what a good idea it is. On the day of the course, our chef and tutor Alastair arrived with everything we would need all neatly packaged and ready to go. There is no stressing over sugar or fretting over flavouring, instead Alastair handpicks, and even weighs out in advance, the ingredients that he knows will provide the best results.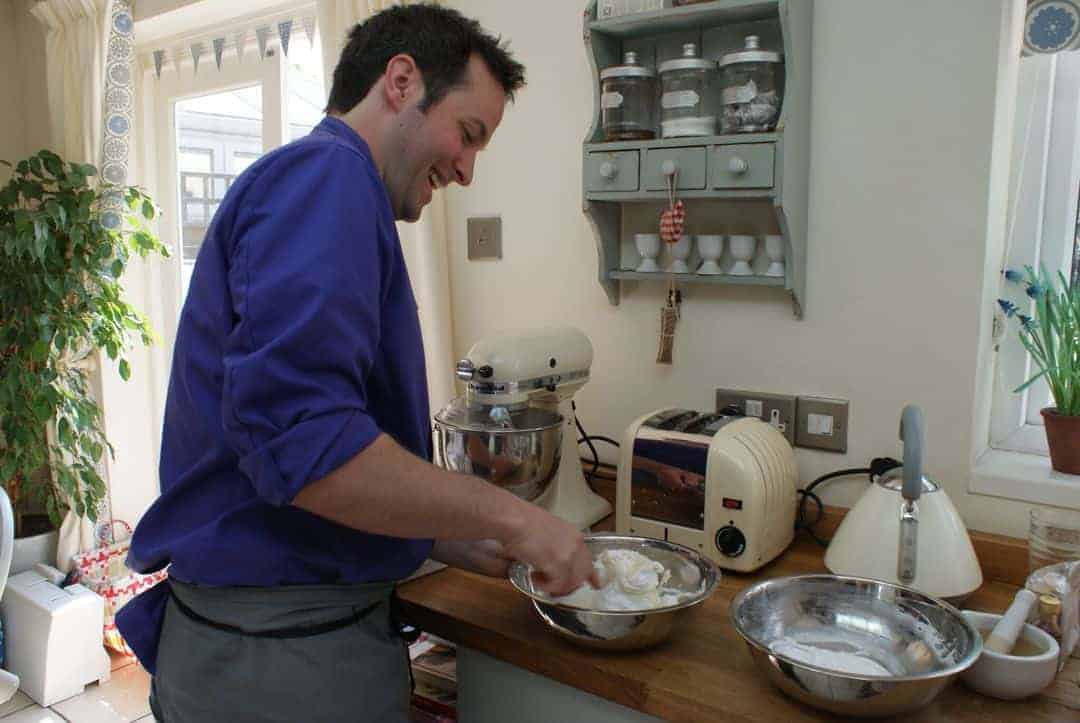 Alastair is very patient. This is necessary when I am around; and rather than bombard you with too many steps, the class is paced to suit you. You'll leave the course, or rather the tutor will leave you, with a range of skills and techniques that you'll feel confident to use in the future.
Nicky and I chose to make delicate pink and green macaroons and, if we're honest, we were as excited about how they would look as we were about eating them. We began by making the meringue shells using a batter made from egg whites cooked with hot sugar syrup, which is added to an almond paste made from egg whites, ground almonds and icing sugar.
As with any form of cookery, it is important to pay attention to measurements and timings but the advantage of having a tutor on hand means you are far less likely to make mistakes and if you do, they are easily fixed. Batter at the ready, the next step was to pipe our macaroon shells on to baking parchment.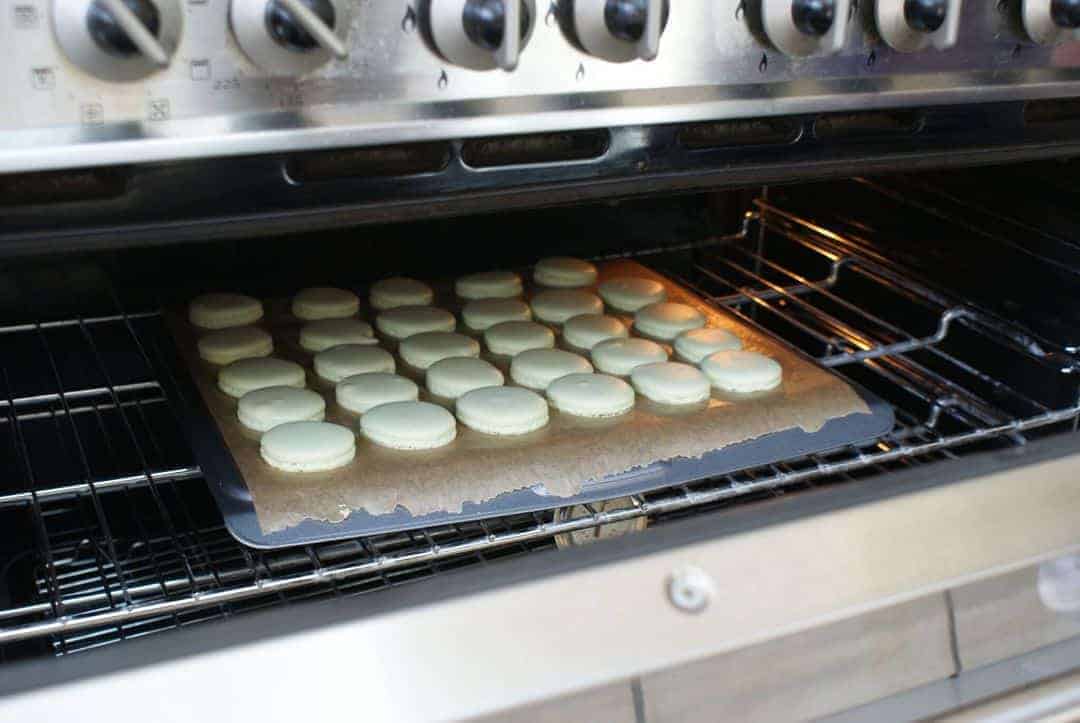 Here Alastair showed us a little trick to keep the parchment in place while you pipe – simply dab a little batter under each corner of the parchment and stick it down onto the baking tray. Then it was time for us both to have bit of a practice, so we would be able to pipe the shells as evenly spaced on the tray as possible.
Once the shells are piped, they need to be left for between 10-30 minutes to allow a slight skin to form before they are placed in the oven. It is worth noting that all ovens vary so keep a close eye on your macaroons to ensure they don't burn. You'll know they are ready when they are firm but allow a little movement. Once cooled, you can match up the meringue shells to create little sandwiches, ready for filling.
In the interest of doing a thorough investigation for Course Notes readers, we plumped for a couple of different fillings – white chocolate ganache with raspberries for our pink macaroons; and pistachio buttercream for the green ones. The latter involved crushing fresh pistachio nuts using a pestle and mortar, before adding them to a buttercream mixture. The creamy filling flecked with pistachios looked perfect sandwiched between the pale green meringue shells.
For filling the pink macaroons, we made a white chocolate ganache by gently melting white chocolate into cream over a pan of water. Once cooled, this was spread onto the meringue shells and we then added some fresh raspberries before adding the top layer of meringue. Not only did they taste delicious, but they also looked fantastic. Placed on a pretty cake stand they would certainly make an eyecatching centrepiece at a tea party or special celebration.
It might take a bit of time to make macaroons from scratch, but once you've mastered the technique you'll be arranging a dinner party in their honour. Of course, having your own personal chef-tutor by your side helps, and if you're looking for a patient teacher then be sure to book your own School of Food course – it's the perfect way to spend a few hours with friends.
INFORMATION
---
Feeling inspired? Take a look at the Creative Workshops category in our Directory, where you'll find a variety of inspiring courses, from art and crafts to fashion and beauty, interiors, cooking and flower & gardening.
If you run a creative course that would interest our readers, please get in touch. Email us at editor@frombritainwithlove.com
---
A pin to share to Pinterest
---