This month editor Nicky Sherwood visits The Sussex Flower School (listed in our directory here) and learns how to make a topiary tree and wreath on their Summer Party Flowers Course, under the expert guidance of florist Georgia Miles.
Tucked away down a winding country lane, The Sussex Flower School is a tranquil haven of creativity – the perfect place to escape on a sunny Friday in July.
Owner Georgia Miles welcomes me into the light and airy studio with its muted colour palette and spacious work tables. After introductions, tea and home-made shortbread, we're ready to get started.
which flowers to choose?
Georgia begins by talking us through the basics, from where to source your flowers (Georgia recommends buying British grown blooms from your local farmers market) to conditioning them so they last longer and look their best. She introduces us to the selection of glorious blooms lined up in buckets along the wall, and encourages us to think about how flowers could enhance a party or event by using a consistent colour palette and varying scale across different arrangements.
Project 1: Topiary tree
Our first project is to be a topiary tree – something I've always wanted to learn to make. Georgia had already prepared the pots with the wooden 'trunk' in place, so my first job is to soak a (much smaller than expected!) ball of oasis foam in water and attach it to the wooden tree trunk using floral tape and a wooden skewer.
Next Georgia demonstrates how to build up the shape of the tree head, starting off with cut lengths of foliage and gradually building up to create a perfectly rounded sphere.
Starting to take shape
Once the foliage is in place and the tree head starting to take shape, we're let loose on the flowers and given a free rein to let our creativity flow.
I choose some delicate pink spray roses and small white blooms to add colour and texture to my tree. The colours remind me of my own wedding bouquet with a vintagey, country garden feel.
Next I add some moss to the base of the pot, pressing it into place to cover the concrete which holds the wooden trunk in place.
I feel it needs a little more contrast so I add a few purple blooms to brighten things up a little.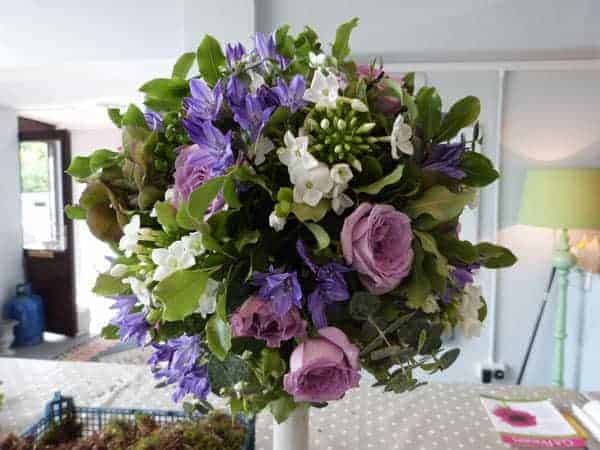 Finishing touches
The finishing touch is to add a ribbon to complete the look, and I choose a vintage cotton tape in a purple-grey shade which works well with the purple flowers and grey pot, wrapping it around the trunk like a may pole.
I place my finished tree alongside those of my fellow course attendees and we all stand back to admire our handiwork, before settling down for a delicious lunch.
A very good lunch
Lunch is delivered by an outside caterer and is absolutely delicious – a wonderful homemade asparagus quiche, with pea shoot salad and grilled courgettes, followed by homemade cheesecake and berries.
Project 2: Storm lantern wreath
After lunch, we begin our second project of the day – a storm lantern wreath. Designed to be an eye-catching centrepiece on your party table, this is made using an oasis wreath which comes ready-made in a circular tray.
shades of purple and mint
The choice of flowers available is wonderful and I decide to go for some beautiful hydrangea heads in shades of purple and mint green, to tone with but not exactly match my topiary tree.
After soaking my wreath tray in water, I begin by adding cut lengths of foliage into the oasis foam wreath. I also decide to pin some moss in place to hide the inside of the wreath tray from being seen through the glass storm lantern.
Wiring stems
Instead of using whole hydrangea heads, I cut small sprays of petals and Georgia shows me how to wire them to give the stem enough length to insert firmly into the oasis.
It's fascinating to see the other students' wreaths developing and how each one is different, reflecting the personality of the maker. There are big blousy wreaths, cottage garden style wreaths, structured ones and loose arrangements. There's no pressure to follow a set format and Georgia encourages us to follow our instincts and develop our own floral style.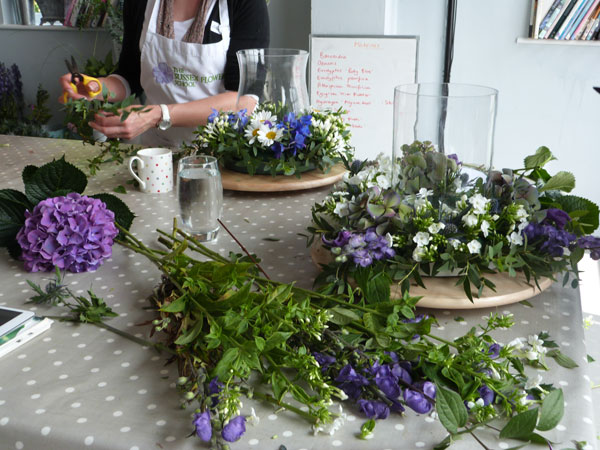 I decide to keep my wreath simple with contrasting purple and mint green and a touch of white. I experiment with some Bear Grass stems, bending them into arcs and sticking each end into the oasis.
The finished result
I am so pleased with the finished result and delighted to take it home with me at the end of the day. By complete coincidence, there was a summer party for the parents in my son's class that evening, so I add a candle and bring my wreath along as my offering which went down very well!
For anyone wanting to dip a toe into the wonderful world of floristry, this one day course is a fantastic starting point, as are many of the other seasonal day courses run by The Sussex Flower School.
Georgia is an amazing teacher, both patient and inspiring, and very generous in passing on her considerable knowledge of the floristry profession. Even if you have no prior experience, she will make you believe that you can create something truly stunning and gently guide you through the process with helpful hints and advice.
All in all, this is a wonderful way to spend a day, whether you're thinking of changing career or simply want some handy tips up your sleeve for creating impactful arrangements for your home. I have a feeling I'll be making a return trip!
A pin to share on Pinterest
---
INFORMATION
Visit the Sussex Flower School listing to connect and get all the information you need >>
Feeling inspired? Take a look at the Creative Workshops category in our Directory, where you'll find a variety of inspiring courses, from art and crafts to fashion and beauty, interiors, cooking and flower & gardening.
If you run a creative course that you think our readers would be interested in reading about, do get in touch by emailing editor@frombritainwithlove.com.