Check out my From Britain with Love directory latest loves
I think it's something to do with the rain outside. That and the fact that I'm off to Wilderness festival next week, and I'm wishing I hadn't taken the sunshine so much for granted when it was just there, each and every day, for weeks. I have accounts work to do and there are two social media courses that I need to finish my 'homework' for. Instead I am finding myself browsing our directory, dreaming about the summer weeks ahead as I go: snoozy warm summer afternoons and balmy evenings outside with a glass or two of cold white wine.
I felt a bit guilty about doing this at first. After all, I have a lengthy to-do-list for today that doesn't include reading about ocean-blue glass fishes that are handmade in Cornwall. Then I realised that just because I enjoy discovering more about the businesses in the From Britain with Love directory doesn't mean it isn't still work. So I changed my to-do-list for today. Top of the list now is to write a blog post where I share with you the directory listings that are making me feel inspired right now.
So here goes…
My From Britain with Love directory latest loves
It was Jo's listing that started the whole summer daydreaming thing off for me today. I noticed that there are swirling glass fishes on the wall of the coastal house we've booked for our holiday in Cornwall, and I knew I recognised the colour and shape. I did a quick search of our directory for glass in Cornwall and Jo's listing came up. Sure enough she's the maker of the glass shoal I'd seen on the wall of our holiday house. What I particularly love about Jo's glass is the oceanic colours and the way she creates flow and movement by combining her pieces into wall art. Her glass is cut, crafted, fired and finished in her Cornwall studio. I was excited to read that Jo also runs glass fusing courses in Cornwall and Ripley. I'd love to have a go at trying this, so will have to look into writing this up for the MAKE section of our blog!
Get all the info you need to connect with Jo Downs in our directory here
Browse Jo Downs website here
Last summer we spent a blissful two weeks in Wales and, before we left for home, I bought a beautiful blue and white traditional Welsh blanket. It sits folded on the end of my son's bed and on cold winter nights, there is nothing to beat it. I love that it will last him a lifetime, and also that it still slightly smells of the mountains. Anyway, I promised myself I'd buy another Welsh blanket this year, so I can gradually build up a collection in other colours. I think part of the reason I'm thinking about blankets is that I want to be sure I can feel warm and cosy at Wilderness Festival next week, whatever the weather. I have no intention of feeling damp and cold if it's not as warm and sunny there as it was last year. So I found myself browsing our directory for wool blankets… and I came across the Melin Tregwynt listing. I love that they are still based in a small, white washed woollen mill in a wooded valley on the Pembrokeshire coast. I've browsed their collection and narrowed it down to two possibles: St Davids Cross Throw in Bluestone or Patrwm Patagonia Trhow in Pobol. What do you think?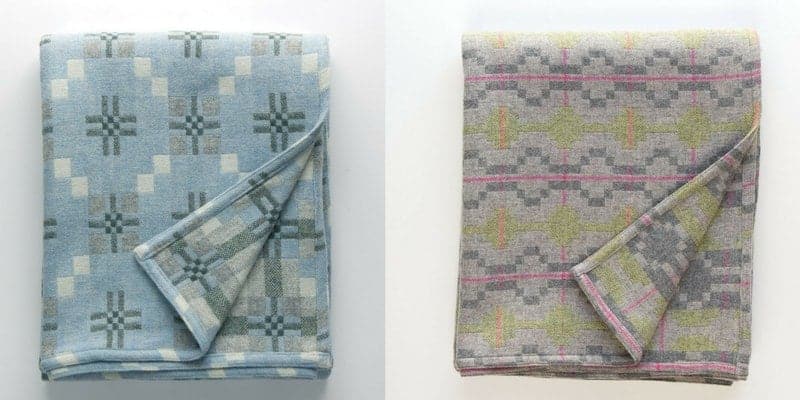 Get all the info you need to connect with Melin Tregwynt in our directory here
Love #3 The Boathouse, Steephill Cove
Absolutely love it here. Living just twenty minutes from the Isle of Wight ferry, I really don't know why we don't spend more time than we do on the island. Every time we make the trip, we say how lucky we are to have such unspoilt coastline on our doorstep. And how we really should make the trip over more often. It was my friend, Amy (she grew up on the island) who first told us about The Boathouse restaurant. 'Walk down through the botanic gardens at Ventnor', she said. 'To a little sandy beach called Steephill Cove. You can sit beside the beach at The Boathouse and have local seafood with a glass of wine'. We did as she said. Bliss. Locally caught and wonderfully fresh Ventnor crab salad, washed down with a glass of very cold white wine. The sound of the waves crashing nearby as we ate. As life's simple pleasures go, that has to be right up there for me.

We are currently re-decorating and I am looking for ideas for my youngest son's bedroom. I love this Into the Wild wallpaper by Hibou Home in the grey/storm green colourway.
Get all the info you need to connect with Hibou Home in our directory here
Right, I can't put it off any longer. I need to press on with all the other stuff I was supposed to be doing today. Maybe just one last look at the holiday house we've booked in Cornwall first…
You might also like
SUSTAINABLE FLOWERS
NATURAL SKINCARE
INFORMATION
---
Find more inspiring makers in the From Britain with Love directory click here
Are you a maker or creative course provider? Like to list with us and benefit from joining our supportive community? We'd love to hear from you. Check out the packages we offer on our Join Us page.
---
A PIN TO SAVE TO PINTEREST