We love Joanne Tinley Jewellery so we caught up with Joanne to find out more. Joanne hand crafts beautiful contemporary jewellery at her studio workshop in Hampshire. We asked her to share a few of her loves and what inspires her. Joanne is listed in our directory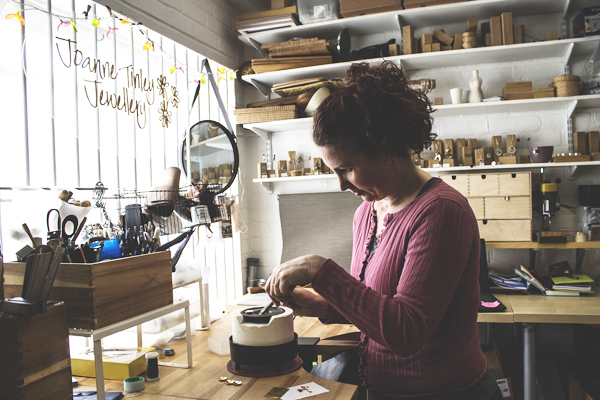 Please describe what you do, and tell us what's special about it.
I'm a jewellery designer and tutor. I work primarily with silver, but I love adding other materials in as well – 24k gold and bright colourful merino wool for example! My Golden Collection uses Keum Boo, an ancient Korean technique that literally translates as attached gold, to fuse 24k gold to fine silver. It really is a magical technique as once the metals are the correct temperature the bonding is almost instantaneous! This does mean, however, that you have to be very careful when placing the gold as you rarely get a second chance. The technique uses gold foil that is thick enough to cut with scissors and even tear into pieces. The Cup of Gold designs came about as I had lots of little pieces of gold left over from cutting out the flowers and butterflies for other designs. I couldn't let that gold go to waste so I used it to line smooth silver cups. The Cup of Gold pieces, especially the earrings, are now so popular that I don't have enough scraps and take whole sheets of 24k gold and deliberately tear them into pieces – it feels very decadent!
What's your favourite way to start the day and when do you start work?
On most days my work fits in between the school runs as I have two young boys, so the start of my day will be very familiar to most parents! I'm in the studio by 9.30am.
What's your morning routine?
Once I'm in the studio I spend half an hour or so answering emails and checking orders. Then the routine depends on the day. I like to spend at least up until lunch time actually making jewellery, but sometimes packing orders and admin can take over. As I teach jewellery design as well as make my own jewellery I probably spend about a third of my studio time making jewellery. I always try to leave my workbench fairly tidy with the first 'making' job of the next day laid out and ready to go.
If I'm teaching then my students arrive by 10am and I could be teaching almost anything! Some of my students are advanced as they've been coming to me for a few years but I also teach complete beginners.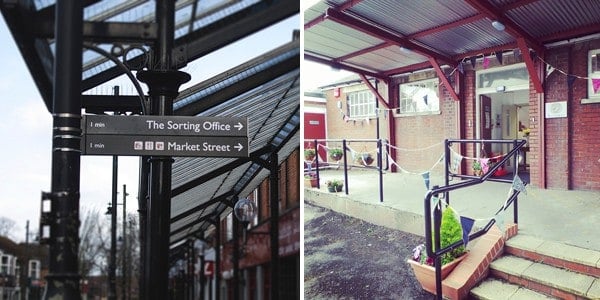 Where/what is your work?
Describe the setting for us. My studio is one of sixteen in Royal Mail's old Sorting Office in the centre of Eastleigh in Hampshire. It still looks rather severe from the outside – chain link fence and metal bars on the window – but I love seeing the expression on people's faces when they get their first peek at the colourful thriving community inside! Although we're all running separate businesses we're all supportive of each other and there's lots of laughter during the day. My room has a big window along one wall and the sun shines through it beautifully.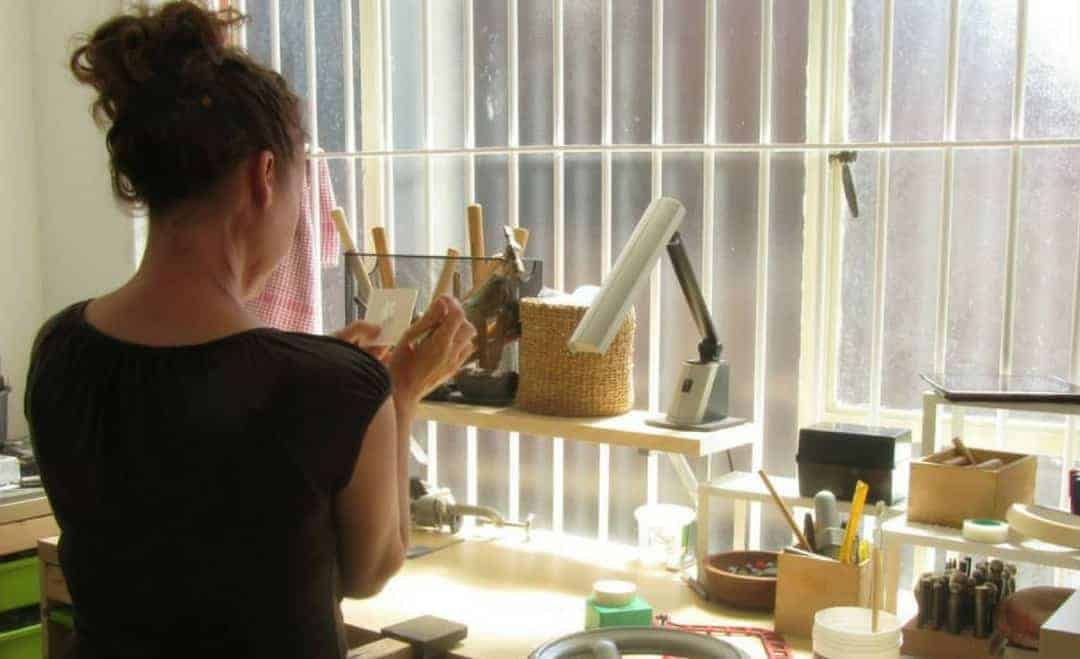 Tell us why you do what you do.
I can't remember a time when I wasn't making things. I used to swap purses and hairbands that I'd crocheted for sweets and comics with my friends at school, and I've tried my hands at most crafts. However, I was always academic, and so going to university to study science seemed the natural route. I never stopped crafting though, and when I learnt how to make jewellery and taught myself how to solder I soon became addicted! When my eldest was born it was a case of now or never for changing my hobby into a business, and it was one of the best decisions I have ever made. I love what I do, and still get so excited every time I unlock my studio door! I am very very lucky.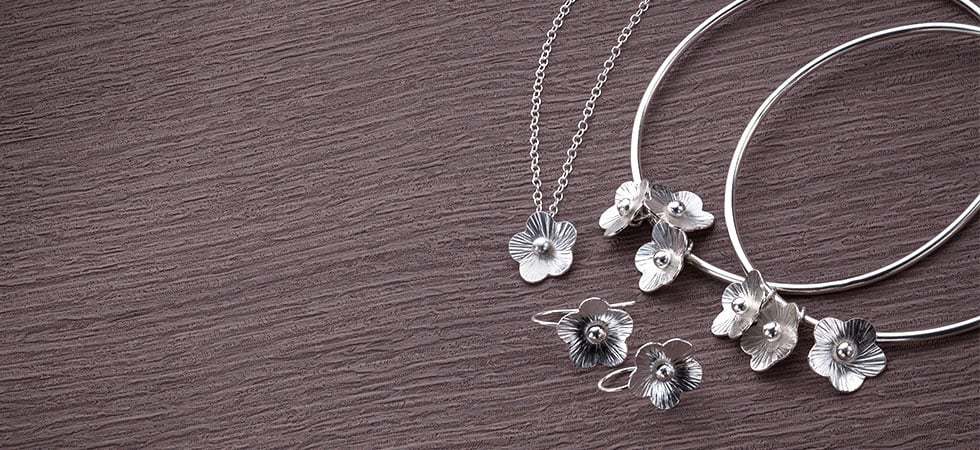 Describe your typical working day for us – best and worst bits?
The worst bits are always the admin and accounts, but it's very satisfying when everything is up to date! The best bits are when I lose myself in sawing metal, or when the girls in the studios next to mine are in and the giggles start…
What do you like to do for lunch?
Ideally I'd like to pop out to one of the many local cafés with friends or my partner, sit in the sun and watch the world go by. Realistically I need to stop getting carried away in what I'm doing and remember to eat lunch before it's time to pick the boys up from school.
What keeps you going through the day?
I love what I do! My wonderful crazy and supportive studio mates help to keep me going as well.
Best moment so far in your business?
My first trade fair – the British Craft Trade Fair three years ago.
What are you most proud of?
My children and my partner. Corny, but true.
How important is sourcing British/local to you – and why?
I source all my materials from British businesses and try to make use British made materials and tools wherever possible. I also use local businesses for things like printing. It just makes sense to use British from an environmental point, and supporting local businesses means keeping the money local and supporting the local community.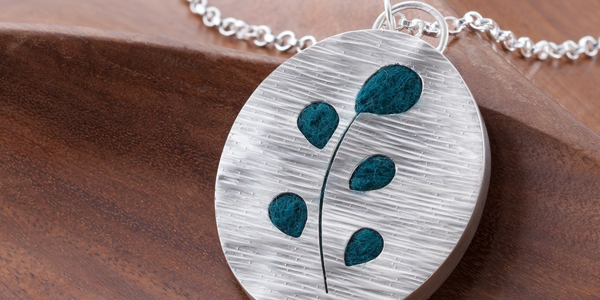 What's your newest/most exciting creation?
I'm working on a new collection with sterling silver (of course!) and beautifully coloured felt. The contrast between the smooth clean silver and the colourful, tactile felt is fantastic! This will be my second collection combining silver and felt. I find that I'm mixing materials and metals more and more in my designs.
Best place to unwind/escape to in the British Isles?
I can't choose between Cornwall and the Suffolk coast! Loving Cornwall doesn't need much explanation, does it? I love Suffolk as well though as my family is from there and my brother and I spent many holidays with our Grandparents. I feel as though I've come home every time we visit.

What's your favourite local find?
We have a local Mexican restaurant, La Baronia, which does amazing food and the atmosphere is great too. Their Chicken Tinga is my favourite.
Best piece of advice you could share based on your experiences so far?
There's no such thing as failure. You learn something from every experience, and sometimes there are happy accidents!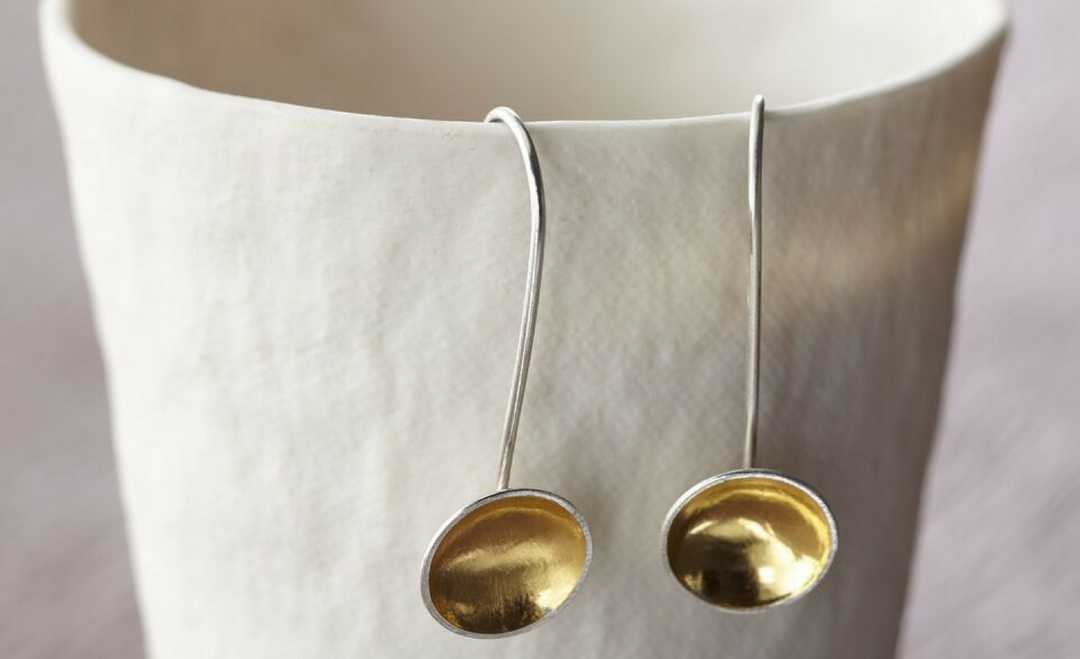 What are you listening to/reading right now?
I listen to a lot of audio books. At the moment I'm working my way through Jodi Taylor's The Chronicles of St Mary's – time travelling historians who are always getting up to trouble!
Photos courtesy of Harry Usborne
The listing has all the details you need to connect with her. There are also full details on how to sign up for one of Joanne's classes or watch her online tutorials. Discover more here >>