Bloomsbury with artist Jo Heckett – an England aesthetic
Artist Jo Heckett has an enduring love for this historic and beautiful corner of London. We visit Bloomsbury with her and she shares with us her local knowledge and insight into the area she loves.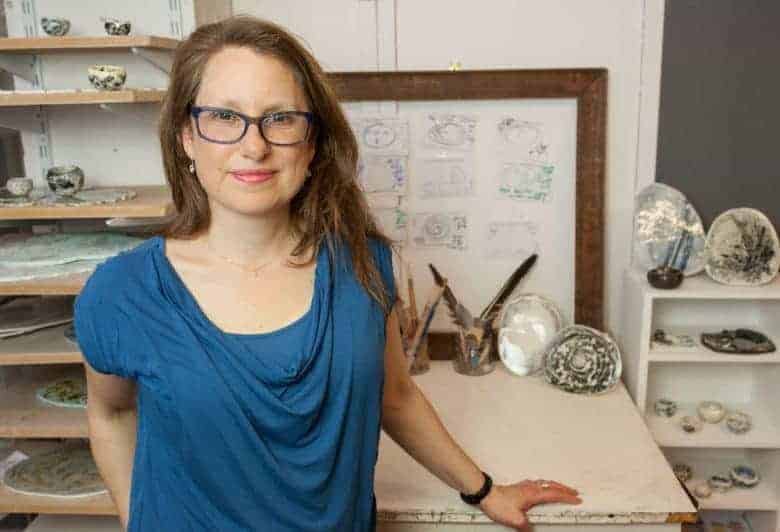 Why Bloomsbury?
The atmosphere and sense of history. It's Dickens country, so you get a real feeling of the layers of London. It's quite residential yet very near the square mile, so it's got a bit of everything, and everywhere is accessible from here!
Please share a little about your work
I am interested in what is at the core of human experience, what connects all humans from our very earliest ancestors. I am looking for what is permanent, what connects all life. The magic that is hidden within the prosaic.
I work with ceramics, painting, photography, found materials, poetry and the written word, to draw into existence the magic that exists just behind the every day.
Clay is the very stuff of life. It is part of the soil, the living, breathing skin of our world. Creation myths describe life being literally embodied in clay before being imbued with the spark of life. Each clay has forms and shapes it leans towards, and I aim to express not only its inherent nature, but to give life to the material, to distil complex ideas into the simplest of forms.
I like to get hands on with materials, using techniques such as carving, scraping, daubing, painting and assembling. My making is in itself a type of meditative practice.
I rely on the sense of touch as well as sight, expecting people to hold or touch the work. I am after direct communication from hand to hand.
At a time when we feel increasingly disconnected from the earth, a time when our planet's living web is under attack from industry, war, greed and carelessness, our Earth needs us to connect more than ever. I aim to make art that facilitates that connection, plugging us back in to our place in the sacred, living Earth.
Share a real Bloomsbury hidden gem with us – the sort of place we'd never find in the guidebooks
The Foundling Museum and Coram's Fields. The Foundling Museum tells the poignant history of four centuries of children whose parents couldn't look after them, while Coram's fields is a great playground and historic mini zoo.
Where's the best place to watch the world go by?
Gray's Inn Gardens is like a little bit of Dickens and although I'm not sure that they'd let you loiter, it's a real treat to walk through there.
You can book the space as a venue too – more details on Instagram here. Otherwise Queen Square is right in the middle of all manner of specialist hospitals (sounds morbid, but the architecture is dramatic and you get the sense of the important things in life) and the square is full of comings and goings.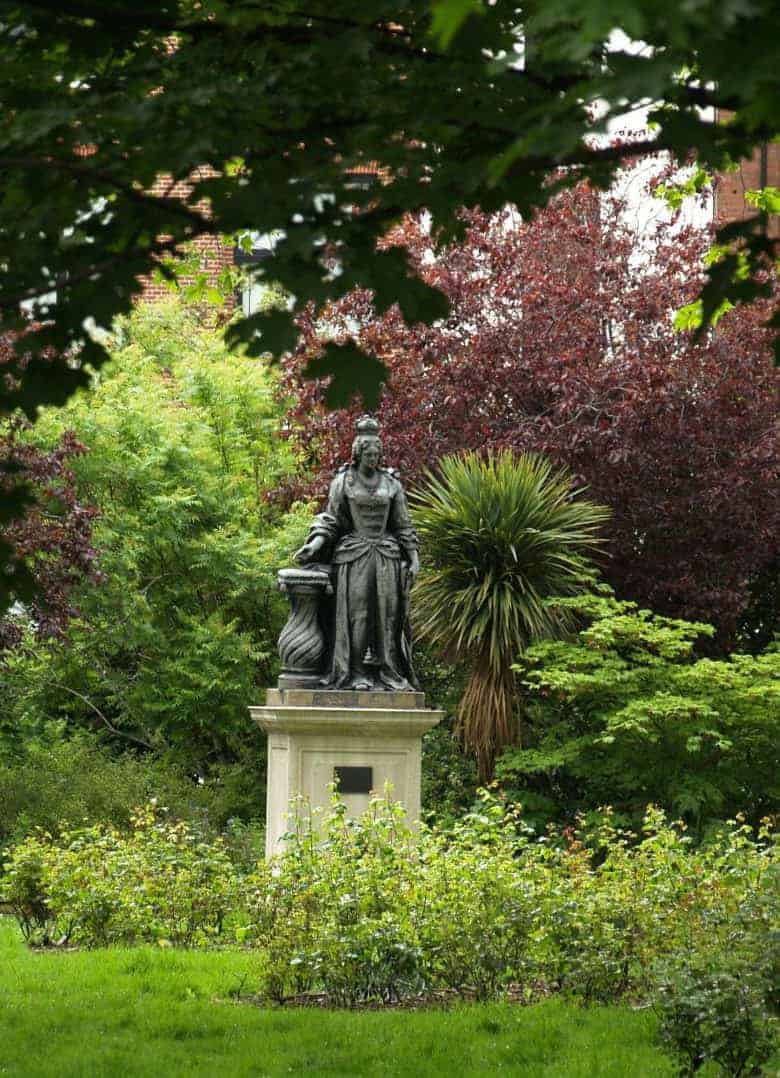 If it's raining then the Mary Ward College has a nice little vegetarian cafe overlooking the square.
Best find for a quiet coffee and a cake in Bloomsbury?
Bea's of Bloomsbury on Theobalds Road – yummy, scrummy, fabulous cakes & a grand cup of tea!
Best find for Bloomsbury history and culture lovers?
This is museum country, so take your pick – Sir John Soane's Museum,
or perhaps the Charles Dickens Museum
or The British Museum. So many great exhibitions and events to keep an eye out for as well as online collections.
Love the floral collages and drawings of Mary Delany from the British Museum collection. How fresh and beautiful does this Almond Blossom collage look? It's a collage of coloured papers with body colour and watercolour on black ink background. Hard to believe it was created way back in 1775!
Best find for lovers of great design?
Cockpit Arts of course!
What's your favourite place to eat out and what do you order?
Kimchee Korean Restaurant, High Holborn – Pick randomly from the menu & you can't go wrong!
Best place to pick up lunch? What would you order?
Ban Mi Bay Vietnamese Restaurant – I eat from here at least once a week. My favourite is summer rolls & satay chicken noodle salad with a fresh carrot, apple & ginger juice. The staff are really lovely and the food is delicious & fresh.
Best place to stay in your area and why?
We recently did some work for the events department at the St Pancras Renaissance Hotel which is an absolutely incredible building – maybe one day I'll get to stay there!
Best place to buy great food and what would you eat/cook?
The People's Supermarket – it's a co-operative supermarket with ever changing fresh produce. I pop in most days for seasonal veg & fab artisan bread. Best place to shop and favourite find?
Best place to shop and favourite find?
The Brunswick Centre is great for decent high street clothing chains… many a party crisis has been averted by a last minute dash!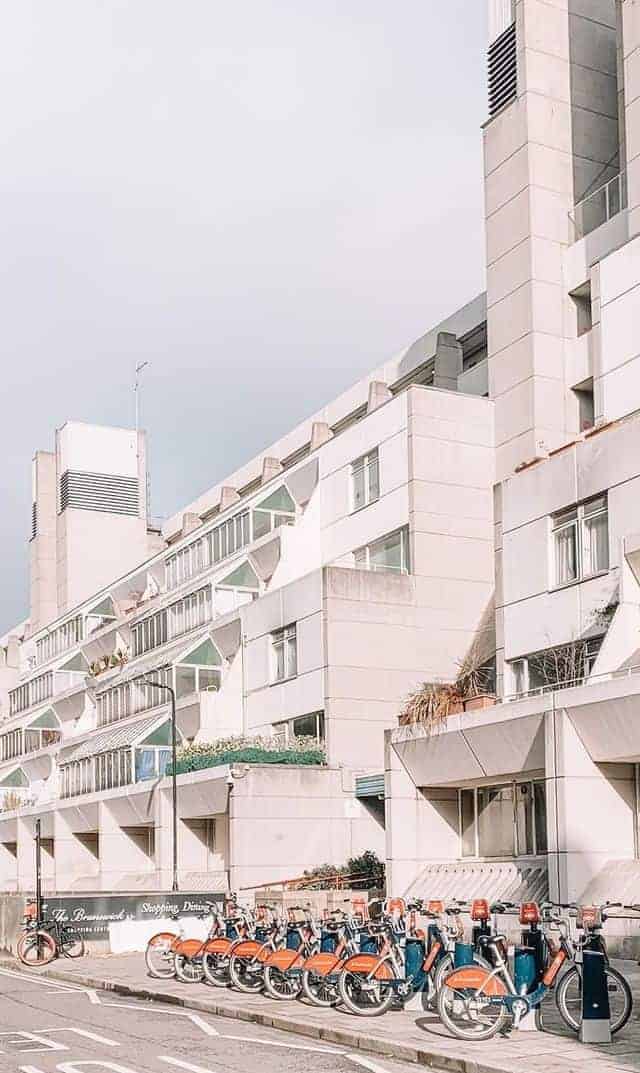 ---
Resources:
For more information about Jo Heckett's work visit www.joheckett.com
To find out more about Bloomsbury, take a look at www.allinlondon.co.uk/regions/bloomsbury
Map of Bloomsbury
You might also like:
Meet Clem Balfour of Yoga Bruch Club who shares her love of Bristol
We visit Hastings with Jeska from Lobster & Swan
---