We chat to Jannine Newman founder of Stoke Newington based fashion label Under the Cloth (listed in our directory here)
I knew I'd like Jannine Newman when I read that her favourite possession is her late mother's old pin magnet. By the time I'd also discovered that she has created a denim housecoat you can run to the shops in, the deal was sealed! She is definitely a woman after my own heart. I love what Jannine has created with her new clothing brand, Under the Cloth. Find beautifully made, beautifully wearable and beautifully practical pieces made with real women in mind. I hope you love discovering Under the Cloth too….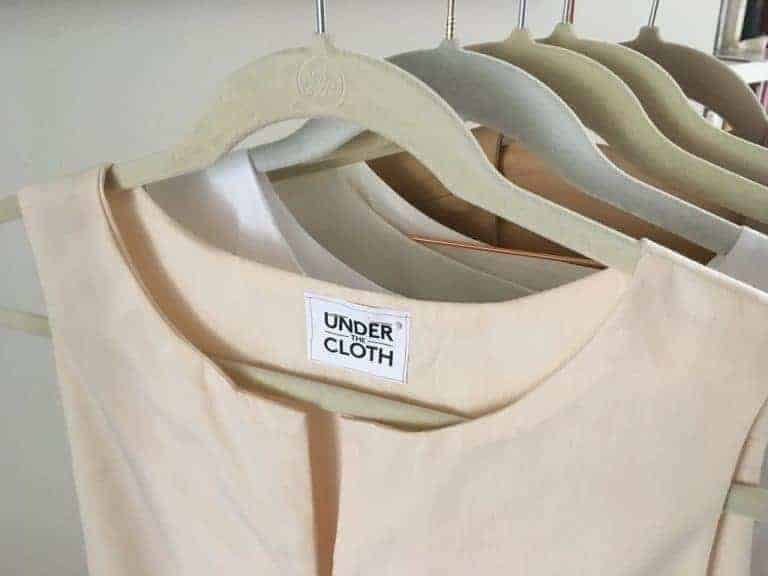 Please describe what you do, and a little bit about your journey
I am the owner and designer of Under The Cloth. We make sleepwear and loungewear in natural, organic or sustainable fibres. All our pieces are made locally in London.
I trained as a fashion designer and then moved into interiors which at the time felt a little more considered and permanent and suited my 'slow' philosophy. Fast forward a few years and I had always wanted to make a pyjama collection to match the kind of interiors and architecture I love; mid century modern with a vintage twist.
I realised that there were some fantastic companies around creating sustainable slow fashion in small runs and began to see that it would be possible to manufacture in Britain. I had also reached a significant age, my kids were on their way to A'Levels and it was the right time to start a new company.
It's been a steep learning curve. I hadn't drawn a fashion sketch for over 25 years and I didn't know how to get a collection produced and into the market place. It took about a year to design a collection, get it to sampling and then produce a small run of stock.
A good friend helped me with the pattern cutting – it had never been my strong point at college but I have a very strong idea of what shapes and fit I want to create and what my aesthetic and colour palette will be. I ended up making all the toiles and amending patterns and it reintroduced me to skills I thought I'd lost.
It's taken a lot of work to get this far but I think the first collection is always going to be the hardest as everything is new and you are putting down the foundations of your business.
Please tell us a little about what you make and your ethos
I make simple shaped sleepwear which is impeccable in terms of finish, cut and comfort. I know the disappointment I feel when I try on something which looks amazing, only to find the fit lets it down. That's why I try each piece on at least 10 different women of all shapes and heights, myself included. If I'm not happy wearing it, it won't make it to sampling.
My signature look is feminine utility; soft minimal shapes, elegant colours and high quality fabrics. There are pockets in the sleepdresses for practicality, denim housecoats you can run to the corner shop in and beautifully cut peg shaped pyjama bottoms and shorts. I like to focus on the details which make a garment feel luxurious; deep faced hems, facings and french seaming.
My aim is to create garments with a timeless aesthetic for women of all ages. I want to create fashion which spans the generations, from young to old. Each piece oozes quality of make and the lovely thing is that customers tell me that you can sleep in my clothes, lounge in them or wear them out. The Rosie short sleep dress can easily be worn out on a spring day and the long dress can be thrown over a swimming costume on the beach. They can work twice as hard for you.
What's your favourite way to start the day?
A cup of tea, always! I drink Clipper tea (unbleached bags) which makes a huge difference to the taste and drinking it in bed is always best.
What's your morning routine?
I run around making packed lunches for my kids, fold up washing, tidy and clean and then when my twin boys leave for school I sit down around 09.30 to start work.
I have an office which I share with my husband and I have a desk with numerous notebooks strewn across it. I'd like to say I was neater in the way I work but I'm not.
Describe your typical working day for us
I love the creativity and joy of designing and the collaboration which happens at production time and during pattern cutting and fitting and photo shoots. Eventually I hope to have a small permanent team I can work with.
I would have to be honest and say the worst bit is selling. I've had to work hard at learning how to promote myself and to get my brand known.
What keeps you going through the day?
Not sure, it just never occurs to me to stop! I have always been a busy person and see no reason to stop. I love a project!
Top tips for enabling creativity?
Turn off your phone or leave it in another room while you work. It has to be one of the most distracting things invented.
Never stop looking or thinking. Creativity strikes all the time, usually when you are pushing a supermarket trolley or driving the car. Have a notepad to hand always so you can jot down your ideas and return to them later.
What do you do when struggling for creativity?
I do something completely different. Walk the dog, speak to a friend. Take photographs. I love photography, it's observational and I become absorbed in it; it takes your mind off other things.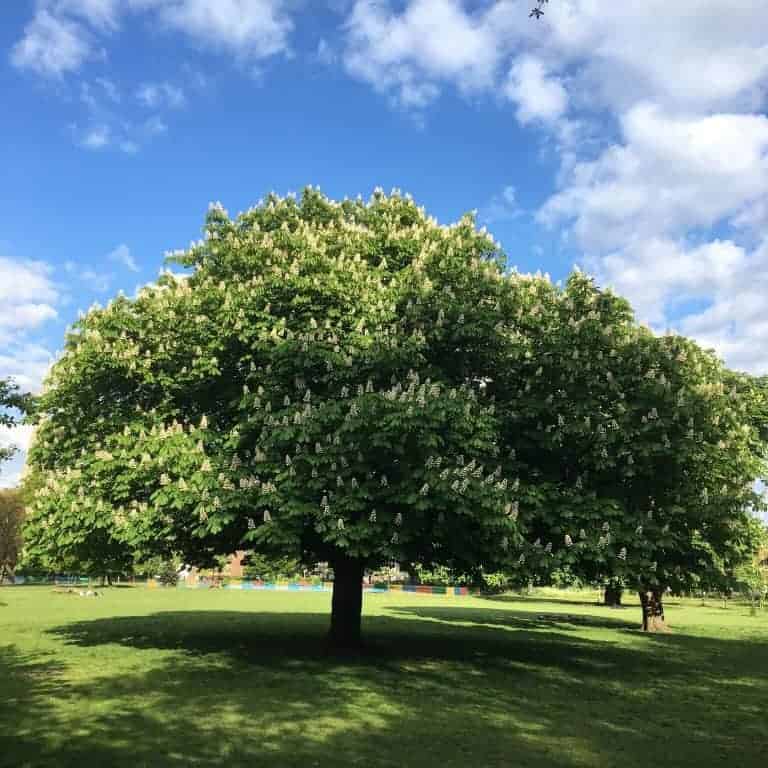 What are your simple pleasures?
A really good cup of coffee which I make myself in my little espresso pot. It takes about 10 minutes to make it and I thoroughly enjoy it.
Hanging out with my husband and kids, chatting and laughing at silly things. Our Sunday night movie as a family is always a highlight of the week, though we do argue for about half an hour about what to watch!
What is your approach to setting and achieving your goals?
I set very few goals, I just know the bigger picture. I think if you are too rigid, you miss opportunities because you are too fixed on a specific outcome. You have to stay open and though you can be definite about starting out on a certain road you need to follow it with an open mind in case you need to turn left instead of right, because that might be the better route.
If I have specific things I need to achieve I'll write them down. I then look at what I have to do to start making them a reality. Bottom line is, all you have to do with any idea is make a start and create some momentum which in itself propels you forwards. Then keep taking small steps and keep being proactive. You'll get to where you need to be by plugging away.
What do you like best about your neighbourhood?
Where do I begin? I love the area where we live (Stoke Newington). It's the only place which has ever really felt like home. It has the most wonderful park complete with manor house, café, lakes and deer. It has a plethora of coffee shops and boutiques and it's really friendly.  Our kids have grown up here and we have a lot of great friends. We are also really connected to London. It's a London village.
Share a real hidden gem with us – the sort of place we'd never find in the guidebooks
It will be in the guide books so not really hidden but Abney Cemetery is a real gem. We always take friends there if they haven't been, and they think it's quite an odd suggestion until they get there and they love it! It's like stepping from London into the country.
Best place to watch the world go by?
My favourite place closed down! It was called The Kauri Tree coffee shop on Stoke Newington Church Street. I still haven't found a replacement. I used to love to sit on their ercol chairs in the little bay window watching Stoke Newington life.
Favourite way to spend an evening?
A good box set and a glass of wine.
Favourite shop?
HUB in Stoke Newington. It's been around a long time and is owned and run by two lovely sisters. It's always beautifully curated and decorated and is an inspiration. They sell a lot of super cool brands and their style is totally gorgeous. I completely trust and love their taste.
The shop assistants are also absolutely wonderful. They are all so kind and always help you find the right thing.
I love that shop so much!
Most treasured possession ?
My mother's pin magnet. She used it all through my childhood and until the day she died. It holds such memories. She was a marvellous seamstress and would make me fabulous outfits from Vogue patterns and she then taught me to make my own clothes. She had the patience of a saint.  I now use her pin magnet and her pins to make my toiles and samples.
Favourite walk?
I love walking the dog around Abney Park Cemetery. Sounds weird but it's a magical place. Many famous people are buried there and many young men from the first world war. The other day I stumbled across a choir rehearsing in the chapel and it was just amazing to hear their voices echoing around. There are hundreds of species of trees as well as it was planted as an arboretum
What are you passionate about right now?
My business and my camera. My camera is the best gift I've had in a very long time. It helps me see things in a new way and it records my life's journey.
Best local find for lovers of design?
Again, it would have to be HUB clothes shop, they sell the best brands. Also, there is a shop call Search and Rescue (above) who sell wonderful bits and pieces – candles, stationery, the odd bit of mid century furniture.
Best local place for rummaging vintage finds?
House of Twenty on the Lea Bridge Road (above) .
Can you sum up your ethos and what inspires you?
I design clothes which are ageless and beautiful and made sustainably. I promote careful consumption – buy better & buy less.
My friends inspire me, I have a diverse collection of friends, all successful in their own way and life itself is my inspiration, especially living where I do, I'm surrounded by so many other designers, great music, cinema and art.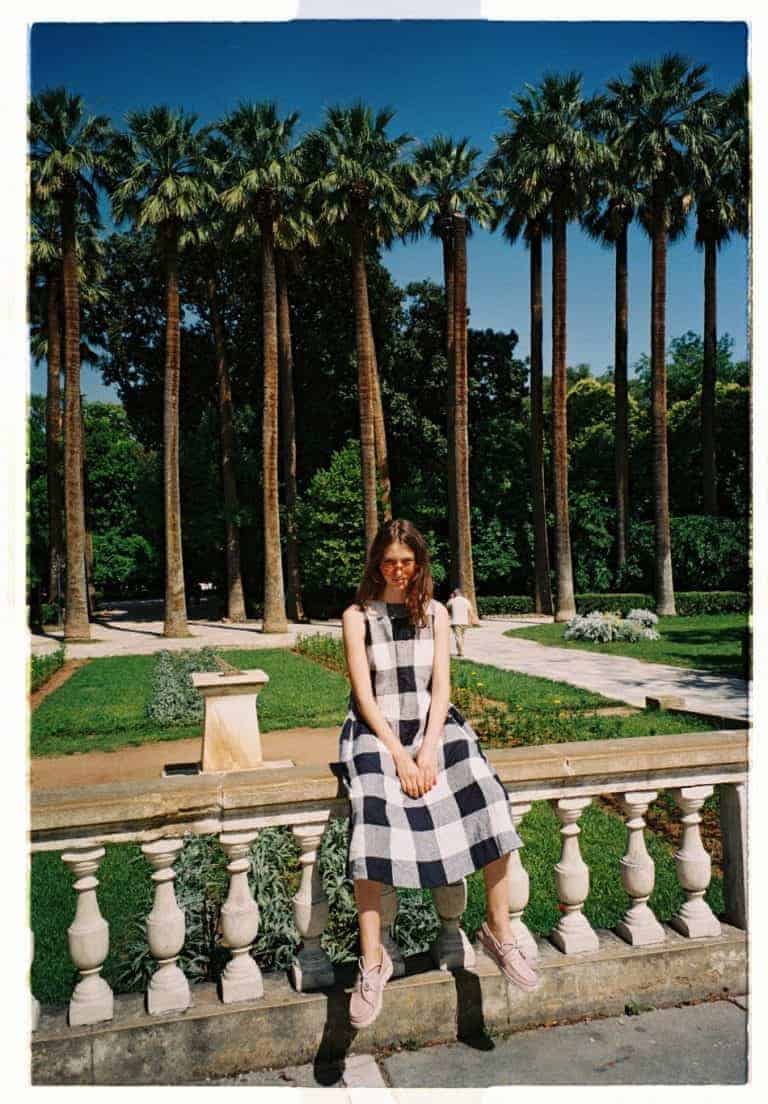 Favourite UK makers?
Margaret Howell. She's authentic and her attention to details is extraordinary. Ally Cappellino, for the same reason. I also really like Sideline, and YMC You Must Create (above) for British style. I also really admire Community Clothing (below) and their whole business set up. So clever and makes total sense. I love it.
How important is making in the UK to you?
It's very important. It means I can keep a close eye on production. I can build good collaborative relationships locally and can respond to demand at short notice. It keeps local manufacturers in business and means that I know the person who made the clothes I'm selling. It also means I can manufacture in small quantities  and grow my business organically.
Best place to escape to in the British Isles?
We often go to the Kent Coast. Broadstairs has always been a favourite for a short break as there is beach and town but Cornwall is utterly beautiful.
Best piece of advice you could share based on your experiences so far?
Just START. Whatever you are thinking of doing, just get going and the knowledge will follow. Don't be afraid to ask lots of questions or to fail. It's much more tiring thinking about doing something than actually doing it.
What are you listening to/reading/watching right now?
I'm watching a Netflix series called Seven Seconds. It's brilliant. I read mostly for work not relaxation.
What is the secret to being happy?
To live simply and embrace wherever you are in your life. I don't need much in life. I appreciate a good meal, being warm, having a good bed to sleep in and family and friends and money enough to pay the bills. Other than that, what more do you need?
Goals for the future?
I have so many hopes for this company, but when you are just starting out, it's best to take one day at a time. My long term aim though is to eventually set up a small studio and be able to move out of my home office.
I also want to celebrate women and I'm about to start working my way around to interviewing all the incredible women I know. Wearing my pyjamas of course.  More of that to come….
INFORMATION
---
Under the Cloth is listed in the From Britain with Love directory here >>
Are you a maker or creative course provider? Like to benefit from joining our supportive community? We'd love to hear from you. Check out the packages we offer on our Join Us page and get more details from our Information pack here
---
A PIN TO SAVE TO PINTEREST