Jane Means shop at Clifton Nurseries – join us at the official opening at Clifton Nurseries. Jane Means (listed in our directory here) offers a range of gift wrapping courses as well as essential materials for presenting your gifts like a pro.
If, like us, you've ever taken part in one of the brilliant gift wrapping courses Jane Means runs around the country, you'll know how down to earth, friendly and creative she is. Jane Means shop at Clifton Nurseries opened today and we were delighted to be invited to the opening.
Jane's story is quite an inspiration. It was whilst on holiday in France back in the mid 90's, when even the smallest gifts she'd bought were lovingly wrapped, that Jane had her light bulb moment to bring fabulous gift wrapping to Britain. Many miles of double sided sticky tape, lavish ribbons and coloured tissue paper later, Jane is now THE gift wrap guru, her credits including wrapping for the queen, live in the shop window of Liberty of London as well as for Dior throughout Europe. So we were delighted to be invited for cocktails to celebrate the opening of Jane's new pop up shop at Clifton Nurseries in London.
As oasis of green beauty and peace, Clifton Nurseries is one of the capital's hidden gems. It was dusk as we arrived on a balmy late summer evening and our way candlelit by lanterns as we stepped through the gates and left behind the hustle and bustle of the city. Sophie Conran did the honours and cut the (bright pink) ribbon to officially open the shop.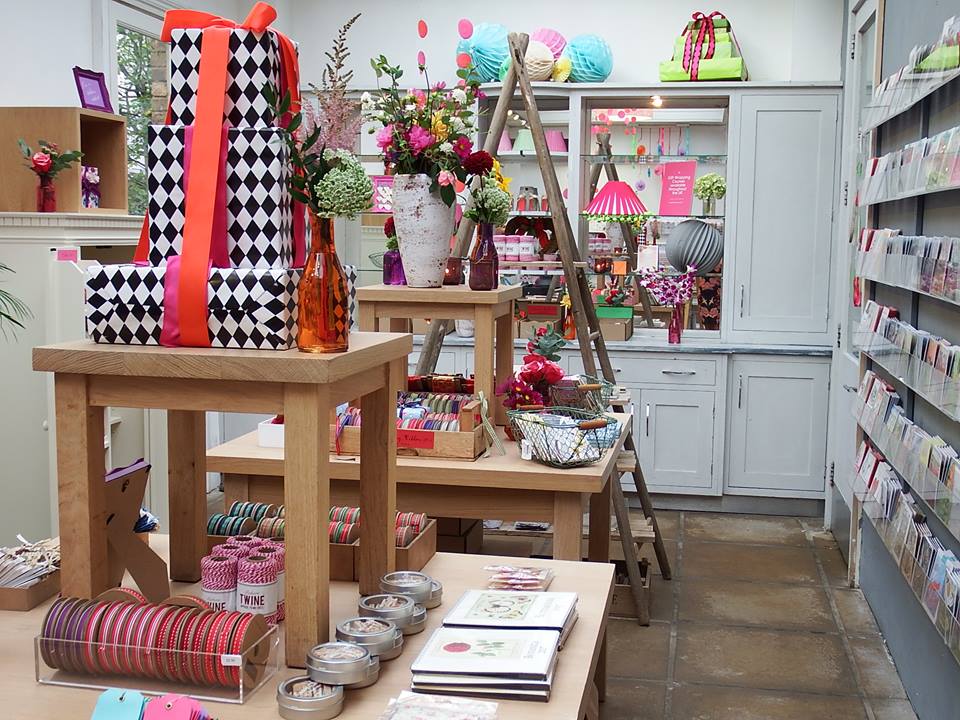 Inside the equally bright pink shop door is an Aladdin's Cave of ribbons in every colour, pretty papers, stylish tags and labels and a well-chosen range of cards. I came home with three very lovely art print cards, a couple of rolls of ribbon as well as Jane's double-sided sticky tape, which anyone who has ever been on one of her courses knows is an absolute essential! It really is the very best on the market and helps achieve that really professional finish.
I did see one of the other guests buying a very pretty advent calendar (!). Super organised, I know, but on such a warm Indian summer evening, I wasn't ready to embrace Autumn, let alone Christmas quite yet. If you're in the area (known as Little Venice, nearest tube, Warwick Avenue) definitely pop in for shopping, inspiration among the stunning collection of plants and garden accessories, and maybe something to eat or drink in the nursery's lovely Quince Tree café (below).
Get all the info you need to connect with Jane Means – to book one of her courses, or shop for gift wrapping essentials – from the directory listing here
photo credit above: thisispaddington.com