We share our favourite local finds Isle of Wight
Spending time on the Isle of Wight is like going back in time, in a good way. The pace is slow, the beaches idyllic and the days reminiscent of childhood seaside holidays. All just a short ferry away from Portsmouth or Lymington. With a growing number of fantastic producers and great places to eat and stay on the island, visit our directory to discover great local businesses on the island. We thought we'd also share a few of our particular favourites here.
10 reasons why we love the Isle of Wight
The Beach Shack, Steephill Cove
A friend of mine who lives on the island told me about this place – what a find! Tucked away on a pretty little cove just round from Ventnor, and inaccessible by car, this great little beach cafe serves locally caught crab and lobster, pints of prawns as well as homemade cakes. Check out their website for the various paths you can take to get down here. We like to walk through Ventnor Botanic Gardens and then down the steep steps to the beach.
I spent a very happy hour or so browsing in this great local shop and came away with a beautiful print by Isle of Wight artist James Lord as well as a very pretty white linen dress from the sale rail. A brilliantly well-chosen and stylishly put together mix of homeware, gifts and fashion.
The Garlic Farm
A specialist grower, farm shop and restaurant, if you're on the island The Garlic Farm is definitely well worth a visit. If you're not, you can order many of their great products online – including award-winning garlic sauces, flavoured oils, speciality garlic and grow your own garlic seeds. Here's a great little film where founder of the business, Colin Boswell, tells a little about the story behind the business. It's obvious he is still as passionate about what he does today as he was when he planted his first bulb. A great watch.
Perched on the hillside in gracious, Ventnor overlooking the beach below, we first stayed here one cold but sunny February and absolutely loved it. There's a relaxed boutique style to the rooms and, best of all, with the windows open at night, you can hear the sea crashing onto the beach below. Snuggled up in a comfy bed made with crisp white sheets this is a truly blissful way to fall asleep. Great, award-winning, breakfasts too.
I first discovered this place by accident years ago when staying in a nearby cottage. It is THE place to look for vintage and antique finds on the island. If, like me, you enjoy hunting for one-off hidden 'treasures' amongst the junk, you will love it here. Excitingly, you can also buy many pieces online.
Farmer Jack's Farm Shop
A great place to stock up on good food from carefully chosen island bakers, growers, and farmers. Farmer Jacks originally opened in 2005, a partnership of two established Island farmers with a shared farming heritage that spans several generations. The aim is simple – to provide great quality and variety to their customers, reduce food miles, and promote and support the wide range of local producers on the island.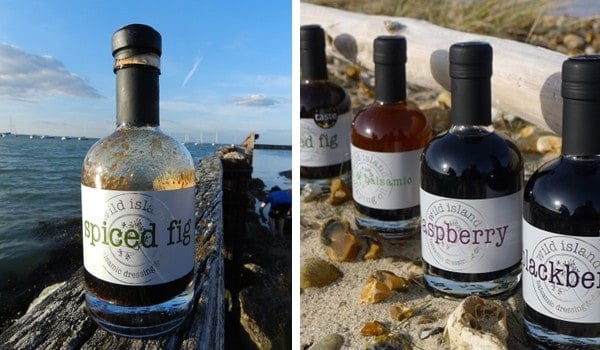 Wild Island
sells a range of Great Taste Award-winning natural oils, vinegars and dressings all handmade on the Isle of Wight using no artificial ingredients. My own particular favourite is the Spiced Fig Balsamic Dressing. All available online.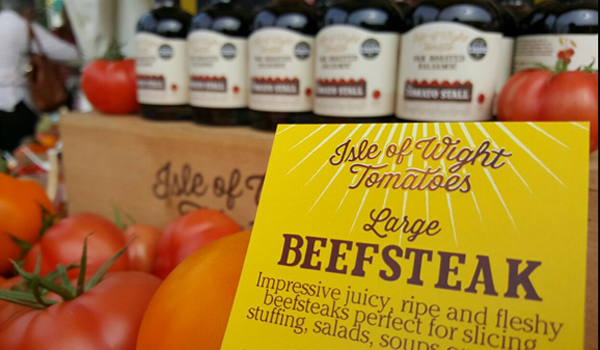 The Tomato Stall
A great local business that began very small in 2007 and is now supplying an ever-growing number of farm shops, delis, bars and renowned restaurants around the UK. Tomatoes as they should smell and taste. You can order fresh tomatoes as well as a delicious range of tomato-based products from the online shop
The Hut bar and restaurant
The Hut at Colwell Bay on the Isle of Wight is a real find. An easy-going and stylish bar and restaurant it's positioned right on the beach with stunning views out to sea. It's easy to arrive by boat and many customers do. Food is simple, delicious and locally sourced wherever possible. Sunsets here are pretty special!
That's 10 reasons, but I can't resist adding in an 11th reason to love the island…
There's always such a happy, relaxed feel here and the line-ups are always great. Just wish I'd been at the 1969 festival and seen Bob Dylan perform…
We love the work of Isle of Wight photographer Jo Thearle, of Seagrass Photography. Why not treat yourself to one of her beautiful prints, tea towels or cards for a taste of island life wherever you are…
Here's a selection of a few of our Seagrass Designs favourites: